If you want to go fast, go with a car. If you want to go anywhere, go with a truck! However, a warm day outside can feel utterly different inside your vehicle. What if your built-in air conditioner brings you down, and how to cool your truck if you don't have one?
You can take your truck to a new comfort level by choosing the best portable air conditioner for trucks. We will help you stay cool on the road, wherever you are.
Furthermore, below you will find our detailed explanations on factors to consider choosing the best truck air cooler for your needs. Read also: 7 Best Portable Boat Air Conditioners in 2023
5 Best Portable AC For Trucks
Price (on publication date)
6.69" x 6.69" x 6.77" (17 x 17 x 17.2 cm)
100W – 350W 340-1190 BTU/hr
7.01" x 7.87" x 9.8" (18 x 20 x 24.8 cm)
7.9" x 4.3" x 5.9" (20 x 11 x 15cm)
20"L x 8.6"W x 2.3"H (51 x 22 x 5.84 cm)
Smart battery, power outlet
1.   Number one choice — Evapolar evaCHILL portable evaporative air cooler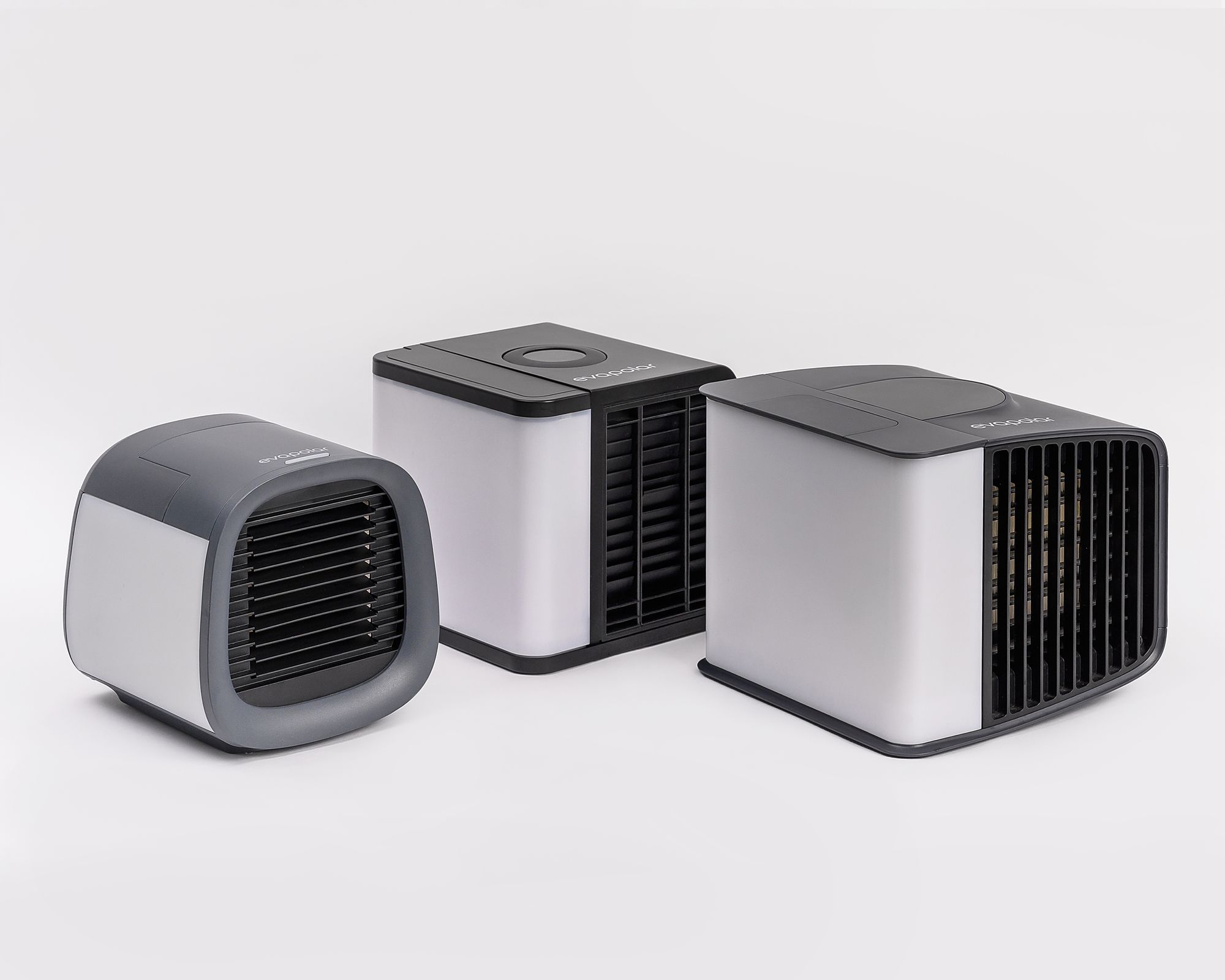 Evapolar air coolers are the best option for those on the road. evaCHILL is an ultraportable evaporative air cooler that is easy to place wherever you want.
These portable AC for truck use a different functioning method compared to air conditioners — it is in the name, Evapolar devices use evaporation as a cooling method. You get a fresh, chilled airflow by passing the hot air through a special membrane. So driving your truck with an Evapolar will be like always driving in cool, pleasant weather. Evapolar air coolers are designed for personal cooling exclusively, and you can get the best effect by directing the airflow at you.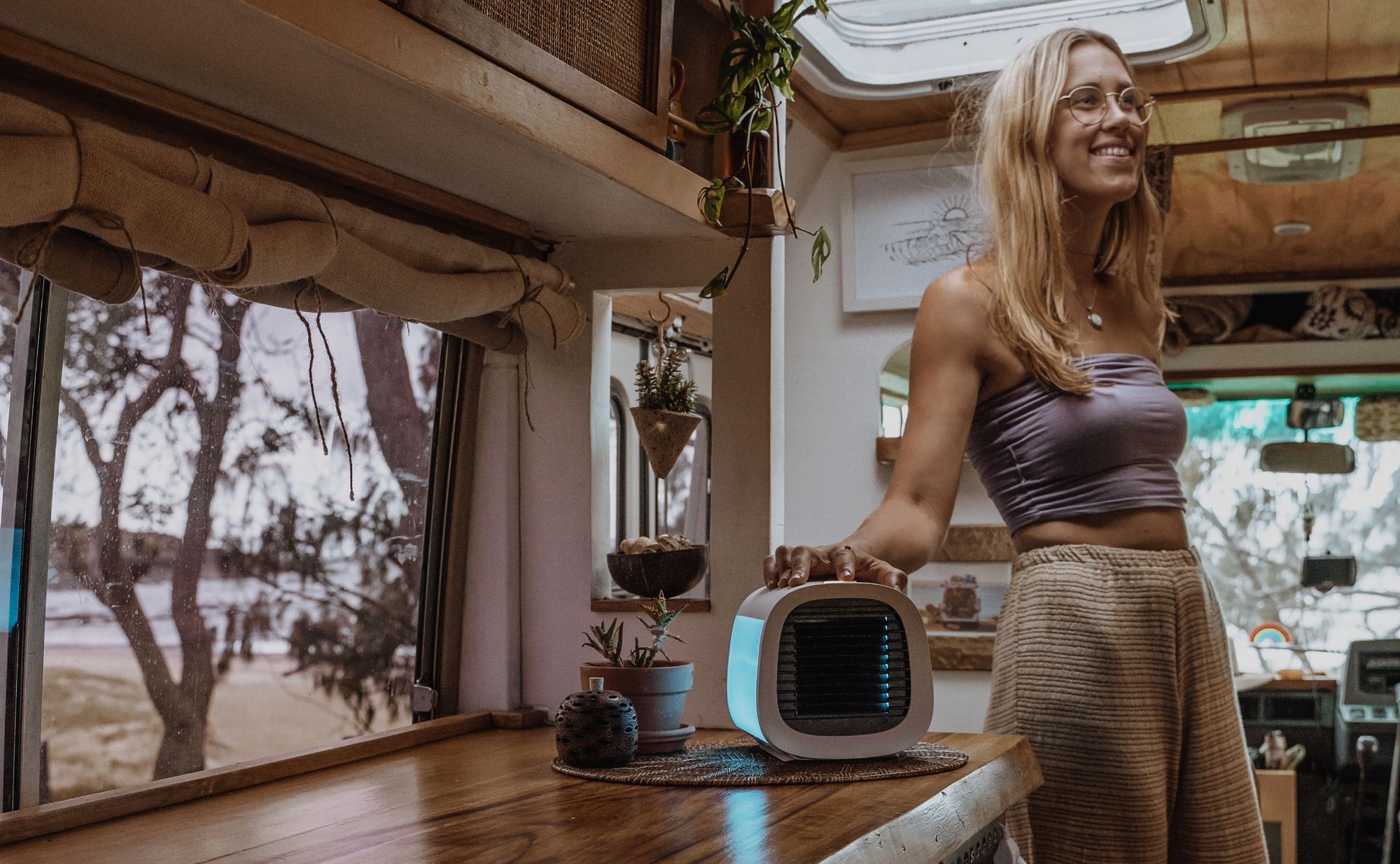 Pros:
Weight, portability
Low noise levels
Very low electricity consumption
One tank of water can last up to 8 hours
Cons:
If you don't have a USB outlet or a socket in your truck, you need a charged power bank to turn on Evapolar. However, you can quickly solve this problem if you get a USB cord that you can plug into a cigarette lighter.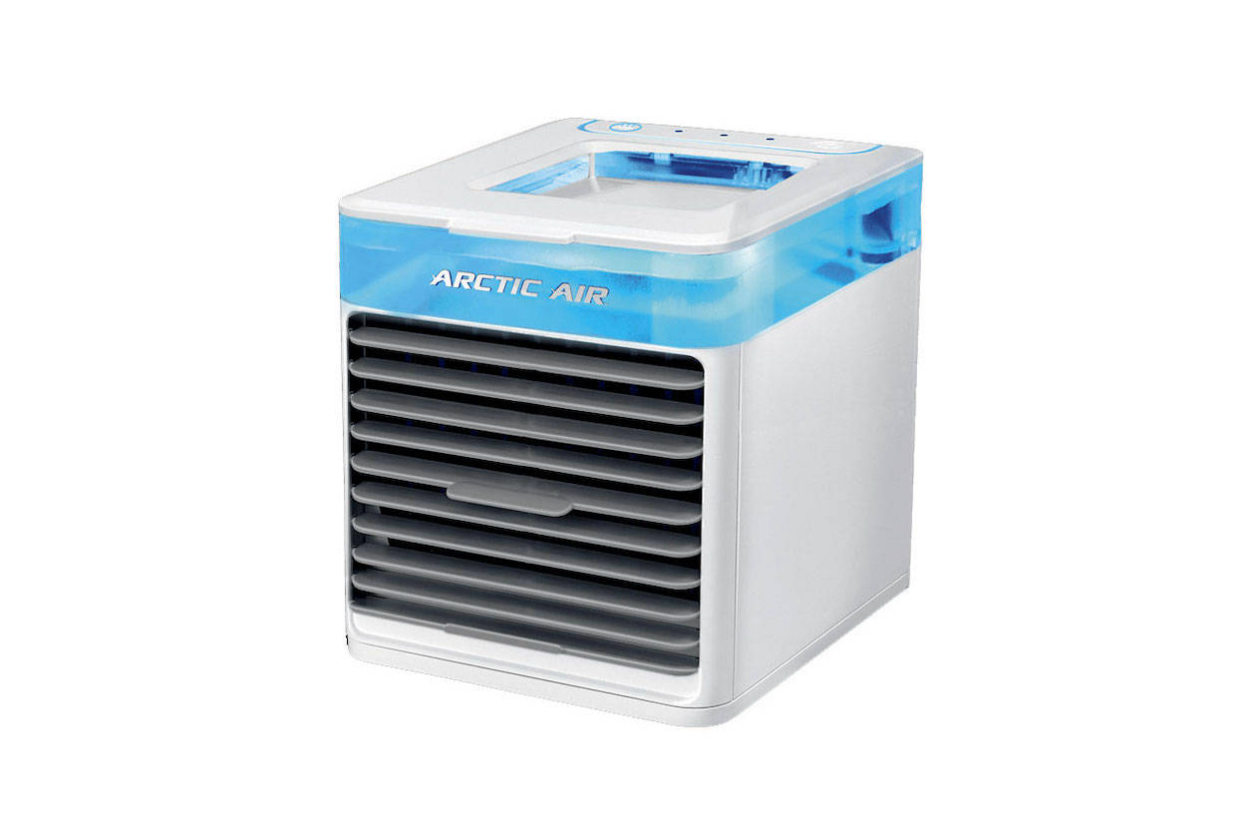 Arctic Air Pure Chill is a budget evaporative air cooler is a light, easy solution for those who need a small breath of fresh air inside their trucks. Don't count on it to cool your whole truck, though! This is only for minimal personal cooling, but it will get the primary job done. Read also: Best Portable Hoseless Air Conditioner – Dream or Reality?
Pros:
Three speeds
Portability, weight, dimensions
Price

Cons:
Some users complain about insufficient cooling power
Need to refill water regularly can be inconvenient on the road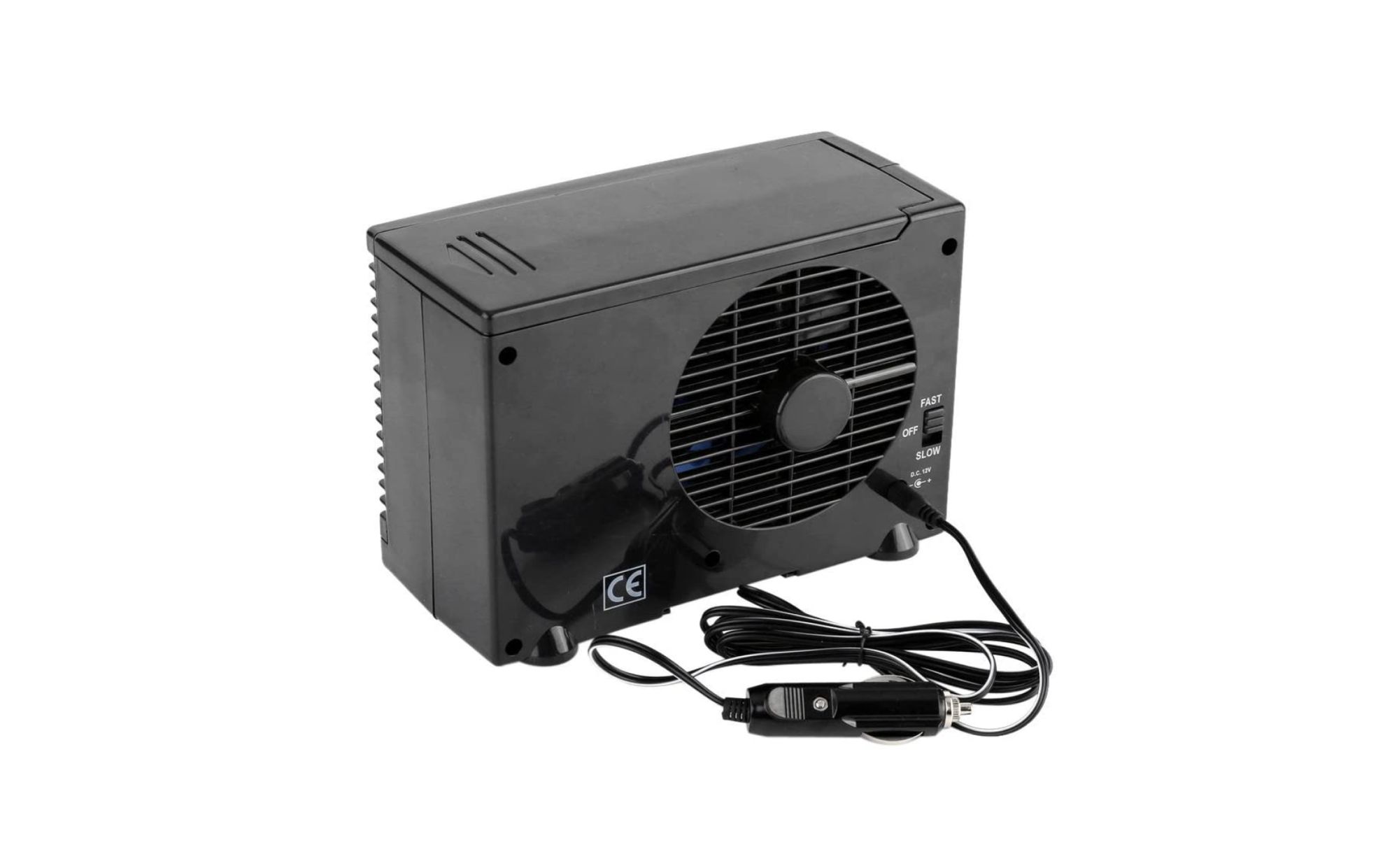 Cooling aside, Yosoo Car Fan is good for removing moisture from the interior windshield on cold rainy days and reducing unwanted hot truck air, cigarette smoke, or dust.
Pros:
Portability, lightweight
Two speeds
Possible to plug into a cigarette lighter
Cons:
Weak cooling power, according to reviews
High noise levels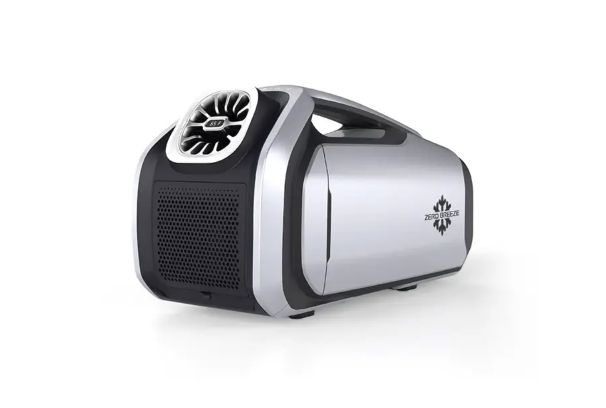 Off-grid conditioner with impressive cooling power, with a built-in 24V adaptive frequency micro compressor. It can work with a power outlet and a smart battery provided with the purchase.
This portable air conditioner for truck is on the heavier side, both in terms of price (the basic model starts at 999USD) and weight (16lbs). However, the manufacturer guarantees it is the first off-grid real air-conditioner ideal for your truck.
Pros:
Portability
Independent battery
Cooling power
Cons:
Price
Dimensions (height & weight)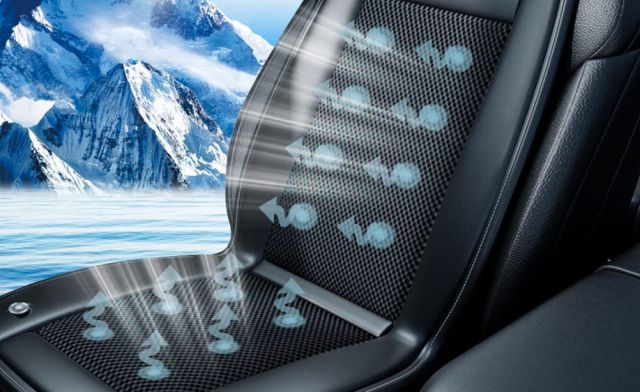 Now, this is a different type of cooling device for your truck, but if it fits your requirements, it can perfectly get the cooling job done. This cooling car seat cushion attaches to the seat. It has 5 fans on top, 5 fans on the bottom and several speeds.
It only provides a cooling effect on your body when sitting on it. However, if you are looking for a direct personal cooling effect, it can be your go-to device.
Pros:
Easy charging with the cigarette lighter
Lightweight
Concentrated cold air
Cons:
It does not cool the whole cabin
You can choose among different models when shopping for the top portable air conditioner for trucks. However, we went with the plug-in portable air conditioners for cars and trucks because they are easier to use in our selection.
You can also look at different air conditioner types, depending on your needs and your truck dimensions and capacities.
Types Of Trucks Portable Air Conditioner Models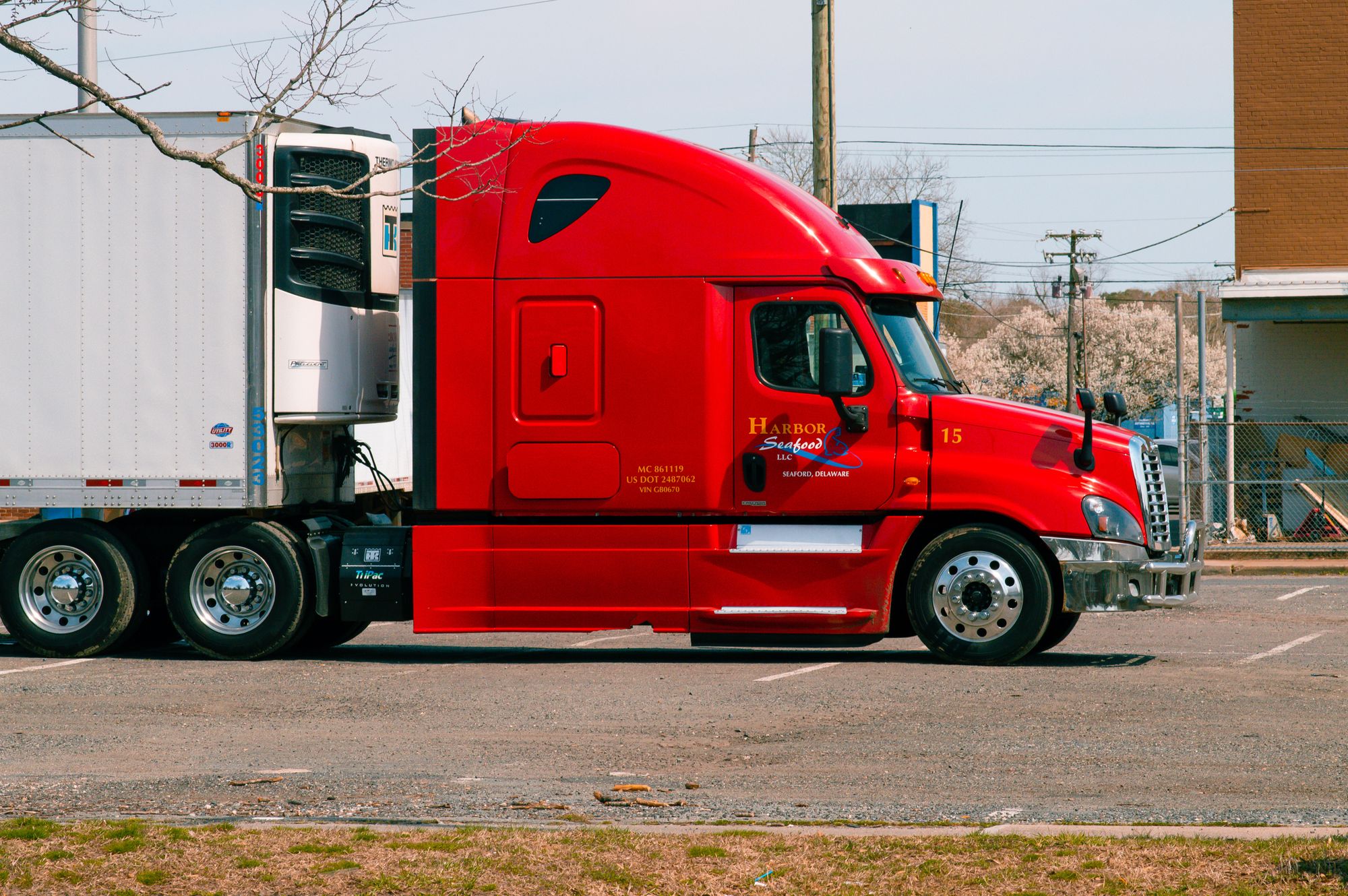 Vented Air Conditioner
Specific  models require venting through the wall or the window. To exhaust hot air from inside the truck, these air conditioners need a way to get the hot air out and the cool air in.
Pros:
Vented air conditioners are usually more potent than indoor vent-free models
Cons:
Using an outlet for venting is not always available or convenient
Vent-Free Air Conditioner
Vent-free models are closer to fans, oscillating fans, and evaporative air coolers. Their most considerable convenience is that you don't need to rely on a wall/window to exhaust the hot air. They are on a weaker cooling side. However, if you direct the airflow correctly, you will cool down the area around you and enjoy the maximum cooling effect.
Pros:
Portability
Independent from window/walls
Cons:
Most Important Factors to Consider When Choosing the Best Portable Air Conditioner for Trucks
1. Ergonomics. A good portable AC for semi truck should easily fit wherever you want to place it.
2. BTU Rating. The measurement in BTU (British Thermal Units) will indicate the cooling power of the device. You can find it on the packaging or in the device's description online. In this article, we help you size your air conditioner, and here we help you size an evaporative air cooler.
3. Size and weight. A bigger model doesn't necessarily mean it's more powerful. You should also take into account the fact that you might not necessarily want to cool down the whole cabin! Very often, when it comes to trucks, a small and powerful device with targeted cooling will do the best job.
4.    Ease of installation and use. Nothing should distract you on the road, and nothing should make your travel more complicated. Therefore, we recommend you pay attention to the ease of installation and use when shopping for a portable truck air conditioner unit.
5.     Style. Gone are the days when you'd have to get a bulky plastic eyesore and deal with it. Instead, today you can choose sleek, minimalist models that will add a modern touch to the inside of your truck.
Evapolar is the best choice for your truck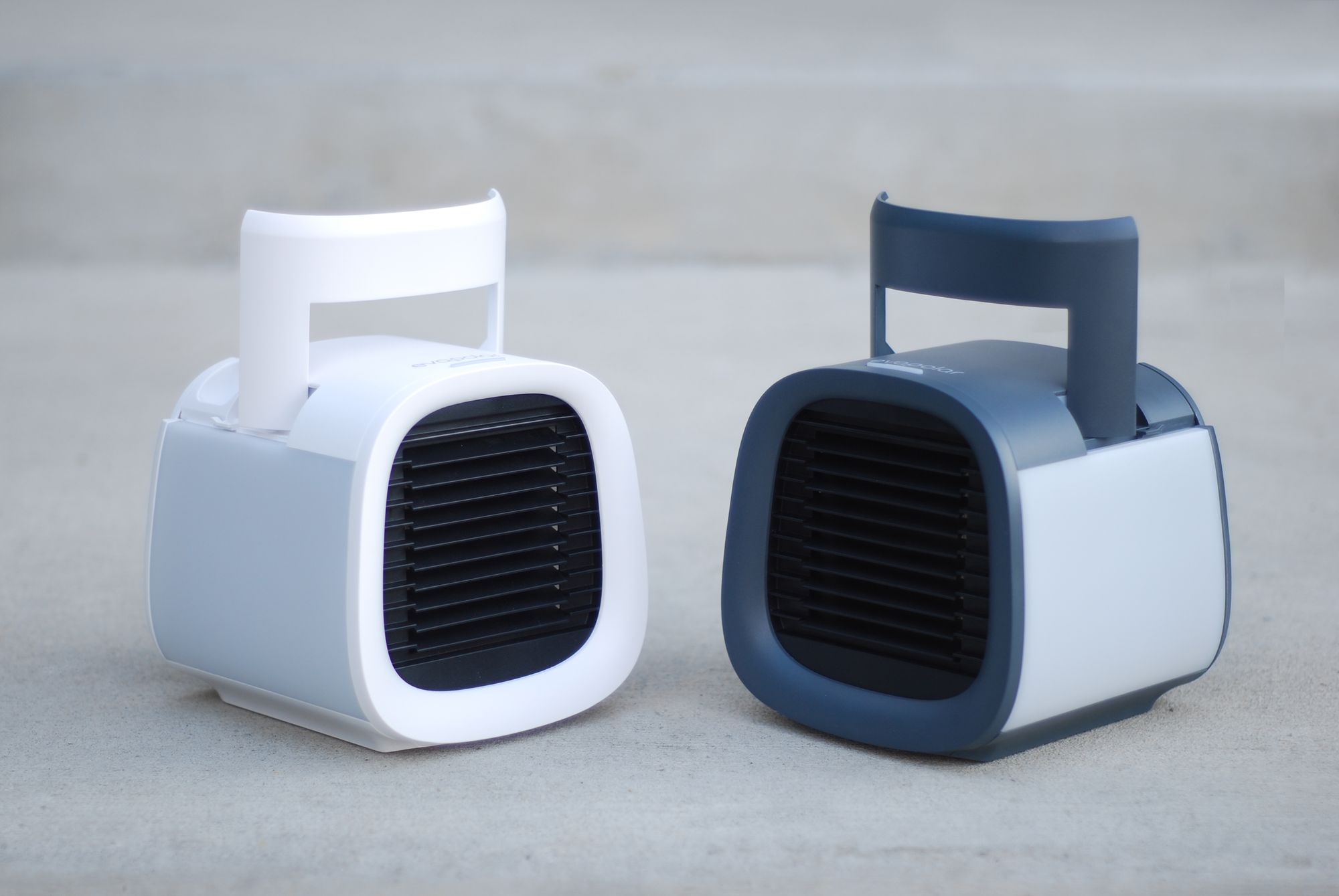 Given all the factors you have to consider, we can guarantee that Evapolar devices are the best option to provide you with fresh, cool air on the road.
1. They provide the most efficient personal cooling. So whether you are enjoying a break on the road or you are moving, simply direct the airflow of your Evapolar towards you to cool down.
2. If you make a stop on the road and spend the night in a hotel, you can take your Evapolar with you. Unfortunately, some hotels don't have air conditioning systems, some use outdated models with dangerous freon-like liquids, and some use models that freeze the whole room and make you uncomfortable during the night.
You can also use it in a camper!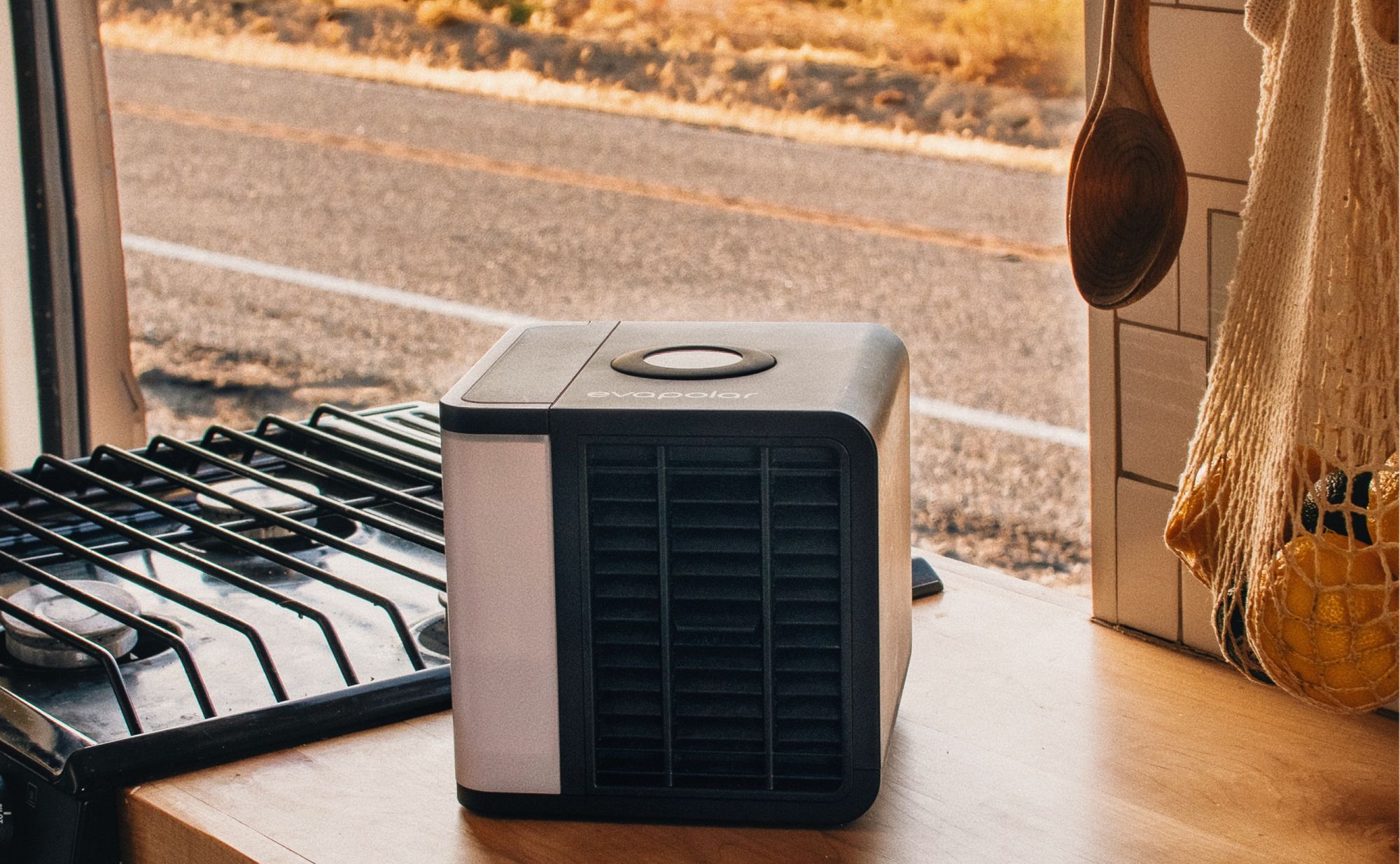 3. They are super compact. You don't need to clutter the truck with bulky devices and use too much space when a small powerful evaporative air cooler gets the job done better than other alternatives.
4. They only need a bit of water and a power supply to work. On top of that, they use very little electricity.
5. They are enhanced with a leak-proof system.
6. BONUS! They also purify and humidify the air. This is one of the enormous advantages of evaporative air coolers. Imagine being on the road in the hot, dry climate, with all the dust in the air. Evapolar devices filter out the dust, humidify the air and cool the space around you simultaneously.
Evapolar coolers have been named the ultimate personal cooling method by Forbes, BusinessInsider, Esquire, and many other respected sources. They will bring you personal comfort on and off the road.
Trucks can go anywhere, and with the right portable air conditioning for trucks, they can do it in any weather conditions.
You can check out all the Evapolar devices here.