Does a cheap portable AC sound like an urban legend? An efficient and affordable cooling system is so hard to find — either the device is too expensive, or it ends up being the most energy-consuming device on your electricity bill.
evaCHILL
The most effective cooling device
What exactly is affordable when it comes to air coolers and air conditioners? Is it just the price? For us, an affordable portable air conditioner or an inexpensive portable air cooler is also the device consuming the least electricity.
Let us check out which devices are the best affordable options in the long run. We will compare and cross-check the models which we find reasonable for the price and the features that come with the price.
Best affordable air coolers in 2022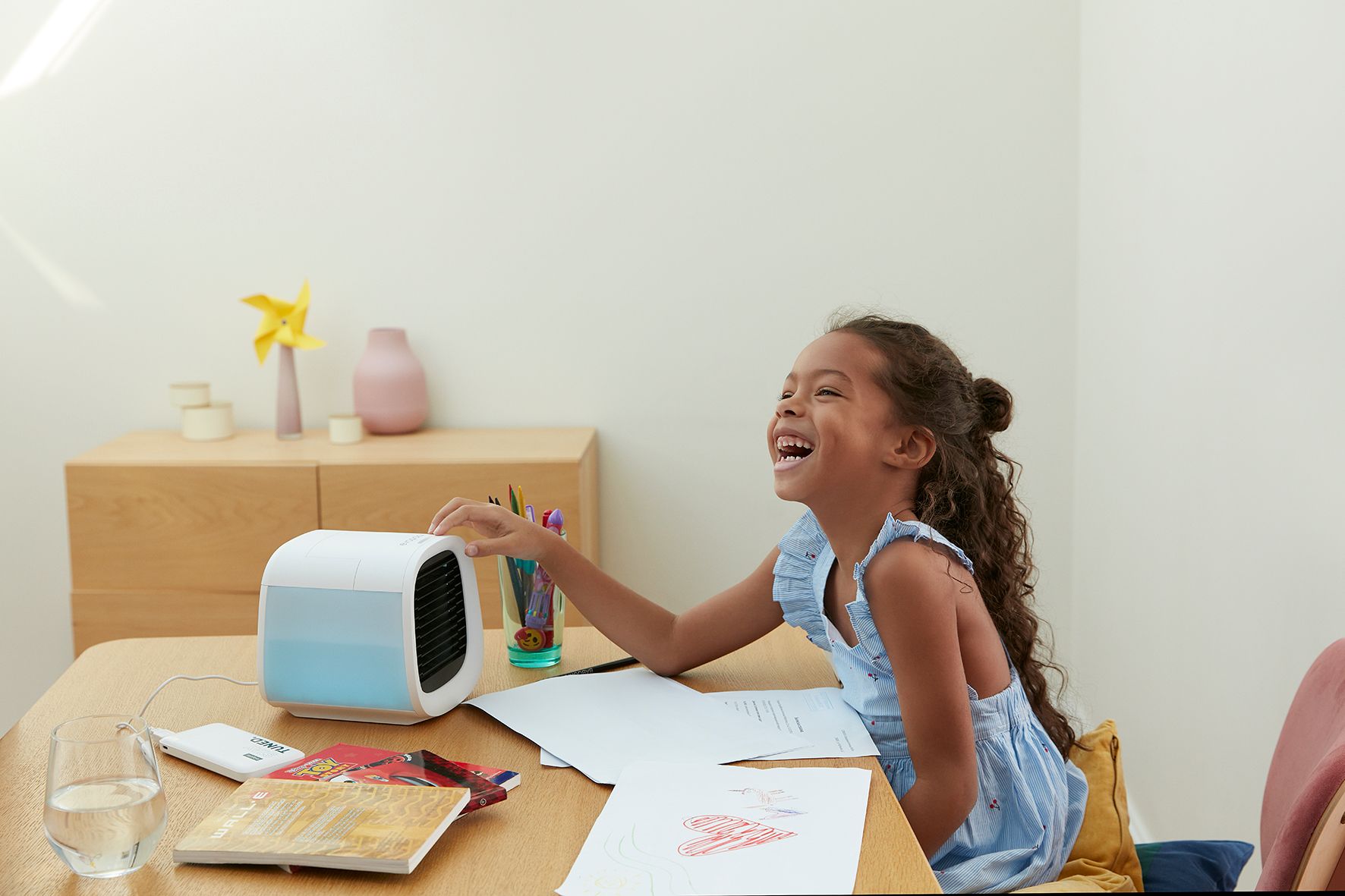 Best affordable portable evaporative air cooler out there. The combo of cooling power, efficiency and electricity consumption in Evapolar devices is unbeatable.
It can run up to 9 hours uninterrupted on a full tank of water. evaCHILL is USB-powered, so you only need a laptop, a socket or a power bank to turn it on.
On top of its cooling capacities, it also purifies and humidifies the air.
Pros:
Price
Portability
Energy consumption (7W only)
Sleek minimalist design
Water tank can supply water for up to 8 hours of cooling
Cons:
Less efficient in very humid conditions
Works best for personal cooling, not for cooling down the whole room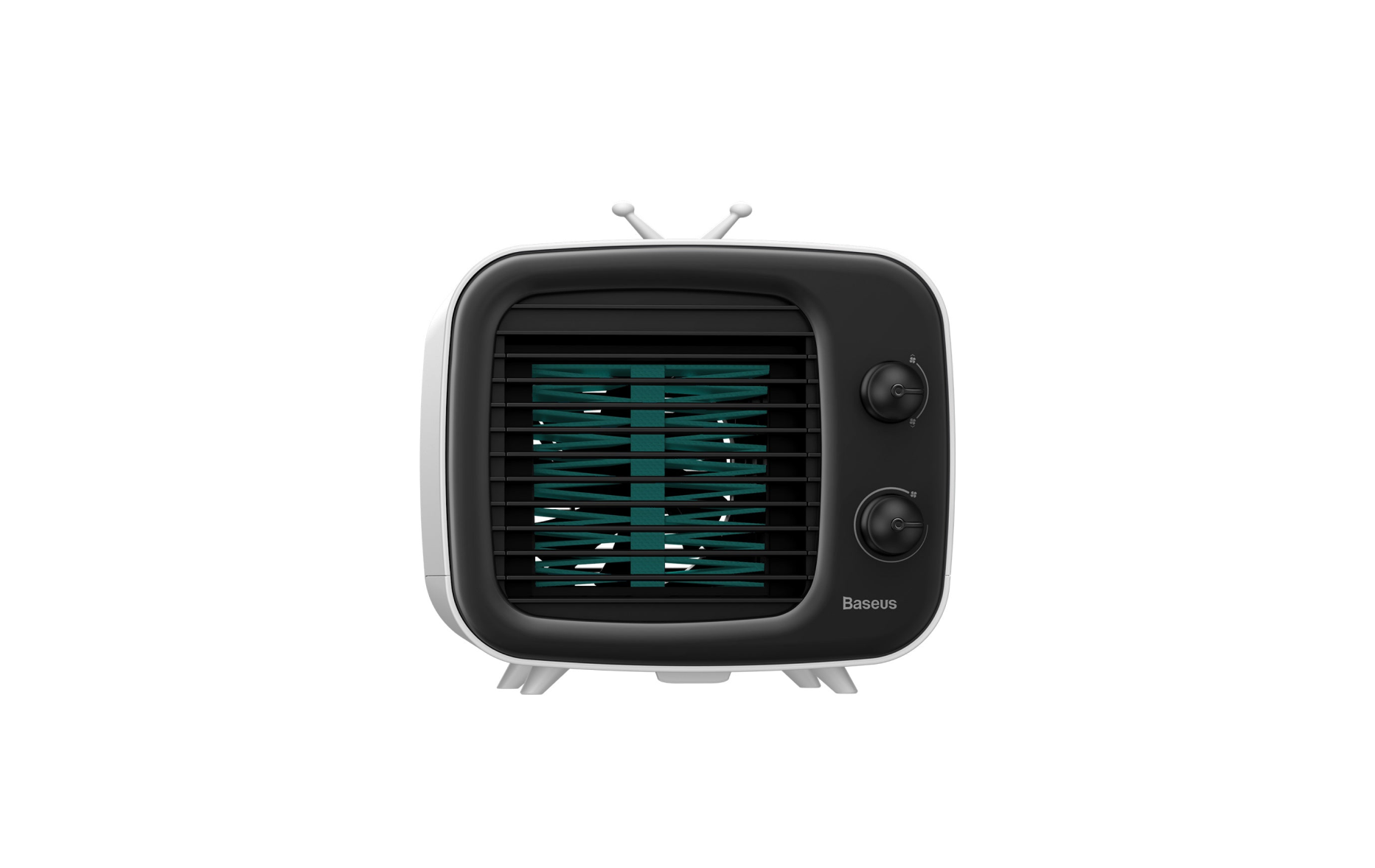 Small and affordable basic air cooler model to keep you cool when working. It is designed for your desktop and it is available in stylish blue, black color and white.
The water tank is 320ml, which is smaller than the tanks of most evaporative air coolers, which gives it 4 hours of uninterrupted work.
You can charge it with a power bank, a computer USB port, a car charger or a standard wall charger.
Pros:
Price
You can add oils and aromas to the water tank to add a scent to your space
Portability
Basic design
Cons:
Doesn't work in humidity
Low cooling power
Compared to other coolers, this model has a small water tank, and less hours of uninterrupted work as a result.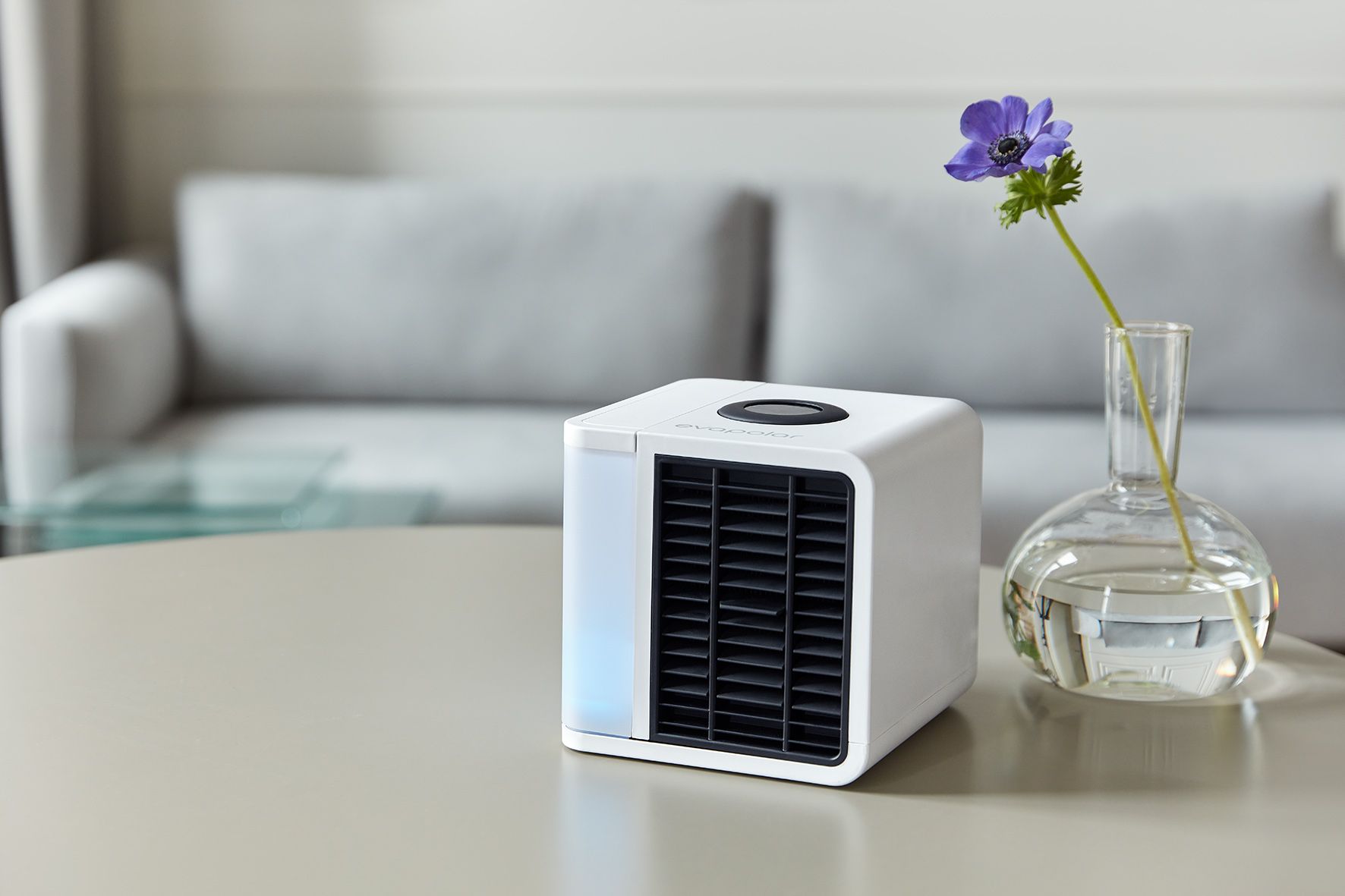 The evaLIGHTplus is another best budget portable air cooler. It comes with a removable water tank, which evaporates, humidifies, and cools down the temperature by to 7-10 degrees С.
You can adjust the temperature with the control wheel and you can also change the light to suit your mood and the time of the day. The unit is also powered by a power bank or through a PC or socket. Read more: Best Air Coolers for Humid Climate in 2022 and How to Make the Best of It
Pros:
Price
Portability
Energy consumption (10W only), which is 100 times less than an air conditioner
Stylish design
One refill of a water tank can last up to 9 hours
Cons:
Might be less powerful in humid conditioners
Designed for personal cooling, like all the portable evaporative air coolers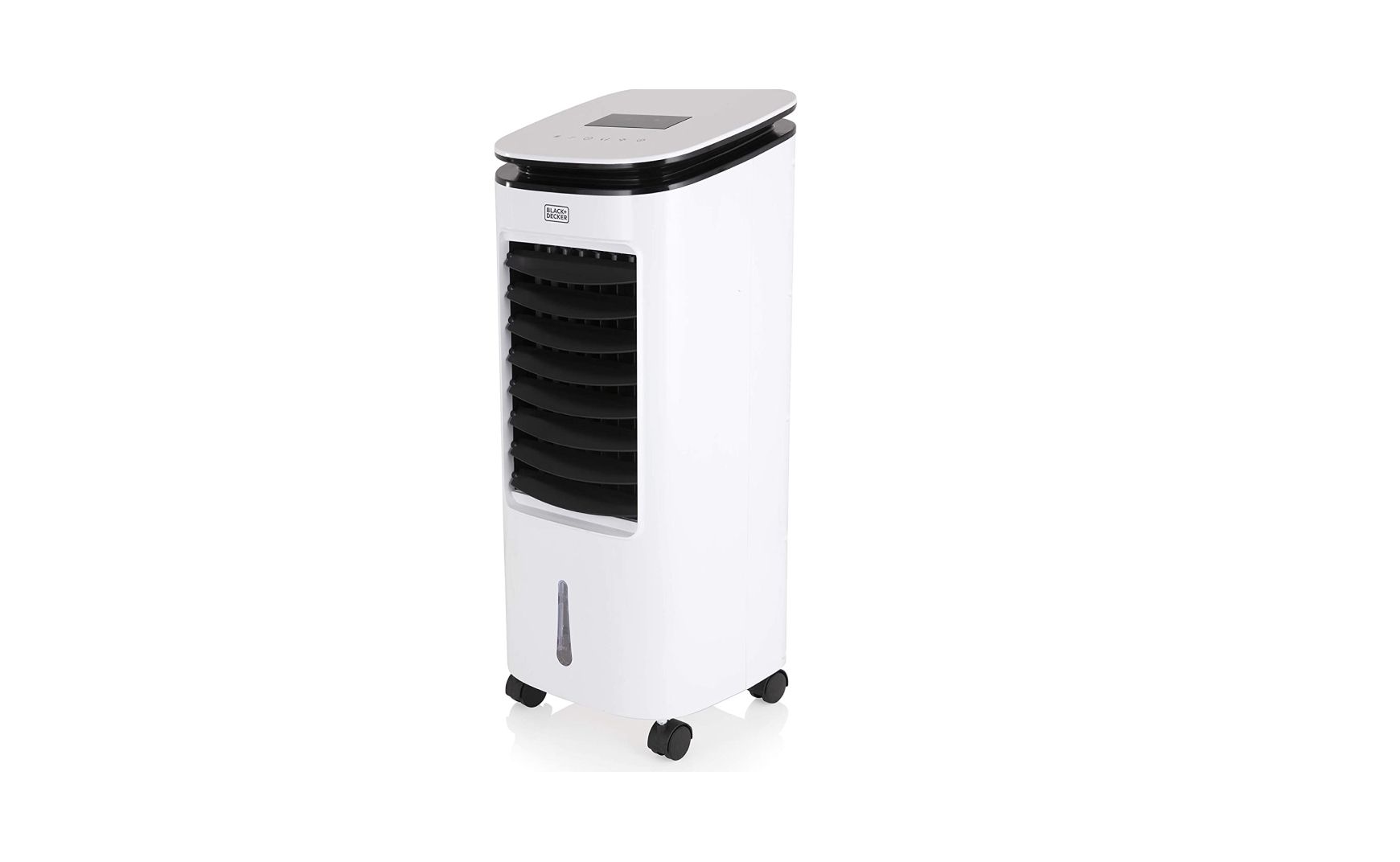 This model is great for cooling places up to 300sq ft. We must say that even the cheapest air conditioner will still be more expensive than an air cooler, however this Black Decker model falls among the more affordable AC versions.
It is easy to set up, and it is rather quiet compared to most ACs.
Pros:
Portable
Easy to set up
Quiet — the AC produces 75dB on the highest setting
Good cooling capacity for medium-sized rooms
Cons:
While it's a relatively cheap air con model, it's still more expensive than most air coolers
It can be bulky for smaller spaces.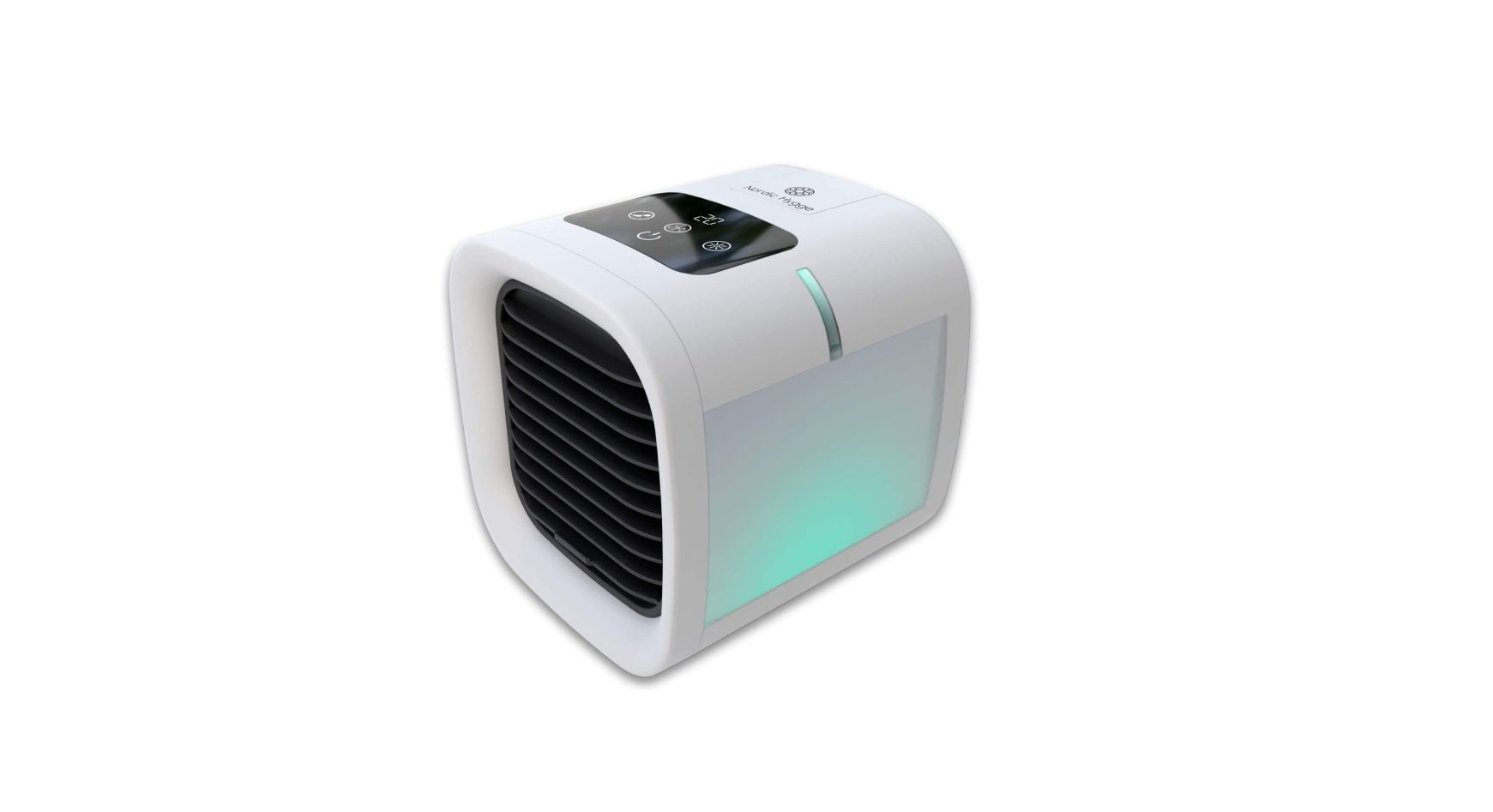 This evaporative air cooler from Nordic is a 4-in-1 gadget. This unit also humidifies while cooling. It comes with seven shaded LED lights, allowing you to set it according to your preferences. Affordable, compact and good for both home and office use. With a wide-angle power blow, this cheap portable air cooler will cool you in a matter of minutes.
It includes a moderate and basic design with clean
lines that find a way into practically any interior.
Pros:
Price
Portability
4 functions for one gadget
Cons:
Some users complain about insufficient cooling power
Slightly loud for its size
What else to consider when shopping for the best affordable portable air cooler or a cheap portable ac?
The price of the unit will depend on different factors like cooling capacity, autonomy, portability, extra features, energy consumption, etc. Some devices can include all of the features and still surprise you with a pleasant price or a discount!
1. Cooling power
Affordable doesn't have to mean weak! There are lots of portable models which are powerful enough to cool down your personal space.
To make sure you have the right cooling power, check out the BTUs (British Thermal Units) on the air con, or the CFM on the air cooler. It will indicate (the cooling power of the device. You can find it on the packaging or in the device's description online. In this article, we help you size your air conditioner, and in this one we help you size an evaporative air cooler.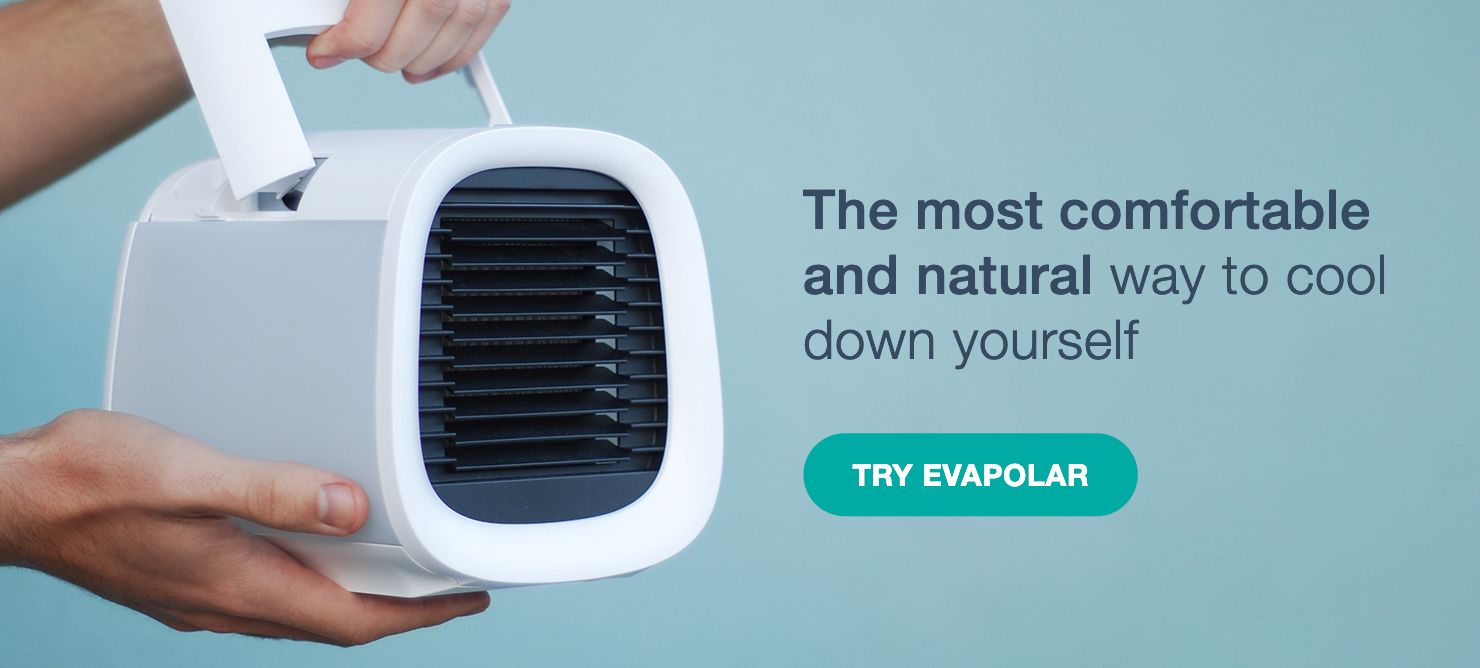 2. Maintenance and replacement details
Make sure to consider client assistance and guarantee length when you make your purchase. A solid warranty will save you money in the long run!
Also, consider the expenses of support and new parts and what this will mean for you with your cooling needs and how often you need to use your affordable cooler. Evapolar offers great deals on their cartridges and you only need to replace them every 3 to 6 months.
3. Extra Features
Some models have a few extra features outside of the primary ones. Why settle for a very basic model when even the best budget portable air cooler can surprise you with some extras?
•  Wi-Fi – Control your device from a distance!
Example: the evaSMART which you can control with an app or voice control.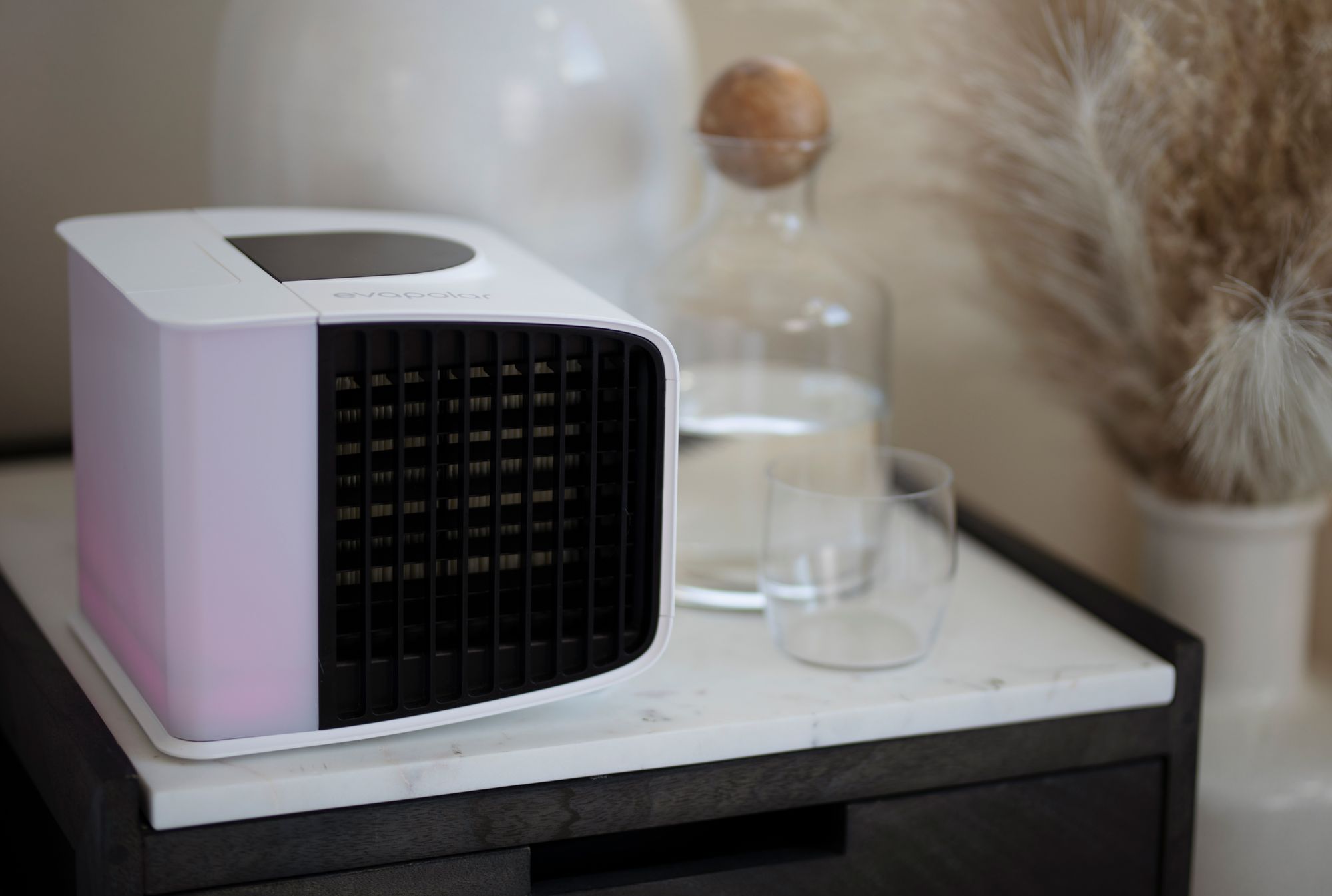 •  LED lighting – Some coolers and ACs offer LED lighting so that you can utilize them as a light / lamp
Example: Evapolar air coolers which also work as a night light
4. Energy consumption
Saving money doesn't stop when you just purchase the best affordable air cooler or air conditioner. You should also see how much electricity it will consume, both in general and also based on your needs.
Example: Evapolar cooling devices consume 100 times less electricity than regular air conditioners, which is a huge change for your bill in the long run!
Evapolar — best affordable portable air cooler
Compact cooling units like Evapolar are the absolute best little cooling devices, and they are also affordable.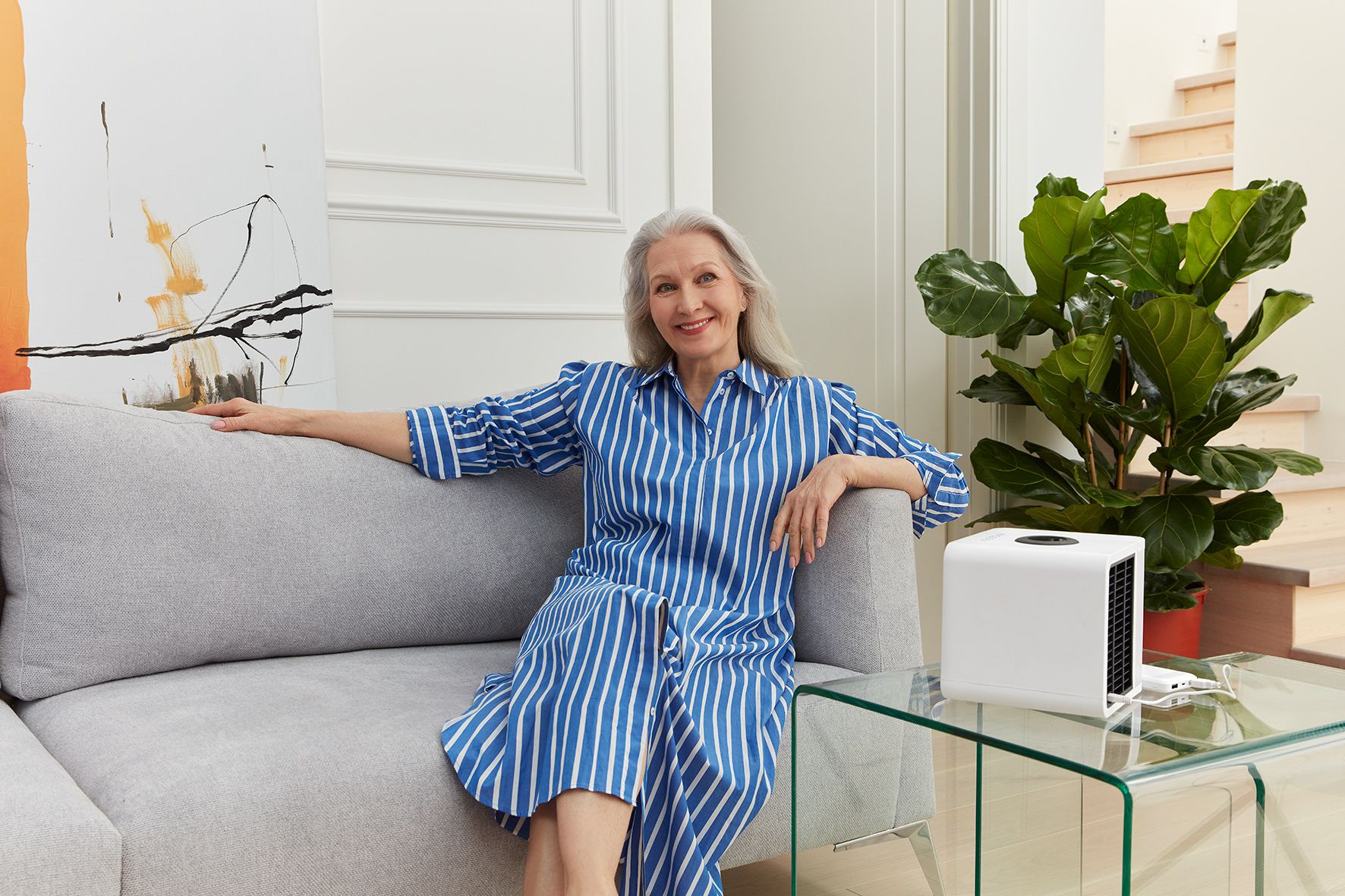 Evapolar evaporative air cooler is the best affordable version because of:
Best price/value ratio. The most expensive model is 249$, the cheapest one is 99$
Very low electricity consumption, from 7W to 12W, which is 100 times less than a regular AC. It works this way because the device focuses on your personal cooling and not on the whole room. And it makes almost no difference for your energy bill.
Zero installation fees. Any Evapolar device can even work with a portable battery via a USB.
Most affordable solution for rentals. Nobody wants to invest in something they can't take away from a rental!
Sleek minimalist design.
Noise level. The maximum noise an evaLIGHT emits at a regular speed is an equivalent of a
Very quiet house. Check out this review with the detailed breakdown of speeds and their noise equivalents.
They are also for all the possible cooling requirements: workplaces, home offices and chilling Evapolar units outperform the competition thanks to their patented evaBREEZE technology, which provides exceptional cooling performance.
An evaporative air cooler is the most affordable and  energy-efficient cooling method with minimalist design, portability, natural cooling methods, lower noise levels, and perfect small dimensions. If you are looking for a personal cooler model that has all these features, look no more — Evapolar air coolers are the best choice. Stay cool, and save money with the most eco-friendly cooling method!