Even the best-equipped garage can become a nightmare in summer without a proper portable air conditioner for the garage. Have you ever spent so much time in your garage that you felt suffocated? You are not alone! The solution is to pick the right portable ac unit for your garage, to get you through the hot days.
We have selected the top air conditioners and air coolers for your garage – let us check them out.
evaCHILL
The most effective cooling device
Best portable air cooler for garage — evaCHILL
The Evapolar evaCHILL portable air conditioner for the garage is our top choice, for many reasons.
First, Evapolar is a potent brand that produces the most powerful personal air conditioners. This specific one is no exception to their line of excellent, high-quality devices. The evaCHILL air cooler can cool down the air next to you by 7 to 10 degrees. It also purifies and humidifies the air.
The special technology that runs the evaCHILL air conditioning unit is the patented evaBREEZE technology. It makes it an eco-friendly option to use inside your garage. Do you know why this is the case? This technology keeps mold and harmful bacteria from spreading.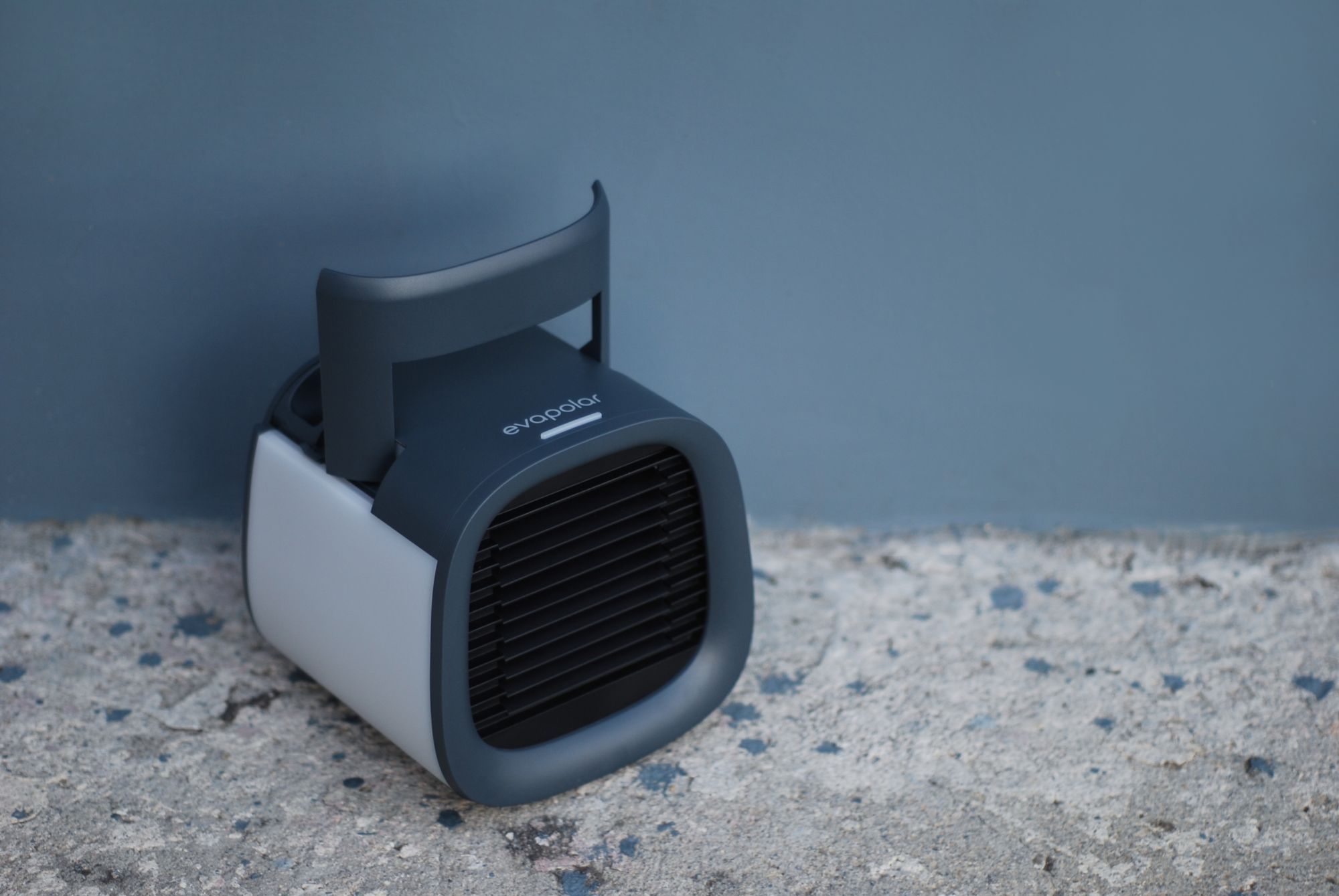 Types of Air Conditioning Units for Garages
There are different AC units that you can use inside your garage. If you are looking for the best air conditioner unit for garage — you are in the right place. But first, here are some specifics about the air conditioners you need to know:
Portable Air Conditioners
It is in the name — these air conditioners are easy to move around! It makes them an ideal option to use inside your garage, since you are not spending all the time in the garage and might need your portable ac for the garage elsewhere. Feel free to move them around to suit your needs.

In this article, we're focusing more on the portable air conditioners, since we consider them the best air conditioner for the garage.
Window Air Conditioners
Summer air can get so hot and sticky without the right air flow. Window air conditioners, however, can make the difference for you. They differ based on the room size and offer a varied flow of air.
Many will wonder whether window air conditioners are better than their portable counterparts. So, here's the thing: window air conditioners are particularly great if you have access to a window you can install them in. But the problem is that most garages don't have a good window that you can use for your air conditioner. As much as they won't take up much space inside the garage, they still don't move around like the portable ACs. The best part about them is that they emit less noise and come at a competitive price point.
Ductless Mini Split
This is a great way to cool down your garage while either working or sorting out things inside. The ductless mini split coolers have a connection to an outdoor compressor and can be mounted on the floor, wall, or even the ceiling.
The downside about these air conditioners is their pricing. They don't come at a cheap price, as they cost a significant amount of money—even for installation.
Evaporative or Swamp Coolers
Evaporative coolers are what some refer to as swamp coolers. They can help you cool the air in your garage with a portable air conditioner during low humidity and in a warm climate. Evaporating water into the garage air can help to provide a natural and energy-efficient cooling mechanism. And that's what a swamp cooler helps you achieve inside the garage.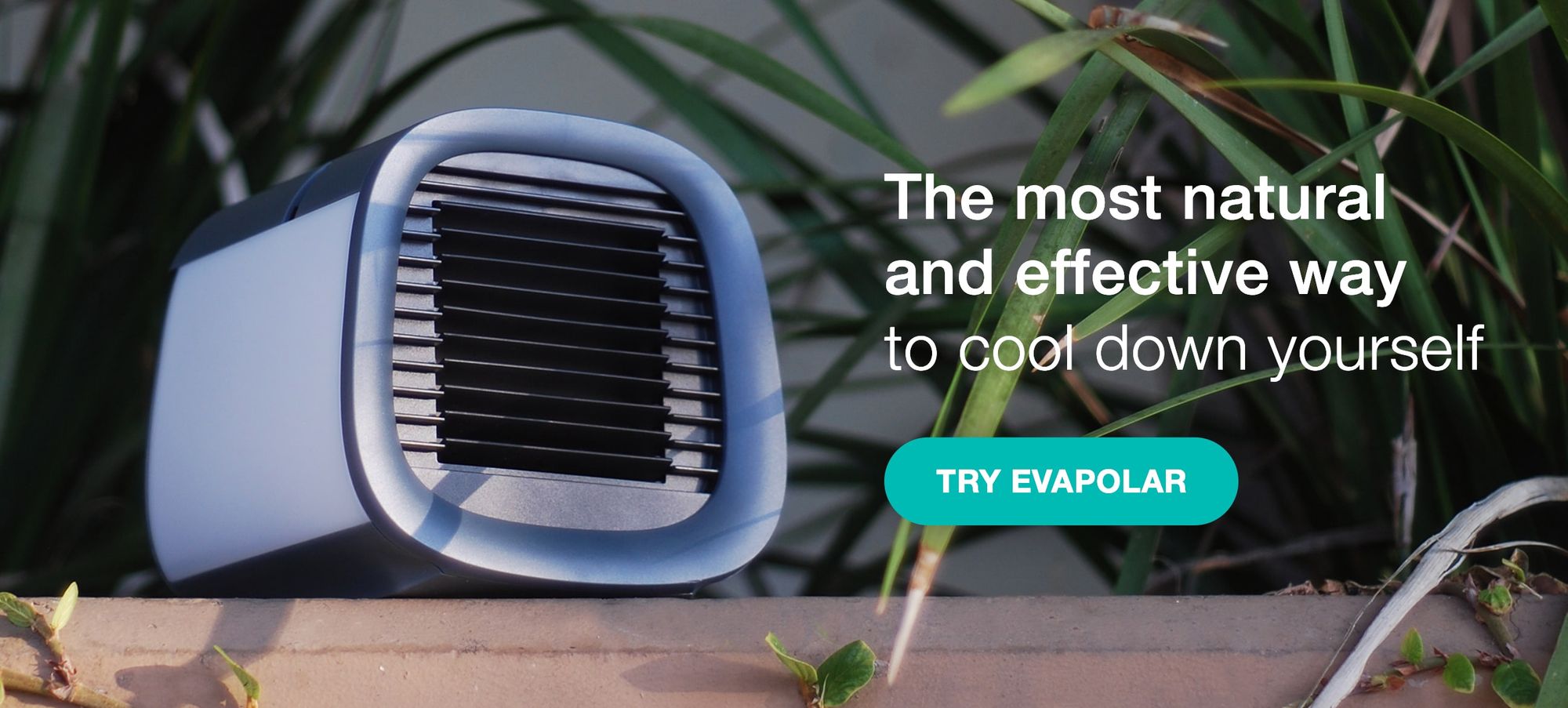 These devices work on the basic principle of cooling outdoor air by taking it over pads saturated in water. The water then evaporates into it easily, leading to a cooling effect. The cool air circulates inside your garage as the warm air goes out through the windows.
When you use swamp coolers, keep in mind that you need to have the windows partially open. This is to facilitate the warm air leaving the room and being replaced by the cool air.
Evaporative coolers have one significant advantage over the other types of ACs. The advantage is that they don't recirculate the same air that's in the room. Instead, they give out a flow of fresh air for every cycle. In addition, they are cheaper when compared to conventional air conditioners—both to buy and install.
The downside with these coolers is the maintenance. They need a lot of regular maintenance to perform optimally. Also, they work best in areas with low humidity.
7 Best Portable Air Conditioners for Garages
Here is a comparison table of the 7 best portable ACs for a garage that you can consider:
EvaCHILL Personal Air Cooler
Home Labs Portable Air Conditioner
MRCOOL ADVANTAGE Wall Mounted Air Conditioner
LG LW6017R Window Air Conditioner
Honeywell 525-729CFM Evaporative Cooler
TOSOT 8,000 BTU Portable Air Conditioner
8000 - 14000 BTU (depending on the model)
up to 2-2.5m² (in the direction of the airflow)
Product Overviews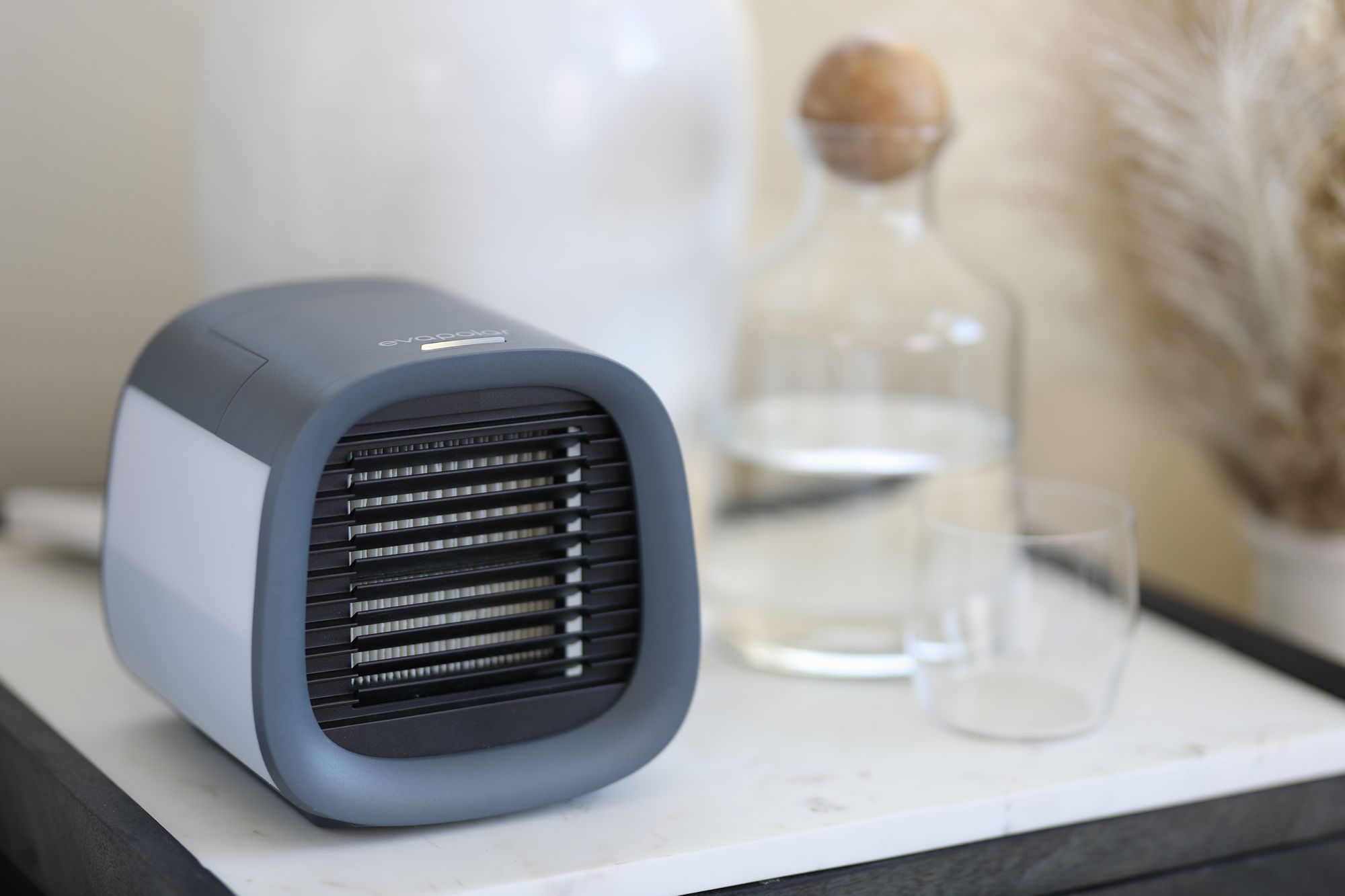 Technical Characteristics Table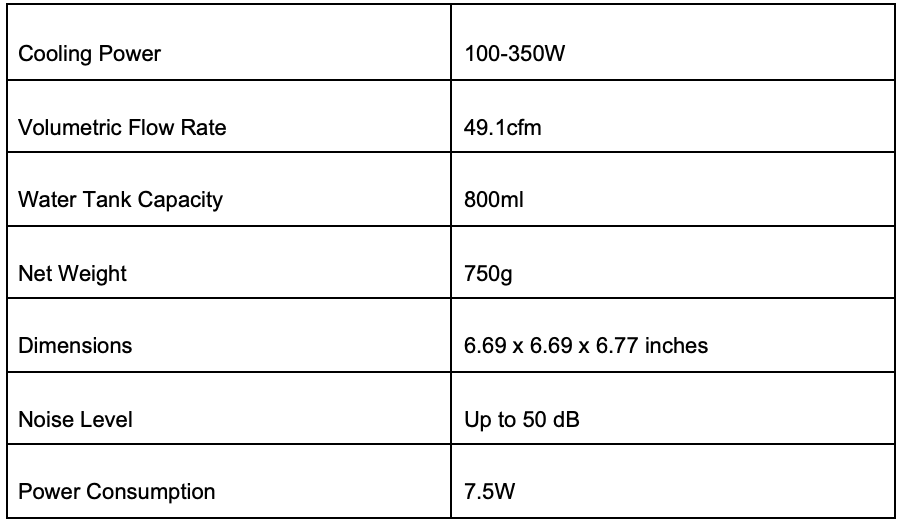 Vote's Chart
General Review
The evaCHILL personal air cooler comes out as the best portable air cooling devices for the garage because of its amazing features. An impressive fact about it is that it is ultraportable. You can cool yourself on the go— whether you're in your garage or elsewhere. It has a light tank that can support its operation for about nine hours.

You don't have to worry about powering this device. You can do so easily using your power bank, power socket, or even your PC, as long as it has a USB outlet!
Pros
It has a low power consumption of just 7.5W.
The device is ultraportable—carry it around everywhere easily.
It has an impressive leakage-proof system.
Eco-friendly design.
One button command.
Cons
It cools only your personal space and not the entire room.
Get this portable AC for your garage today.
Home Labs Portable Air Conditioner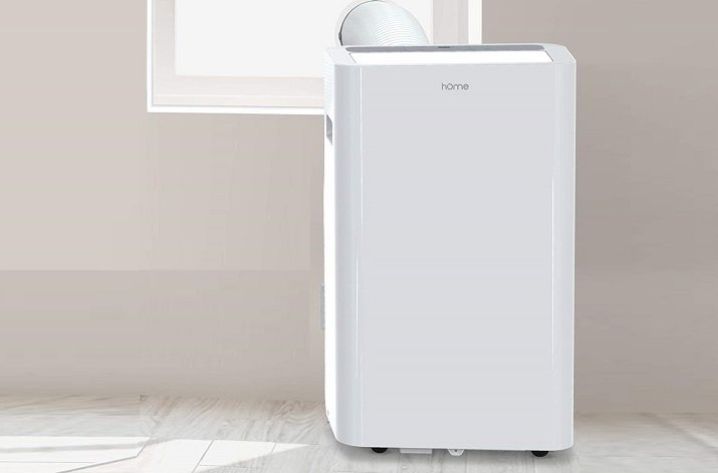 Technical Characteristics Table

Vote's Chart
General Review
This is a portable and quiet air conditioner for your workshop. It's an easy-to-install option that works well in any space that you have in your house. It has wheels that make it easy to move around several rooms inside the house. Most of the people who have used this air conditioner claim that the installation only takes about eight minutes.
The air filter for this device is washable, and this makes it quite easy to maintain. The remote control makes it easy to adjust any settings on the air conditioning unit. Try to clean the air filter every two weeks to ensure an efficient operation.
Pros
Easy to control using the remote unit.
Auto-swing functionality.
Efficient cooling.
Easy-to-clean air filter.
Portable.
Less noise.
Energy efficient.
Cons
The exhaust tube gets a bit toasty.
Get this portable AC for your garage today.
MRCOOL ADVANTAGE Wall-Mounted Air Conditioner
Technical Characteristics Table

Vote's Chart
General Review
This portable AC for the garage is one of the best devices you can get right now on the market. It has a high performance that delivers significant comfort to the user, regardless of where he or she is. It has a competitive price that's really hard to beat, considering the features it possesses.
For those who hate noise, this device is fairly quiet during operation. An added advantage is that it's environmentally-friendly for those who are concerned about safeguarding Mother Nature. You can use it easily with Google Assistant and Alexa voice controls.
Pros
Eco-friendly
Energy efficient
Less noisy
Remote control included
Easy to use
Cons
Not great for a large space.
Get this portable AC for your garage today.
LG LW6017R Window Air Conditioner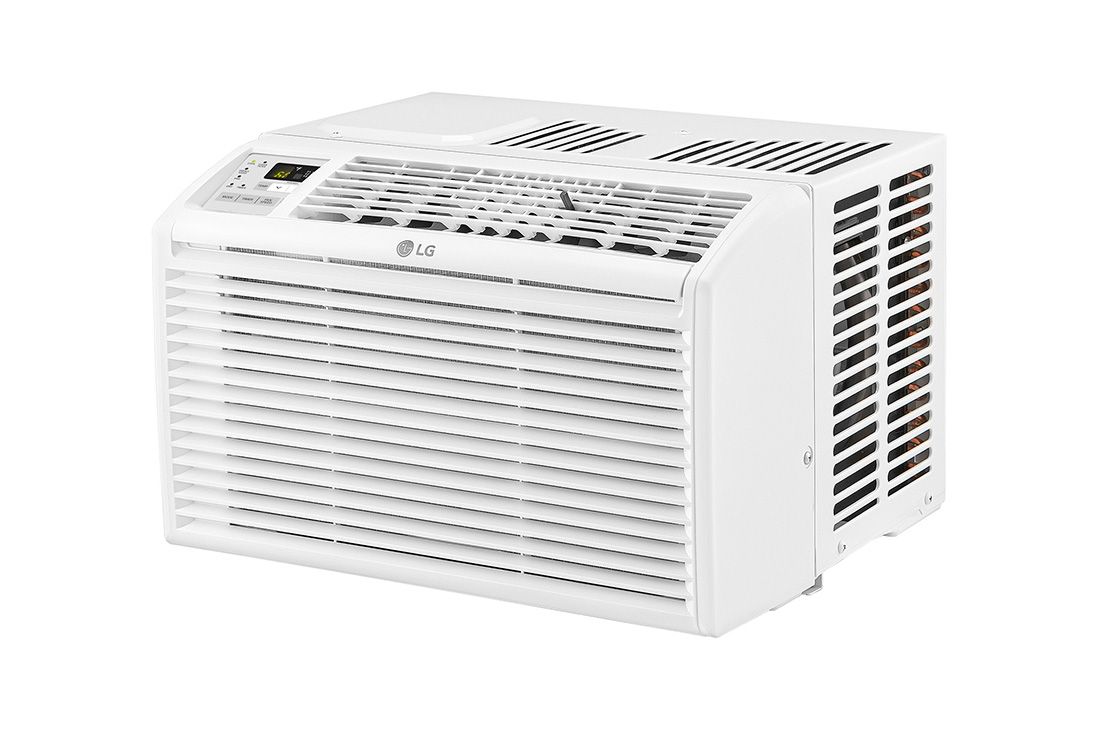 Technical Characteristics Table

Vote's Chart
General Review
With this amazing air conditioner, you can take on any hot environment with ease. It can help you cool down on those hot afternoons when you're working inside your garage. It has three fan speeds, an energy saver, and three cooling speeds. What more could you ask for in an air conditioning system?
Pros
Easy to set up or install.
Low noise.
Cools a larger space.
Auto restart feature.
Easy to use with the remote control.
Multiple fan speeds.
Cons
Batteries must be replaced after a short while.
Get this portable AC for your garage today.
Honeywell 525-729CFM Evaporative Cooler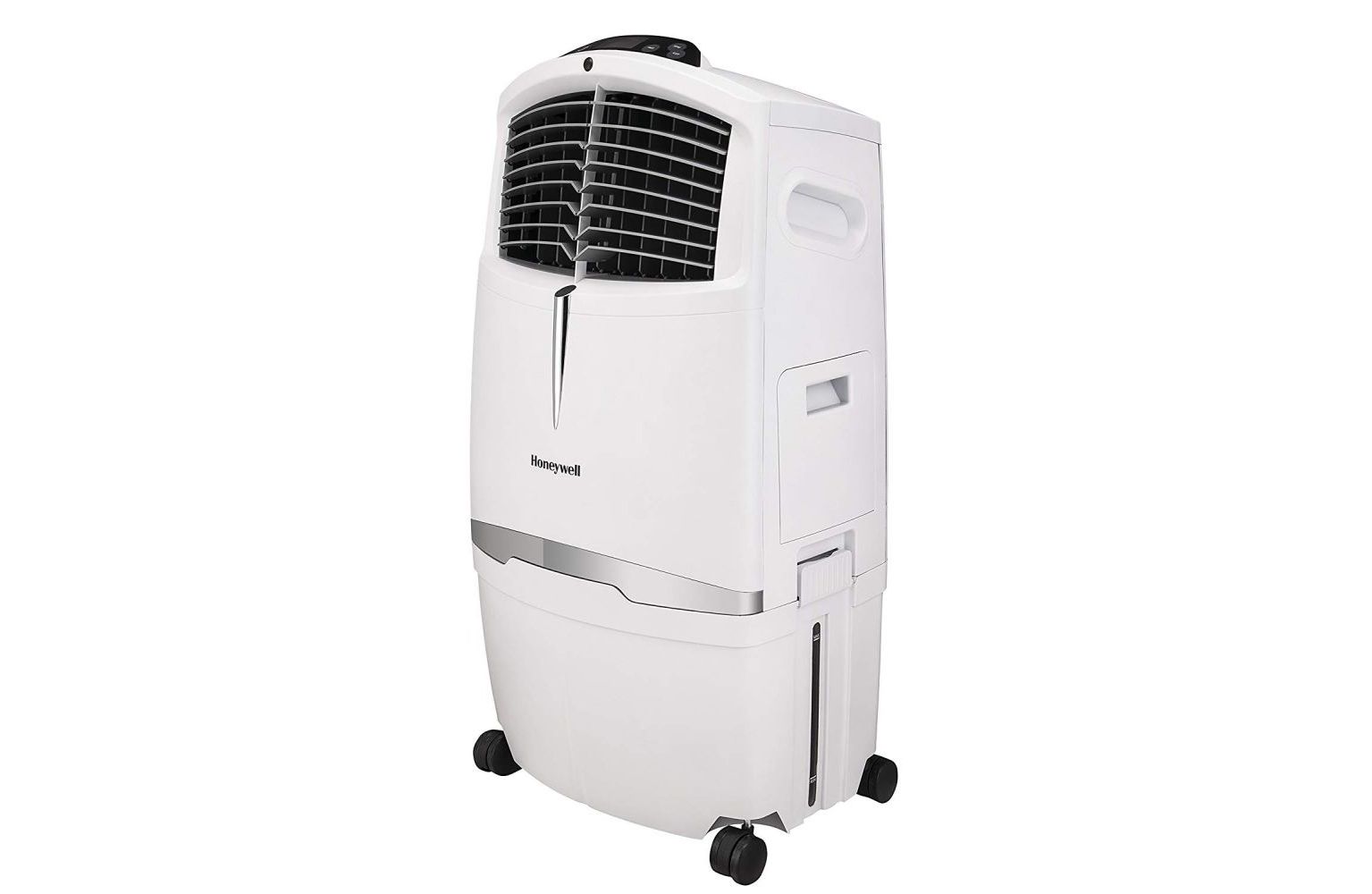 Technical Characteristics Table

Vote's Chart
General Review
This top portable AC unit for the garage can keep you cool, especially during the hot summer season. It has outdoor fans that can easily circulate air within the garage for a comfortable experience.
It has a remote control for easy adjustments and can work well in most garage sizes. Using the device almost feels like you're experiencing a lake breeze.
Pros
Cools both small and large spaces.
Durable and strong construction.
Easy to control using the remote.
Fair price point.
Cons
Get this portable AC for your garage today.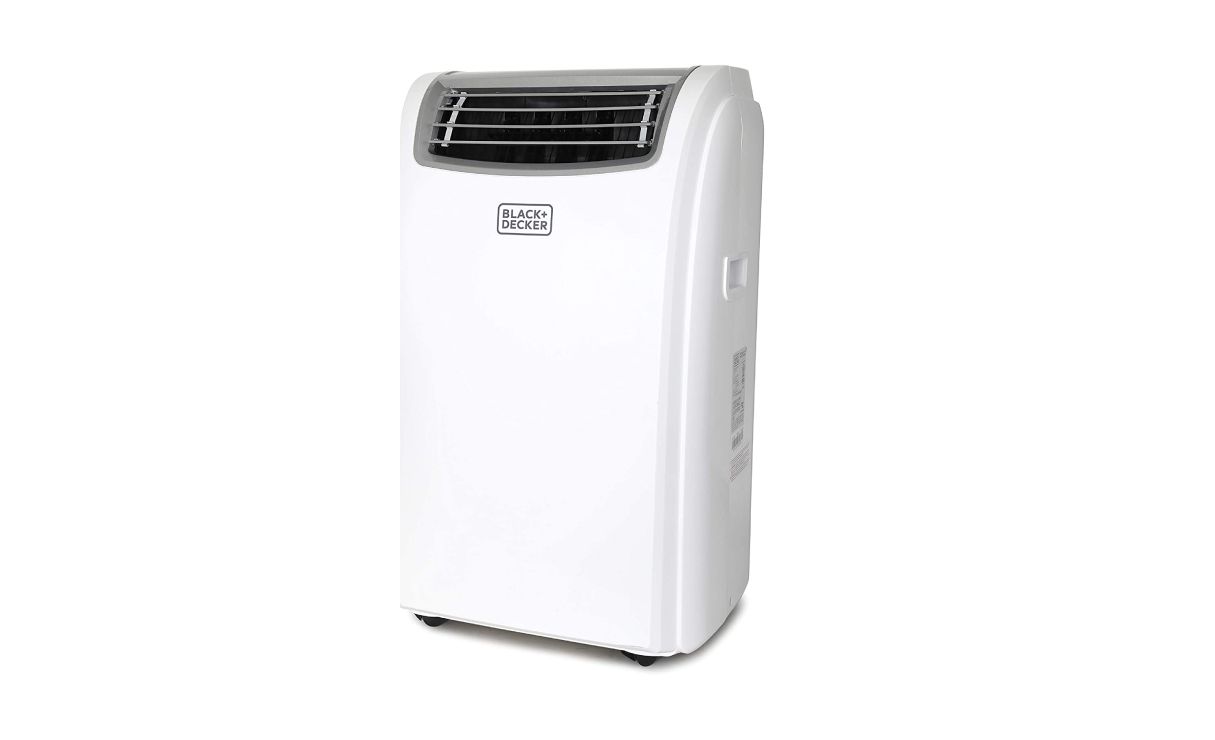 Technical Characteristics Table:
Warranty: 1 year
Coverage area: up to 500 sq.ft
Power consumption: 1150W
Dimensions: 13.8 x 17.1 x 28.1 inches (cal slightly vary based on the model)
Weight: 68 pounds
Vote's Chart:
Portability: 3.5/5  
Noise: 5/5
Ease of use: ⅘
Durability: 4.5/5
General Review
This is one of the suitable AC units for garages due to its simple features. It's relatively portable but still is on the heavier side! This model is great for cooling places up to 500sq ft. This Black Decker model falls among the more affordable AC versions but the price can also vary based on the BTUs!
It is easy to set up, and it is rather quiet compared to most ACs.
Pros:
Portable (yet, the 68 pounds places it on the heavier side)
Easy to set up
Quiet — the garage AC produces 75dB on the highest setting
Good cooling capacity for medium-sized rooms
Cons:
While it's a relatively cheap air con model, it's still more expensive than most air coolers
It can be bulky for smaller spaces.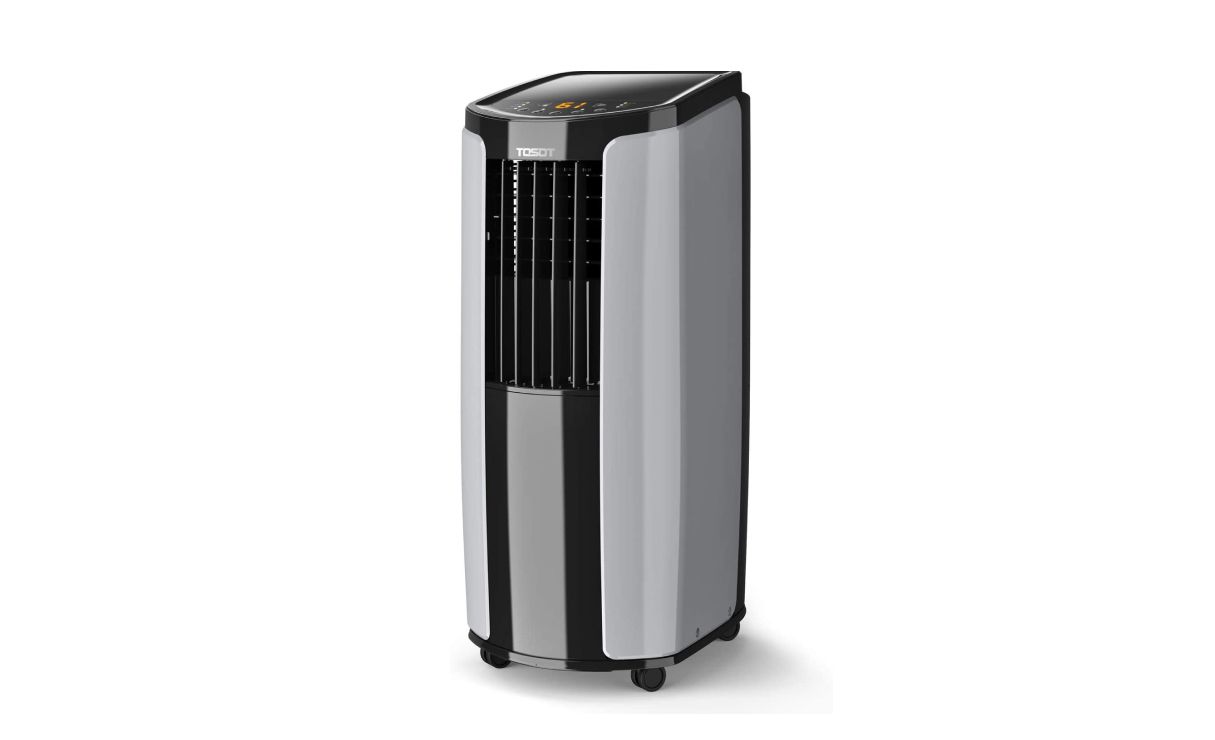 Technical Characteristics Table
Warranty : 1 year
Coverage Area: 300 sq ft
Power Consumption: 1050 W
Dimensions: 11.8 x 15.4 x 30.4 inches
Vote's Chart
Price: ⅘
Noise: 5/5
Ease of use: ⅘
Remote control: 5/5
General Review
This is the quietest model on our list, with only 49Db of noise. It's a high performance air conditioner unit that you can move around, even to your garage. 8000 BTUs is enough for a small room — according to TOSOT, this portable air conditioner is suitable for rooms up to 300 sq ft.
Pros
Easy installation.
Remote control
Very quiet
Cons
8000 BTU is for a relatively small garage.
What to Look for When Buying a Portable AC Unit for Your Garage
Now that we've featured the best air conditioning and cooling units for garages, it's only right that we show you what to look for when buying one. You need to understand the most important factors that you should focus on when purchasing such a unit. Here they are:
Cost
This is one of the first things coming to mind first when figuring out options for your air conditioning unit. Of course, they all have independent prices and features. And you'll have to base your decision mostly on the features together with the corresponding pricing. Only check on the fancier solutions when you have sufficient funds.
It also makes sense to go for more affordable models when you are not renting. Otherwise, you can end up with a very expensive investment that is not useful where you go next.
Power Consumption
Most HVAC systems have good power consumption. It's important to choose an air conditioner that doesn't consume too much power. The features a unit has will also determine the consumption rating. Buy an Energy Star rated device if you're keen on saving on power consumption. Also, if you have a device with heating properties, expect it to consume more power when you're using that feature.
Durability
This is an integral buying decision. How durable is the unit you're buying? Unfortunately, most people fail to think of durability when shopping for the best portable AC unit for their garage.
The air conditioner that you pick should serve you for an extended duration. Things like Freon should be present for a long time before you have to check on them again. Aside from regular maintenance, the system shouldn't give you much trouble while using it.
Evapolar — the best cooling option for your garage
Compact cooling units like Evapolar are the absolute best little cooling devices, and they are also affordable.
Best price/value ratio. The most expensive model is 249$, the cheapest one is 99$. It makes it the best choice for your garage, since it's not the place you use all the time.
Very low electricity consumption, from 7W to 12W, which is 100 times less than a regular AC.
Zero installation fees. Any Evapolar device can even work with a portable battery via a USB — use it in your garage, take it on holiday, bring it to your next rental, the opportunities are endless!
Most affordable solution for rentals.
Sleek minimalist design. You might already have enough things in your garage, so you don't want to add more clutter to the eye.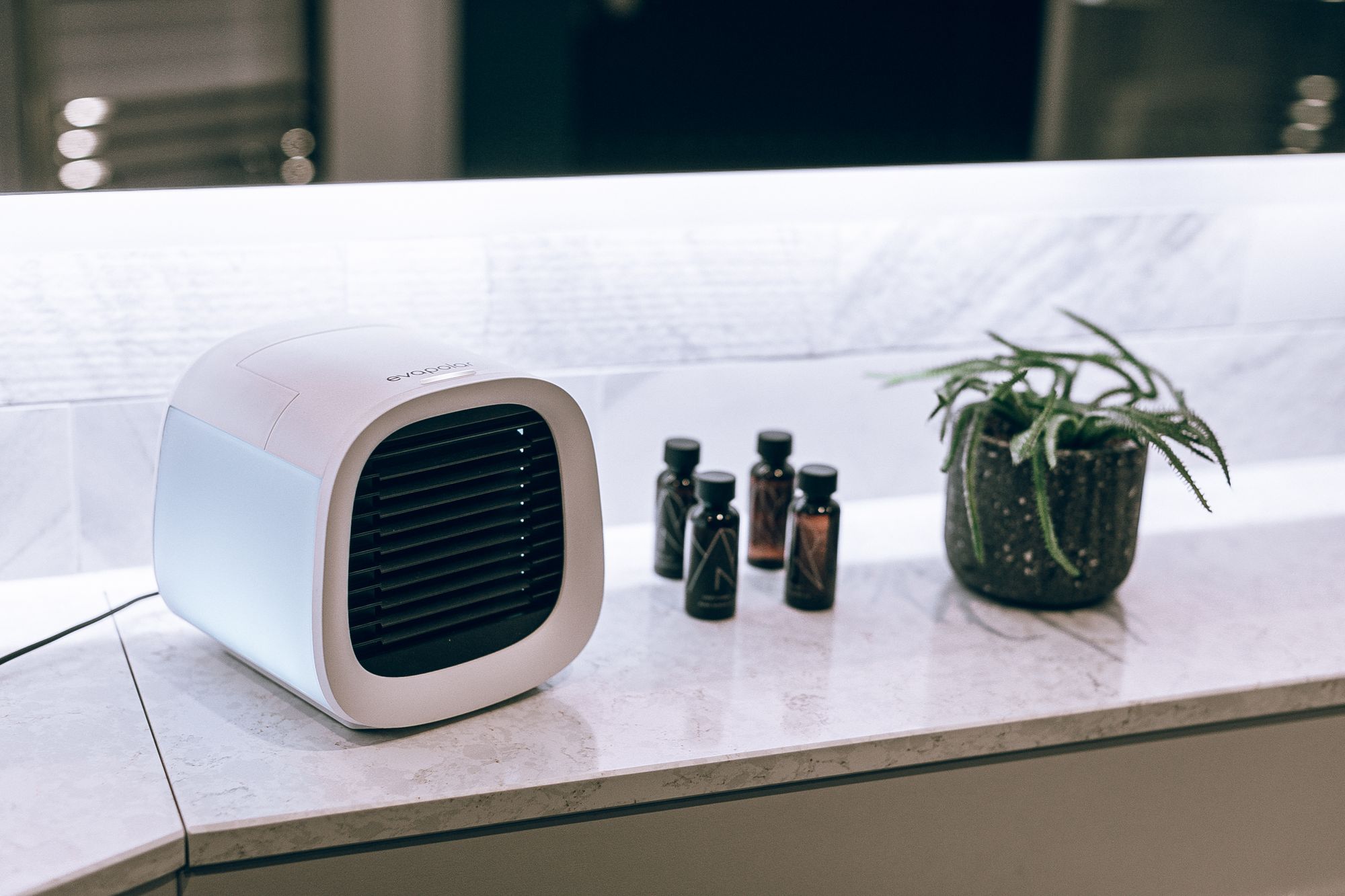 Conclusion
You need to focus carefully and check out the entire review of the best portable air conditioners for the garage as you make your decision. Of all the models that were mentioned, we recommend the evaCHILL Personal Air Cooler as the top portable air conditioner for the garage. It's the best choice you'll make when searching for a garage cooler.
Frequently Asked Questions
How many BTUs does it take to cool a two-car garage?
Most two-car garages have a size of 20 by 20 feet. According to experts from Energy Star, such a space needs a 9,000 or 10,000 BTU air conditioner to circulate air effectively.
How much does an air conditioner for a garage cost?
Based on the size and level of efficiency, an average air conditioner can cost between $500 and $2,500. The brand quality also determines how much the unit will cost you in the end. Installation for a unit increases the total cost by around $1,500.
Should I air condition my garage?
This entirely depends on where you are or live. In some places, the temperatures aren't high enough to necessitate an air conditioner. But in other places, you have to use an air conditioner in your garage or else feel suffocated. It's very safe to use an air conditioner in the garage.
How many BTUs do I need for my garage AC?
This actually depends on the size of your garage. The bigger it is, the more BTUs you'll need for your garage AC. On average, a one-car garage will only require 7,200 BTUs. On the higher side, you'll need 15,000 BTUs for a 500-square-foot garage.
Does a portable air conditioner for a garage use a lot of electricity?
Well, this entirely depends on the unit that you use in your garage. Some may take a significant toll on your power, while others won't. Its BTU and size will determine how much power it's going to consume in the long run.