A ventless air conditioner can be a lifesaver for many reasons. It is often portable, takes less space than a conventional AC unit, requires little to zero installation, and is often more pleasant to look at. Also, these units are energy efficient and will emit very little noise. They are designed to increase comfort, and you won't have to worry about filling holes in the wall after installation.
In this article, we'll focus on the best portable air conditioners without a hose available on the market. Buying one can be tricky, so we have also provided a buyer guide to help you make the right decision.
We would also like to precise that a portable AC unit without a hose, which uses air conditioning as a cooling method, doesn't exist. It would simply break the second law of physics! An air conditioner needs a vent (exhaust) to eliminate the hot air. This is why we will use 'air conditioner' as an umbrella term in this article, and then we will dive into the cooling methods of each device in particular.

evaCHILL
The most effective cooling device
What Is a Ventless Air Conditioner?
There are two types of ventless ac units:
Standard Air Conditioner: Does not need a connection to ventilation contrary to split systems. Most likely, it is based on a traditional fan, with add-ons, oscillation, and other perks to make the cooling more efficient.
Evaporative Cooler: Despite the name, most ventless evaporative air conditioners are actually air coolers. They work due to the principle of water evaporation. The evaporative cooler will reduce your personal space's temperature and make you feel comfortable.
Both of these types are primarily portable and can be used to freshen up a small room or your personal space.
Our Top Pick Portable Ventless Air Conditioner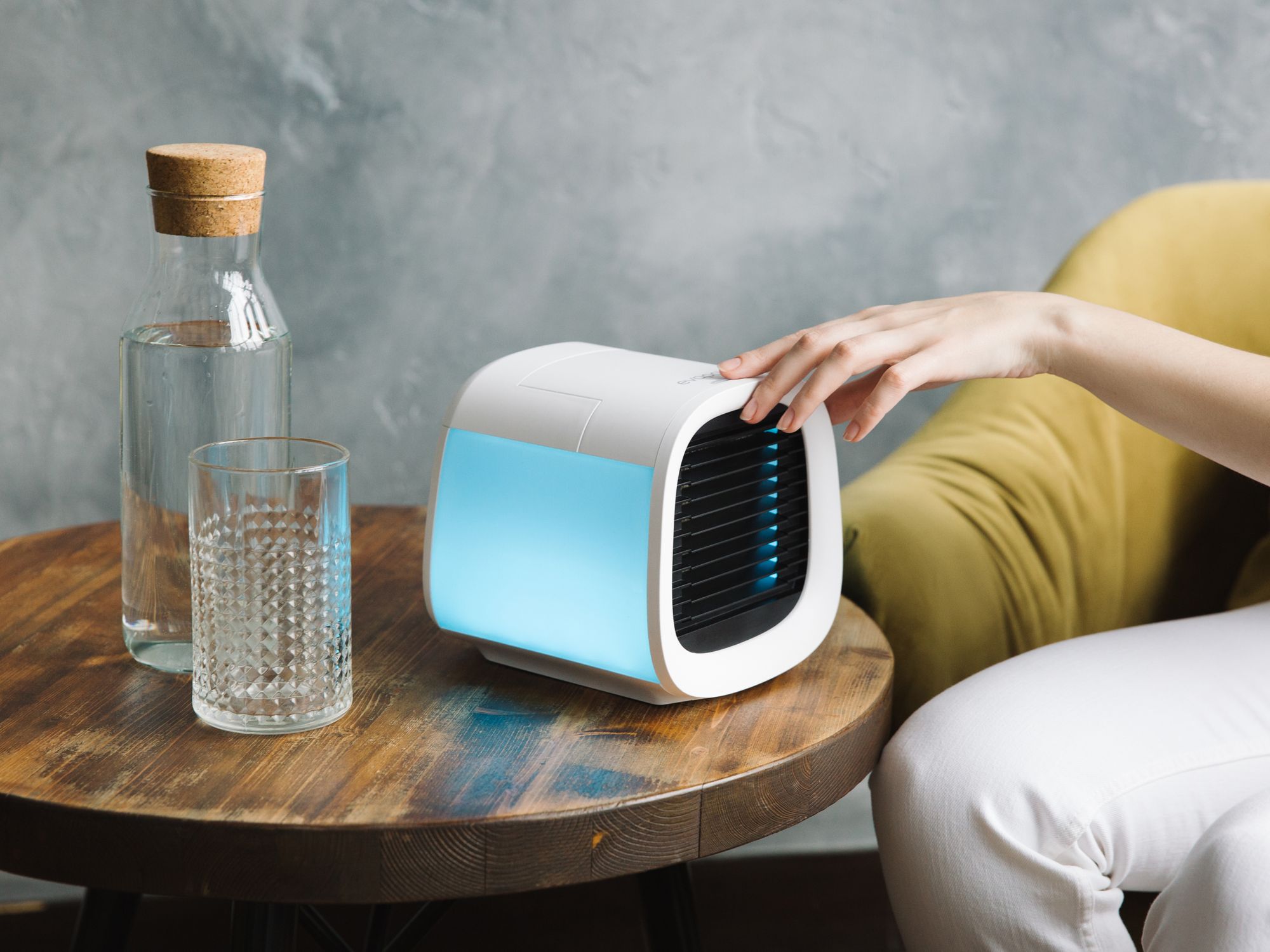 If you are looking for the best ventless portable air conditioner to serve you well, you might want to consider Evapolar products. They offer a satisfying range of contemporary personal air coolers that can be used indoors and outside.
The evaCHILL Personal Air Cooler helps to cool your personal space by 5-14 degrees Celsius (17 Fahrenheit) using evaporation. It humidifies and purifies the air and is an eco-friendly device — evaporative cooling is the method invented by nature directly. In addition, the evaBREEZE™ technology in the cartridges prevents mold and harmful bacteria from spreading.
8 Best Ventless AC Units
4 Fan speeds, three cooling modes
Max. Airflow / Cooling Power
6.69 x 6.69 x 6.77 inches
11.5 x 11.6 x 29.6 inches
12.7 x 12.8 x 31.4 inches
12.63 x 11.68 x 34.5 inches
*CFM = cubic feet/meter, usually used to measure the cooling capacity of air coolers. It is also common to use BTU* = British Thermal Units.
Ventless Air Conditioners Overview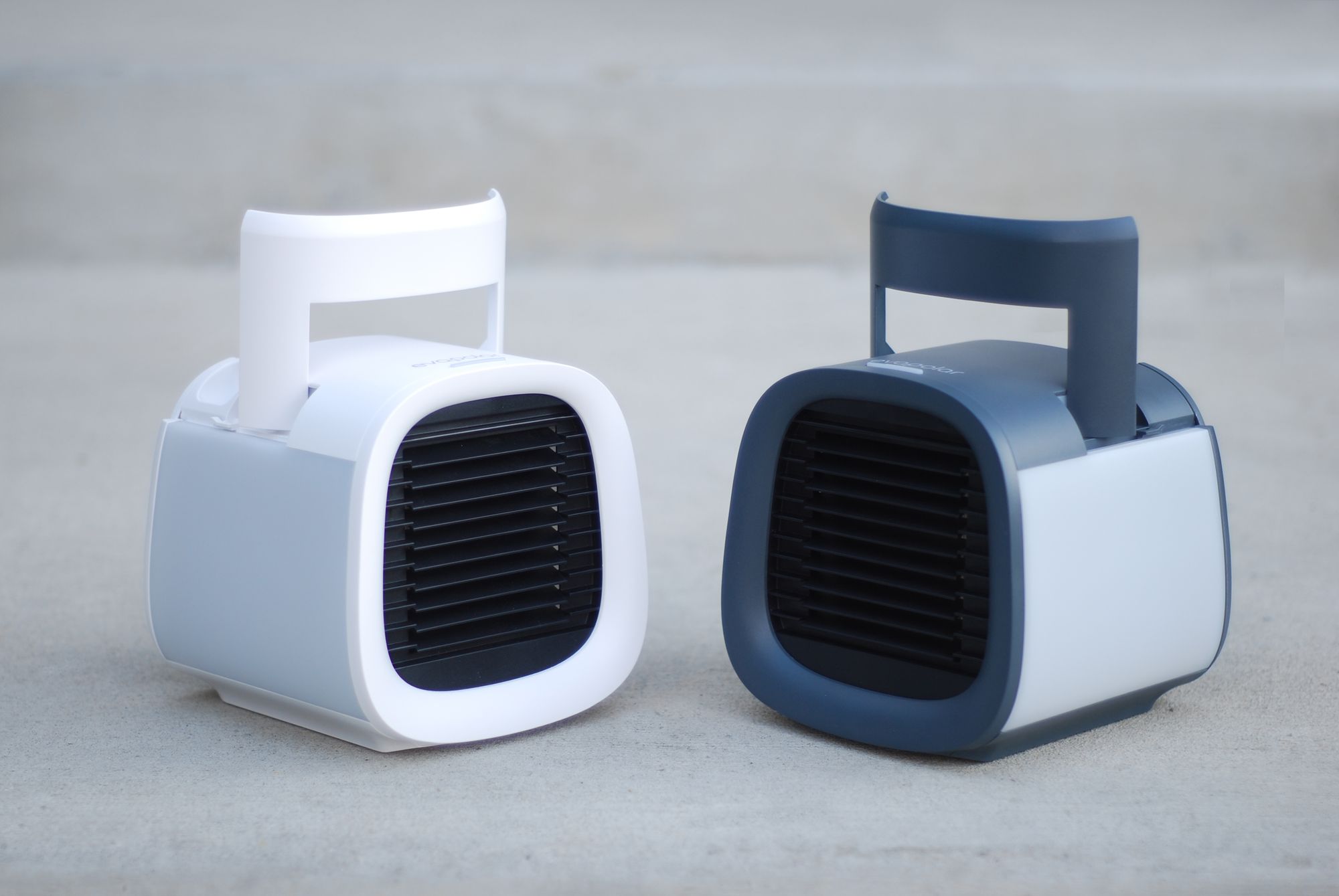 If you are looking for the best portable air cooler without a vent, you are in luck with the evaCHILL Personal Air Cooler. With it, you can cool yourself anywhere because it is portable and super light. This is an evaporative air cooler with an extended tank that allows it to work up to nine hours. Even better, it can be powered by a laptop, power socket, or power bank.
+ use the table from the original article
The evaCHILL only consumes about 7.5W, sufficient to chill, purify, and humidify the air in a personal space. Also, it has a handle that makes it easy to carry. Another fantastic thing about this vent-free air cooler is its enhanced leakproof system.
One more reason you would want to consider an evaporative air cooler by Evapolar is its sleek and eco-friendly design. The device works by emitting a natural breeze that will cool your body with fresh and humid air. With the evaCHILL Personal Air Cooler, you can focus on other things in a cool environment.
+ use the table from the original article
Pros :
Whisper quiet
Lightweight and ultraportable
Eco-friendly design
Leak Proof system
Energy-saving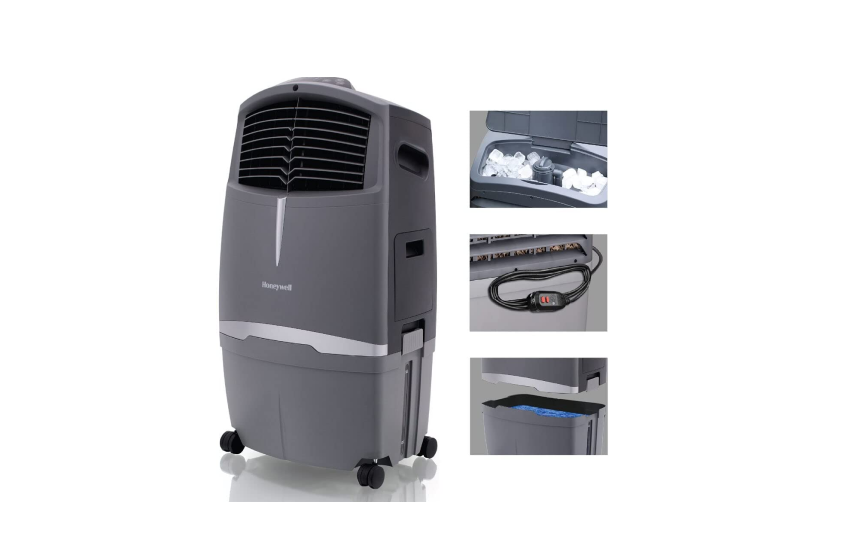 This is an outdoor evaporative air cooler that is perfect for outdoor use. It comes with a humidifier and a fan, which allows it to function with very high efficiency. You can also use this cooler indoors in a medium-sized room or other recreational spaces. The Honeywell evaporative cooler offers versatile cooling, and it has an iced compartment and humidity control with which you can easily regulate the moisture level.
+ use the table from the original article
The Honeywell portable ventless AC is ideal for areas up to 320 square feet. And it weighs only 11.3 kg, which shows that it is lightweight and can be moved easily. So, if you are looking for an air cooler that you can use for pool parties, backyard barbecues, or other outdoor activities, the Honeywell cooler is a perfect choice for you.
The cooler is made from durable materials and comes with a 12-year warranty.
+ use the table from the original article
Pros
Perfect for both outdoor and indoor activities
Lightweight
Can cool large rooms conveniently
Made from UV-resistant materials
US compliant
Cons
It doesn't offer whisper-quiet modes, which is a downside for light sleepers
It can be bulky for small-sized spaces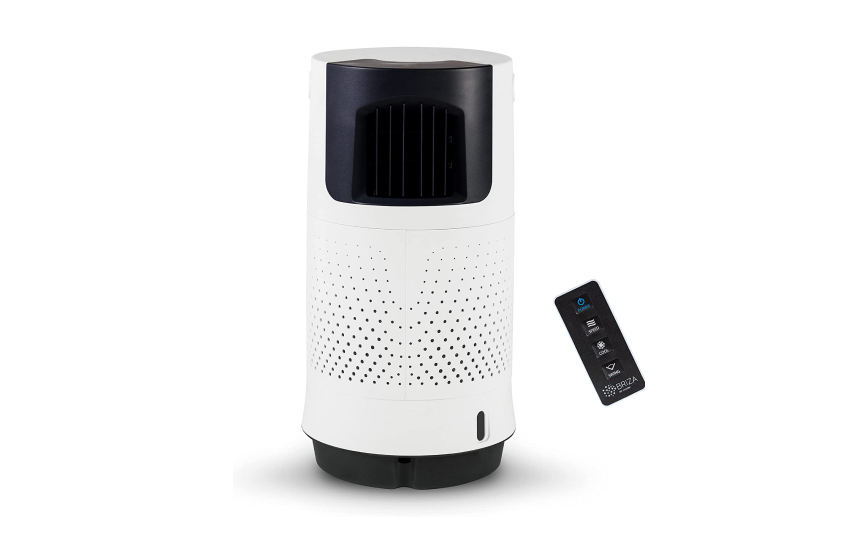 Here's another solid freestanding ventless air cooler. Evaporated water cools the temperature in your environment. With this air cooler, you don't need any ventilation; all you do is fill the tank with water and plug the device into a power outlet.
+ use the table from the original article
The Briza Cool Air Cooler does not recycle or dry the air like conventional air cons. Instead, it operates by adding up to 5% of moisture to the air through evaporated water. This helps keep the air comfortable and healthy. If you are looking for an air cooler that will let you enjoy clean air in your personal space, you might want to consider the Briza Cool Air Cooler.
It is worth mentioning that this device offers an adjustable fan speed, which includes low, medium, and high speeds. What's more is that the air cooler is portable, and you can use it anywhere as long as it's within reach of a power outlet.
+ use the table from the original article
Pros
Adjustable fan speeds to adjust the intensity of the fan
Lightweight and portable
Provides natural and clean air
Simple and easy to use
Cons
More expensive than other air coolers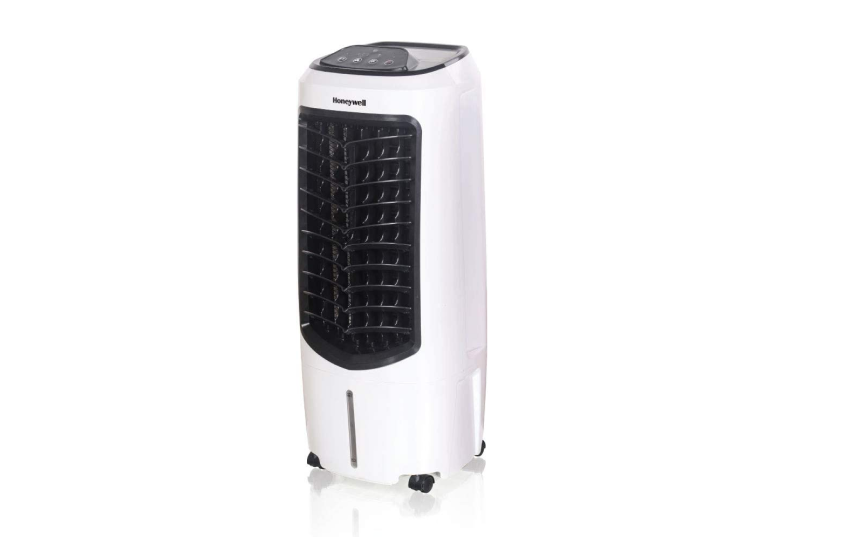 Honeywell has produced several excellent ventless air conditioners, and this product is one such device. It is a low-energy and powerful air cooler that's also ideal for use in a personal space. This air cooler allows you to enjoy summer without sweat or high electricity bills. Also, this is a multipurpose air cooler that can provide humidity even during the winter.
+ use the table from the original article
You might consider this device in the Midwest and Southwest US during hot and dry seasons. One amazing thing is that it does not require air conditioning or a compressor or battery. However, it can effectively reduce the temperature of the environment. Like the other air coolers mentioned earlier, this air cooler operates by evaporating the air.
The Honeywell Fan and Humidifier is ideal for small areas like a desk, bed, dining table, and sofa. It has a removable tank which makes it very easy to clean. Also, the carbon dust air filter is easy to remove, and with the alarm, you'll be notified when the water level in the air cooler is low.
+ use the table from the original article
Pros
Environmentally friendly
Multipurpose — cooling air during summer and humidifying it in winter
Energy-saving
Easy to clean
Whisper-quiet operation
Cons
Small water tank size may not be convenient for use over a long period.
Certain reviews complain about low cooling power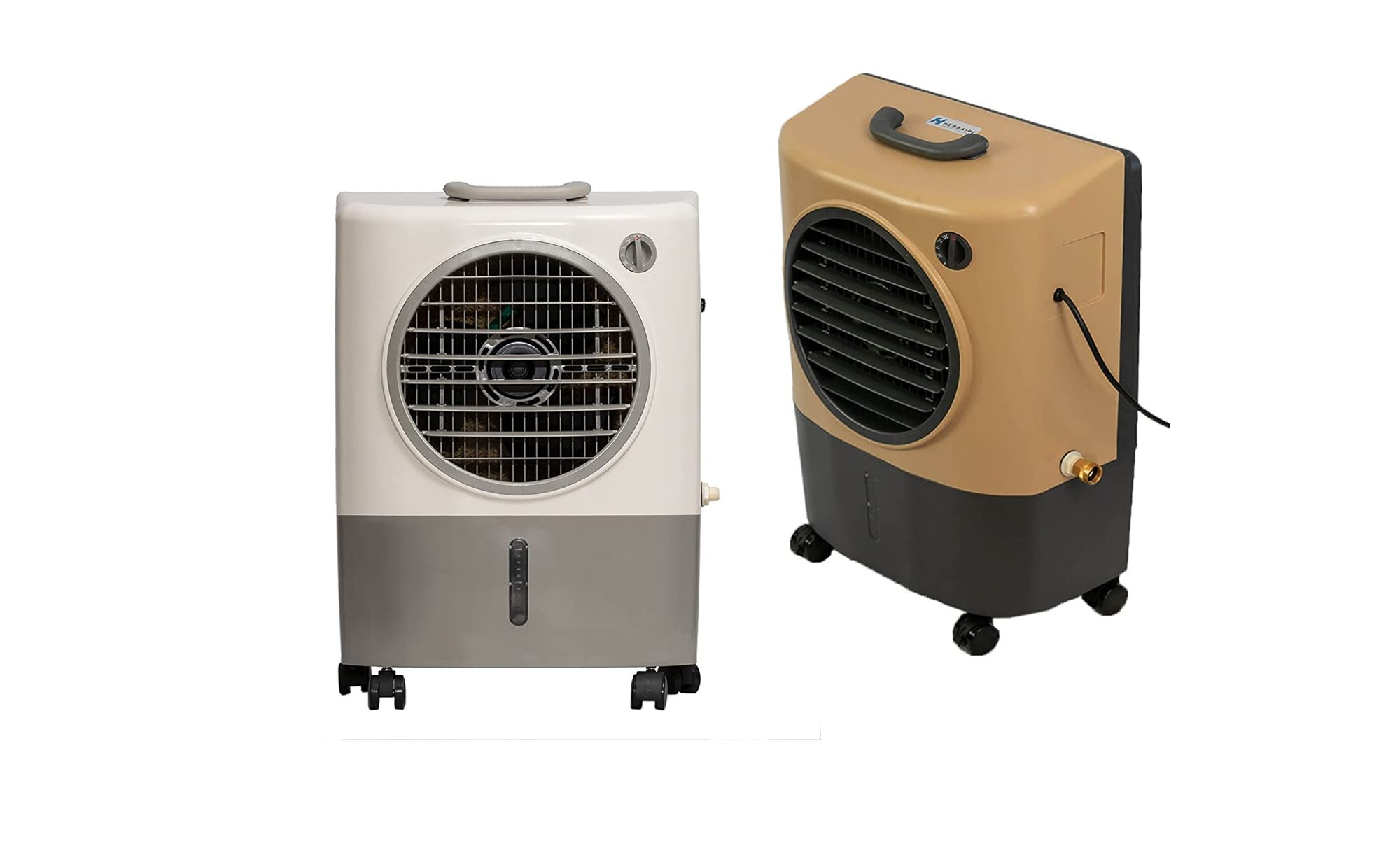 It's also a perfect evaporative cooler for indoor and outdoor use and ideal for rooms up to 46.5 square meters. The cooler is lightweight, but it's still powerful enough to cover large spaces. It weighs only 7.3 kg and features manual louvers that can be adjusted, depending on your preference. With this, you can change the direction of the airflow upwards or downwards.
+ use the table from the original article
One amazing thing about the Hessaire MC18M evaporative cooler is that it is easy to maintain and use. The non-window device has two cooling modes, a high and a low speed. It also offers two fan modes, and you can adjust these depending on your preference. One thing you should note about this device is that the water filling can be continuous or manual. Therefore, you can choose to use the permanent option in which you'll need to attach a hose to the device. The second option is to fill the water tank manually.
It is worth mentioning that the Hessaire MC18M evaporative cooler is available in three different colors. You can choose the color that coordinates with your home.
+ use the table from the original article
Pros
Easy to maintain and operate
Options for continuous and manual water filling
Different cooling and fan modes
Perfect for both indoor and outdoor use
Cons
Large dimension and may take up too much space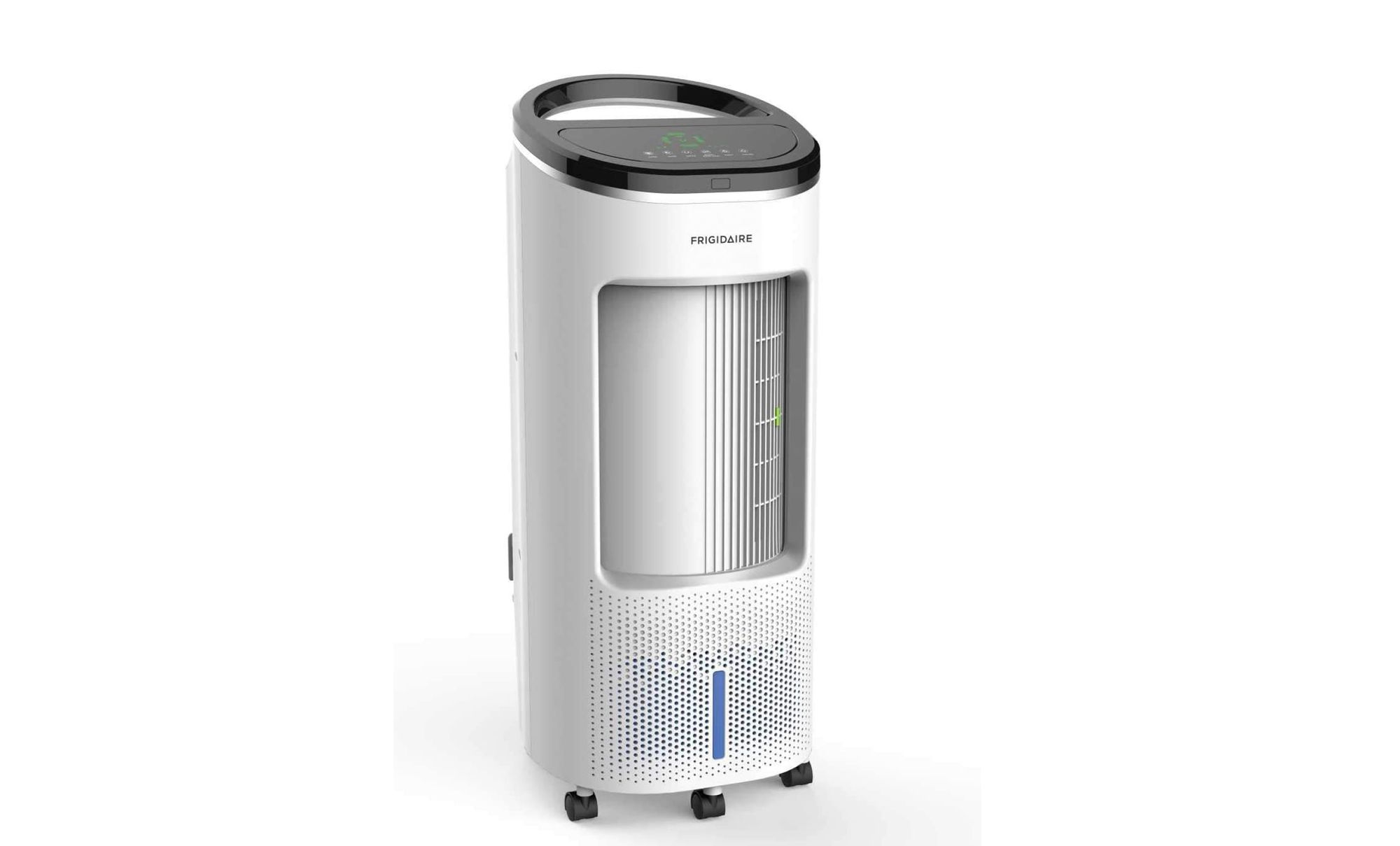 The Frigidaire EC200WF Air Fan is another awesome ventless air fan that you might want to consider getting. One of the main reasons why this product stands out is that it is made from durable materials. Rest assured that you can use it for more than 100 years.
+ use the table from the original article
The Frigidaire is an environmentally friendly air fan without exhaust, and it uses clean evaporation for climate control rather than chemicals like Freon. Also, this is a portable air fan, and you can use it to maintain a comfortable atmosphere all day long. The key features of this air fan include three cooling modes, wide-angle oscillation, and four fan speeds. You can rest assured that you'll get everything you want with this ventless air cooler.
With the Frigidaire Air Fan, you can keep a cool environment all summer without the hassle. What's more, is that it is eco-friendly and energy-efficient.
+ use the table from the original article
Pros
Energy-efficient and saves you money on electricity bills
Portable and lightweight, which makes it easy to carry
Eco-friendly
Made from durable materials
Cons
Only ideal for a small space of up to 250 square feet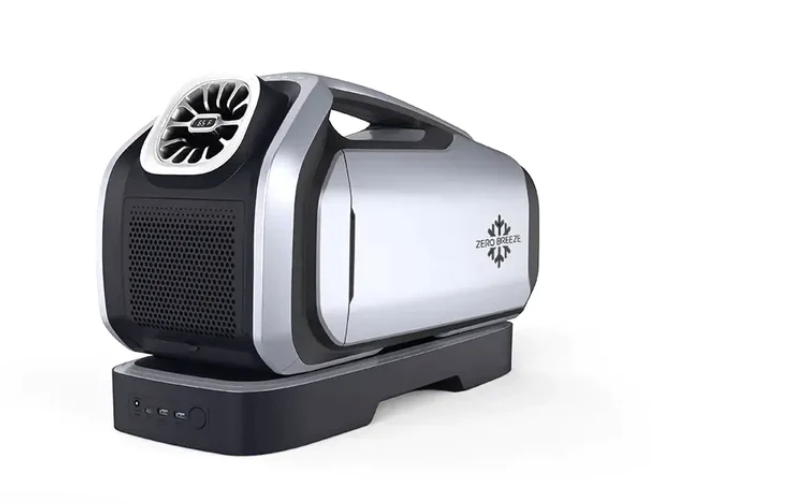 Add style and a lot of cooling to your space with this air cooler. It has an entirely different design, and it is also portable. Mark 2 air cooler is easy to use, and you can either plug it into a 240W power adapter and use it for as long as possible or run it on its battery.
The device has a 24V battery that can last up to five hours, creating a comfortable environment anywhere and anytime. Moreover, it is also suitable for outdoor use, and you can charge it using solar energy.
Pros:
Portable
Can work autonomously on a built-in battery for 5 hours
Sufficient cooling power
Cons: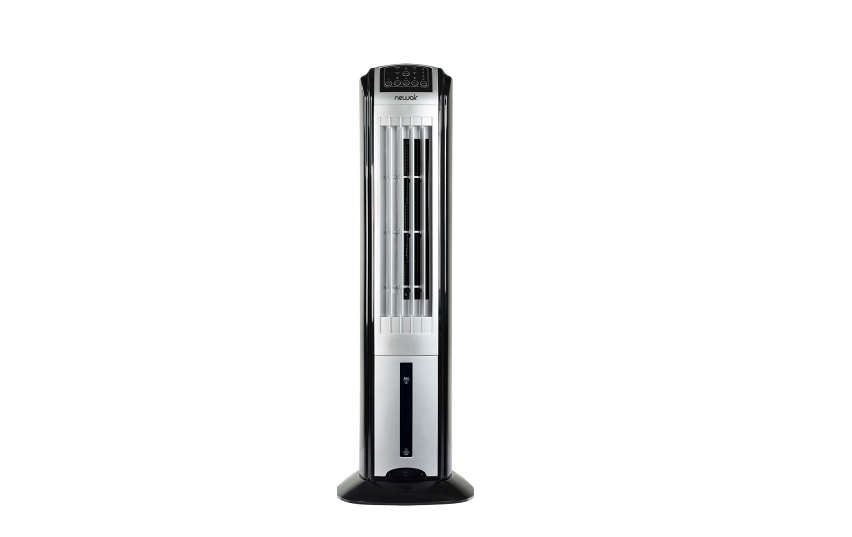 This is a 2-in-1 device, and it provides a cooling effect in two ways. First, it is an evaporative cooler, and second — it has a powerful fan with three fan speeds. The device also has an automatic timer and three different cooling modes.
The NewAir cooler has an environmentally friendly design, making it suitable for indoor and outdoor use. In addition, it is made of high-quality materials designed to produce comfort when used in rooms or offices.
What to Look for When Buying an Air Conditioner Without a Vent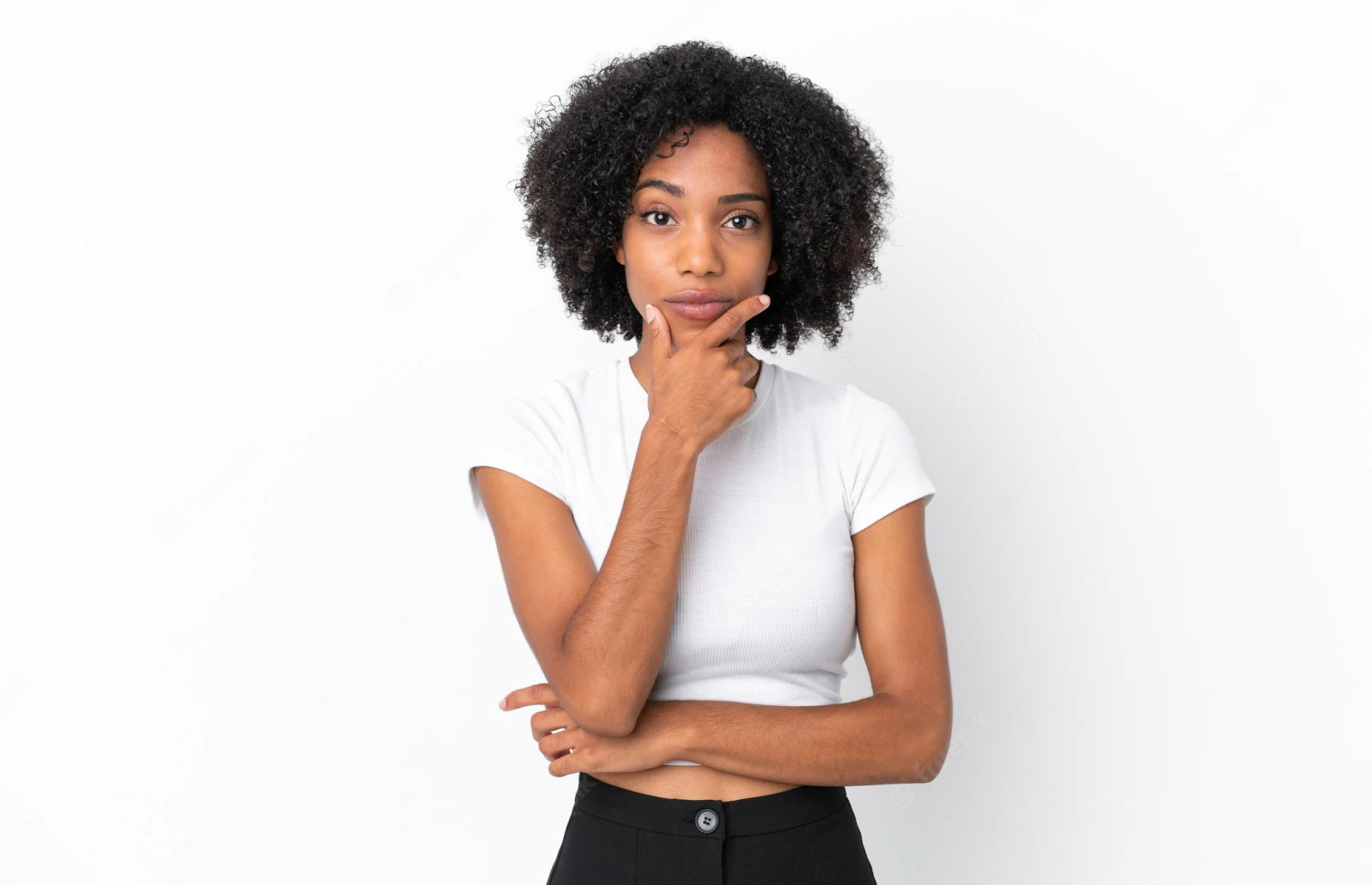 Buying a ventless air conditioner can be a daunting task, especially when you do not know what's obtainable. There are so many options available on the market, and if you go to get a ventless air conditioner without knowing what to look for, you'll only end up confused.
The importance and benefits of ventless air conditioners cannot be overemphasized, which is why you need to be thorough when you choose the best ventless portable AC.
Cooling off with ventless air conditioners is awesome, and here are the key things you should look for when buying an air conditioner without vents:
High Airflow
The airflow of the air conditioner should be the first feature you look for when buying one. In general, when the airflow is higher, the air conditioner will work better. Also, ventless air conditioners have different airflow rates. Another reason why you should consider an air conditioner with a high airflow rate is that it will cool faster and more effectively.
Low Noise Levels
The reason for buying a ventless air conditioner is to make your personal space more comfortable. However, this will not be possible if the air conditioner you get is noisy, so it is crucial to ensure that it whispers.
Most ventless air conditioners are generally noisy, which can be a bummer. The good thing is that most manufacturers try to strike a balance between the level of noise and the airflow. It is important to note that ventless air coolers can create over 1000 CFR airflow, generating as much as 70+ dB of sound. From the six products we have provided above, you'll find some that are quiet and others that whisper quiet. It all depends on what you want.
Reliability
This should be your top priority when buying a ventless air conditioner. Most of the products you'll find there all claim to be reliable. However, that is not always the case because some manufacturers are only out for profit. One guaranteed way to ensure that you buy a reliable ventless air cooler is by getting it from a recognized company with a history of presence on the market.
If you are confused about what brand to get, you can consider any of the products we have mentioned above.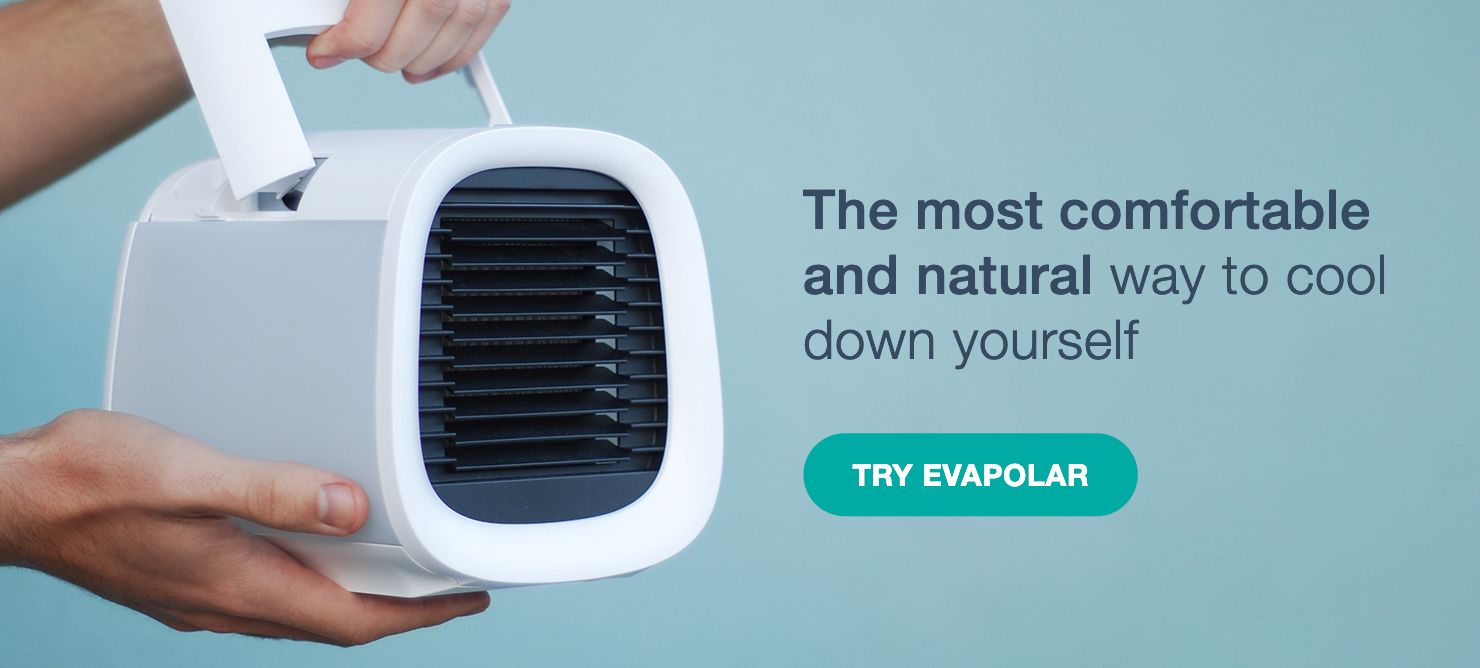 Convenience
All the above-mentioned things are equally important, but the convenience factor comes first. One thing you should note about most portable AC units is that some of them don't have features like restart, programmable timer, digital display, and remote control.
If you need a model with remote control, you can check out the evaporative air cooler evaSMART, which is operated remotely and is compatible with smart homes.
In general, these features help in making the operation a lot easier. However, it doesn't necessarily mean that the device won't be accessible without these features.
Also, the method the unit uses to dispose of moisture is another thing you might want to consider. Some of the portable units available utilize an external draining hose, while others make use of an internal container that you must empty regularly. With technological innovations, improved ventless air conditioners utilize evaporative technology to recycle excess moisture. Such devices draw out the moist air and condense the water to cool the hot coils before evaporation. With this, you wouldn't need a water bucket or hose to empty the unit.
The choice is yours to make, whether you want a unit with a hose, an internal bucket, or a unit that recycles excess moisture.
Budget
The last thing you might want to consider when buying a ventless air conditioner is your budget. You need to be sure that the cost is within your budget and that you are getting value for your money. Some ventless air conditioners are expensive, while others are budget-friendly. Factors that determine the price of a ventless air conditioner include size, design, and overall capacity of the unit.
Water Tank Capacity
The cooling effect of the ventless evaporative air cooler is generated with cold water. Also, you'll need a larger tank capacity to enjoy the cooling effect for an extended period. Therefore, you might consider this when buying the best ventless air conditioner.
Conclusion
From all we've mentioned above, you can see that ventless AC units are perfect for rooms of any size. With these devices, you can enjoy cool temperatures during summer and sufficient humidity in winter. Of all the products mentioned in this review, we consider the evaCHILL Personal Air Cooler the best choice, especially if you want to cool your personal space.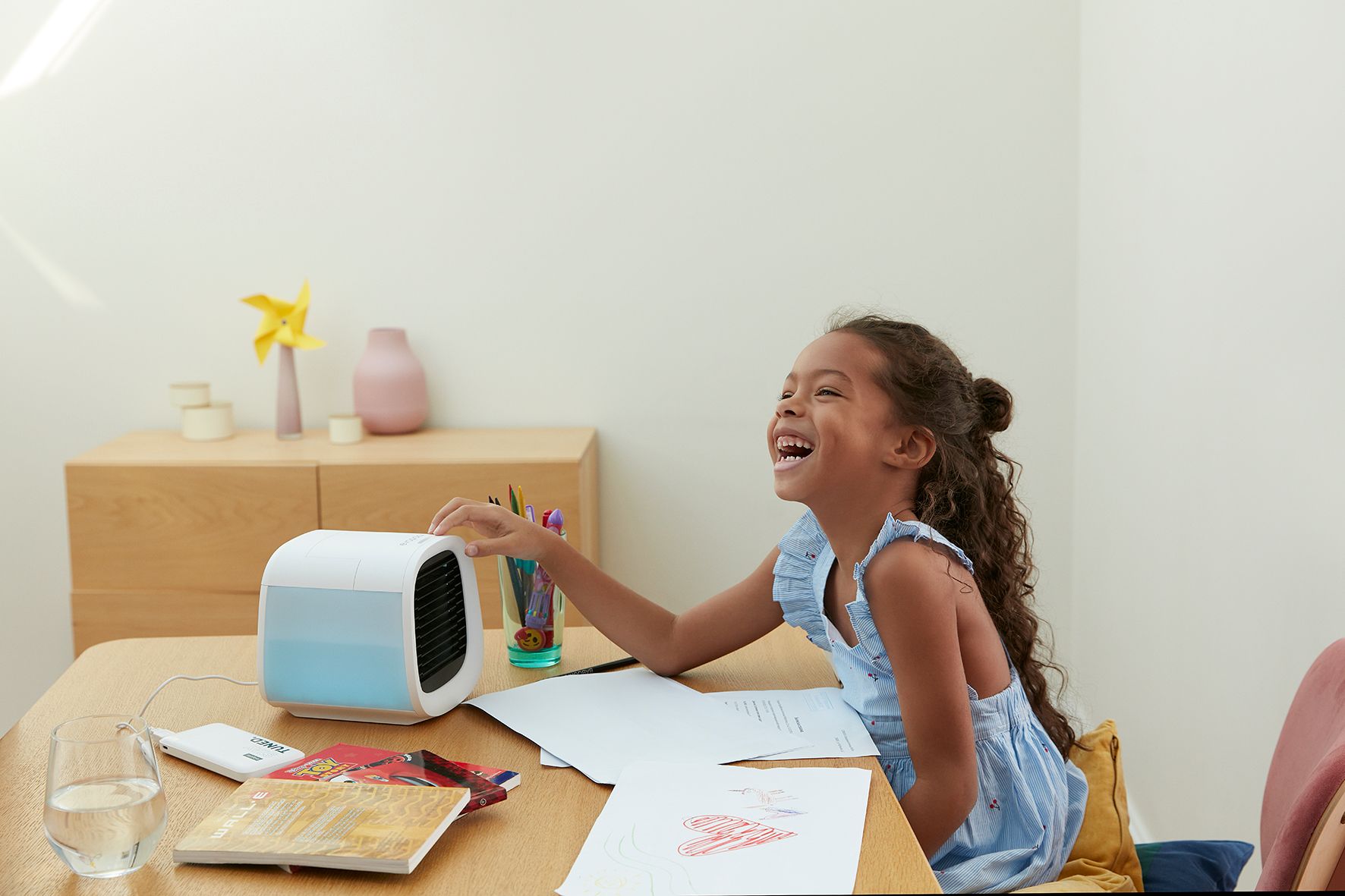 FAQ
Are ventless air conditioners any good?
The best-rated ductless air conditioners on the market are easy to install and offer powerful, energy-efficient operation that saves you money over time. Many are drawn to ventless air conditioners because they are a more eco-friendly and secure solution to cooling a single room or space.
Is there a ventless portable air conditioner?
Is there a portable air conditioner that doesn't need a window? Yes. The truly ventless cooling devices are called evaporative coolers or "swamp coolers."
Do portable air conditioners use a lot of electricity?
Depending upon its size (cooling capacity in BTU), using a portable air conditioner may use just one-eighth as much electricity as your central air conditioner. So, for example, there is no need to keep the entire house cool at night when you can run a portable air conditioner in your bedroom.
Do ventless portable air conditioners work?
Do ventless air conditioners work? Yes, they do! There is no refrigeration process or compressor to produce hot air like an air conditioner that must be vented. An evaporative cooler does not reduce the overall temperature inside a room or dry the air like an air conditioner does.
How do ventless air conditioners work?
A ventless air conditioner uses the natural process of evaporative cooling to chill the air in a room. Ventless air conditioners use a tank of water and a fan to mist cold water into the air to make it cooler.
Is it possible to add ice to a water tank?
Most of the ventless air coolers you'll find on the market use cold water. However, some users think adding ice to the water makes the air colder.
The engineers from Evapolar say that it is just an urban cooling legend, and it is not advisable to add ice to all devices, since the air will not become colder from it.