Summer is just around the corner, the temperature is going up and you want to make sure your four-legged friends are as comfortable as possible. Today it is absolutely possible to upgrade the outside dog houses with the best dog house air conditioners, and let your pets have a pawesome time, even during the heatwave!
From large and electricity-powered, to portable and eco-friendly, we got it covered for you.
evaCHILL
The most effective cooling device
We have reviewed the best dog house air conditioners, to make sure your best friends are comfortable in their little homes. Keep your furry babies cool all year long thanks to our selection of best dog house ac units! Read also: Best Portable Hoseless Air Conditioner – Dream or Reality?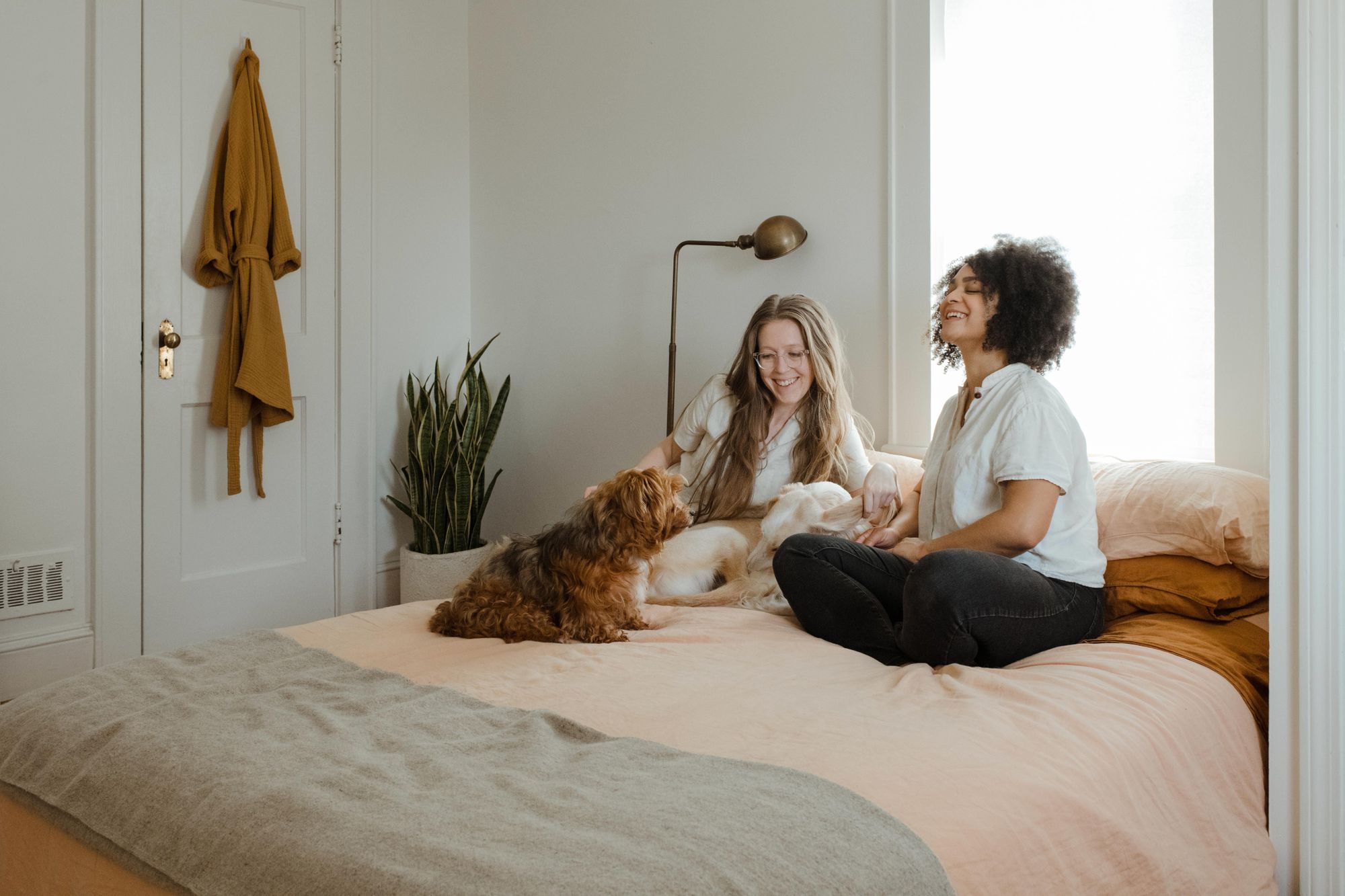 Our Top Pick
A portable evaporative air cooler is the best air conditioner for a dog house. Evapolar offers a very user-friendly device that would fit perfectly within a dog house of any size. The system inside the Evapolar air cooler uses the most natural way of cooling — your puppy will be very comfortable in the soft, mild breeze! It provides the dog with a constant flow of fresh air. You can charge it and it will work up to 9 hours non-stop.
Evapolar air coolers are excellent solutions for cooling down a dog house because they don't require any installation at all. They will also never interfere with your dog's comfort — they don't produce any sound either. Happy dog = happy owner!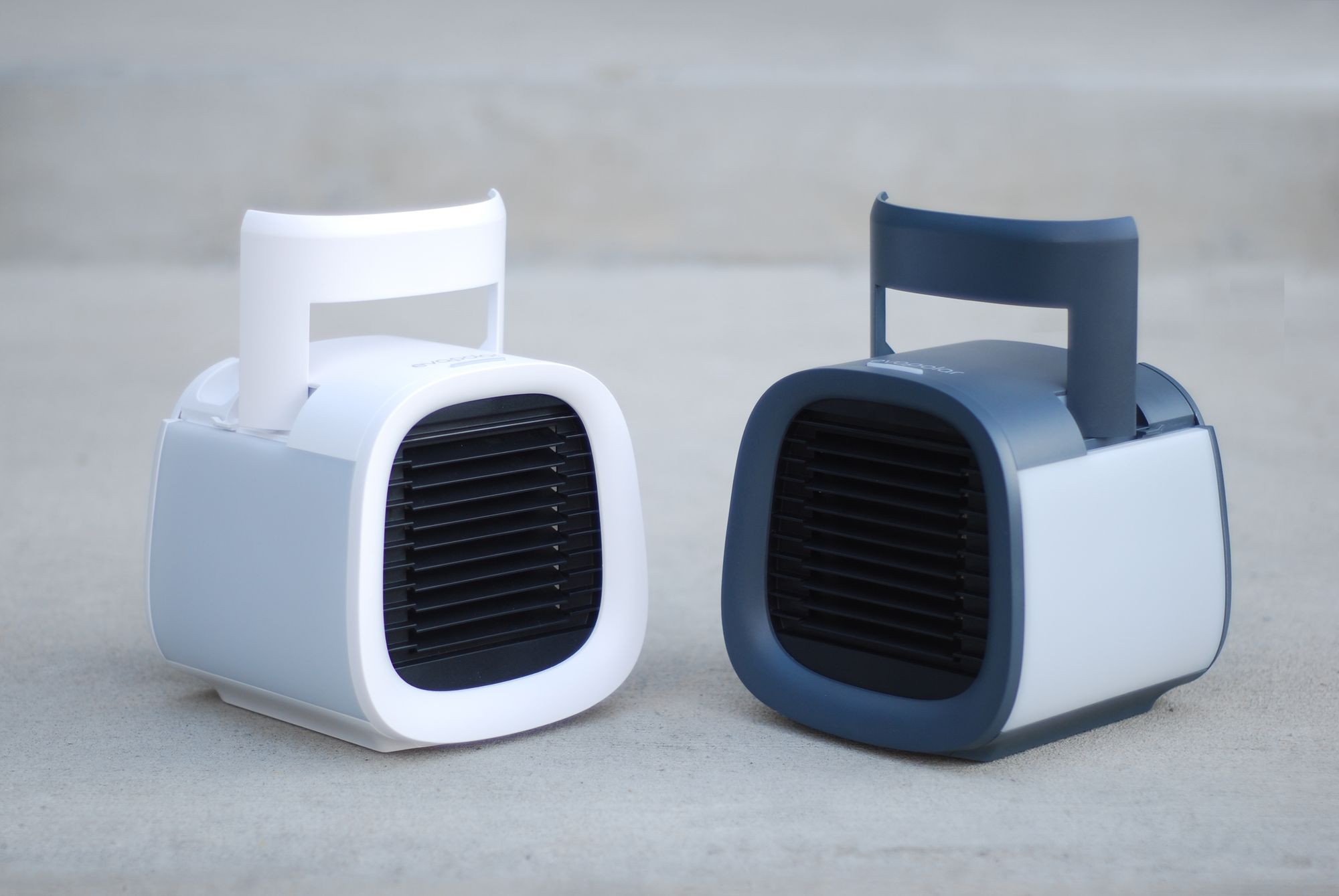 Most Popular Types of AC Units for Dog Houses
Portable Air Conditioners
A portable air conditioner for dog house is installed on the inside of the house. Many brands today offer ac units that are customized according to the size of the house. Portable dog house air conditioners often come with a fan and heating option as well.
Dog Houses with Built-in AC Systems
This is a popular solution for large and medium-sized houses. A dog house comes directly with a built-in ac system, usually customized according to the customer's request.
Mini Split System
This option is on the pricey side among ac units for dog houses, and it is a sure one. A ductless split system can be installed without changing the structure of the house.
Evaporative Air Coolers
Natural, eco-friendly and quiet, a portable evaporative air cooler can be an excellent alternative for an ac unit for dog house. They are USB-powered, easy to transport, and simple to use.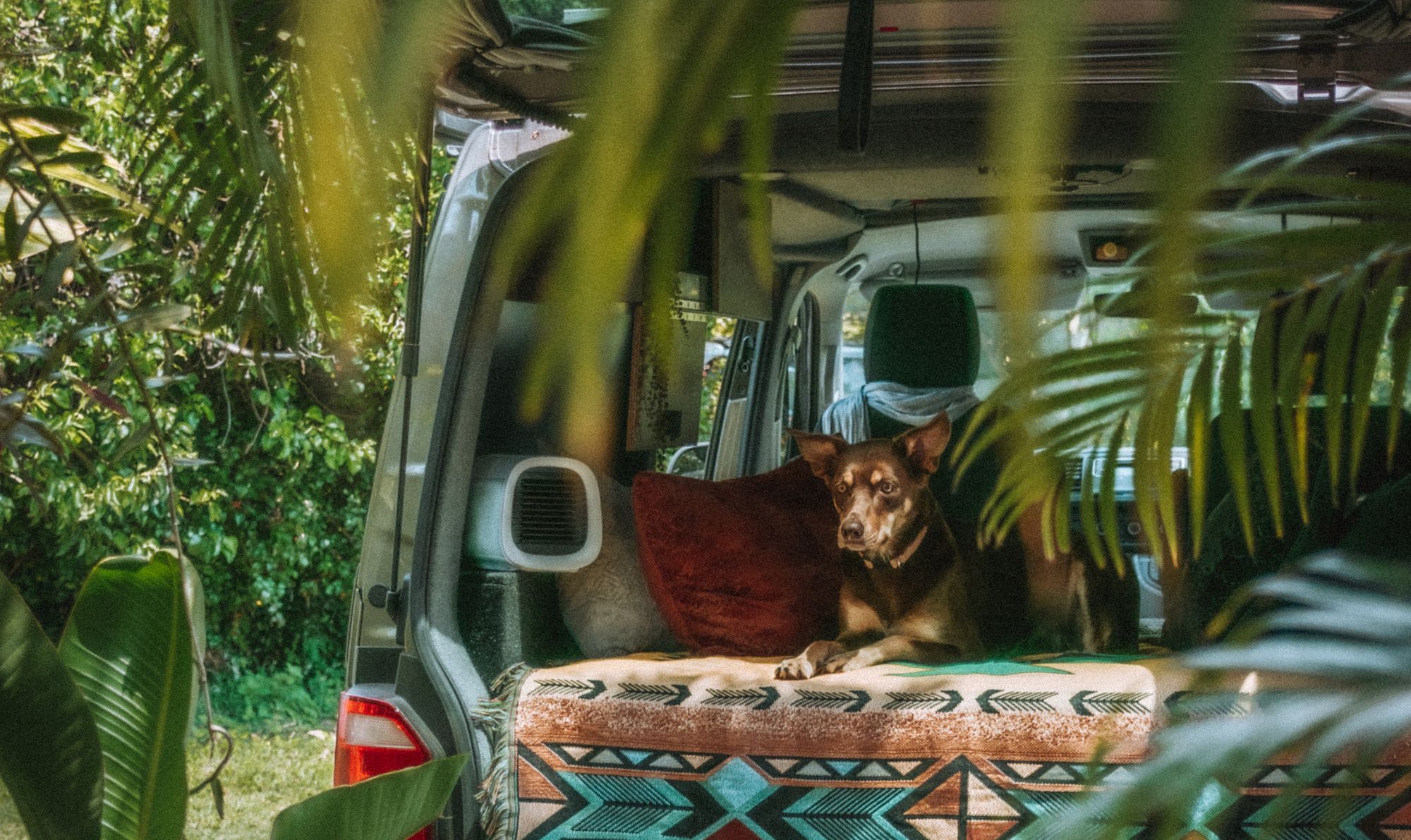 4 Best Dog House Air Conditioners
This table shows the main criteria of different dog house air conditioners. We will dive into the detail of each one below.
EvaCHILL Personal Air Cooler
The DogAireTM dog house air conditioner
Hounditioner dog house air conditioner
MrCool Ductless Mini Split Air System
up to 2-2.5m2 (in the direction of the airflow)
1. evaCHILL - best evaporative air cooler
Cool the indoor or outdoor doghouse with this lightweight, energy-efficient evaporative air cooler. Thanks to the unique evaBREEZE technology, your pooch can enjoy up to 9 hours of a constant flow of chill, fresh air. Quiet, easy to transport, and zero installation fees — the evaCHILL by Evapolar is the best air cooler for dogs.
Technical Characteristics Table
170 x 170 x 172 mm (6.69 x 6.69 x 6.77 inch)
USB Type-C until 2021; mini-USB since 2021
1 year (you can purchase an extended warranty as well)
Parameters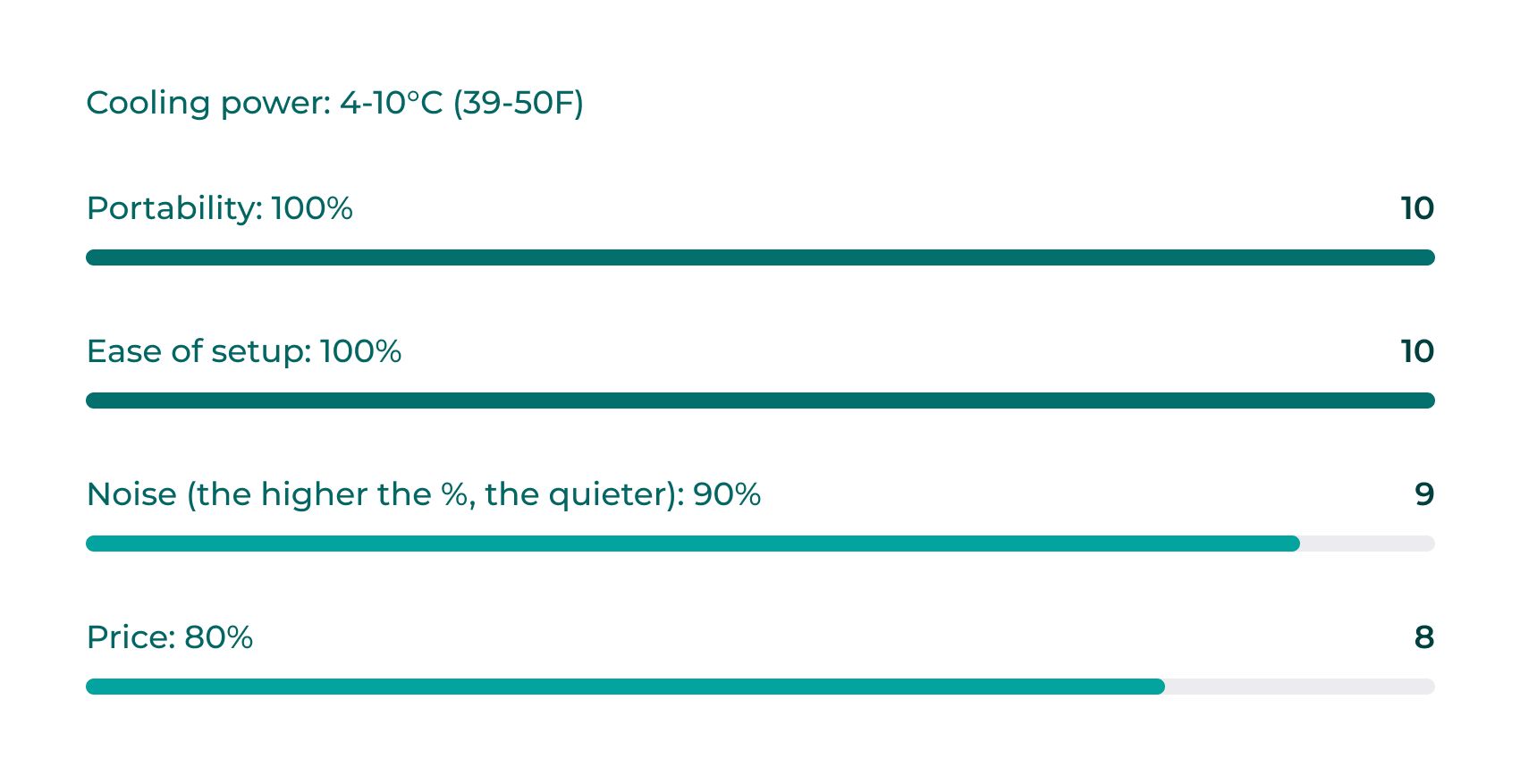 Pros:
Portability
Whisper quiet
Very low electricity consumption
Natural way of cooling
No installation required
Permanent gentle breeze of fresh air
No details for the dogs to chew on!
Cons:
The only con we could think of is the need to refill water once the water tank is empty (after 9 hours of use approximately). However, it is very simple to do!
You can get to know the device better on the official website. Click here to discover the rest of the advantages of evaCHILL and don't hesitate to send the message to the company — they are very fast and efficient when it comes to customer service.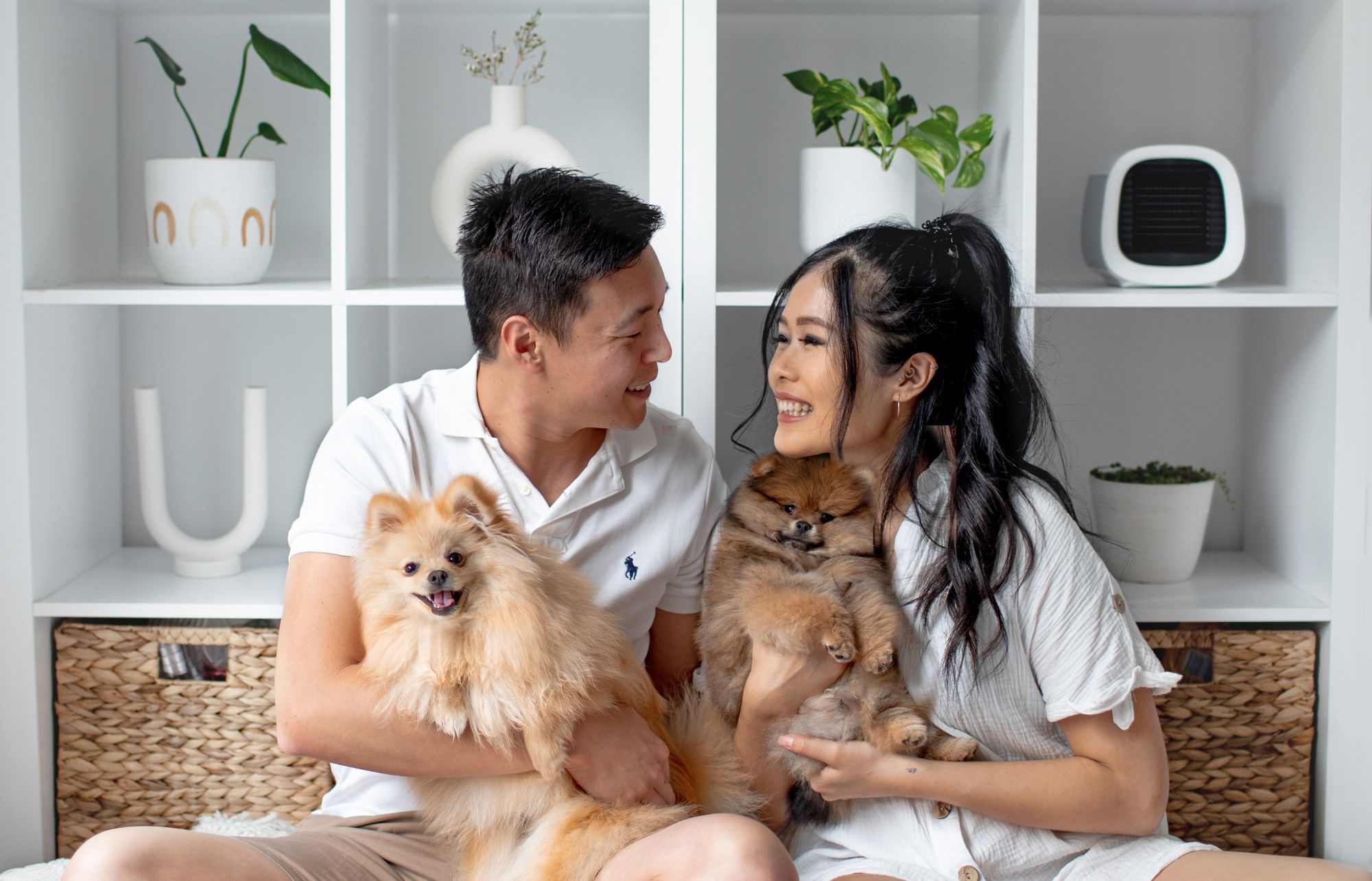 2. Blythe Wood Works Air-Conditioned Dog Houses - best dog house with a/c
The DogAire™ portable ac for dogs comes directly from the dog house. It only requires easy installation from the side of the client. It works best with large outdoor dog houses, for a big pet or several.
Technical Characteristics Table
depends on the size of the doghouse
depends on the weight of the doghouse
Parameters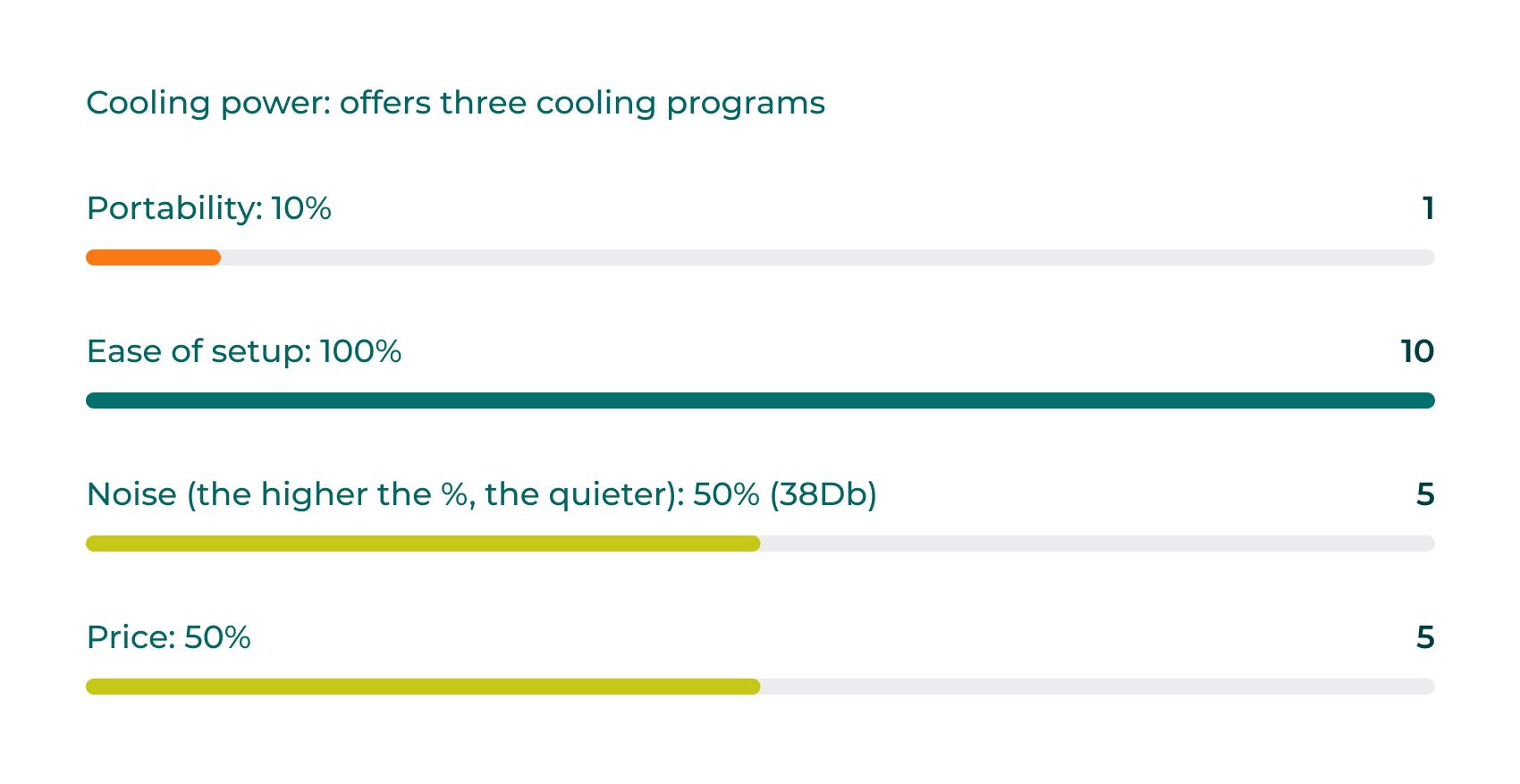 Pros:
Three different cooling modes
Customized according to the doghouse
Remote temperature control of the dog house
No details for the dog to chew
Washable filter
Cons:
You can only get it with the doghouse of the same brand
If you decide to change the dog house ac unit, you have to replace the whole dog house
Installation of extra parts (a SealSafe™ door) is not obligatory, yet very recommended
You are dependent on the power plug, the device is not autonomous
Get to know The DogAire™ dog house air conditioner on the official website.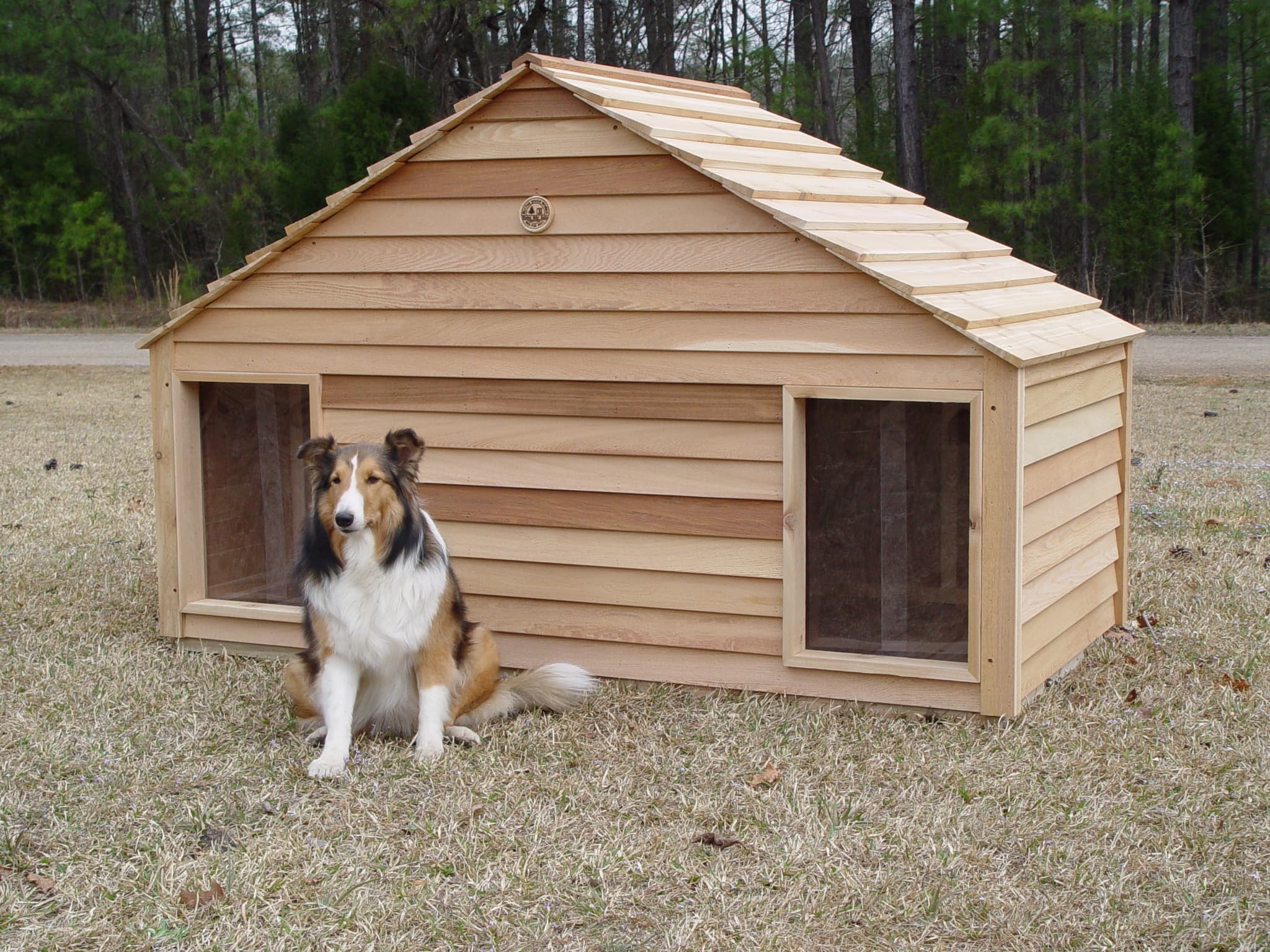 3. Akoma Dog House Air Conditioner – Hounditioner ™
Thermostatically controlled Dog House Air Conditioning AC unit by Akoma is a great solution to cool and dehumidify your pet's doghouse. This mini air cooler for pets will cool even the largest dog houses in the hottest summertime conditions.
Technical Characteristics Table
22.86 x 20.32 x 33.02 cm (9" X 8" X 13")
1-year manufacturer warranty
Parameters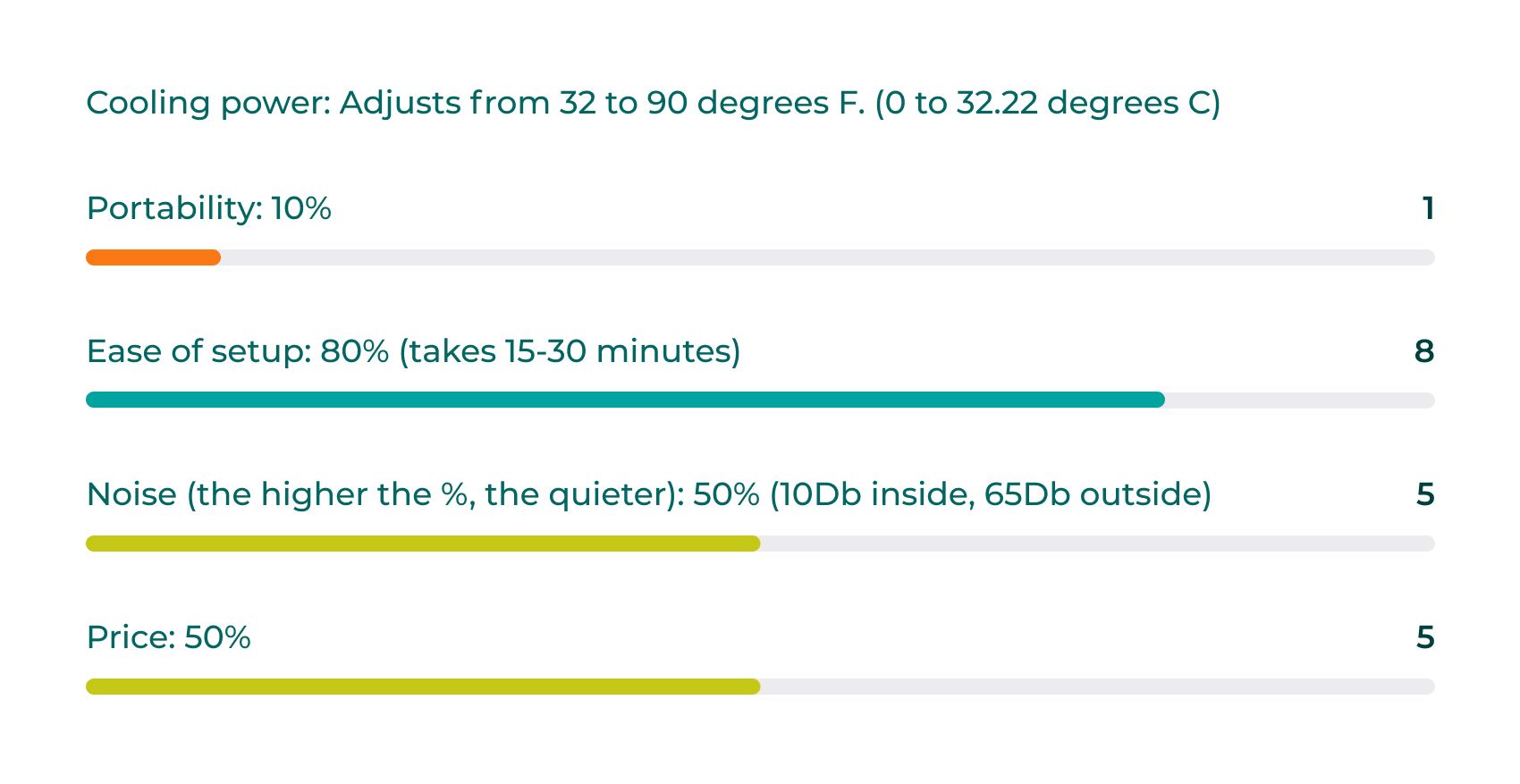 Pros:
You can adjust the desired temperature
Relatively easy installation
Different cooling programs
Cons:
Heavy
Non-portable
Can be quite noisy outside
High electricity consumption
You can get to know the Akoma Hounditioner here or check out its younger brother from the same brand — the small ac unit for dog house, Heat-N-Breeze Deluxe. Therefore, if you are thinking about how to cool a dog house, this option is best suited.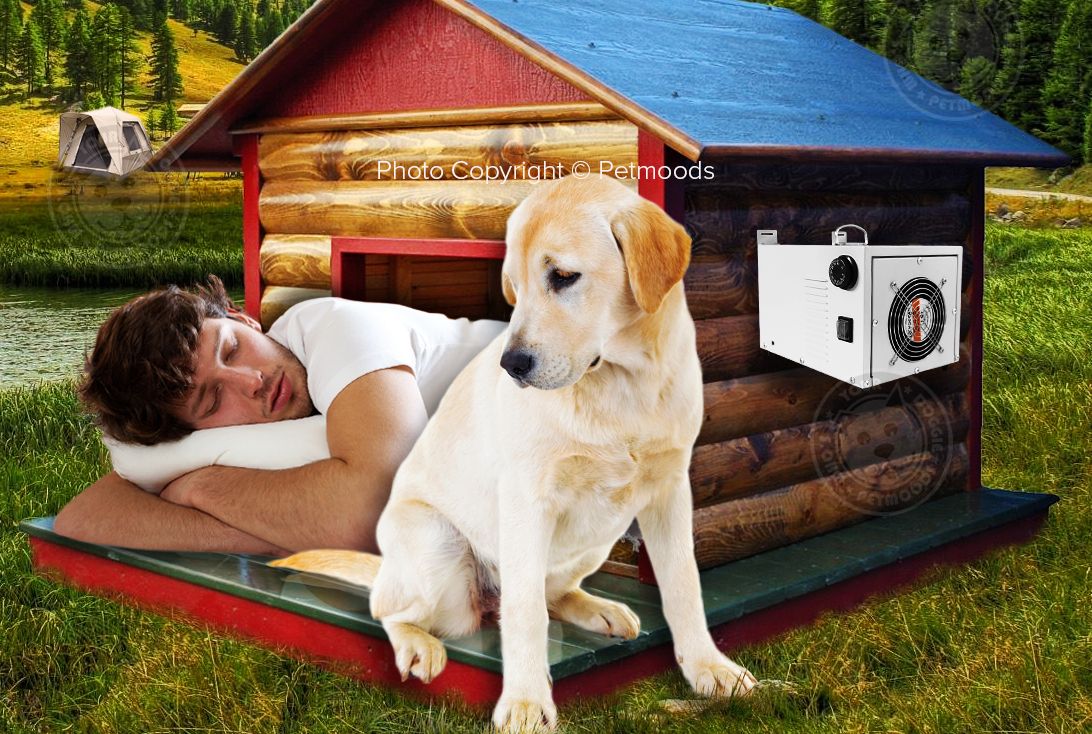 4. MrCool Ductless Mini Split Air System
A mini-split air system can be one of the best dog house air conditioner options for your furry friends.
Technical Characteristics Table
123cm x 104cm x 83cm ( 48.5 x 41 x 33 inches)
7-year compressor warranty and 5-year parts warranty

Parameters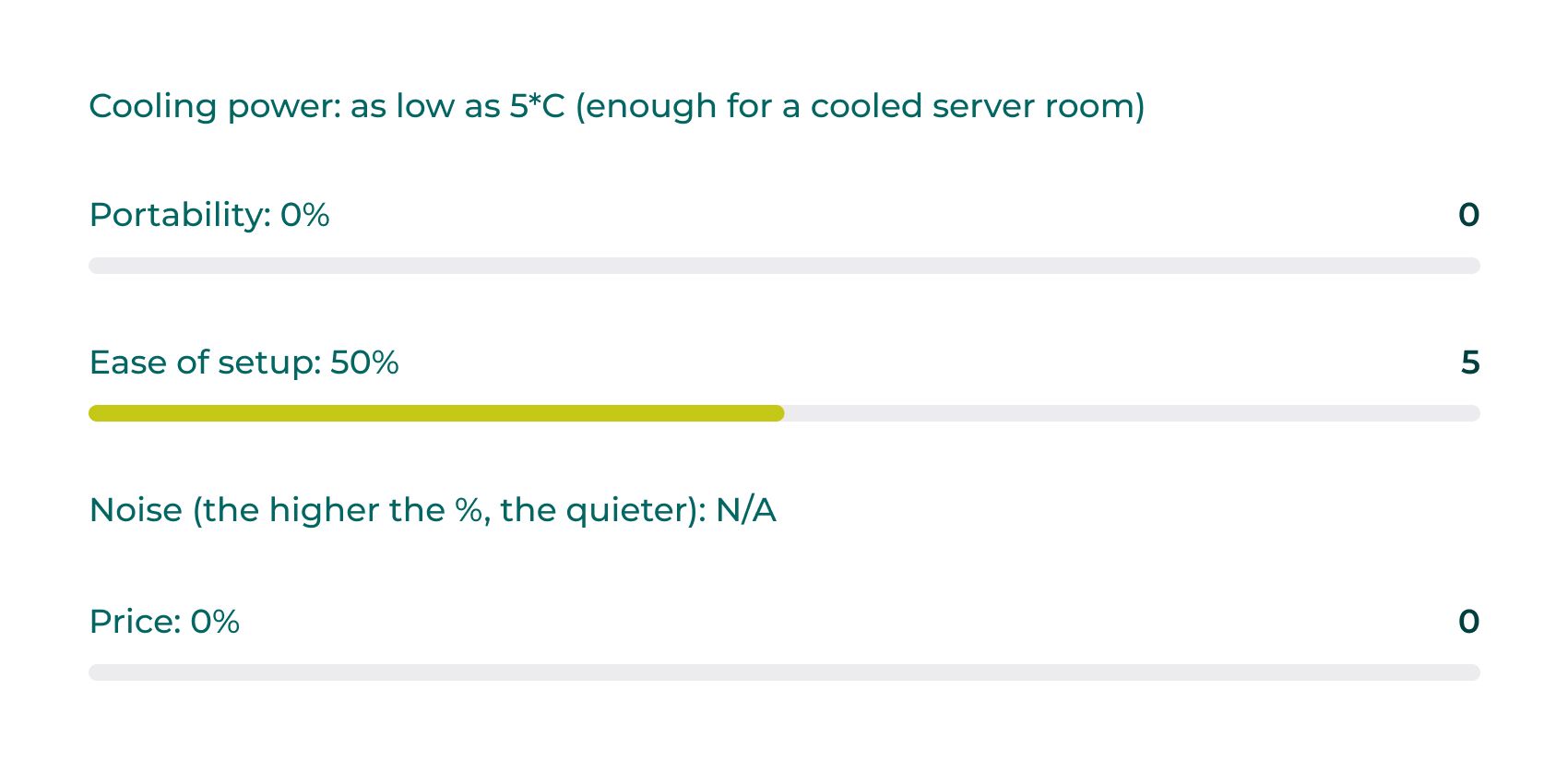 Pros:
Very efficient
Can be controlled with Alexa or Siri
Scalable: you can opt for progressive cooling so that your dog won't suffer from a radical temperature change
Very modern and health-friendly
Cons:
Very expensive
It is a very sophisticated device for a relatively small job — there are simpler solutions that get the same job done
Difficult installation
Will fit only with large dog houses
No autonomous battery = always needs to run on the power supply
If you are looking for a very sophisticated device to cool your pups, an ac unit for dog houses such as a personal split system could be your pick. You have ductless versions today so that you don't need to change the structure of the house!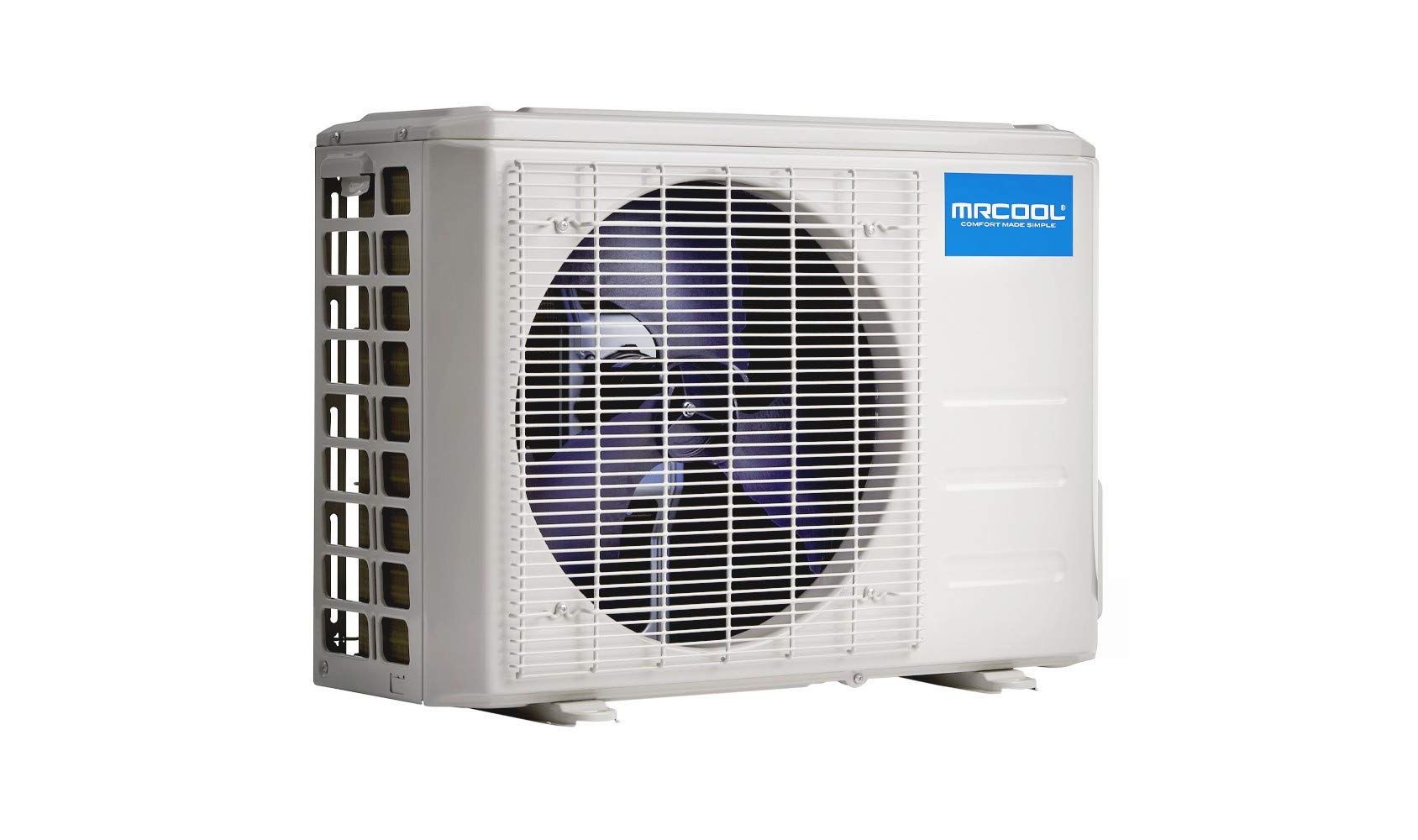 How to choose A/C for dog house
Still hesitant?
We have come up with a few simple points you should keep in mind when choosing the perfect cooling solution for your dog house!
Your best four-legged friend just needs fresh healthy air, not a spaceship! A constant flow of crispy clean air will get the job done. Complication is the enemy of execution.
Get a cooler that does two jobs simultaneously: you can use it in the dog house and take it with you on trips. Making sure your pooch (and you!) are comfortable everywhere!
Low electricity consumption
Why add to the energy bill if you can choose an eco-friendly device that will cool down the dog house without ruining your budget?
You don't want your dog to be breathing in sub-products of freon-like liquids! Evaporative air cooling is the most natural way of cooling a dog house known today — it works just like cooling works in nature.
Humidifying option, if possible
Your dogs can't tell you when their eyes or nose get dry. By getting an air cooler that is also a humidifier, you ensure that the mucous of your pets are safe.
So, how do you keep your puppy cool, chilled, and happy? Provide comfort with a simple solution. Our dogs sincerely enjoy nature and they will love the natural evaporative cooling provided by evaCHILL. Simplicity and eco-friendliness are the new cool for dogs — also, the evaCHILL is one of the least expensive and the most efficient solutions on the market.
We wish you and your furry babies a cool and healthy summer!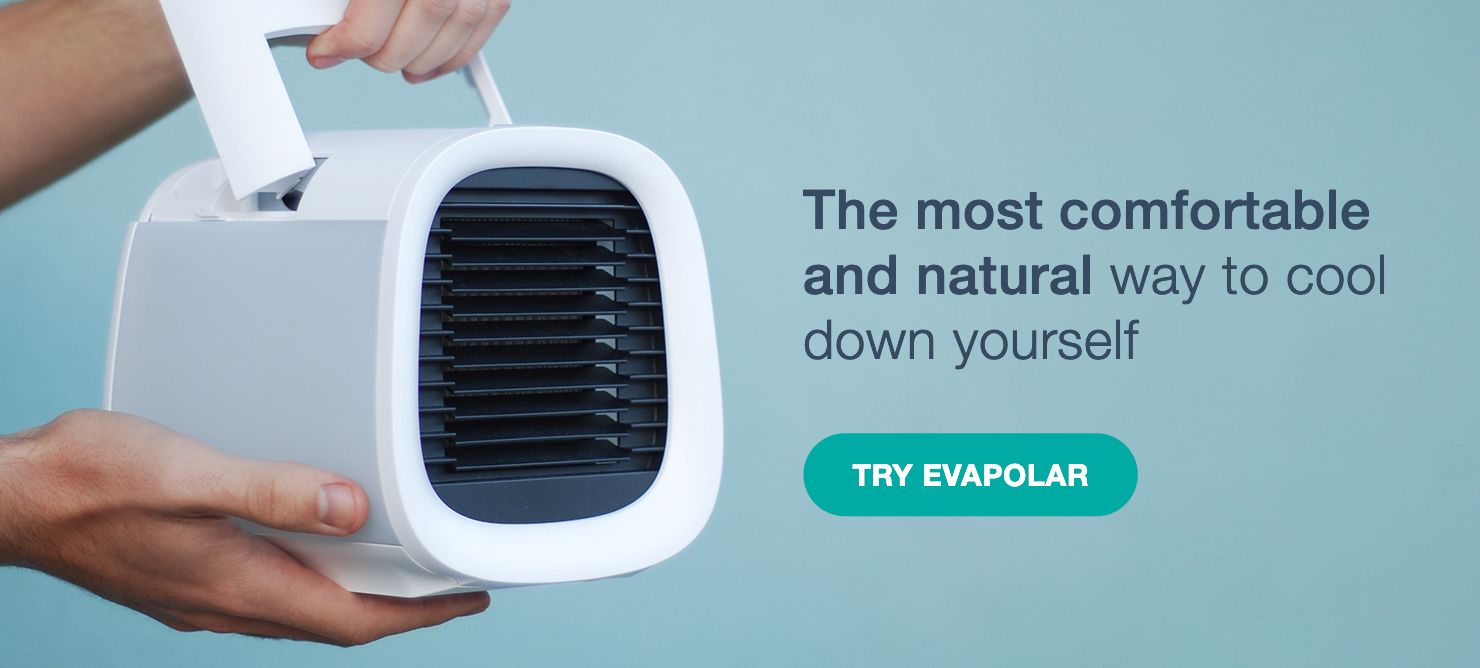 People Also Ask:
1. Which ac unit for dog house works best in a dry climate?
Using an evaporative air cooler is the best dog house air conditioner solution in a dry climate — the evaporative process helps humidify the air as well, so you can be sure your dog's eyes and nose are never dry!
2. Is it better to choose a portable ac unit for a dog house or a fixed one?
A portable device always gives you more flexibility. If you are moving, changing a dog house, or if the device needs repair, a portable ac unit for the dog house gives you all the freedom. It is also cheaper in terms of installation fees and you save a lot of money on electricity.
Another bonus of portable air coolers is that if you are traveling with your dog, you can simply put portable ac into your car and go!
3. Will a small ac unit for a dog house get the job done?
Absolutely yes! Even the smallest coolers and cooling devices provide enough capacity to cover the space of the dog house.
4. Which dog house air conditioner is the safest one?
Today most of the ac units for dog houses come with necessary safety precautions. However, just to be on the safe side, we would recommend that you choose the simplest one: the fewer wires and details, the less your dog can chew on and there is also a smaller risk of getting water onto dangerous parts. If the dog house ac unit is placed outside and is running on electricity from a socket, it's never completely safe from the weather and other outside conditions.
5. I don't want my dog to get a cold and air conditioners can be too extreme. What should I pick?
Go for the most natural way of cooling: evaporation. The air coolers get the temperature down to 4-10°C (39-50F), which is like a summer breeze next to the sea on a warm day. Your dog doesn't need an extremely low temperature to cool down — especially if it has been running around and needs to recover with its mouth open. Imagine gasping all the freezing air? This is why air conditioners can be too extreme. Go for an evaporative air cooler, to be safe.