There can be many reasons why you are looking for a fan that cools air just like its older brother — the air conditioner. It can be an eco-friendly temporary solution for a few weeks in summer, an inexpensive device for a rental apartment, or simply a cooling device for places that don't allow air conditioners. We will help you pick a cooling fan for room that works like ac and gets the job done.
Fans that cool like air conditioners are real! Thanks to technological progress, you no longer need to place bottles with ice in front of the fan to chill the room. We've reviewed the best-selling items on the market to make your choice easier. Here are the best cooling fans
Let us take a look first at this comparison table of the best room fans that cool like an air conditioner. Below, you will find a detailed breakdown of each device, as well as a very powerful and interesting alternative to fans that work like ac.
Looking for AC alternatives?
List of best fans that cool like A/C
Cooling breeze for any room in your home
Desktop cooling and purifying
Electronic, Remote control
When we think of the best alternatives for air conditioners, we mean something efficient, portable, energy-saving, and with very easy installation. This is where evaporative coolers by Evapolar come in — they check every item on the list thanks to their excellent cost/value ratio, efficiency, and ergonomic design.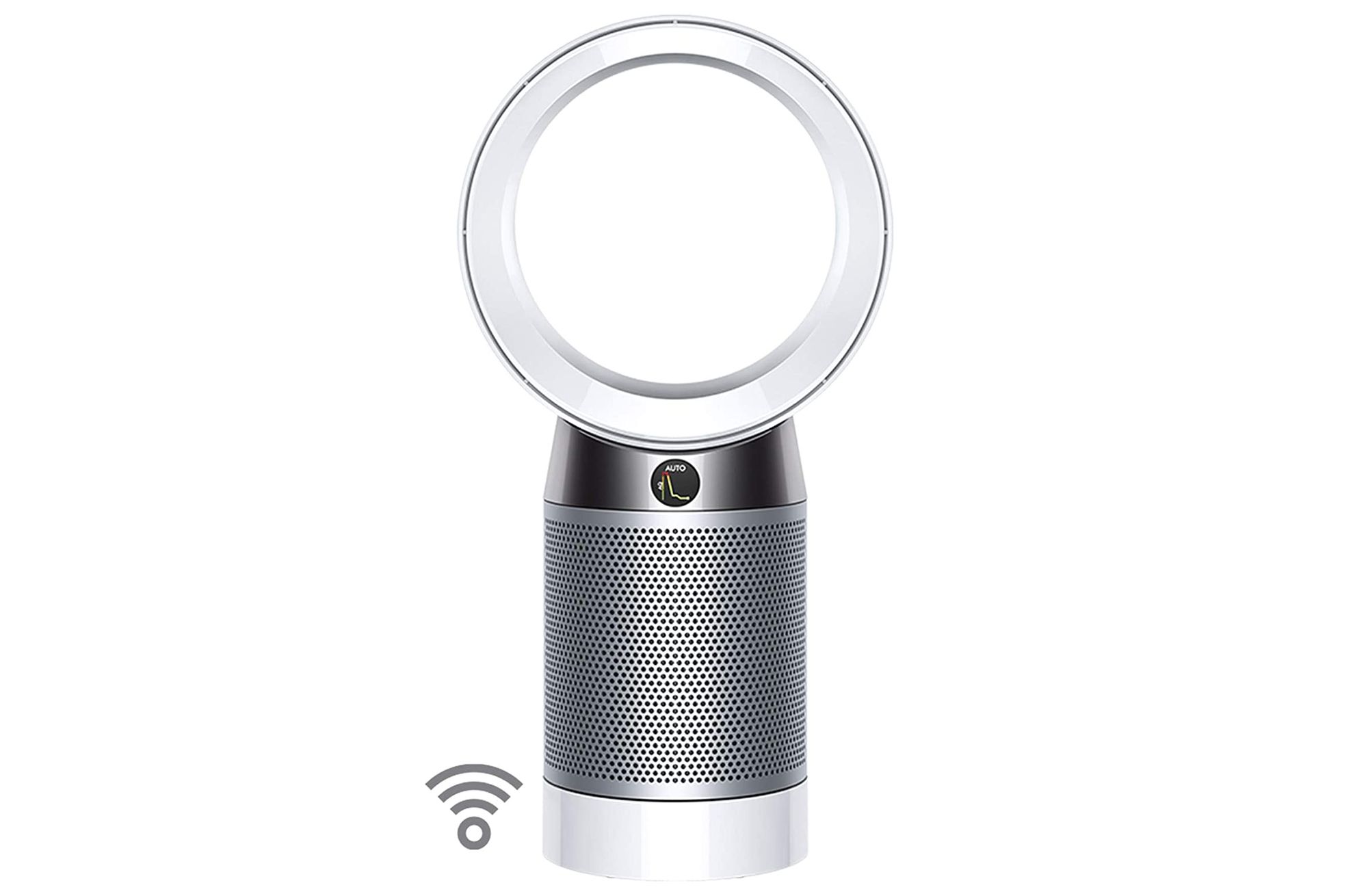 Cooling Power 100%
Portability 90% (weight 10.18 pounds)
Ease of Setup 80%
Noise 95% quiet (45Db)
Price 10%
It would be wrong to talk about the most efficient fans that cool like air conditioners without mentioning the Dyson Pure Cool Purifying Fan. The British brand has established itself as one of the best household appliances manufacturers. This air fan type gets the job done just as well as an air conditioner, powerfully and quietly.
The Dyson air conditioner fan directs the airflow right where you need it, which is one of the qualities the customers are looking for the most, instead of freezing the whole room.
Pros:
Safe for kids (no blades)
Very quiet
Powerful airflow
Air Purification
Easy to clean
Cons:
Expensive
App and remote maintenance can be complicated for those who are not tech-savvy
Promising (and funny) review: "A great air cooling fan for those who monitor the air you breathe but also filter the contaminates out. The charcoal filter cleans out dog farts''.
Get to know the portable Dyson Fan here. Some of their models come with the heating option as well.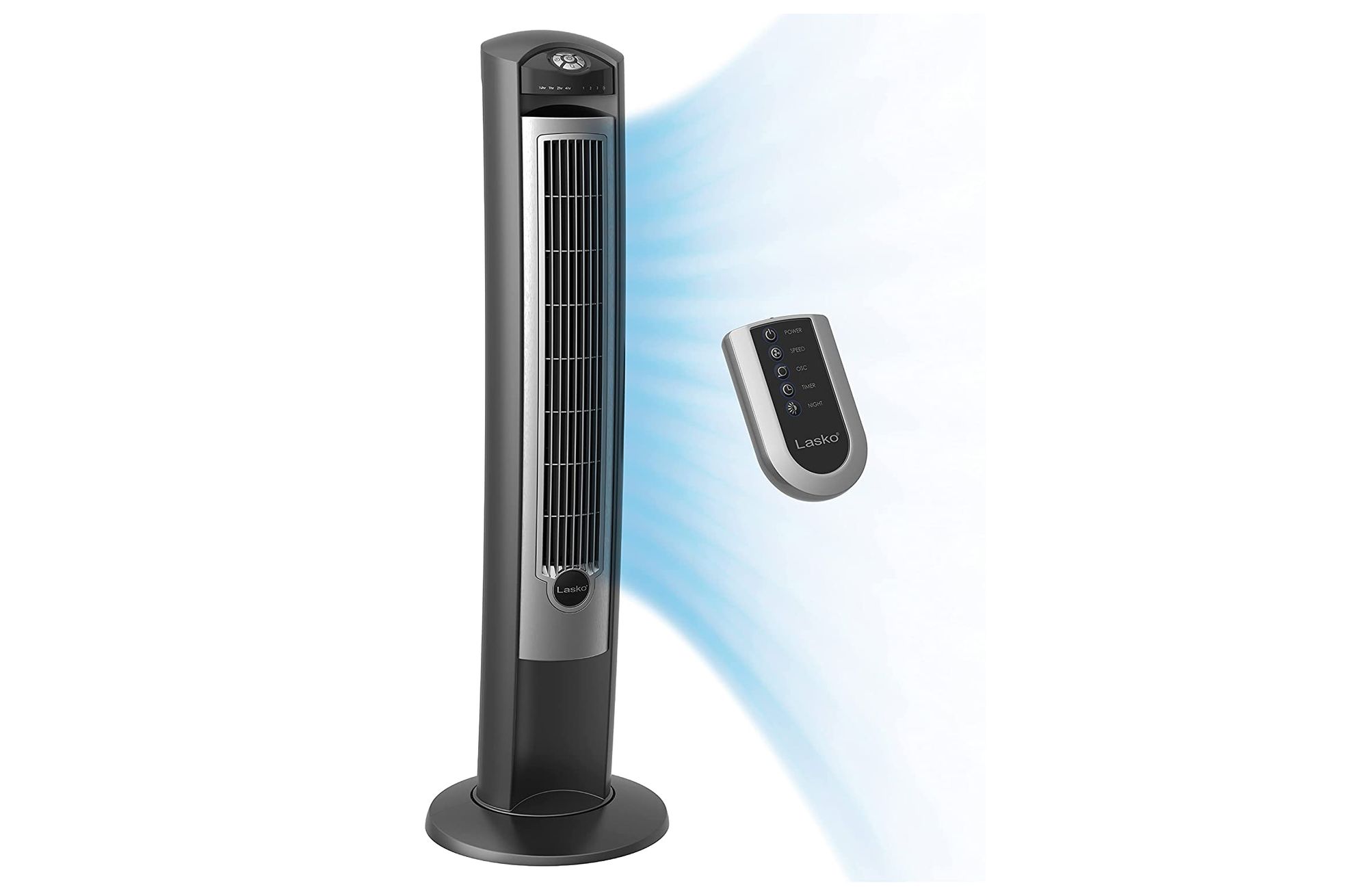 Cooling Power 100%
Portability 70% (weight 12 pounds)
Ease of Setup 20%
Noise 80% (51Db)
Price 90%
Another bestseller among fans that cool like ac. Lasco's floor fan is perfectly sized to aim over a high bed and powerful enough to reach across the room. In addition, this Lasco model brags an automatic timer and a night mode, together with a white noise that cancels out other noises.
Pros:
7.5-hour timer
Night mode
Good value for money
Powerful enough for most medium-sized rooms
Cons:
Complicated to assemble (comes with many details)
Some users complain you need to buy extra hardware to assemble
White noise can be disturbing
Reasonable review: "What a great looking floor fan, and the reviews are fantastic, but the fan is just OK. The fan noise level is super quiet. You can barely hear it in an active room, and when you're sleeping, it's an excellent low-level white noise. The build is excellent, nice, sturdy, and looks fantastic. The remote is a bonus. It's small and easy to use and has a nice holder on the fan. However, the fan for cooling a room has a fragile airflow. I run hot, so this cooling fan does not work at all for me. It looks excellent and peaceful, but the airflow sucks so bad."
Check out the 28K+ reviews, as well as the model on the Lasco Amazon page.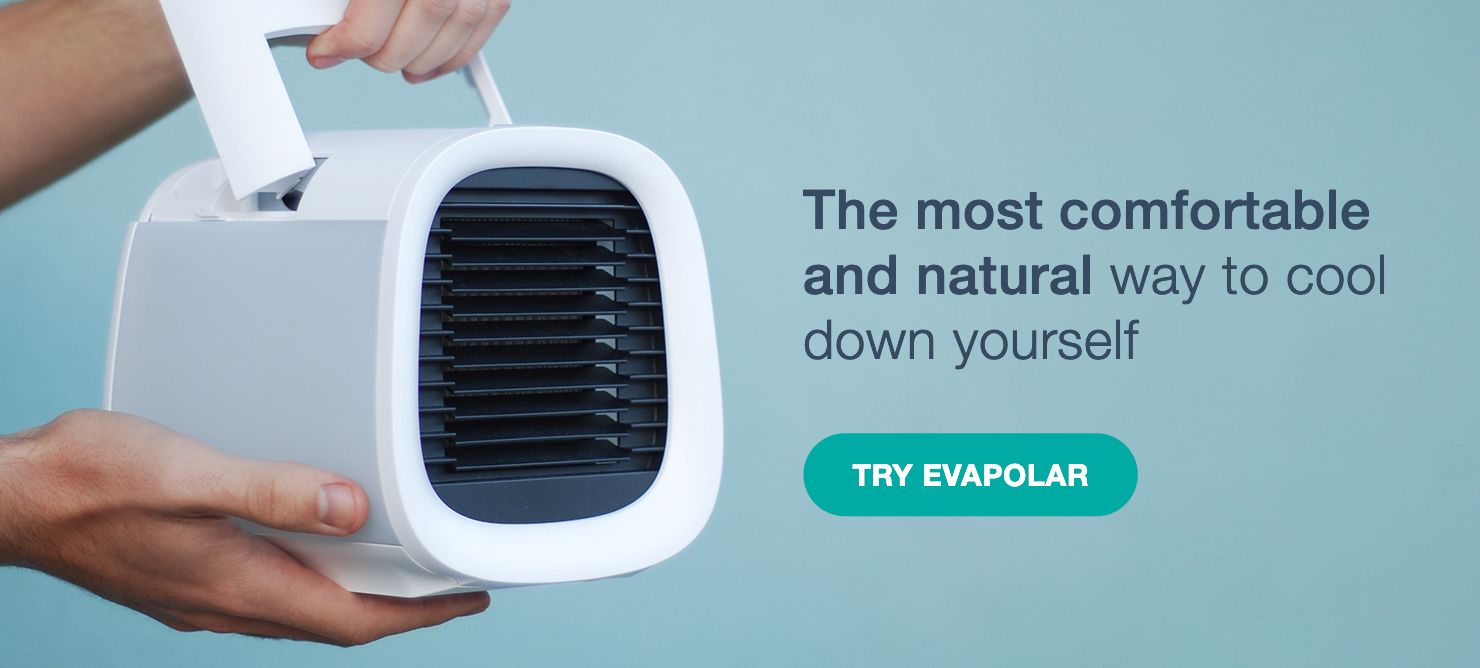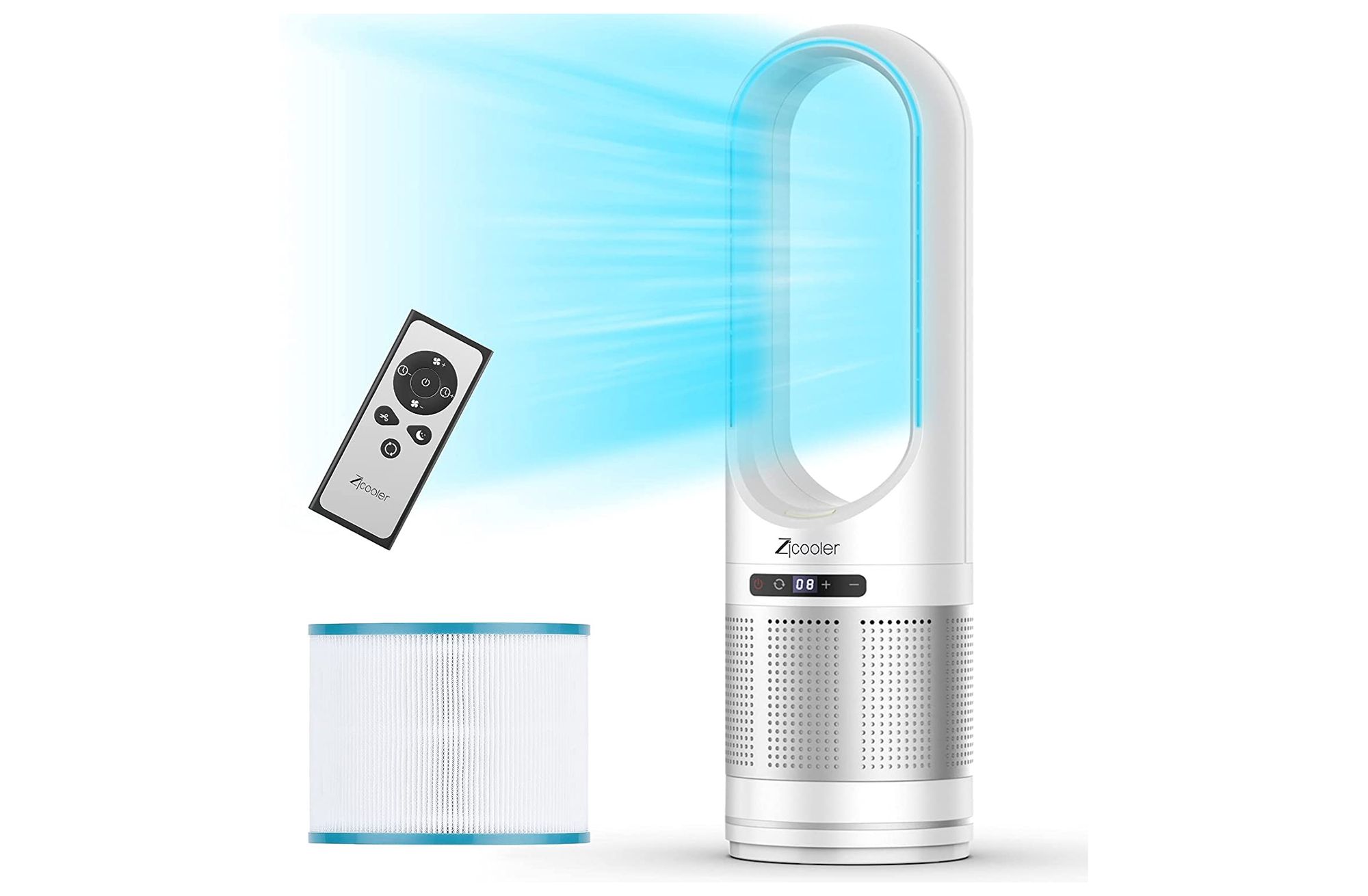 Cooling Power 80%
Portability 80% (weight 11 pounds)
Ease of Setup 80%
Noise 80% (up to 55Db)
Price 40%
Zicooler 32" Tower Fan claims to be another fan that works as an air conditioner, and the positive reviews seem to think so as well! This bladeless tower fan with air purification oscillates smoothly to circulate the air, obtaining a stable and excellent airflow. ZiCooler has an 8-speed, 80° oscillation function and is ingeniously designed for any home or office.
Pros:
Fan and air purifier in one
Safe for kids (bladeless model)
Minimalist design
Cons:
Expensive compared to other cooling tower fans
Can produce noise during oscillation
For the price could have a more prominent oscillation (at least 180° instead of 80°)
Review compared to Dyson: "This is a nice blade-less compact tower fan. Don't be fooled by its size; this fan packs a strong airflow power. It is pretty quiet, even at the strongest airflow setting. It keeps the guest room nice and cool since the central air vent doesn't flow into that room. Overall it is a best tower fan if you don't want to spend more money on the other name brand».
You can take a look at other functions of the Zicooler Tower fan here.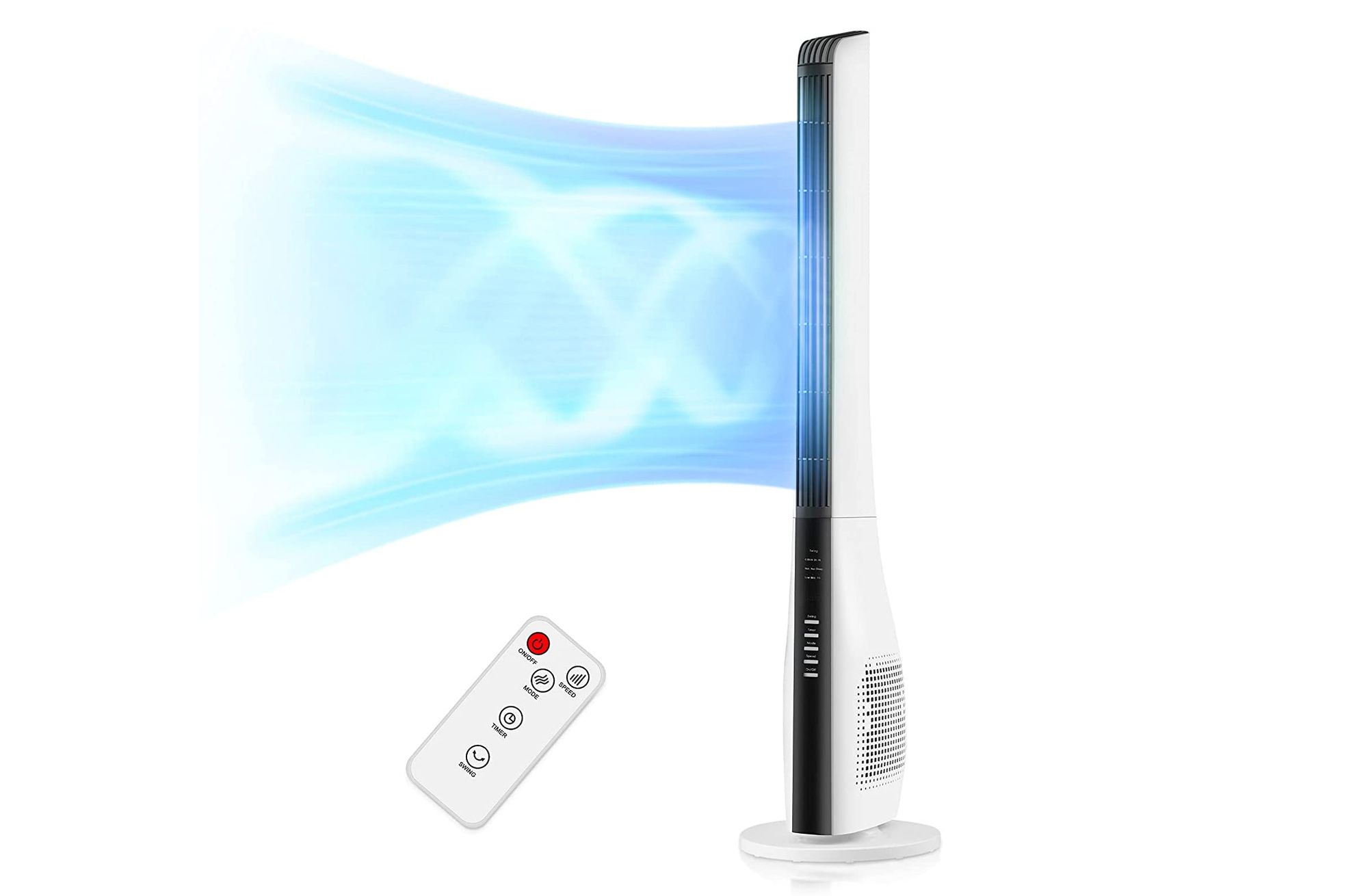 Cooling Power 80%
Portability 80% (weight 10 pounds)
Ease of Setup 80%
Noise 80% (up to 55Db)
Price 60%
Three modes & 3 speeds for different rooms & needs in this Trustech Oscillating fan that cools like ac. With a stylish and space-saving design, this portable tower fan for the bedroom complements and enhances the room décor, no matter where you put it in your home.
Pros:
Good price to quality ratio for small rooms
7.5H timer, with quiet sleep mode
Safe, bladeless air outlet
Cons:
Customers complain about low cooling capacity for humid environments
70° oscillation — you need to turn it around to cool the whole space
Review with pros and cons: "This cold air fan is not silent, but it is OK for the bedroom, I think. The lower wind speeds are gentle enough for the bedroom. Good range of speeds, etc. Nice design - looks good in the room.
The downsides: the remote doesn't have a very long reach. Also, it was a bit hard to put together, and the readout for the controls on the air cooling fan is so low that it's hard to read them without bending over."
Read the reviews and decide for yourself on Trustech's Amazon page.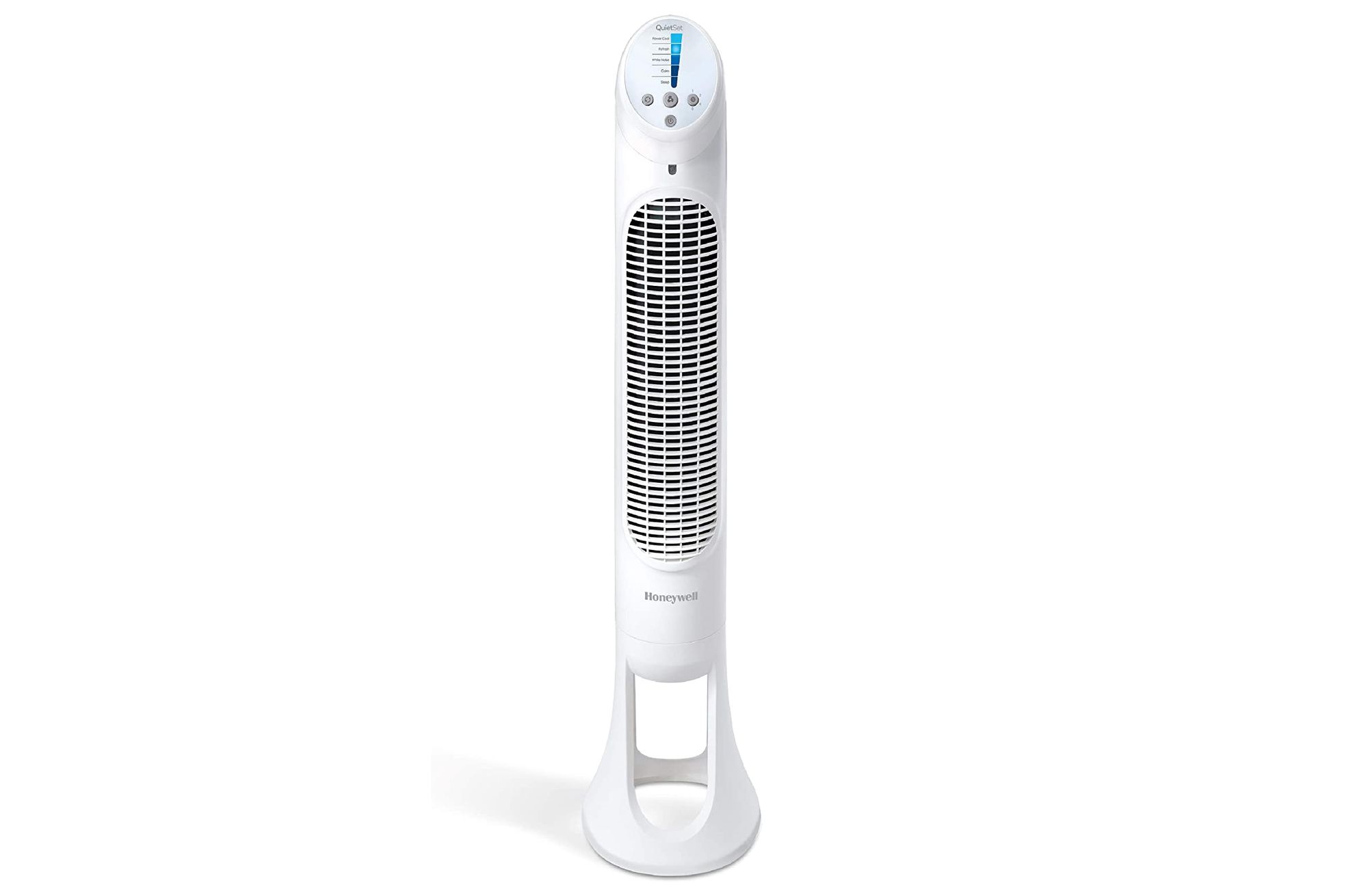 Cooling Power 80%
Portability 100% (weight 8 pounds)
Ease of Setup 80% (a bit of assembly required)
Noise 95% quiet (45Db)
Price 100%
Among best-rated fans like air conditioners, you will find the Honeywell Quiet Set Tower Fan.
The fan that blows cold air helps cool you off and improves airflow in your room. It is one of the cheap versions out there but don't be distracted by the price — it boasts a considerable number of positive feedback thanks to its quiet mode and efficiency. You have eight speed settings to adjust to your sound and cooling power preferences.
Pros:
Price
Almost no noise
8 speed settings and 5 light settings
Very light
Cons:
Questionable longevity
Difficult to clean
Realistic review: "If you want a 1-year fan for $50, or are generally more flexible on time than money, this is an excellent fan.
If you use it regularly and do not properly clean it (not just wiping down the outside like they say, the inside too)... within one year, you will just be circulating dust".
Primary Criteria for Fans that Cool Like Air Conditioners
When it comes to picking an ac alternative, some criteria are the same, and some are entirely different from ACs. So let's check them out!
1. Cooling Capacity
The higher the capacity (usually measured in BTUs), the closer it gets to the air conditioner's power. The question is: do we need it? We recommend you go for something efficient that cools only you by adequately directing the airflow instead of wasting energy on freezing the room.
2. Electricity Consumption
Air coolers and standing fans consume way less electricity than air conditioners. However, there can be traps as well. So make sure you check out the watts before purchasing.
3. Portability
One of the most significant advantages of air coolers and fans is their portability. As long as you can carry the device around, it wins over the mounted air conditioner fixed within one room. Resting? Put it in the bedroom. Working? Put it in the office.
4. Weight and dimensions
If you are planning on using the indoor fan or air cooler during the summer months only, you want it to be ergonomic and light to store it away for the colder seasons.
5. Noise level
Anything below 50Db is more or less ok for a sound sleeper. However, this is a very subjective criterium — some don't mind the white noise, and some can find it highly annoying. Therefore, we recommend you test the device before purchase or check out the reviews on the noise part.
The Best Alternative for Air Conditioners & Standing Fans
After going through all the shops, models, and criteria, we have saved the best alternative for dessert. It can chill quite a few birds with one breeze.
Evaporative air coolers by Evapolar remain the best way to replace old school air conditioners. Why?
1. Extremely energy efficient. Evapolar devices consume from 7 to 12W.
2. Ultraportable and light. Six times lighter than the lightest fan we have analyzed!
3. USB-Powered. While with fans and air-cons, you need a plug and a socket most of the time, an Evapolar device can even run when plugged into a portable battery (power bank).
4. Quiet. It was designed to make you comfortable, whether for working, sleeping, or doing sports, which is why it is zero distraction.
5. Healthy for you and the planet! No freon-like liquids, no chemicals. It uses the most natural method of cooling — evaporation. As close as it gets to nature!
6. Excellent price/quality ratio. For the price, you get an air cooler, a humidifier, and a purifier.
You can check out the models and the fun accessories in the official Evapolar shop.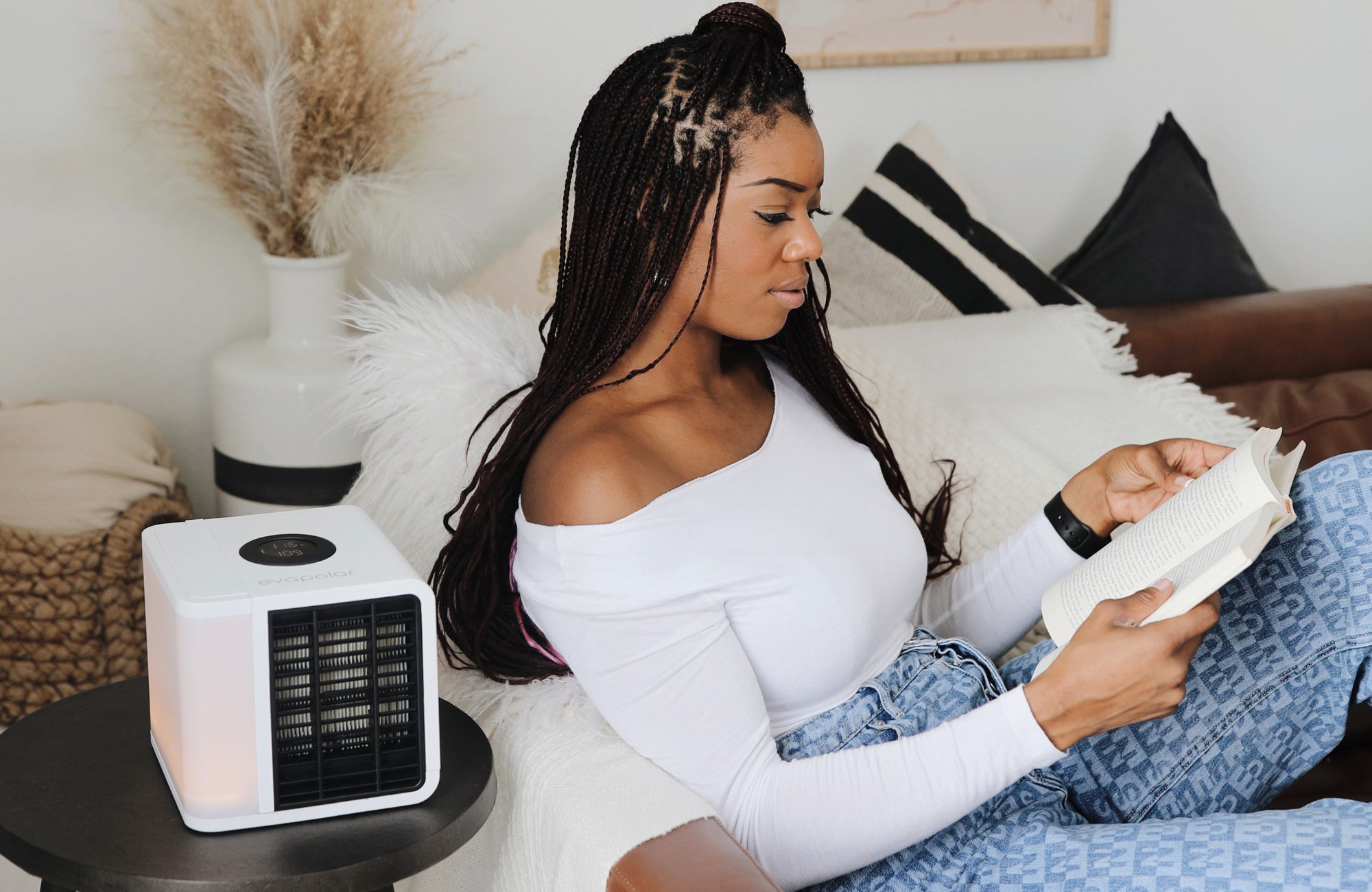 Promising review: "This product is a lifesaver. I use distilled water, and it provides cold air on my face."
As you can see, there are a lot of options to replace an air conditioner. From last-generation high-tech models to simple room fans, there is always an alternative.
Evaporative air coolers remain more efficient than fans because they cool, while in high temperatures, even oscillating fans tend to blow hot air around. Air coolers remain the customers' favorite thanks to their portability, user-friendliness, energy-saving and efficiency.
People also ask (FAQ):
1. Which one is healthier, an air cooler or a fan?
It all depends on the model. Fans that don't come with the purification option can end up blowing around dust. They can also become harmful if they are not cleaned properly. Evapolar air coolers, for instance, purify air at the same time.
2. Which one is more energy-efficient?
An air cooler. The most potent Evapolar model consumes only 12W. A Dyson runs up to 26W and a regular fan — around 50W.
3. Which one is the easiest to maintain?
Usually, tower fans are relatively easy to clean; however, they can be blocked by dust too. The Evapolar devices require changing the cartridge only every 3 to 6 months, and it is as good as new!
4. I rent, and I don't want to invest too much in case I move. Which option should I choose?
The lightest and the most portable one, with the best value for money. If your next home doesn't need an air conditioner/fan/cooler, you can store it away when you don't need it.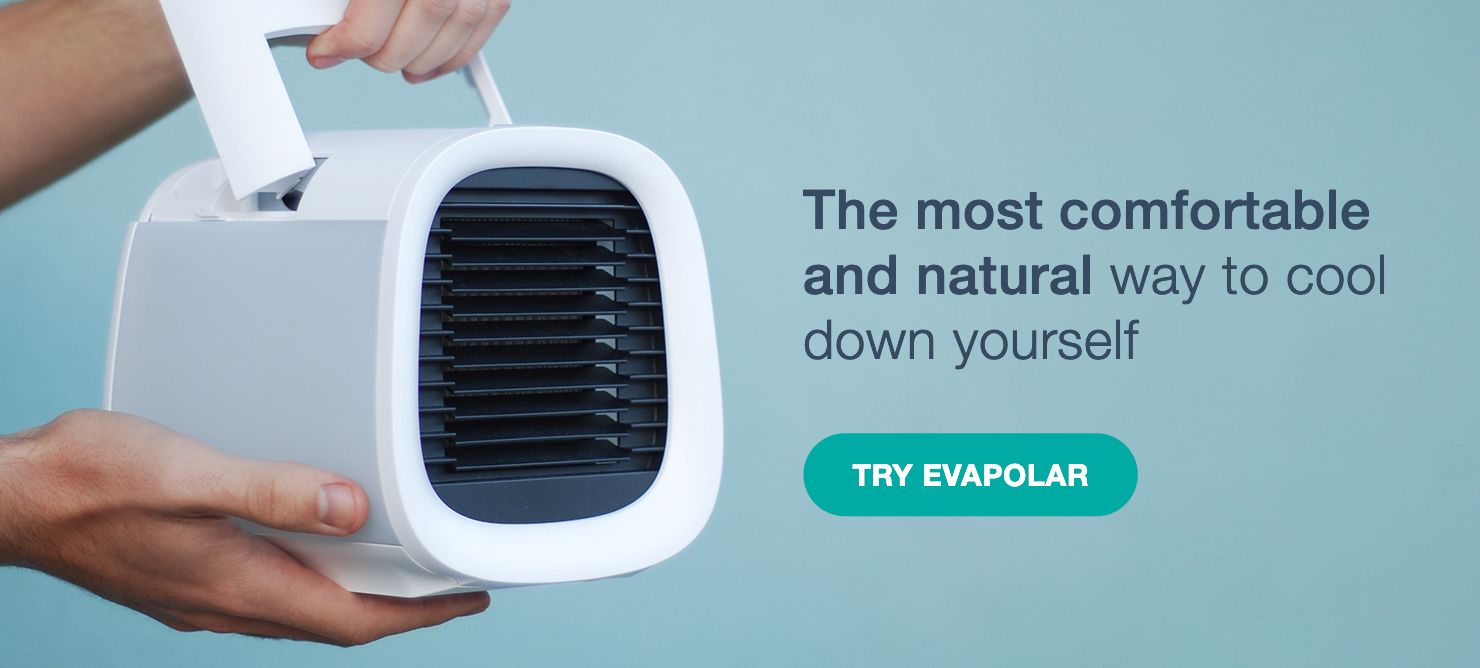 5. fan or air conditioner?