Looking for the best portable air cooler for a humid climate but concerned about how it can work in humidity?
We have made a selection of the best evaporative coolers, and made sure they can perfectly fit your weather conditions. Also, we will give you the list of best practices on how to make your best air cooler for a humid climate more efficient.
Most air coolers use evaporation for cooling, and their main cooling source is water. This makes it harder for them to be efficient in humid climates.
evaCHILL
The most effective cooling device
Why?
By evaporating the water, they add extra moisture to the air, which is why their effect is reduced. Atmospheres with a lot of moisture in them simply can't accept any more moisture, even if it's cool.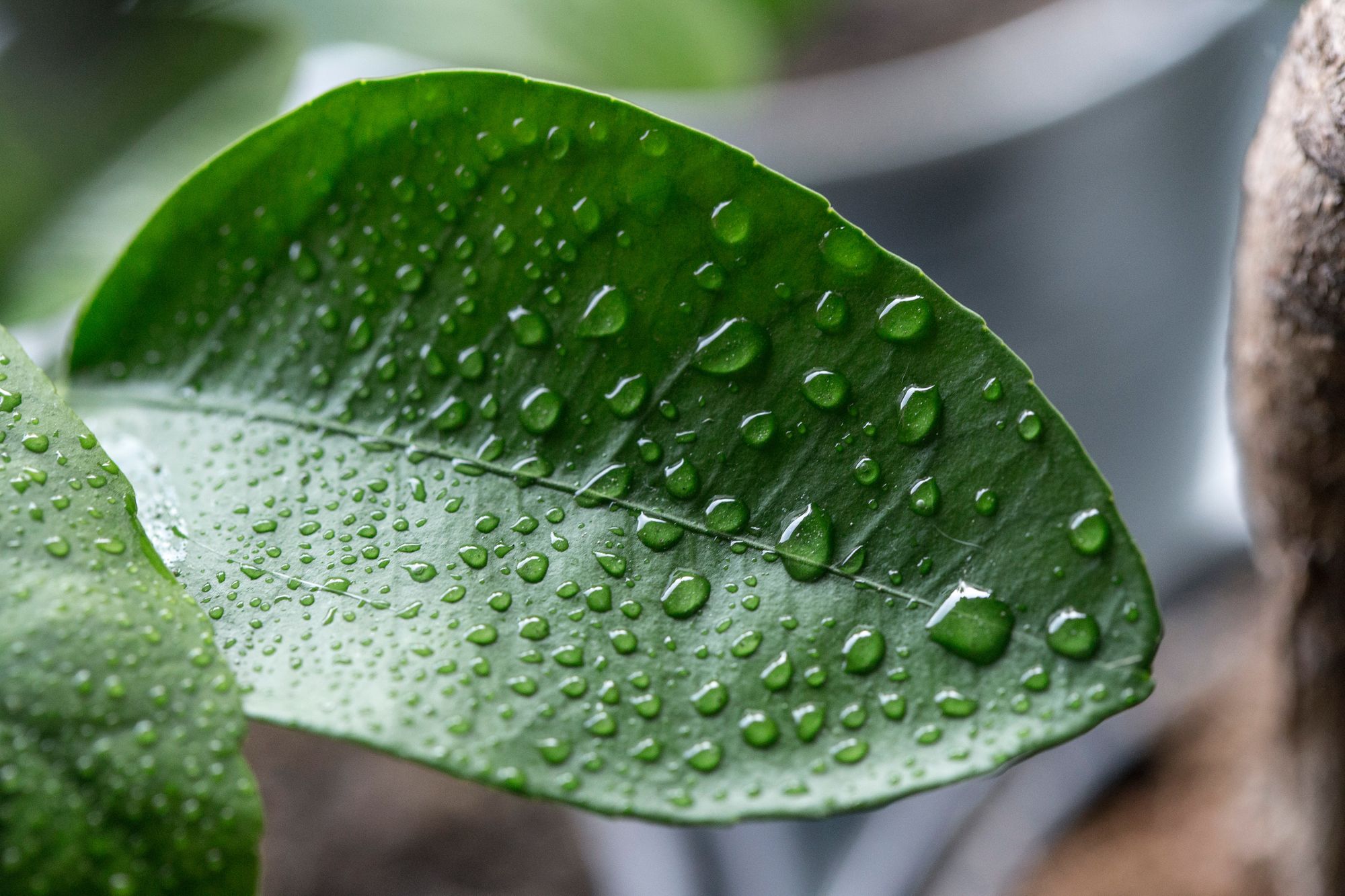 Humid climates (depending on the humidity level, of course) will still benefit from a slight temperature drop with an air cooler. Here are some criteria you need to take into account when you are on the market for the most powerful, most efficient air cooler.
1. Cooling power
While air conditioners use the BTU (British Thermal Units) to measure cooling capacity, air coolers work with CFM (Cubic Feet per Minute).
The basic formula to calculate the air cooler size is the following:
(square feet of the area that needs cooling) x (ceiling height in feet) / 2 = this is how many CFM per minute you need.
Most evaporative air coolers are designed to efficiently cool down your personal area, not the whole space — the evaporation benefits targeted, precise cooling. Still, checking BTUs and CFMs (depending on what the manufacturer provides as reference) is a good reference to see how powerful an air cooler can be.
2. Water tank capacity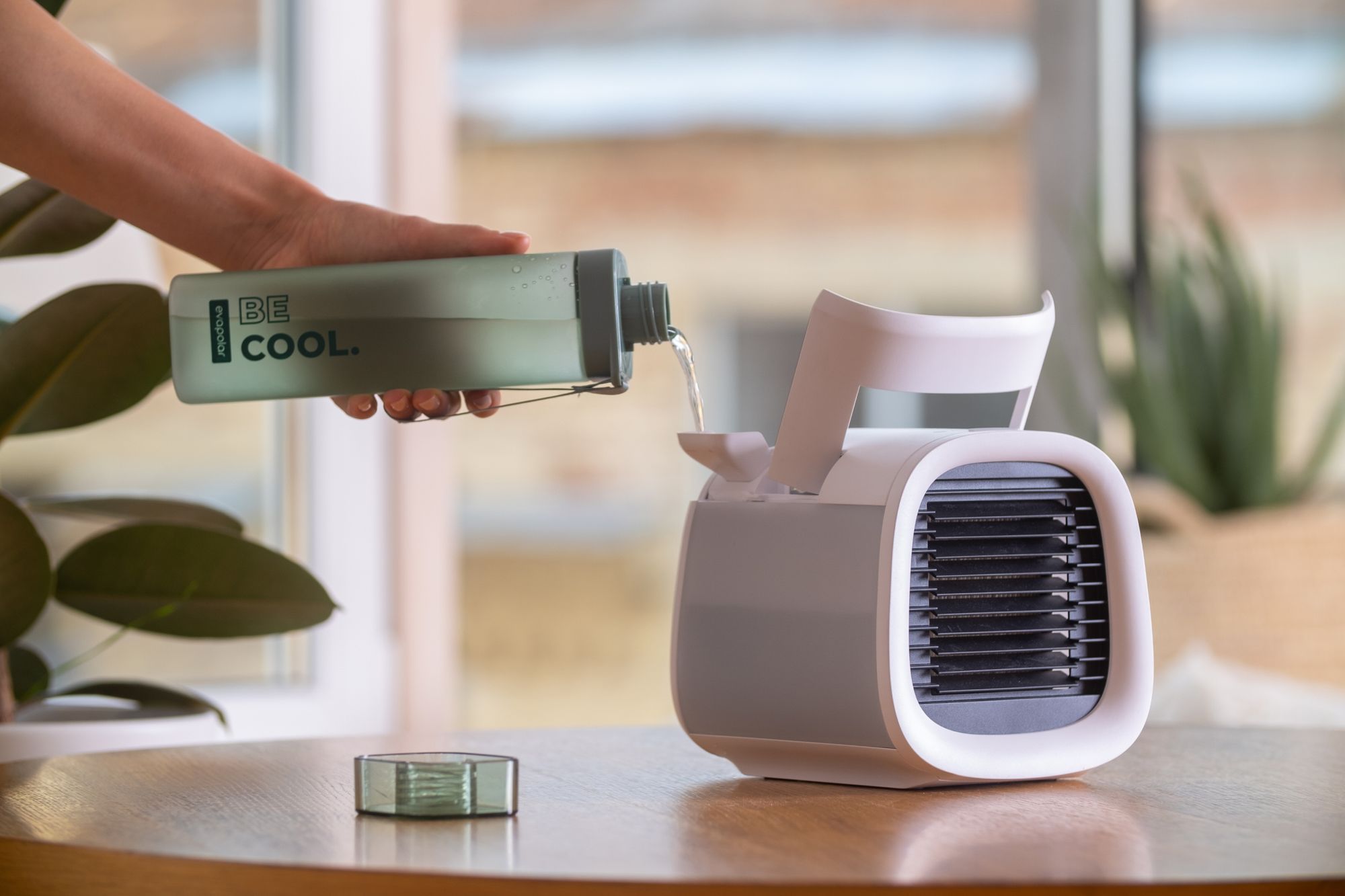 The bigger the tank, the longer your air cooler can work without refills. Even though size matters, the way HOW your cooling buddy uses the water also will impact the time it can run on one full tank. Check out what the manufacturer says about the tank capacity and how long it can last.
For example, this efficient air cooler by Evapolar is relatively small, with a 800ml tank that can keep you cool from 3 to 8 hours non-stop! The final duration will depend, of course, on the temperature where you are.
3. Portability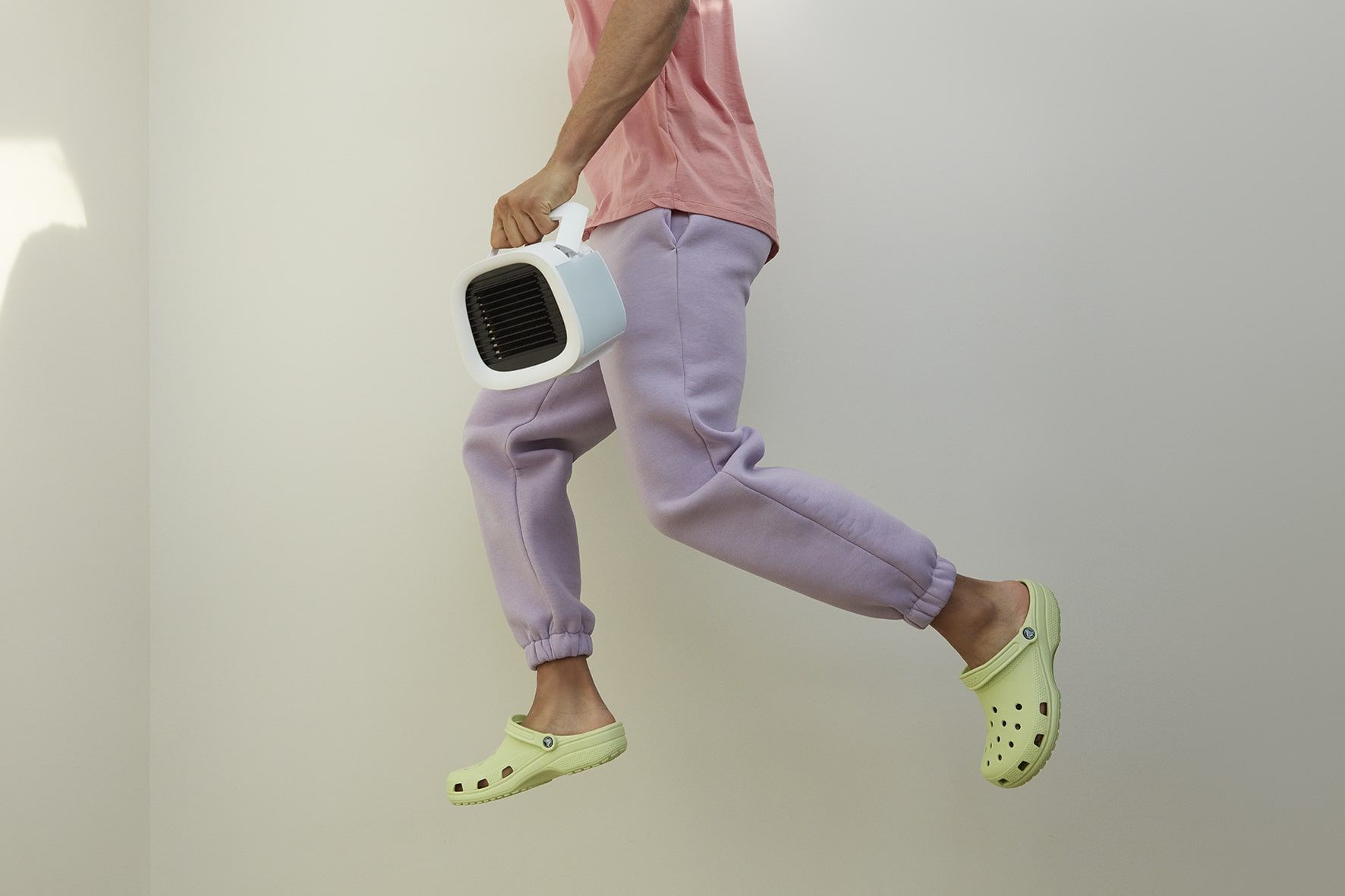 You want your evaporative cooler to be as portable as it gets. Why? Even if you live in a humid region, humidity levels can vary in different rooms — think about how the humidity feels in your basement vs a room which is very exposed to the sun! If your device is portable and light, you can easily carry it around and use it for cooling where the conditions suit the most.
4. Fan speeds
If you run your evaporative air cooler without water it can also work as a simple fan — it can be an alternative if the humidity goes up. Also, the variety of fan speeds can help you pick the right one for your comfort and adjust to the temperature around you.
5. Energy consumption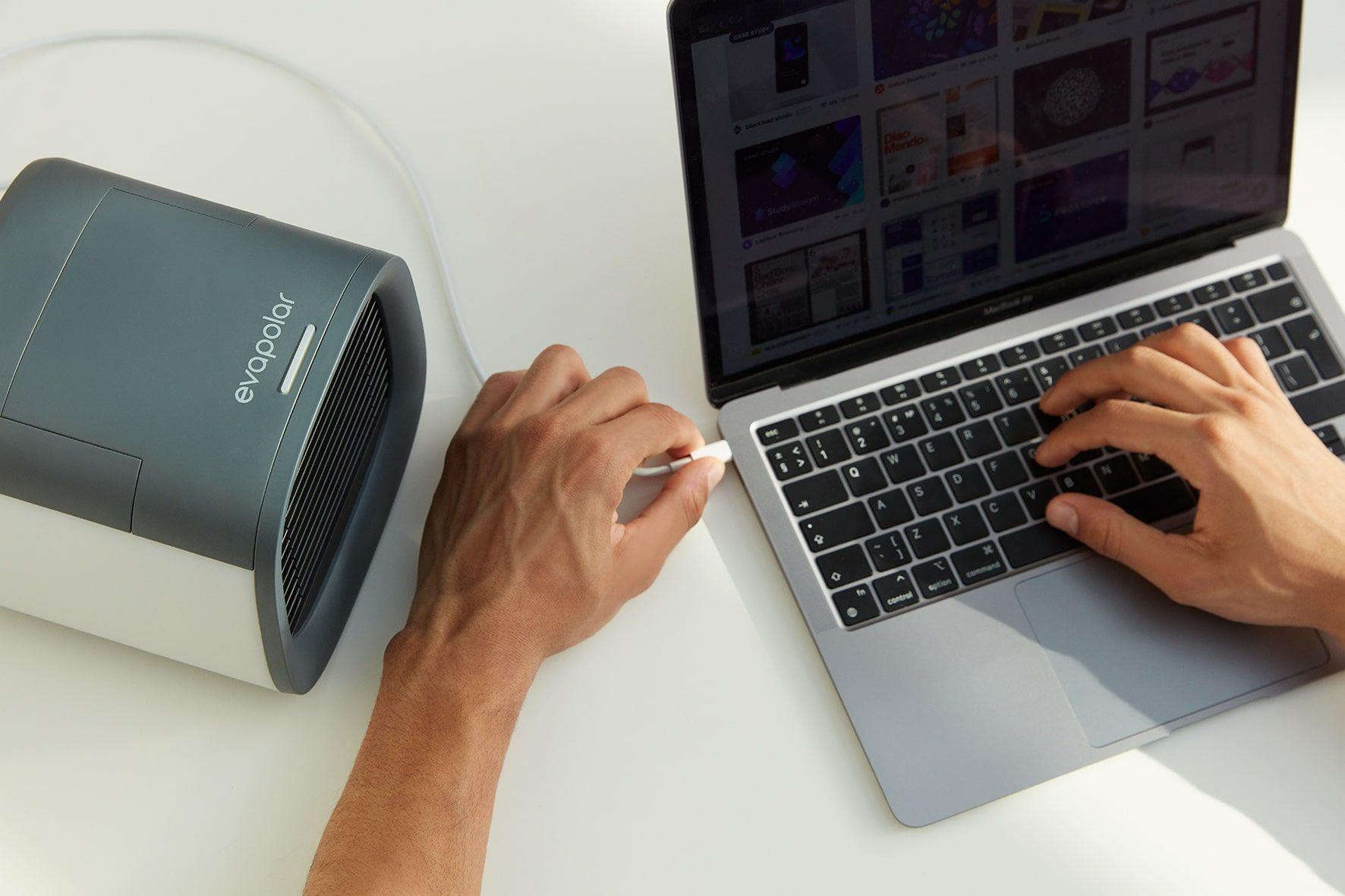 Most evaporative air coolers consume way less electricity than even the best air conditioners for humid climates. For example, the Evapolar evaCHILL consumes 100 times less than AC. In humid conditions, to make the best out of your air cooler, you might want to pair it up with a dehumidifier. It will increase the electricity consumption, so the more energy-efficient the device, the lower the bill.
Again, we would like to precise that evaporative air coolers work the best in dry, hot climates. However, there are ways to make them work better in humidity. Let's first take a look at the best cooler models and then see how we can tweak them, to still enjoy a fresh, clean and eco-friendly way of cooling.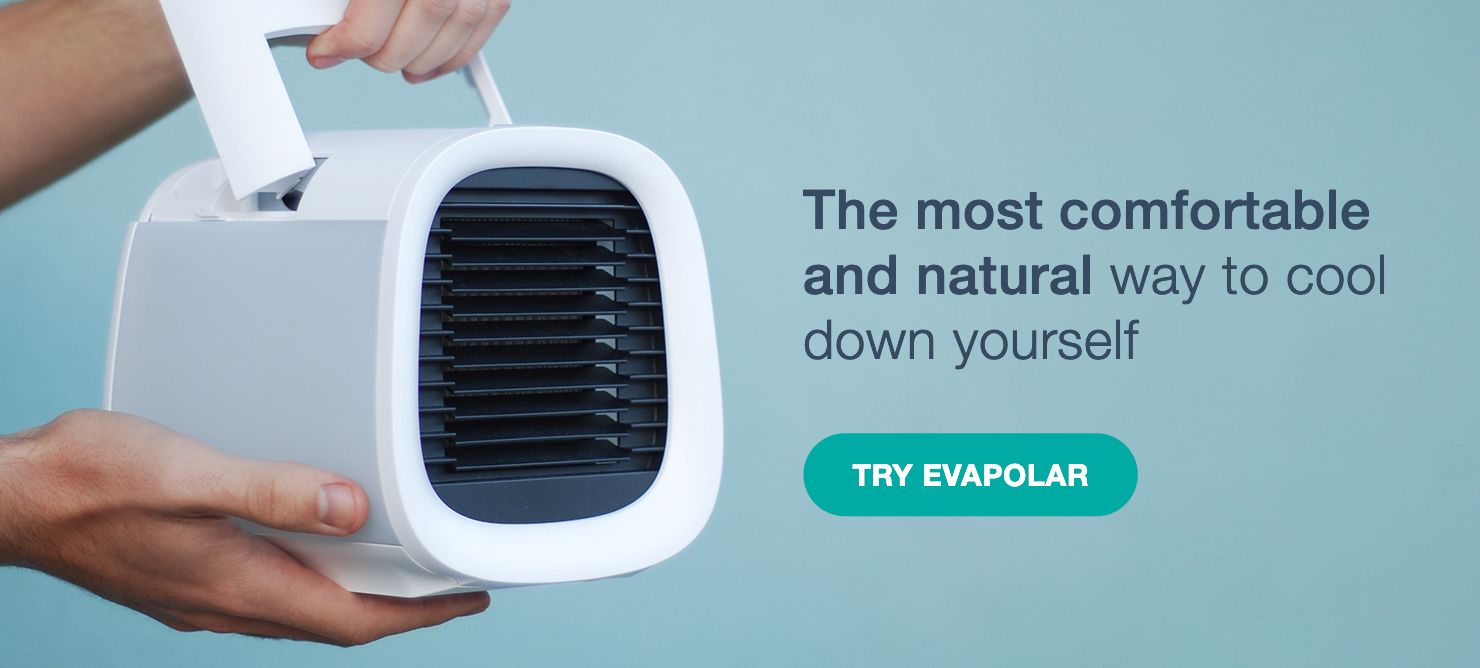 Best air coolers for the humid climate in 2022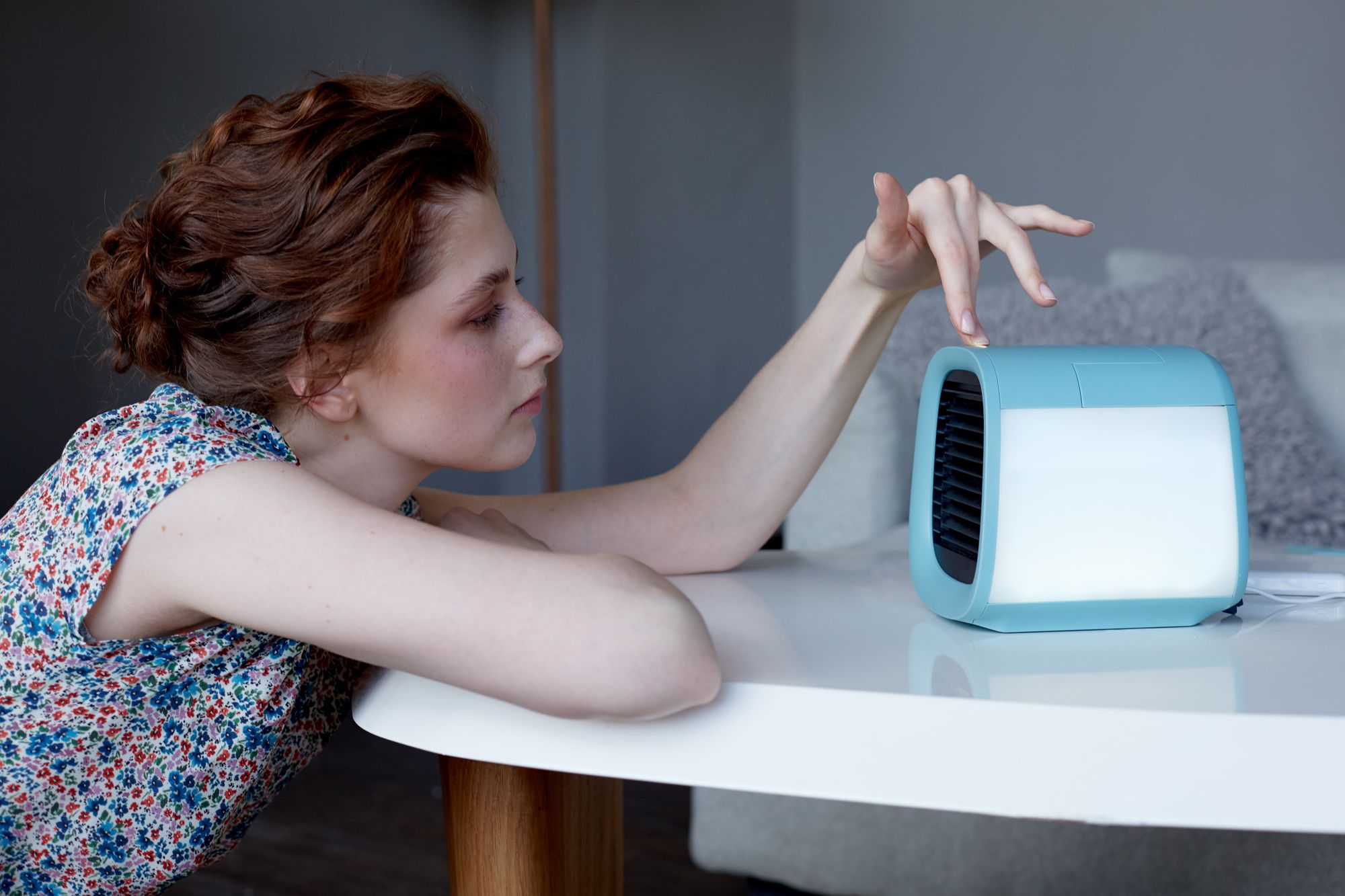 A cool breeze with a hint of humidity, like a light wind next to a lake – this is how evaCHILL feels on a hot day. It is ultraportable and light, so you can move it around easily, and simply direct the airflow towards you to make the best out of cooling. evaCHILL is an excellent option to have at home — even if you live in a humid area, you can still take it on vacation with you to always stay cool or use it together with a dehumidifier.
The water tank allows to provide a continuous cool airflow for up to 8 hours — you can leave it on for the night and wake up well-rested and refreshed.
Ideally, this air cooler does the best job in hot, dry conditions. You might feel less of a cooling effect as the humidity rises. However, you can also use it as a simple fan without water. Also, it makes way less noise than a traditional fan.
Pros:
Price
Portability
Energy consumption (7W only)
Design (minimalist and fits with any interior)
Water tank can supply water for up to 8 hours of cooling
Cons:
Is less efficient in very humid conditions
Ideal for personal, targeted cooling. This isn't actually a downside but some users might see it as one. Evaporative air coolers mostly cool down the immediate personal space next to you. The goal is to get you cool quickly, not to cool down the whole room.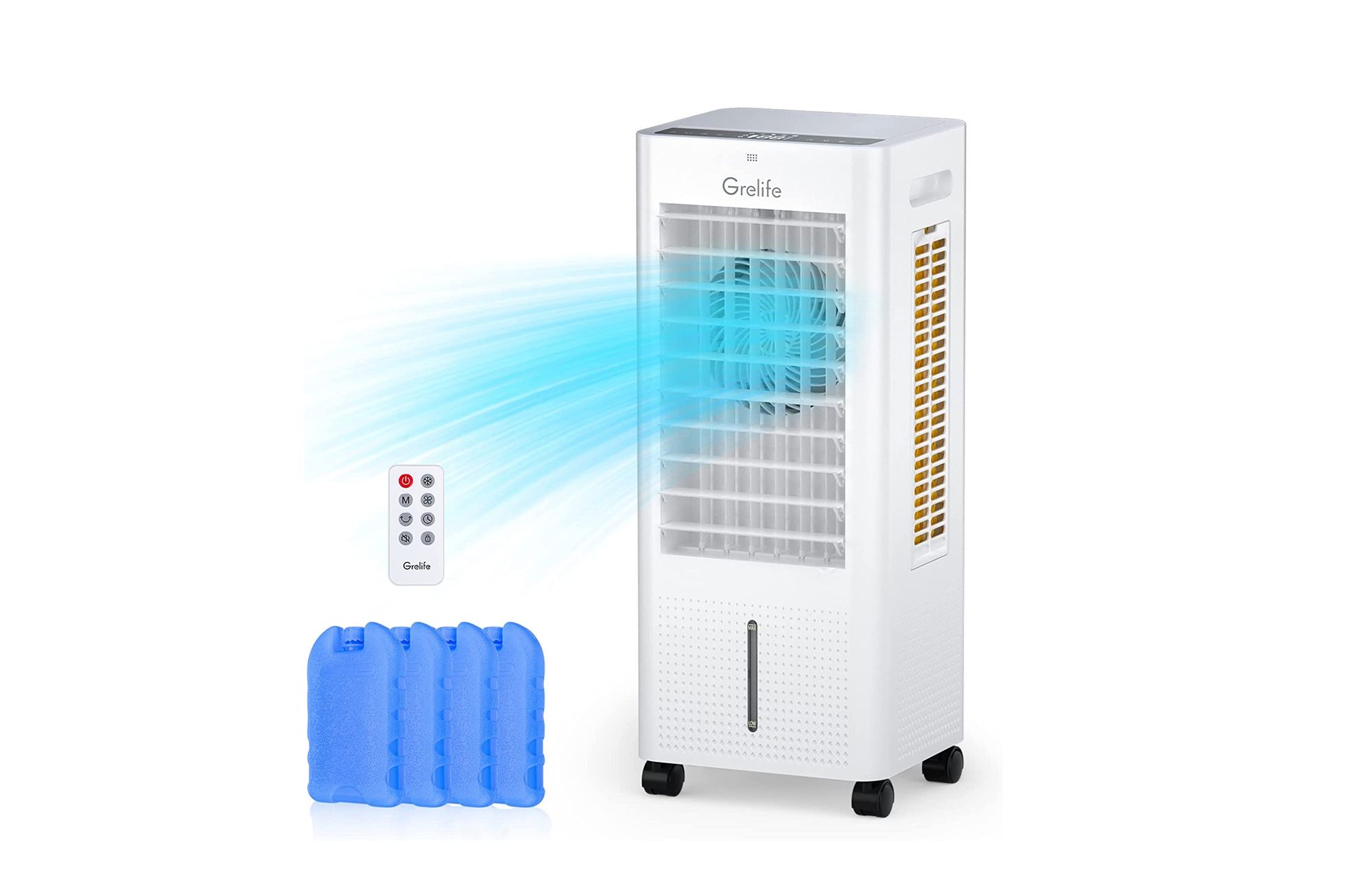 This Grelife portable air cooler is a fan, a humidifier, and an air cooler, with 3 speeds, 3 modes, 12-hour timing, wide swing, mute, child lock, and cold air mode, as well as other functions to meet all your daily needs so that you will no longer worry about the heat in summer.
3 speed settings and 3 pre-programmed modes will fit most of your cooling needs - normal, sleep, natural. It also comes with ice packs, to make the cooling effect stronger.
The device is efficient in dry and humid conditions. However, since it's marketed and designed as a humidifier as well, you may want to use it during more dry days, in rooms with less humidity and add a dehumidifier at the same time.
Pros:
380° oscillation mode, allowing better air distribution
12h timer
Easy to move around thanks to the rotating wheels
Sleep mode is very convenient, with the display brightness control
Cons:
Larger than a basic evaporative air cooler. The 25-inch height makes it more difficult to take with you when you are traveling, for example.
Humidification is one of the main functions, so you need to run it together with a dehumidifier in very moist conditions.
For a stronger cooling effect, you need to make sure the ice packs are always ready.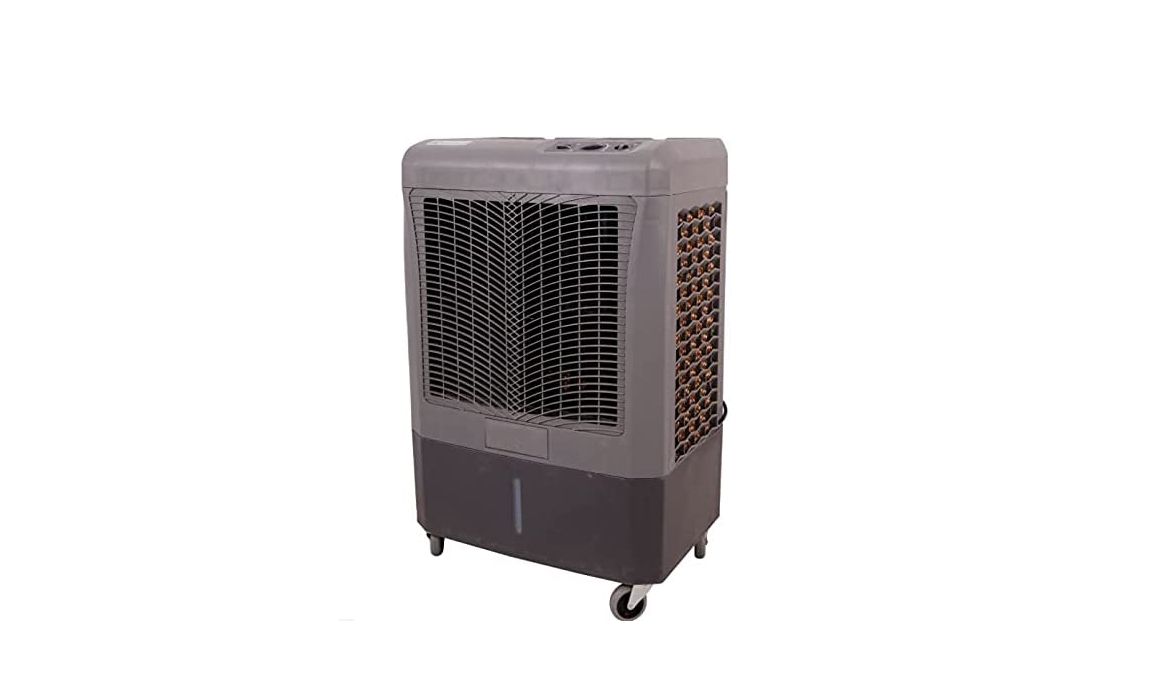 This powerful evaporative air cooler offers 3 fan speeds and oscillation to ensure even distribution and wide coverage. It is a relatively larger model which might be difficult to carry around but it allows to cool larger spaces — up to 950 sq.ft of open space.
Hessaire MC37M is easy to maintain and operate. It can also be used as an outdoor cooler if you position yourself in front of it, for the most effect.
The packaging specifies that this device is not suitable for extreme humidity.
Pros:
High cooling power
Oscillation
Cools a large area: can be efficient in a patio, workshop or a room
3-sided rigid high-density cooling pads for increased evaporative surface area generating cooler air
Cons:
Price (around 380$)
Not efficient in humidity
Bulky: if you want to place it in your suitcase, van, boat, etc. — you should go for a more portable model
According to the user manual, the water tank can last up to 4 hours. So, the device cannot be on the whole night, producing efficient cooling. Given the rather voluminous water tank, this is more of a disadvantage and can also result in higher energy consumption.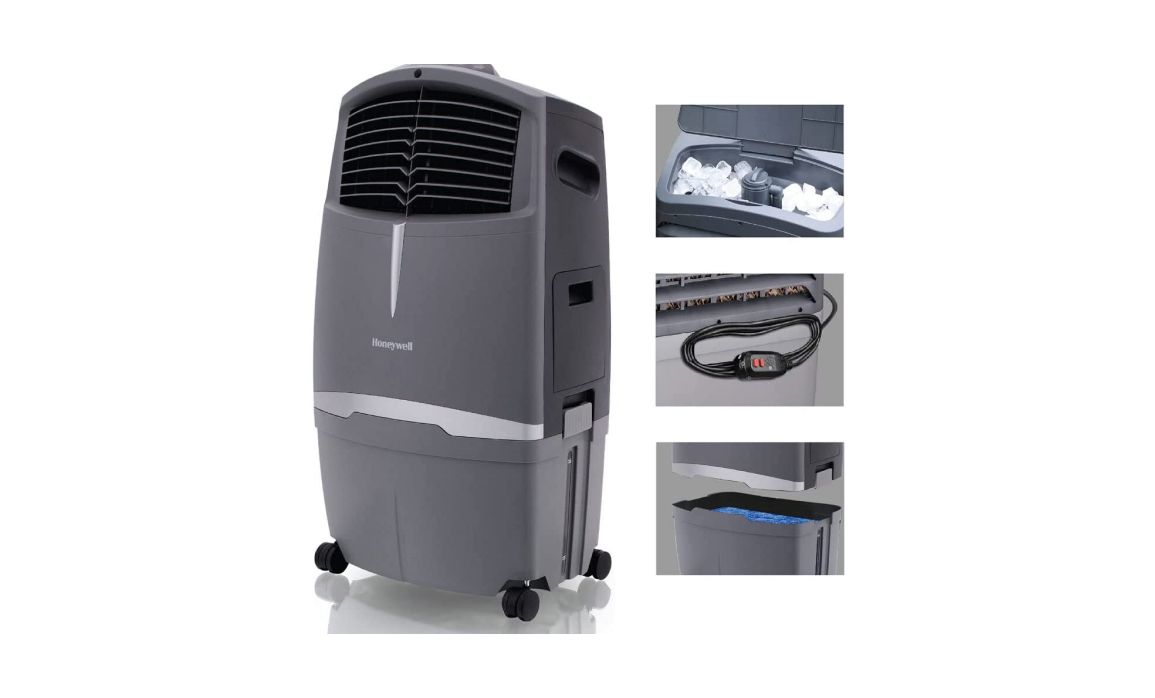 Indoor/ Outdoor evaporative air cooler. The powerful 525-729 CFM airflow is good for targeted cooling of small to medium indoor and outdoor spaces, such as living room, patio, garage, bedroom, etc. It also works as a humidifier and has an ice compartment, for lower temperatures.
It is easily portable for versatile cooling around the house but not ideal for the road.
Pros:
Weather resistant for outdoor use
Relatively large cooling space (still better for spot cooling)
Energy-saving timer
Low water level indicator
Cons:
You need to have ice on hand if you want to add it to the ice compartment
Bulky for taking on trips or for moving
Relatively expensive
Less efficient in very humid conditions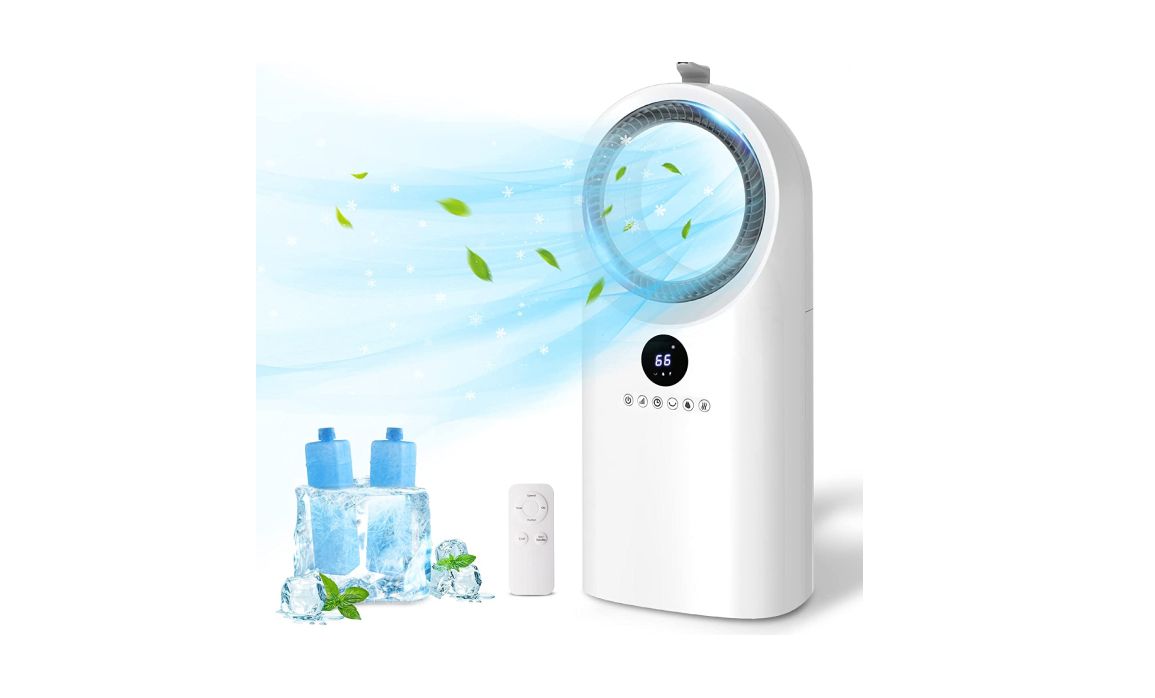 This air cooler combines a simple tower fan, an evaporative cooler and a humidifier. It also offers an easy-to-control 3-speed setting and 360° rotation, for better coverage. At the same time, you can easily find the normal mode that suits your taste: fan, cooling and humidification. When on cooling mode, it becomes less efficient in humidity but you can also run it as a simple fan or run it together with a dehumidifier.
Pros:
Remote control
Relatively light weight
Low energy consumption
Cons:
The cooling power is not specified by the manufacturer
Inconvenient for traveling and small spaces due to significant height
As you can see, most air coolers also work as humidifiers and it can be irrelevant when the atmosphere is already humid. At the same time, there are some evaporative air cooler models which are so efficient, energy-saving and powerful that you simply can't resist! Not to mention that an air cooler is more eco-friendly, compact and gentle than an air con!
What do you do if you want to keep an air cooler but it's too humid where you live?
Pair your air cooler up with a dehumidifier! It will create a powerful combo of natural cooling with less moisture in the air. Using them together will boost the air cooler's capacity. Even if you run both an evaporative cooler and a humidifier at the same time, the energy bill will still be lower than with an air conditioner.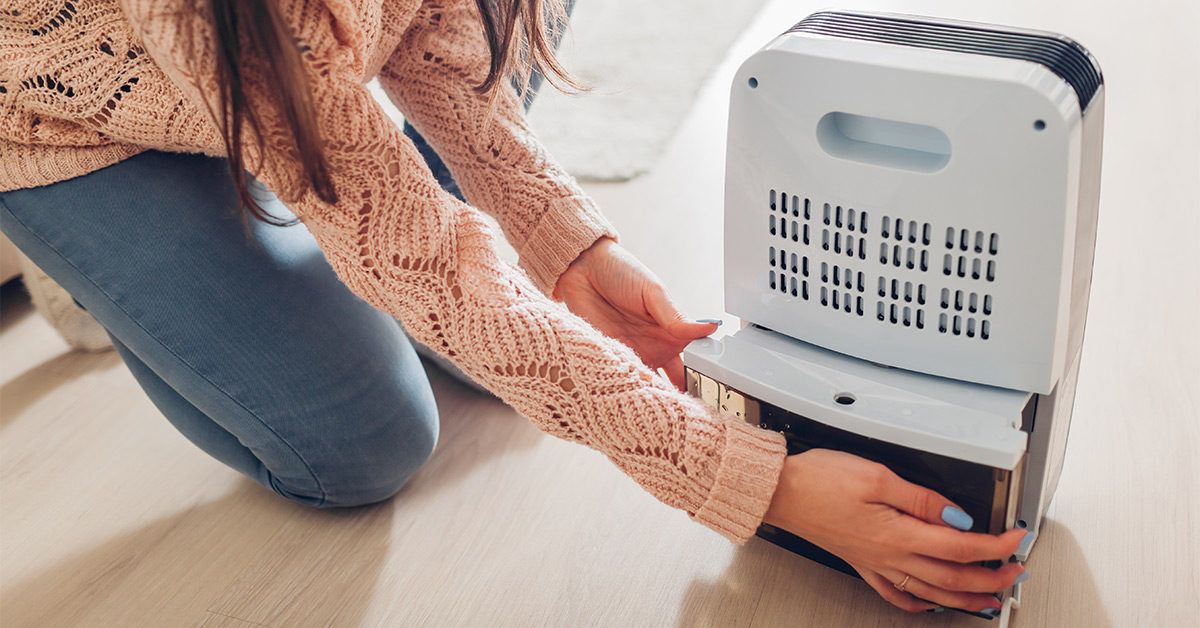 Why not get a portable ac for humid climate? Well, an air conditioner doesn't remove humidity unless it comes with a dehumidifying option, which makes the device more expensive and energy-consuming.
This is not an ideal solution if you are renting, if you only need cooling a few weeks per year or if you are simply into more efficient and sustainable cooling methods.
Always make sure that when the air cooler is on, there is enough cross-ventilation. Keep the windows and doors open to allow more fresh and dry air in. Air coolers thrive on new, fresh air!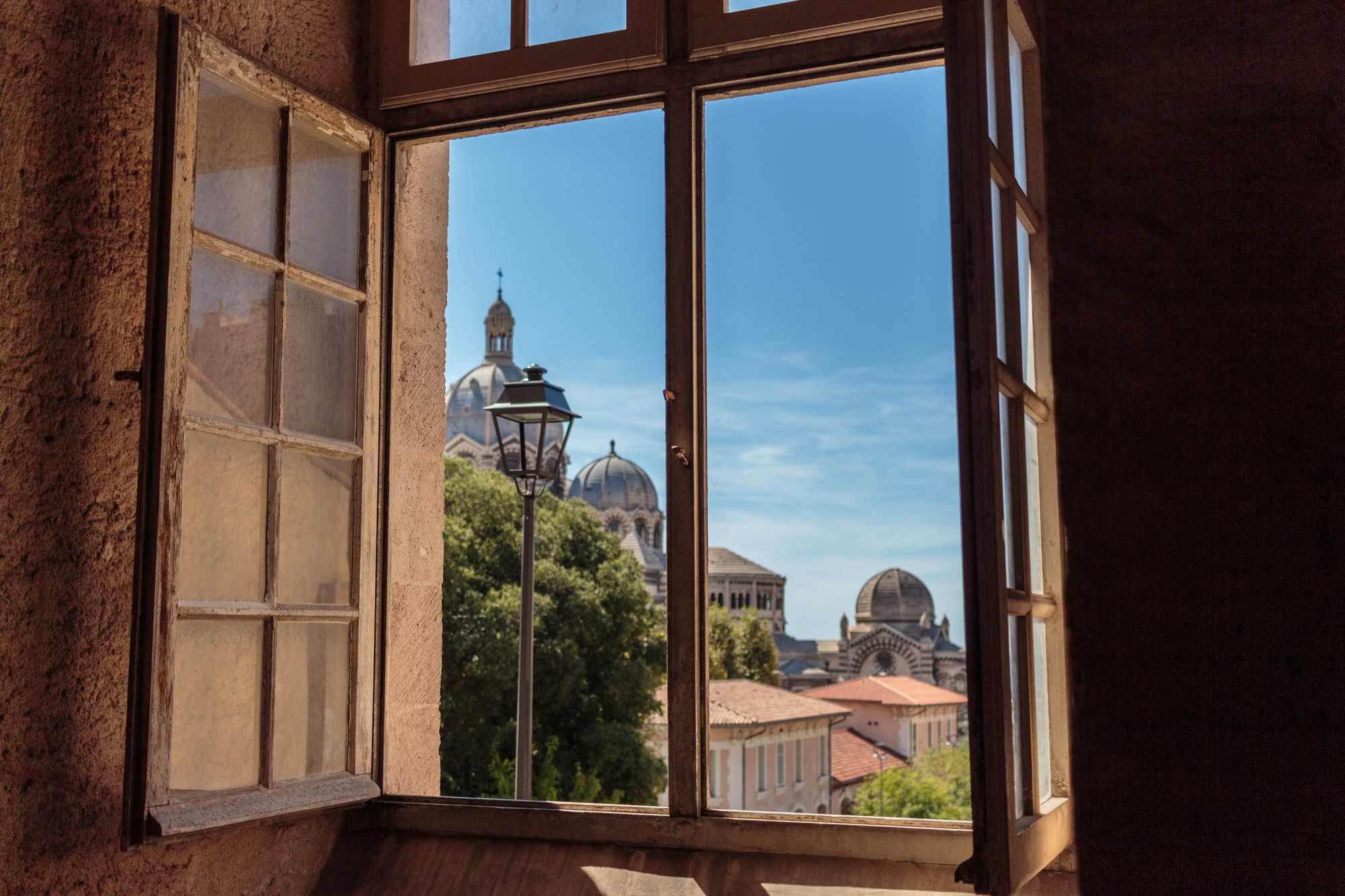 Evapolar — the best option for humid climates
Given all the criteria we have for evaporative air coolers which are optimal for humid conditions, it is safe to say that the Evapolar models are the best option. They are:
Very affordable! You don't need to spend tons to keep cool
Energy-efficient. If you want to run it together with a dehumidifier, it will still be cheaper than an AC, because they consume 100 less energy than air conditioners
Ultraportable. Place it in the space with the least humidity and enjoy the air flow. Also, you can even pack it in a suitcase and travel with it, to enjoy the coolness everywhere.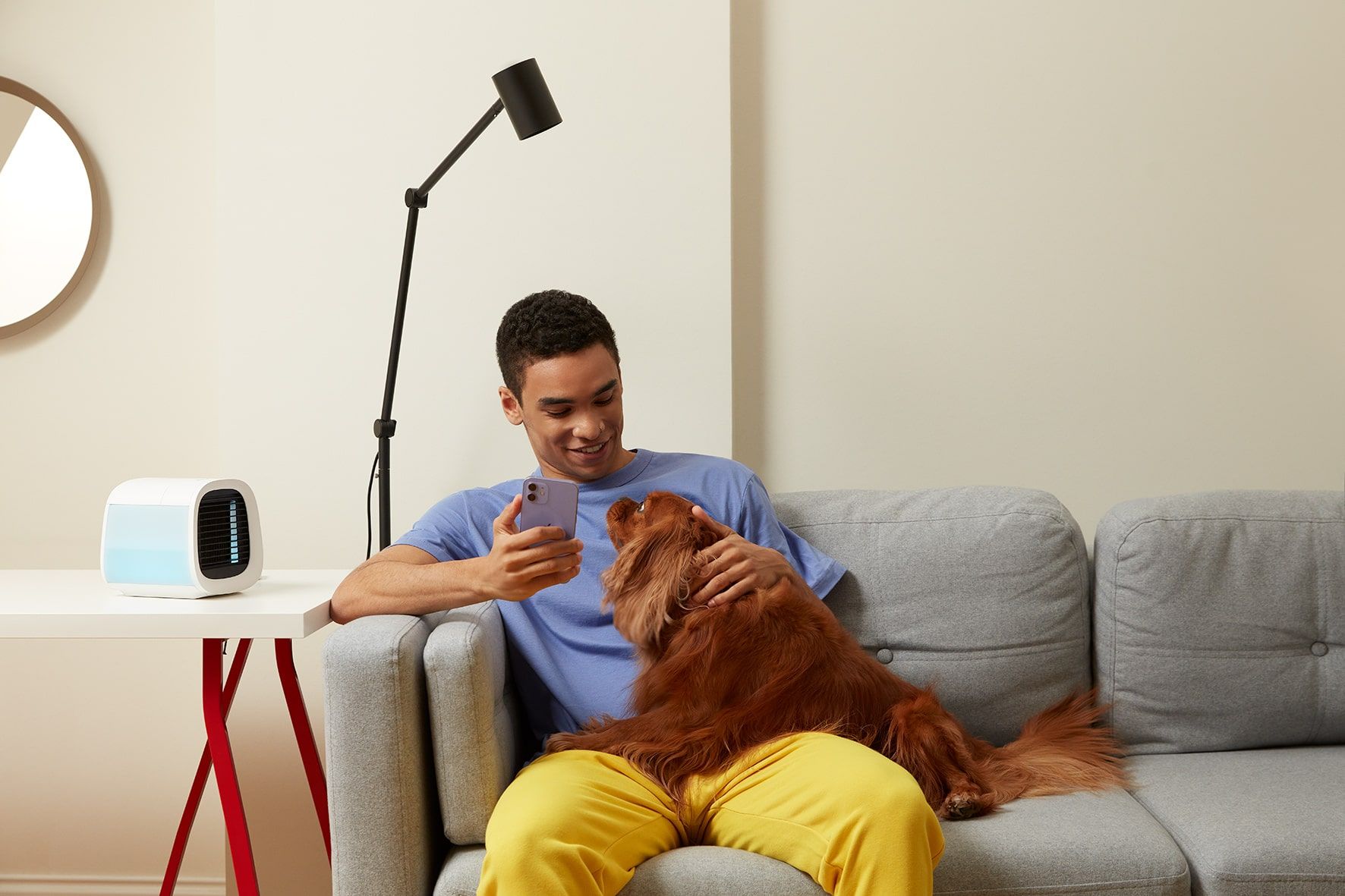 The combo of Evapolar evaCHILL and a dehumidifier would bring you powerful cooling from the air, with fresh humid air and the dehumidifier would then remove the unnecessary moisture. It will provide comfort like what an air cooler would provide on its own in a dry and hot place.
You can also check out this article on how to make your air cooler more efficient, including in humid climates.
FAQ (People also ask)
1. How does humidity affect air coolers?
Humidity doesn't affect the device directly — it keeps running. It impacts how the cool air feels in the humid air. You feel less effect due to the moisture already present in the air.
2. Can I use an air cooler with a dehumidifier?
Yes, it is the best solution to run an air cooler in humid conditions. It is more eco-friendly and cheaper than having an AC, and it is also less harsh in terms of cooling. Air cooler and a dehumidifier make the perfect combo for a cool, soft, slightly humid breeze.
3. Can I alternate between an air conditioner and an air cooler?
We even recommend having both. You can run the air conditioner when you need to cool down the whole area or on exceptionally humid days. If you feel like you could just use a little cool breeze, you can always turn to the air cooler.
4. What is the ideal humidity for an evaporative air cooler?
Air coolers are most efficient in dry regions, where the humidity levels are under 60%.
5. How do I make my evaporative air cooler work in excessive humidity?
The ideal humidity level for an evaporative air cooler is below 60% humidity. You can also make it more efficient by improving air circulation and aeration, as well as keeping the doors and windows open. It also works great with a dehumidifier where each device takes care of their given task.