Camping is a great activity to partake in with friends and family, and it should make you happy. If you are camping out in the hot weather, you may not be as comfortable as you would like to be. Whether you are resting in a tent, recreational vehicle (RV), camping car, or van, you would like to have a certain level of comfort when you rest.
One of the basic products that you can carry with you to enhance your comfort is a portable air conditioner for camping. These devices are light, portable, and easy to maintain and use.
In this post, we take a look at five of the best portable air conditioners for camping on the market that you can carry with you on your next camping trip, compare portable air conditioners. So, let's jump right in!
Our Top Pick of Air Conditioners for Camping
One of the coolest items (pun intended!) you can carry with you on a camping trip is a portable air conditioner for tents. It's a convenient and cheap cooling solution that will keep you comfortable in hot weather. These devices are easy to operate and quite effective, with many other advantages that we will highlight as we move along in this post.
Here, we discuss the different types of portable air conditioning units for camping available on the market today. We feature five of the best portable camping air conditioners on the market and also discuss what to look for in a small portable air conditioner to help you in your quest for a suitable model. The top pick on our list today is the evaCHILL personal air cooler.
One of the best portable camping AC units on the market today, the evaCHILL personal air cooler is a simple cooling system that requires practically no installation. Other than taking it with you for camping, you can also use it at home or the office. You will focus on your work and not the weather because the evaCHILL cooler reduces the temperature of the surrounding air by 7°C (44.6°F) to 10°C (50°F) as well as humidifying and purifying it.
We will deal with the features of this product in more detail further on in this post. To widen your options, we also include other top models on the market. But before we start looking at these products, let's take a quick look at the types of tent air conditioners available on the market today.
Types of Camping Tent Air Conditioners
Today, the market is flooded with a variety of different models and types of portable ACs for tents. Here are some of the most common types that you are likely to come across:
Electric Air Conditioning Units
These air conditioning units are on the cumbersome side, as they take considerably more work to set up, but you can rely on them more than the battery-operated ones. The main issue is finding a power outlet, and this may not be possible if you are camping outdoors. However, there are a variety of different models available in this category.
An electric air conditioner is also more expensive, but if you are willing to spend extra money and go through the additional effort, once set up, you will find it worth the while.
Window Air Conditioners
Window air conditioners are similar to those that we use at home and in our offices. They consume about 5,000 BTU of energy and are capable of cooling down an area of about 150 sq. ft, which amounts to the area of an average-sized tent.
With the average window air conditioner, you will need to provide adequate space for installation, and the tent should also be sufficiently large. While installing the unit, sufficient ventilation needs to be provided for it to function properly.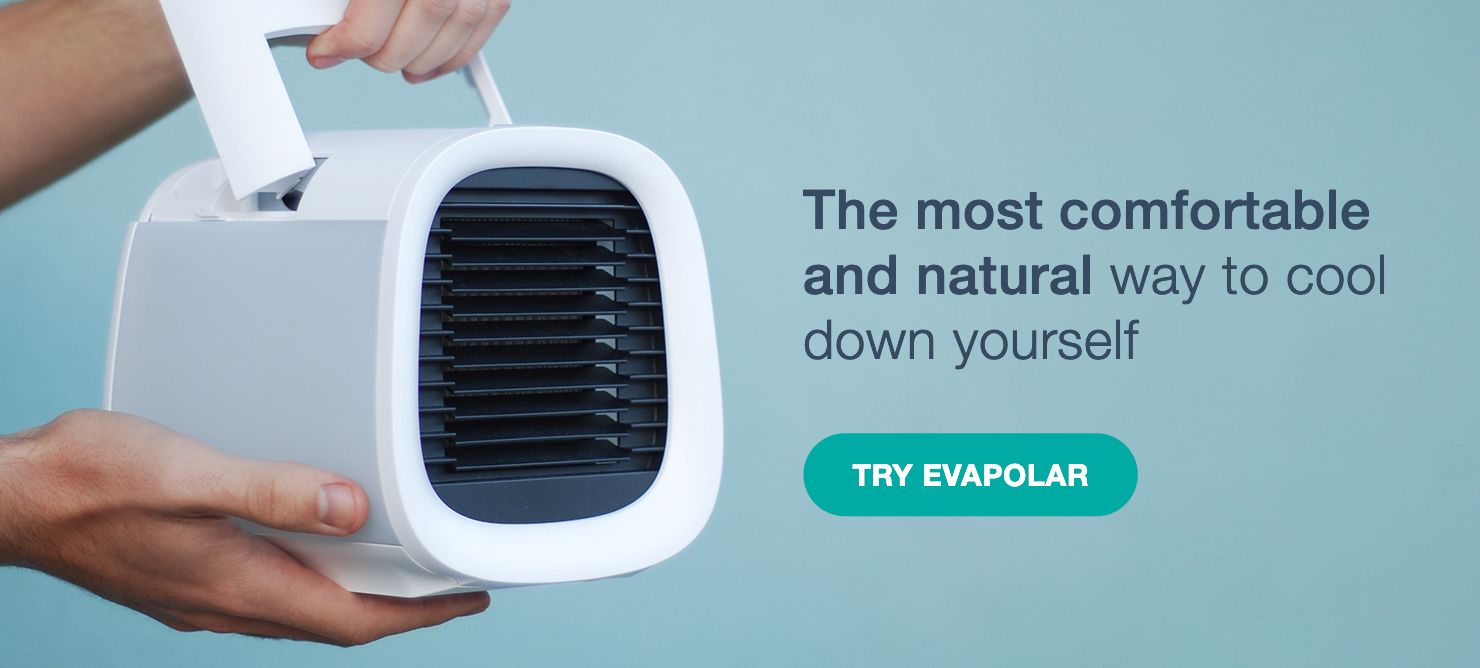 Small Portable Air Conditioners
Small portable air conditioners are typically less powerful than window air conditioners. They can cool a wider area—up to about 400 sq. ft. and utilize 12,000 BTU. These units are rather bulky and can weigh up to 100 lbs. They often come mounted on wheels for easy maneuverability.
This category of portable AC units for camping also needs ventilation, but a smaller hose is required. Most of these portable car aircons also serve to humidify the area and are equipped with a tray to collect the condensed water. When the bucket is full, the small air conditioner for the camper switches itself off until the bucket is emptied.
Spot Coolers
Spot coolers are heavy-duty versions of portable air conditioners for campers. These even resemble the latter, but they utilize about 15,000 BTU. Due to this reason, the cooling capacity of this category of air conditioner is quite high.
It is common for people to install spot coolers in a more permanent space like a garage or workshop. If you can arrange for the logistics of transporting and installing a spot cooler at a campsite, the results could be quite satisfactory.
12-Volt Portable Air Conditioner
Although you may find these units easier to set up, you may also find them less reliable than their electric counterparts. They also tend to be less powerful. The benefit that you get from 12-volt portable air conditioners is that they are compact and suitable for use in the smallest of spaces, best camping air conditioner australia.
This category of air conditioners for camping suppliers is usually filled with ice, and in some cases, water. The unit works on the principle of air being blown over the water or ice, with the help of a fan, to cool the surrounding area.
Twelve-volt portable air coolers or air conditioners are the types that we discuss in this post. So, without further ado, let's take a look at some of the top AC units for camping. This category of cooler is recommended for smaller tents and personal (single person) use.
5 Best Portable Air Conditioners for Camping
As a camper, you expect to rough it out a bit. However, at night, you probably want to get a good night's sleep after a day camping outside in the open. If the weather is hot, carrying a portable cooler is a good idea to keep you cool as you sleep. Here are five of portable camping air conditioner australia for camping on the market today:
Best Mini Air Conditioner with Compressor
EvaCHILL Personal Air Cooler: The Portable Air Conditioner For Camping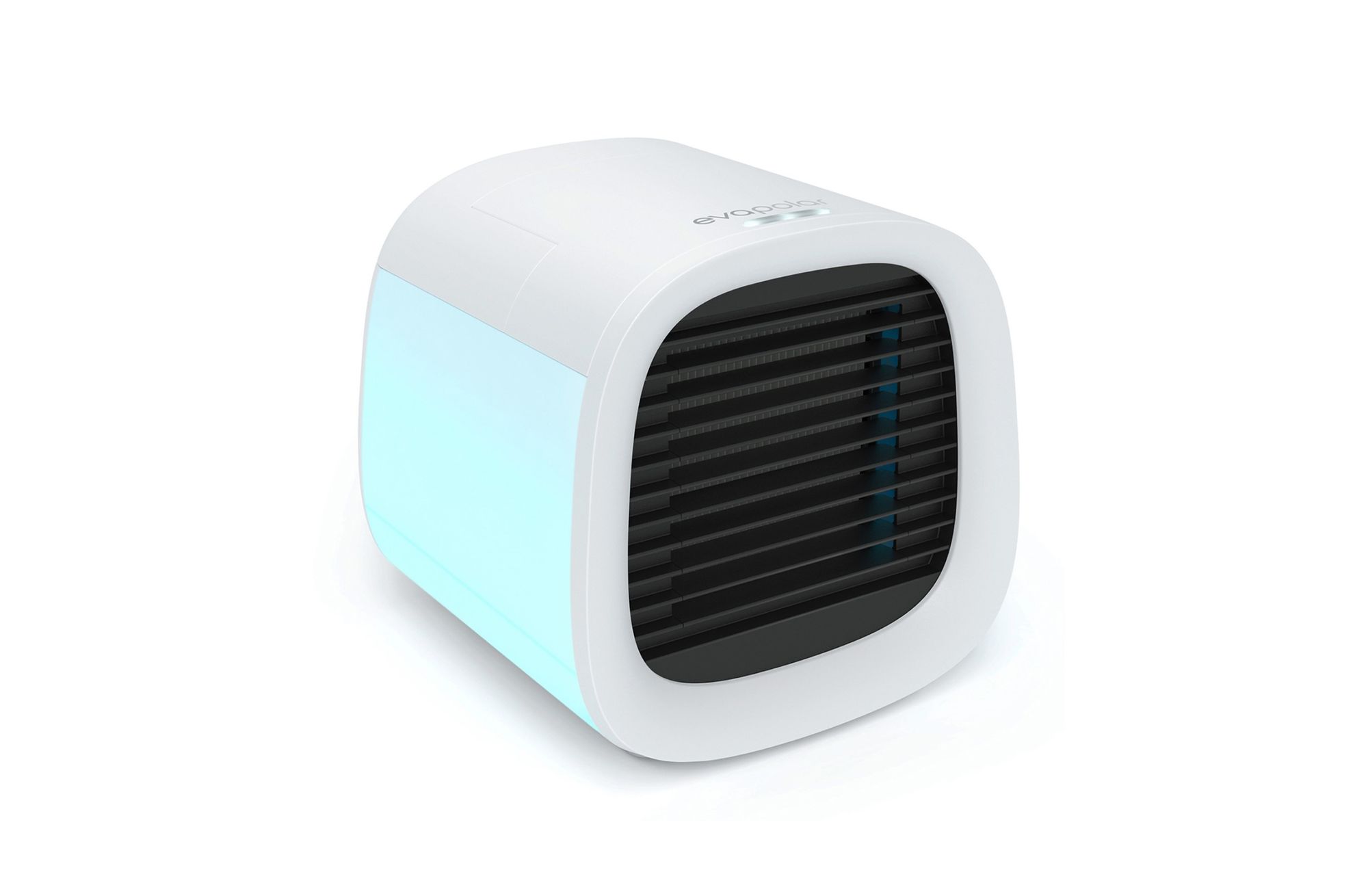 Check price on evapolar.com
Rating: 5V DC
EvaChill Personal Air Cooler: Key Features
The evaCHILL 3-in-1 personal air cooler cools the surrounding air, humidifies and purifies it, and even serves as a night light during nights out in the wild when you are camping. As a result, you don't need to use separate devices for each function. It is the best portable air conditioner for tent camping.
Thanks to the innovative evaporative material used, the device completely filters the air, making it safe to breathe. Because no organic materials are used, there is no chance of bacteria and mold developing. Also, harmful refrigeration gases are not used and fully biodegradable materials are used for making the pads.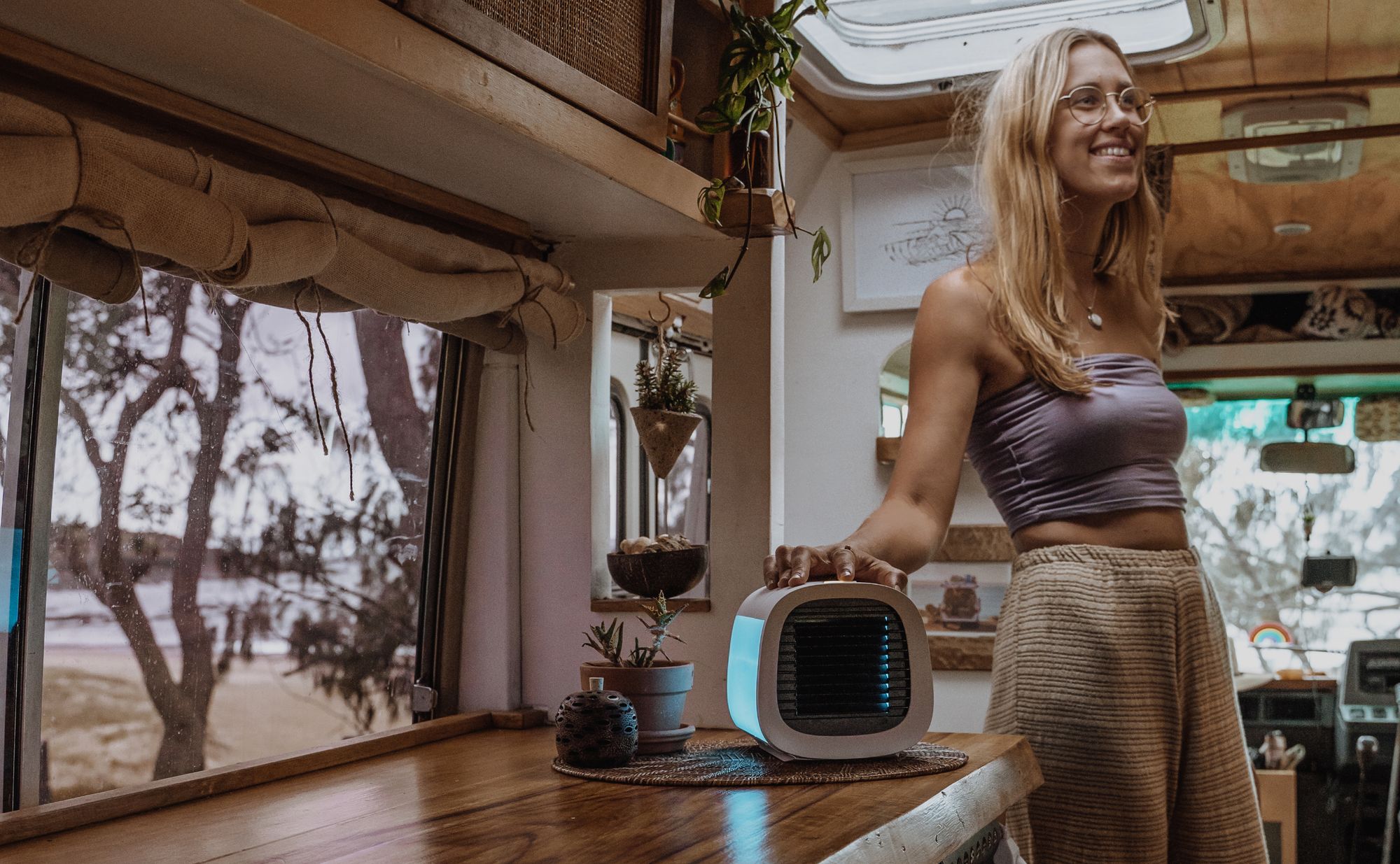 This device could be considered the best tent air conditioner in a tent on the market due to its fine features. It is an exclusively personal air cooler, cooling down the surrounding air up to 2-2.5 m² in the direction of the airflow. This provides enough cooling area to cover a person sitting at a desk or lying on a bed.
Because the device uses water, you may be concerned about leakages. Do not worry—the leak-proof system will not allow messy leakages. The extra-large water tank ensures that you get up to nine hours of continuous operations Noise levels are kept to a minimum with this device at 25 to 50 dB, and it comes with a one-year warranty. The device is powered by a power bank, laptop, or socket via a USB cord, which is very handy if you are on the road.
Pros
Lightweight and highly portable
Easy to operate
Humidifies and purifies the surrounding air as it cools it down
Low power consumption
No toxic refrigeration gases used
Biodegradable pads
Water tank with "water surround system" which prevents the units from leaking
Quiet operation
Click HERE for more information.
Midea MAP08R1CWT 3-in-1 Portable Air Conditioner: Best Budget Heavy-Duty Model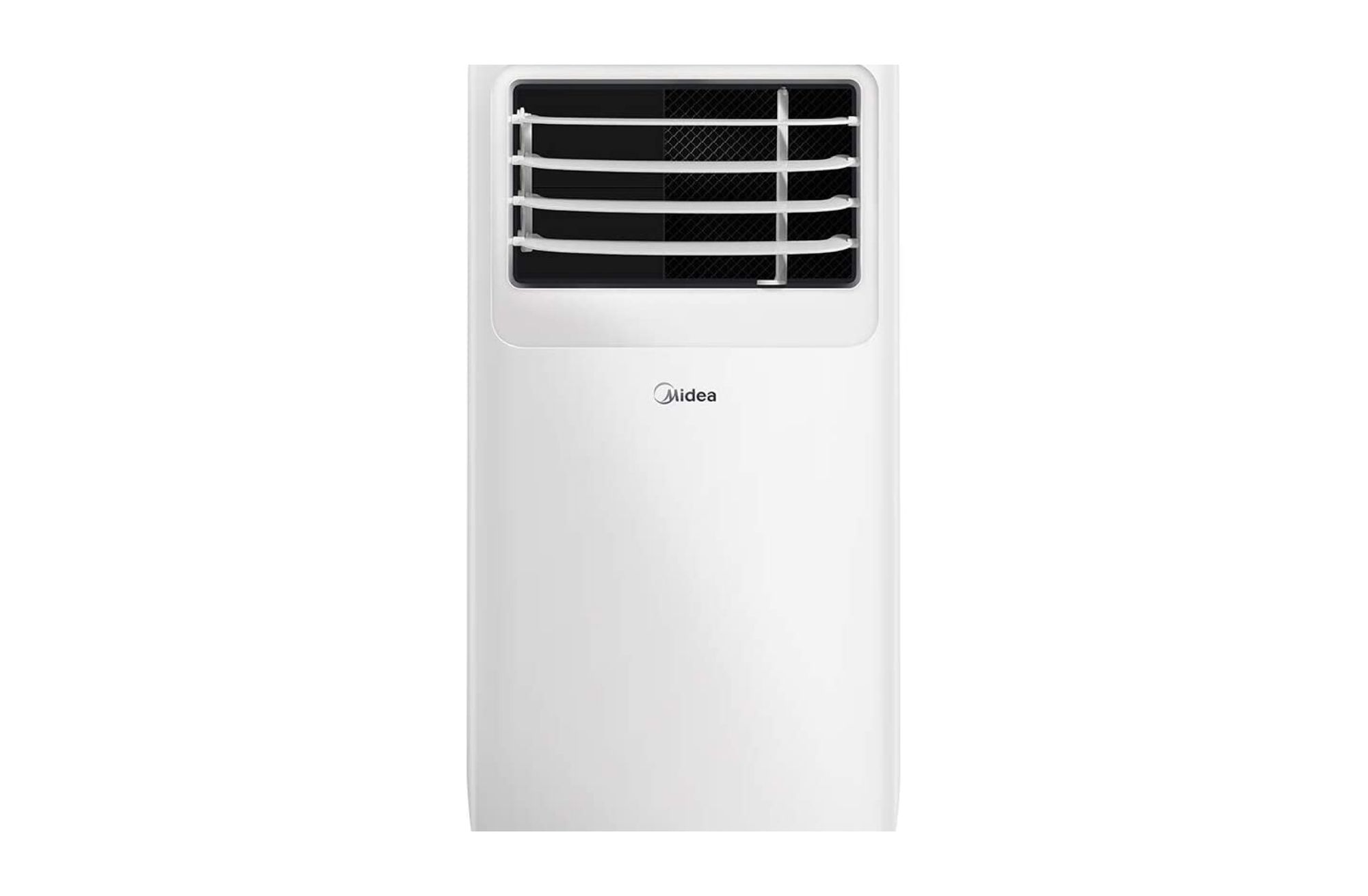 Check price on Amazon.com
Rating: 115V AC
Midea MAP08R1CWT Portable Air Conditioner: Key Features
This heavy-duty but reasonably-priced portable air conditioner by Midea will deliver quick and effective cooling in minutes. With an ASHRAE rating of 8,000 BTU, it will cover up to 150 sq. ft. with ease. It also humidifies the air that it cools. You can use this portable air conditioner at home, the office or transport it off to a campsite for maximum cooling comfort.
Operating the Midea MAP08R1CWT is the easiest thing to do with feather-touch digital controls. The easy-to-read LED display gives you all the required information on the status of the device. You can control everything with the remote control provided to set the time, temperature, and operation mode from anywhere in the room.
You get three modes to choose from: cooling, humidification, and fan only. The travel air conditioner operates between 62°F and 90°F, and you can use the timer to switch it on and off when you are not available or asleep. And you will have a sound sleep because the unit generates less noise than the average refrigerator.
There is practically no installation required for this appliance, and it is highly portable thanks to the robust wheel provided at the base. Roll it around the house to the place of your choice, plug it in, switch it on, and enjoy cool, humidified air.
You also get an exhaust hose and window kit with the unit, and you don't need any tools to install them. The instructions for installing the unit in a window are quite simple. So, if you want to install your unit in a window, you can easily do so. It is one of the most effective ways to use this type of air conditioner for tent camping.
The air filter is washable and capable of letting only purified air into the room, and it's free from dust, pet hairs, and allergens. You and your family can breathe safely from the word "go." Midea is a name known worldwide, and the company gives you a one-year warranty for parts and labor for this portable air conditioner.
Pros
Reasonably priced
Convenient digital controls
Three different modes of operation
Heavy-duty cooling capabilities
Quiet operation
Easy to set up
Portable due to wheels and handle provided
Washable air filter
One-year warranty
Cons
Draining operation is inconvenient
Unit is sometimes received with broken or missing parts
Some complaints of water leakage
Error indicator tends to beep for no reason
Click HERE for more information.
SereneLife SLPAC Portable Air Conditioner: Best High-End Model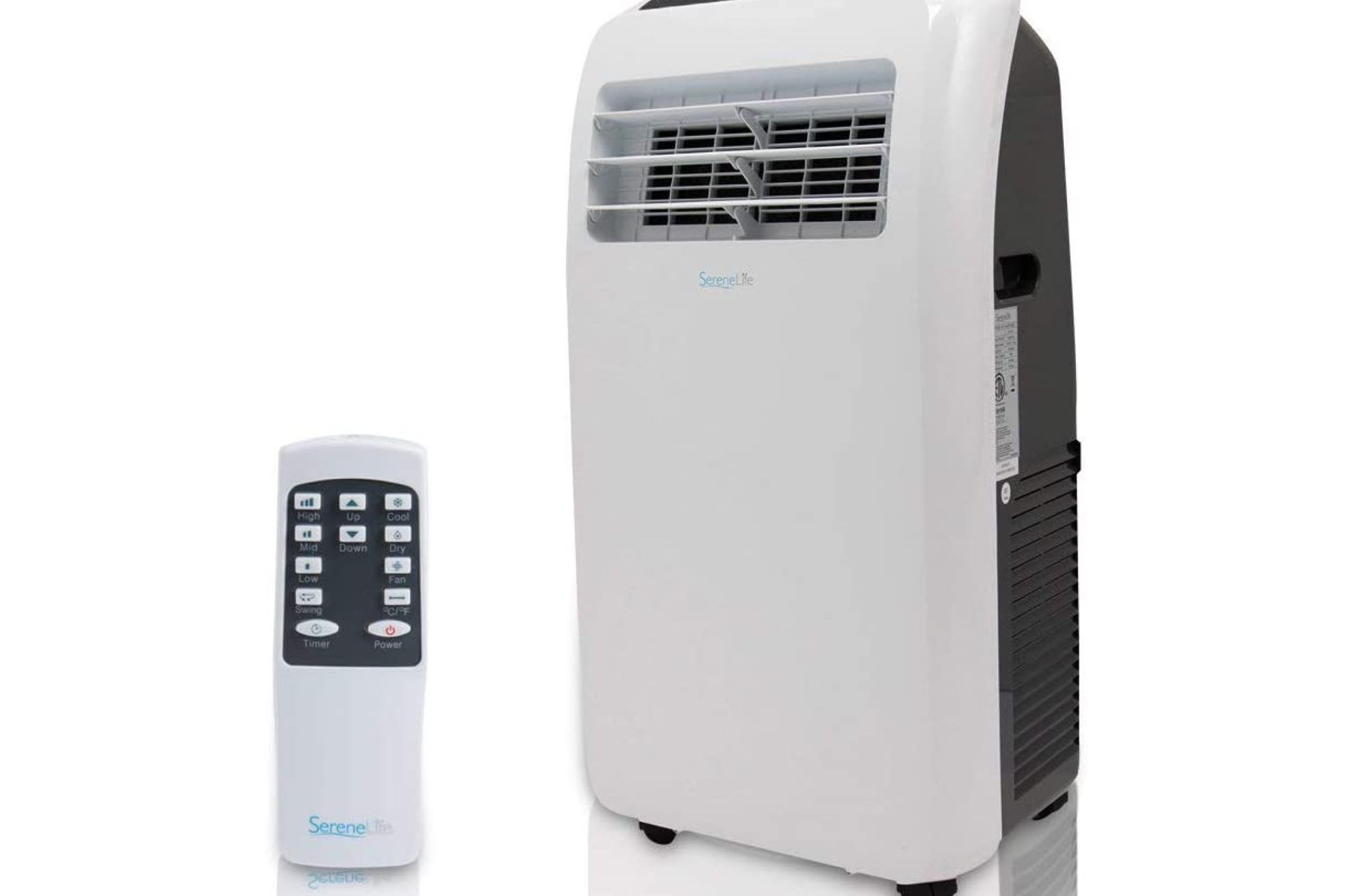 Check price on Amazon.com
Rating:115V AC
SereneLife SLPAC Portable Air Conditioner: Key Features
With the SereneLife portable air conditioner, you will be a happy camper. This sleek, lightweight model can be used for indoor and outdoor purposes. Whether it is in a room in your home, your office, or a garage, this air conditioner will deliver the goods. The machine is extremely portable thanks to the rolling wheels provided.
You get three operating modes: cooling, dehumidifier, and fan. The auto swing mode is also an added convenience that features a moving vent to optimize the air circulation. On "dehumidifier" mode, the appliance reduces the humidity in the air, which also helps to make you sweat less.
The unit comes with a convenient remote control with digital touch buttons on the control panel. You can use the remote to control the temperature, power mode, and fan speed. The other functions are also useful, like the option where you can set the display in Celsius or Fahrenheit. There is also a "sleep" button in the remote control.
This air conditioner has a cooling power of 12,000 BTU at 1,150W, and it can disperse cold air over an area of more than 450 sq. ft. The appliance puts out an airflow of 290 M3 per hour, and the rate of moisture removal is 1.8 liters per hour. It has a silent operation at only 56 dB, which is equivalent to the noise generated by quiet conversation.
Pros
Sleek and lightweight design
Built-in humidifier
Convenient wheels for added portability
Easy to set up—just plug and play
Quiet operation
Remote control provided
Display in Celsius and Fahrenheit
12,000 BTU cooling power
Window exhaust kit provided
Cons
High energy consumption
Parts received damaged or missing
Water drainage hose not provided
Warranty not provided
Click HERE for more information.
Zero Breeze Air Conditioner (Standard): Best Mini Air Conditioner With a Compressor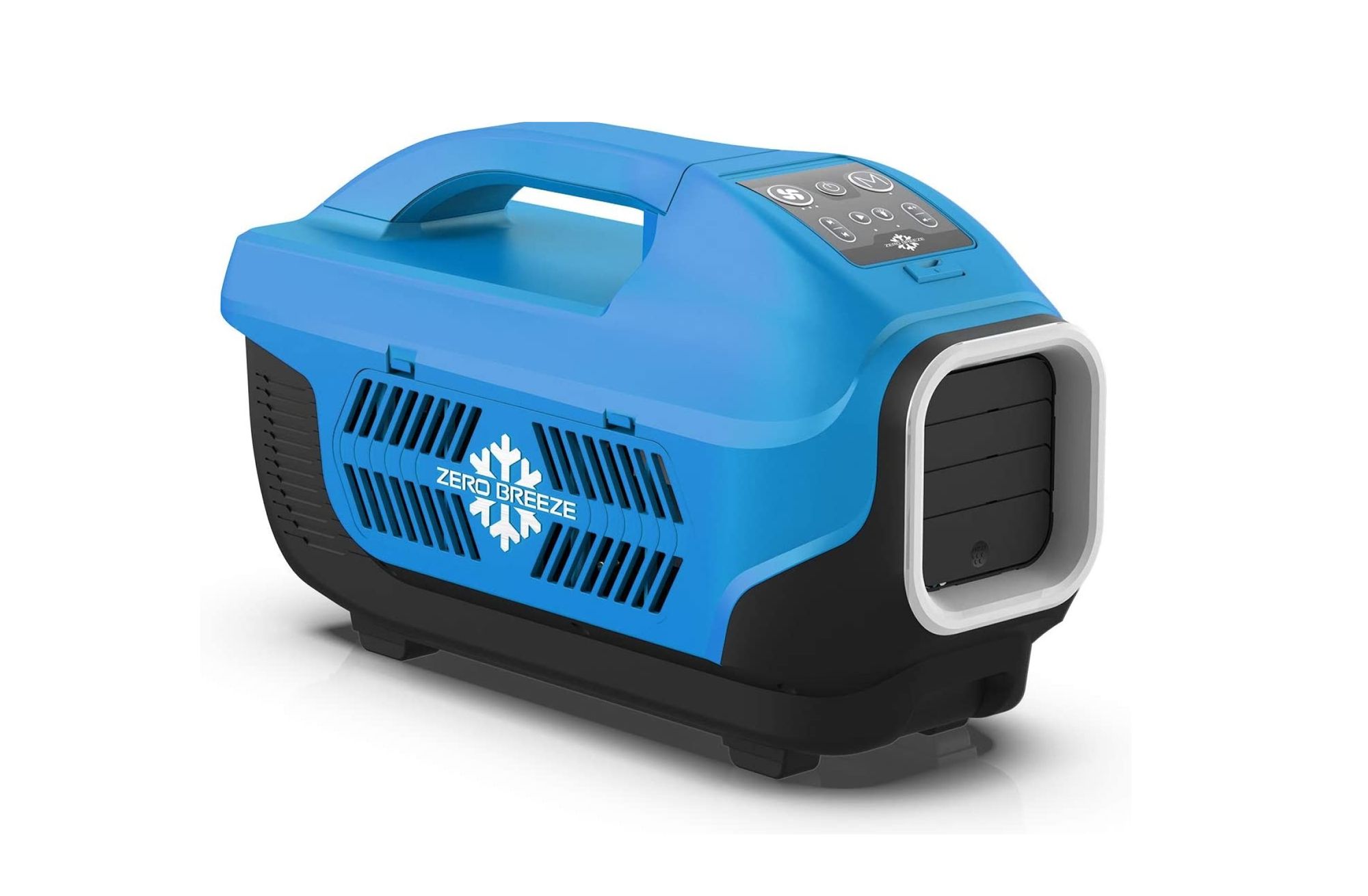 Check price on Zerobreeze.com
Rating: 12V DC
Zero Breeze Air Conditioner (Standard): Key Features
This product from Zero Breeze is a true portable air conditioner for camping because it uses a real compressor rather than the swamp coolers that operate on the principle of evaporation of water. This portable air conditioner enjoys the distinction of being the first outdoor air conditioner in the world. Zero Breeze air conditioner is a result of several upgrades and improvements based on feedback from thousands of customers across the globe.
This portable air conditioner is equipped with a micro compressor capable of delivering a respectable 1,100 BTU. It can bring down the temperature from 90°F to 72°F in a closed tent of 50 sq. ft.
The unit has a 5-in-1 function that features an air conditioner, fan, USB charger, LED lighting, and it even has a Bluetooth music player. All these functions make the Zero Breeze perfect for taking with you on a camping trip for use in tents or RVs.
This AC for tent camping is highly portable and easy to carry by a single person as it weighs just 12.8 lbs. You can easily load it into the trunk of your camping car and set off on a camping trip. Installation is easy—just connect the exhaust and drain hoses into the corresponding ports, plug it into the car battery receptacle, and you are good to go.
The only downside of the Zero Breeze Standard model is that it doesn't come with a lithium-ion rechargeable battery. For that, you would have to buy the Zero Breeze Plus model. The unit comes with a one-year warranty and a 30-day money-back guarantee.
Pros
Powerful micro compressor
Convenient 5-in-1 function
Lightweight and compact design makes it highly portable
Easy to set up
30-day money-back guarantee
One-year warranty
Cons
Rechargeable battery not provided
Poor customer service
Ontel Arctic Ultra Evaporative Portable Air Conditioner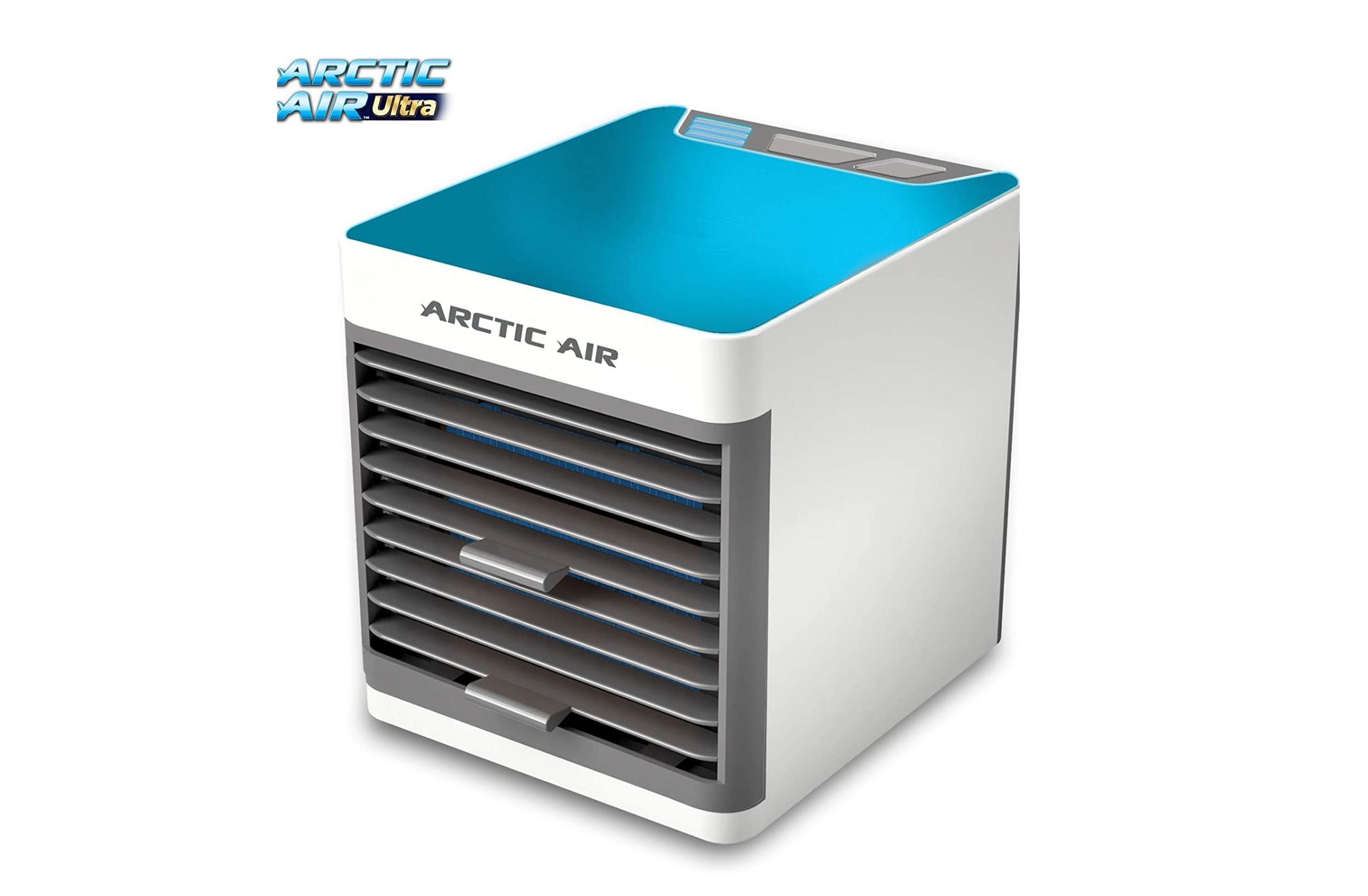 Check price on Amazon.com
Rating: 115V AC
Ontel Arctic Ultra Evaporative Portable Air Conditioner: Key Features
Enjoy cool and clean air anywhere you go with this personal air conditioner for camping. The Ontel Arctic portable air conditioner not only cools but also humidifies the air, and you get the option of three fan speeds with a multi-directional air vent.
The compact and lightweight design ensures that you carry it wherever you go. You can even place it on your desk while you work. It is also super quiet, so it serves as a comfortable cooling device to use during hot summer nights when you sleep in a tent or are travelling in your RV. This portable air conditioner does not use harmful refrigeration gases to operate.
This product from Ontel Arctic uses unique "hydro chill" technology to pass hot air over an evaporative air-cooling filter that rapidly converts it into cool and refreshing air. The cool air is circulated uniformly by the multidirectional air vent.
This portable air conditioner is easy to use. You fill the water tank with water and switch on the unit to enjoy cool, fresh air wafting across to you. However, you need to be aware that this is a personal device and can only be used for a single person. It will not cool a room filled with people. Also, this product does not have a warranty.
Pros
Environmentally-friendly device
Easy to set up and use
Provides cool and humidified air
Lightweight and portable design
Silent operation
Night light provided
Cons
Limited coverage
No warranty
May not work efficiently at locations with high atmospheric humidity
Click HERE for more information.
What to Look for When Buying a Portable Air Conditioner for Tents
If you are shopping for a portable air conditioner for tents, there are many different varieties and models available on the market. You can get battery-operated fans, room air conditioners, ice chest blowers, and more. You will find that the night temperature tends to drop after midnight at most campsites.
But if you want a tent air conditioner for your next camping trip, here are some things you need to look out for:
Portability
You need a device that you can transport, carry, and store with ease. It means that the portable air conditioner you buy for your camping trip should be lightweight and shouldn't be bulky. Once you reach your destination, you may have to carry it about a bit. So select a tent air conditioner that is portable in all respects.
Power Supply
The kind of power that you want your tent air conditioner to run on is quite critical. The most popular type is the battery-powered variety. With a battery-operated air conditioner, you won't be running around the campsite looking for a power source.
However, you also have to keep in mind that battery-powered tent air conditioners usually don't have the cooling power to cool large tents. Also, if you are using batteries, you will have to travel around with a sufficient stock of batteries, unless you use a car battery. Then, you may have a few other technical matters and logistics to consider.
If you choose a battery-powered tent air conditioner, ensure that once the batteries are installed, the unit will run for a whole night.
On the other hand, if you are going to camp at a site that provides power outlets at each location, then go for an electrically operated tent air conditioner.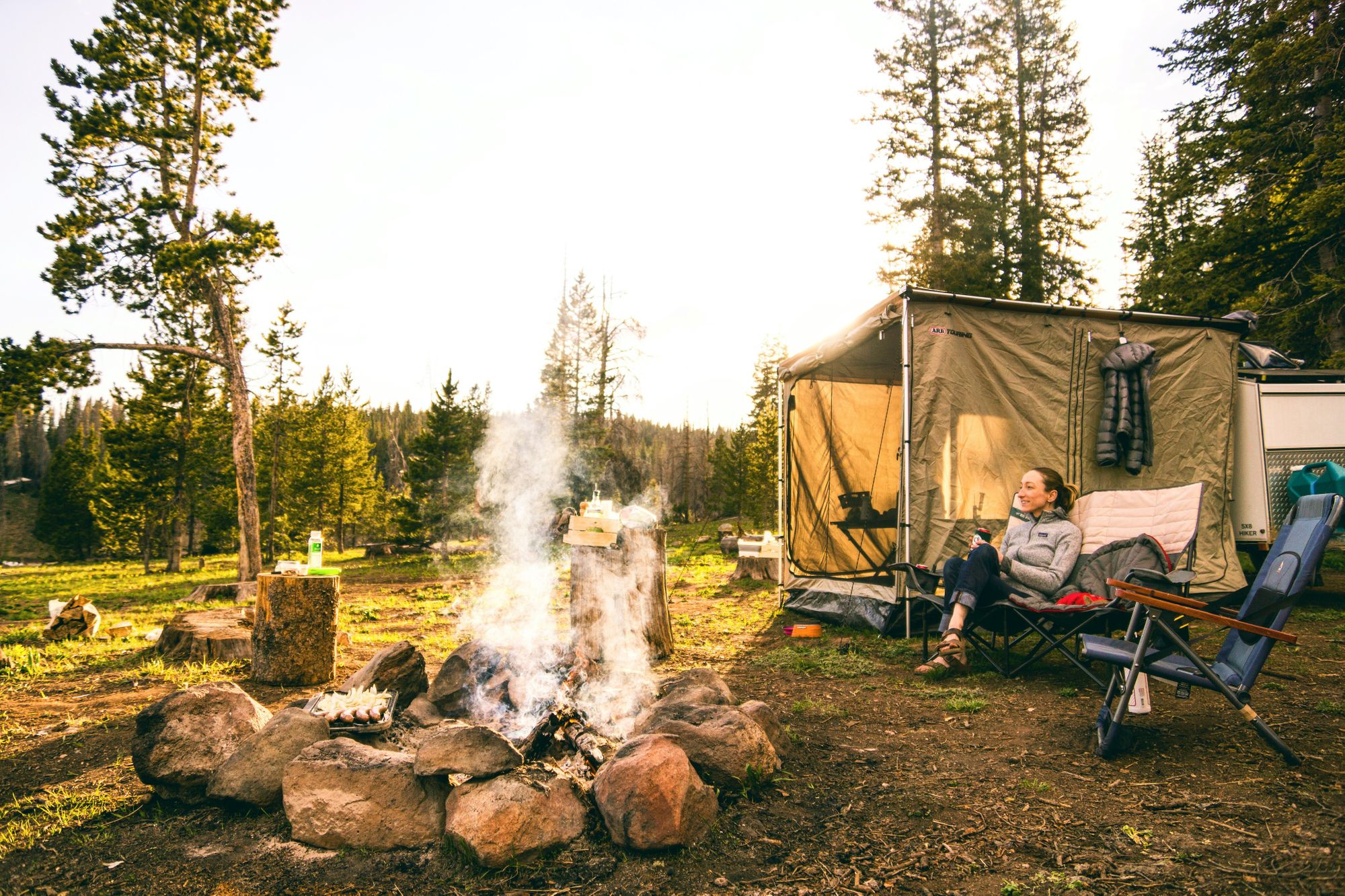 Cooling Power
It is critical to be aware of how much cooling you require. In areas where the temperature doesn't go higher than 80°F, your cooling requirement will be considerably less. Most air conditioners have a capacity between 5,000 BTU and 12,000 BTU.
Consider the internal volume of your tent. You will need tent air conditioners of higher cooling capacity for larger tents. The manufacturers will always provide the cooling capacity information about their products, so you will be able to see that information and decide on the best air conditioner for your tent.
Type of Air Conditioner
You can find two basic types of tent air conditioners on the market—room and window air conditioners. The window units are heavier, more powerful, and will not have to be moved around once installed. Room units, however, will end up being moved around quite a lot.
You will find a window air conditioner a bit complicated to install because it needs to be hooked up with pipes and tubes. But a room air conditioner can be placed at the location, switched on, and used immediately.
Be sure to select an air conditioner that is suitable for the type of tent and conditions at your campsite.
Price
This, of course, is a no-brainer. Although you get better quality and more features with the top tent air conditioner models, you won't always end up paying more. With so much competition in the market today, many sellers offer discounts and special offers. If you shop around a bit, you can get some good deals.
Don't settle for the cheapest model on the market. You may save money initially, but it won't be worth it if you have to replace it after a month or so. Be ready to spend a bit more on a tent air conditioner that will last for more than one camping season.
Additional Features
We have covered different brands and models in this post. As you have seen, each model has different features, and no two models have identical features. While shopping around, apart from focusing on the price of the units, also look out for additional features.
For instance, you might find the best portable air conditioner units for camping with adjustable thermostats, low battery indicators, variable fan speeds, timers and alerts, and many other features. With additional features, you can customize your appliance to make it suitable for your requirements. You may have to pay a bit more, but then again, you may not.
Constant technological advancements are being made in camping equipment and tent air conditioners. Between the time of writing this post and the time you go shopping for an air conditioner, there may be some new models with more advanced features available. So, be on the lookout for additional features when you go shopping for a tent air conditioner.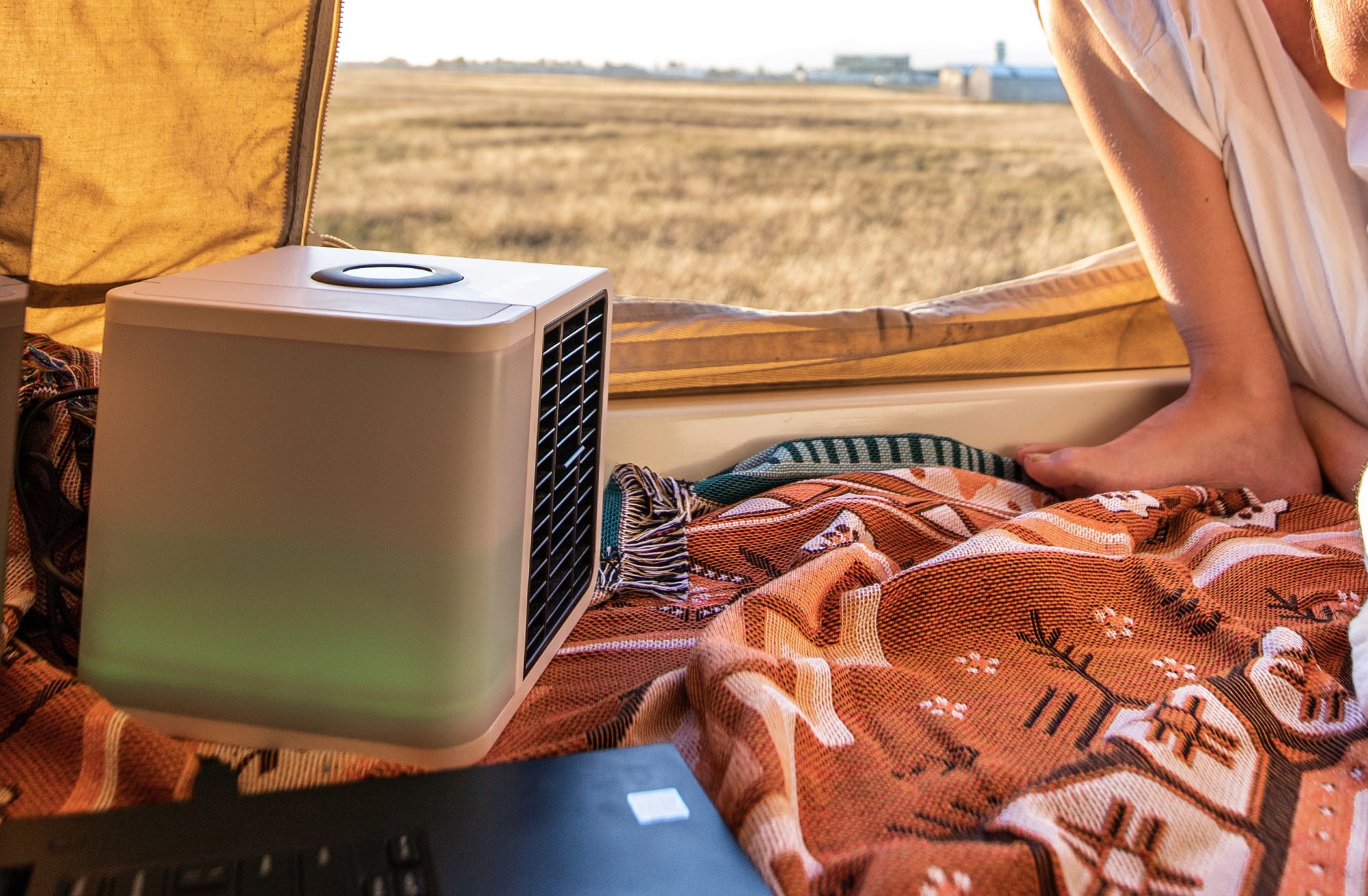 Conclusion
You may use a tent for an outdoor event or on a camping trip. Whatever your purpose, it is important to have an air conditioner because it will keep your tent cool, dry, and comfortable. The environment inside a tent is different from a room. With no air circulation, it can get very suffocating, and you will end up perspiring continuously.
So, having an air conditioner for your tent is a good idea. In this post, we discussed the different types of tent air conditioners that you can get. Then, we featured five of the best camping air conditioner models on the market, including the evaCHILL portable air conditioner, which is the best air conditioner on the market.
We also provided a few tips on what to look for if you need to buy a tent air conditioner. We hope that, after reading this post, you find a suitable air conditioner for your tent. Read also: Best Portable Air Conditioner for Your Garage
People Also Ask (FAQs)
I have a small tent. Which air cooler is the best to use?
evaCHILL is one of the best choices right now. It is small, cools only your personal space, doesn't have leakage, and its cartridge prevents it from spreading mold or harmful bacteria.
Is it safe to use a portable AC in the tent?
When placing the portable AC in the tent, you have to consider the source of the ventilation and the airflow. That's why a 12-volt battery AC can be used inside of the tent.
Do I have to close the flaps of the tent while using an evaporative air cooler?
It has to be open; otherwise, it will be too moist but without fresh air.
Is a portable AC better than a window AC for camping?
Depends on the size of the tent and its settings. Is there a port or window in the tent? If yes, it is possible to use a window AC.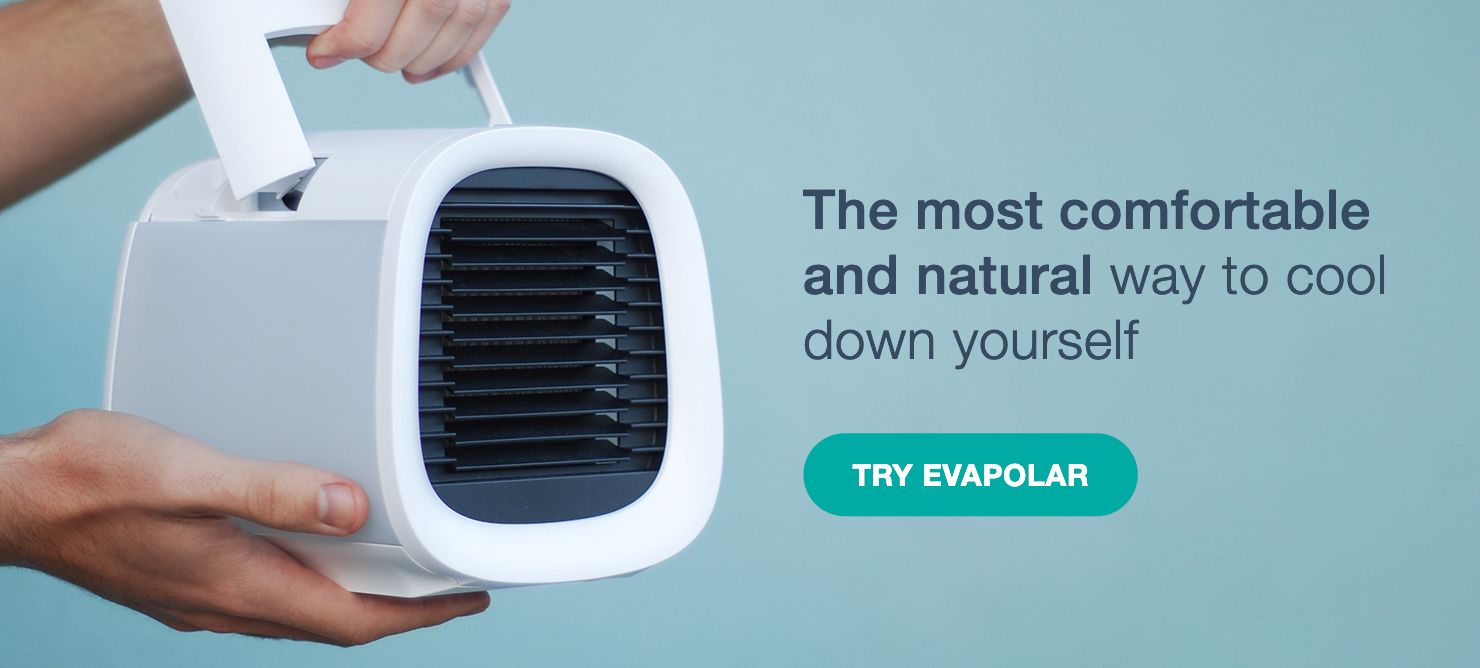 evaCHILL
The most effective cooling device