The Polar Breeze air cooler is one of the recent innovations in the world of cooling. Which is why, when you are looking for a suitable model, you can come across lots of polar breeze portable air cooler reviews. You can also find a lot of alternatives to the polar breeze air cooler. How do you make the right choice?
Let us break down what makes the Polar Breeze different from other models, how it works, the pros and cons, as well as the potential polar breeze portable air cooler alternatives.
evaCHILL
The most effective cooling device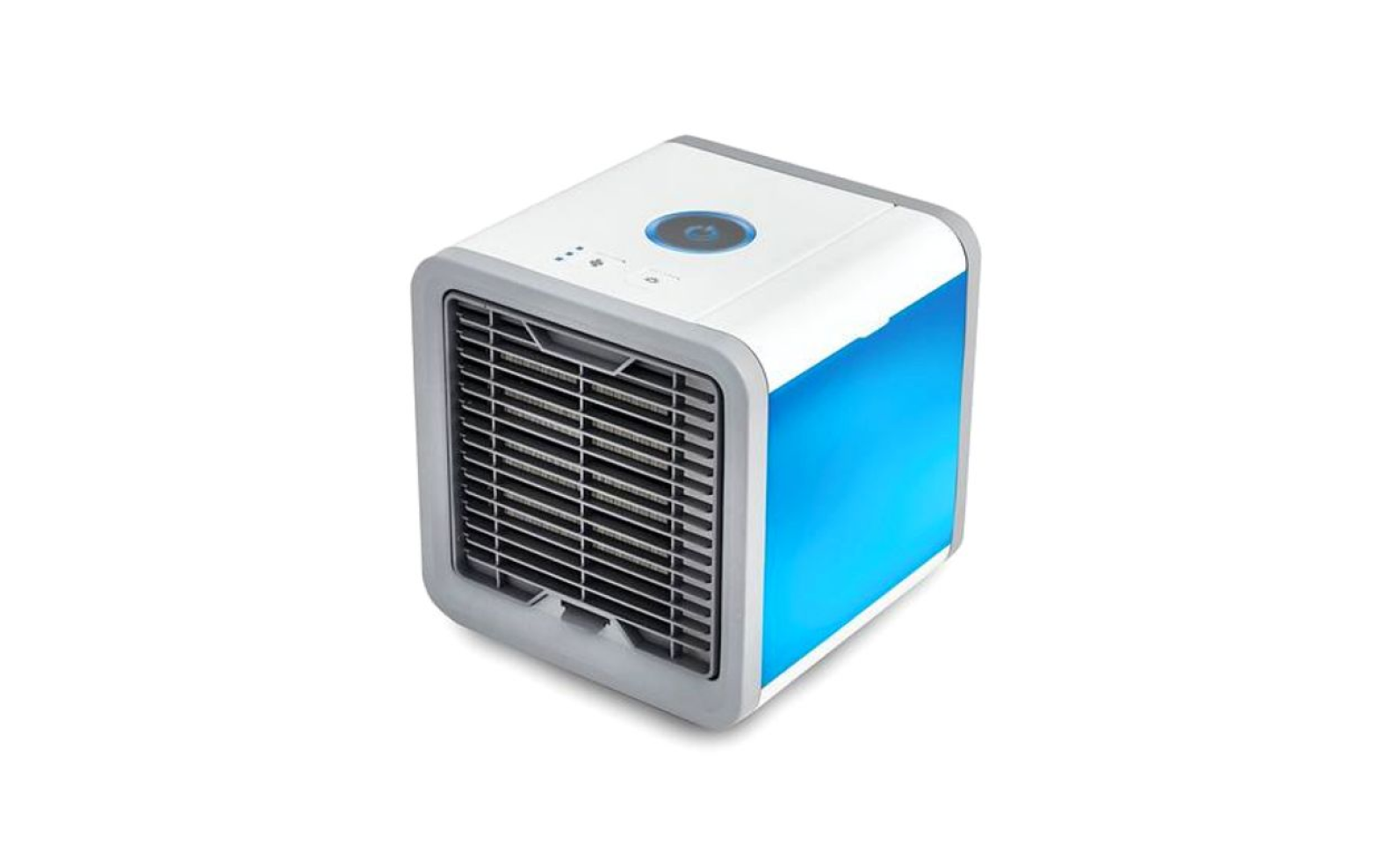 The Polar Breeze air cooler is a portable evaporative cooling device with a fast hydro-cooling technology. Designed for personal cooling, it also works as a humidifier.
1. Dimensions and weight.
The Polar Breeze is a portable, convenient device. It measures 8.6 x 8.46 x 7.14 inches and weighs only two pounds. You can take it anywhere and easily store it for the times when you don't need it.
2. Price
The basic model starts at $43.
3. Power and voltage
The Polar Breeze runs on 7W wattage.
Important: The device is designed to run on electricity. It doesn't have a built-in battery. You always need an electricity outlet to turn it on.
4. Tank volume
The water tank of the Polar Breeze air cooler can hold 500ml of water, which is enough for several hours of cooling. The final result will depend on the temperature, humidity and the cooling speed.
5. Extra features
Depending on your needs, you can choose one of the three cooling speeds.
The Polar Breeze also comes with 7 color LED light options.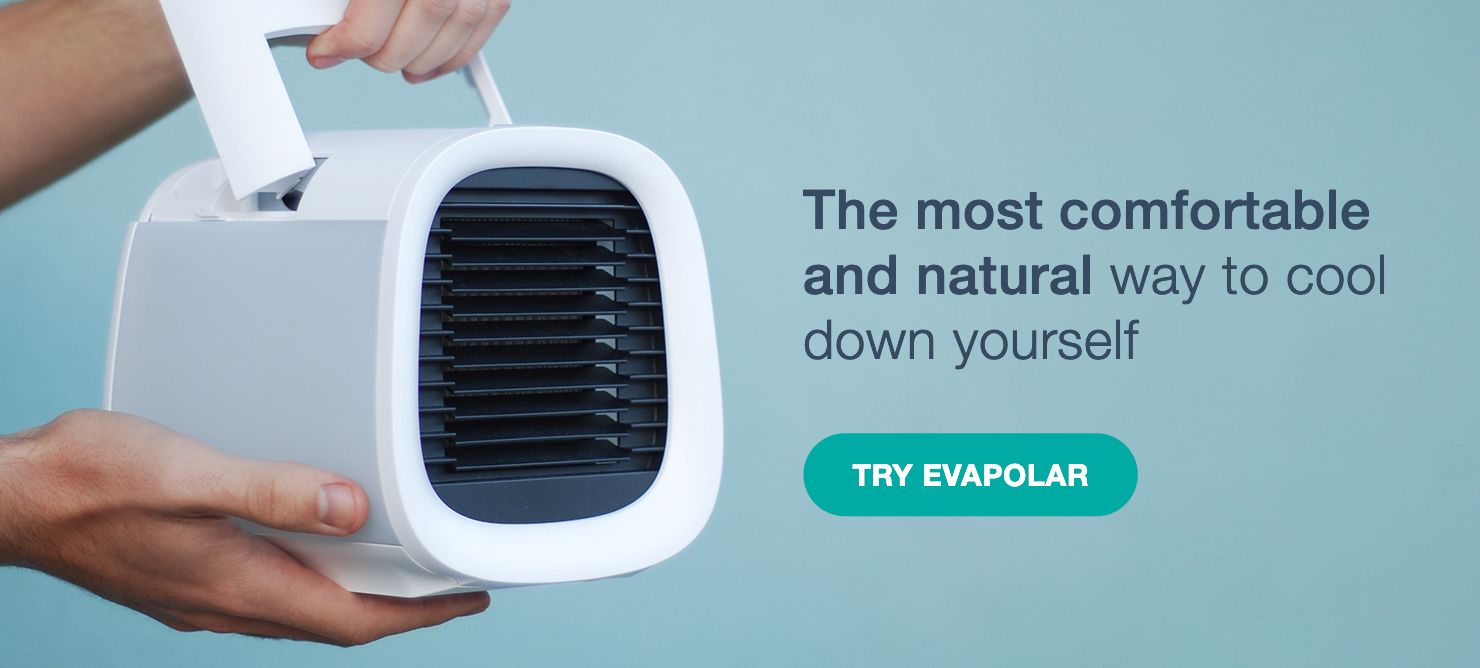 Pros and Cons of the Polar Breeze Air Cooler
Pros:
Price. It is significantly cheaper than an air conditioner.
Energy consumption. Evaporative air coolers tend to consume way less electricity than air cons.
Portability.
Easy to use. You only need clean water and electricity to run your device.
Easy maintenance. You only need to clean the washable air filter with the provided sponge when needed.
Cons:
Doesn't work in humid areas. This applies to many air coolers, since they use evaporation for cooling.
Relatively low cooling power. Many users complain about the insufficient cooling effect, even when the device is placed next to them.
Polar Breeze Portable Air Cooler Reviews – What do the Customers Say?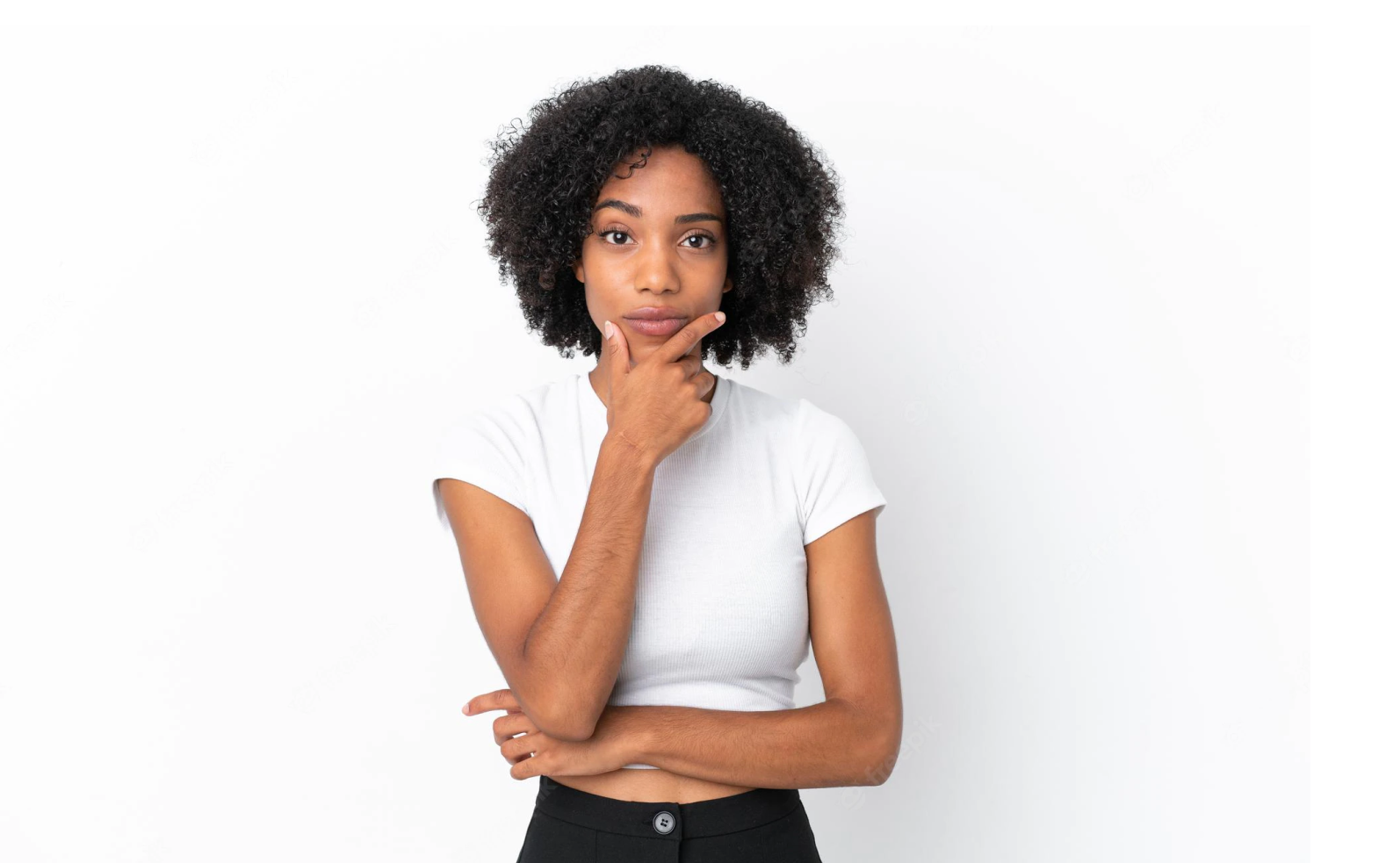 We analyzed the verified reviews from customers, to dig deeper into how the Polar Breeze air cooler works and whether it delivers to the needs.
Reviewers agree that it is only good for a small, limited personal space both for cooling and humidifying.
The manufacturer claims that the device can also humidify up to 50sq.ft. However, it is a very vague assumption that can't be properly measured because it depends on the space, the ceilings height and the temperature conditions.
Several users also claim that it simply works as a regular fan, blowing out hot air. We cannot verify if the users followed the instructions and if the conditions were favorable.
We should also state that the device has received mostly negative feedback on Amazon, with 2.5 stars average.
Evaporative air cooling is a good, solid option — this is why many users opt for devices like Polar Breeze air cooler. It is a handy, convenient device that can save you from the high temperatures and it doesn't require any installation or investment. You can carry it with you anywhere in an effortless way, so that you are never too far from cool air. It is a safe, cheap alternative to air conditioning if you want to cool down your personal space.
Polar Breeze air cooler alternatives
There are alternatives to Polar Breeze air cooler on the market. If you are still hesitant about your choice, let us see how it compares to other evaporative cooler models.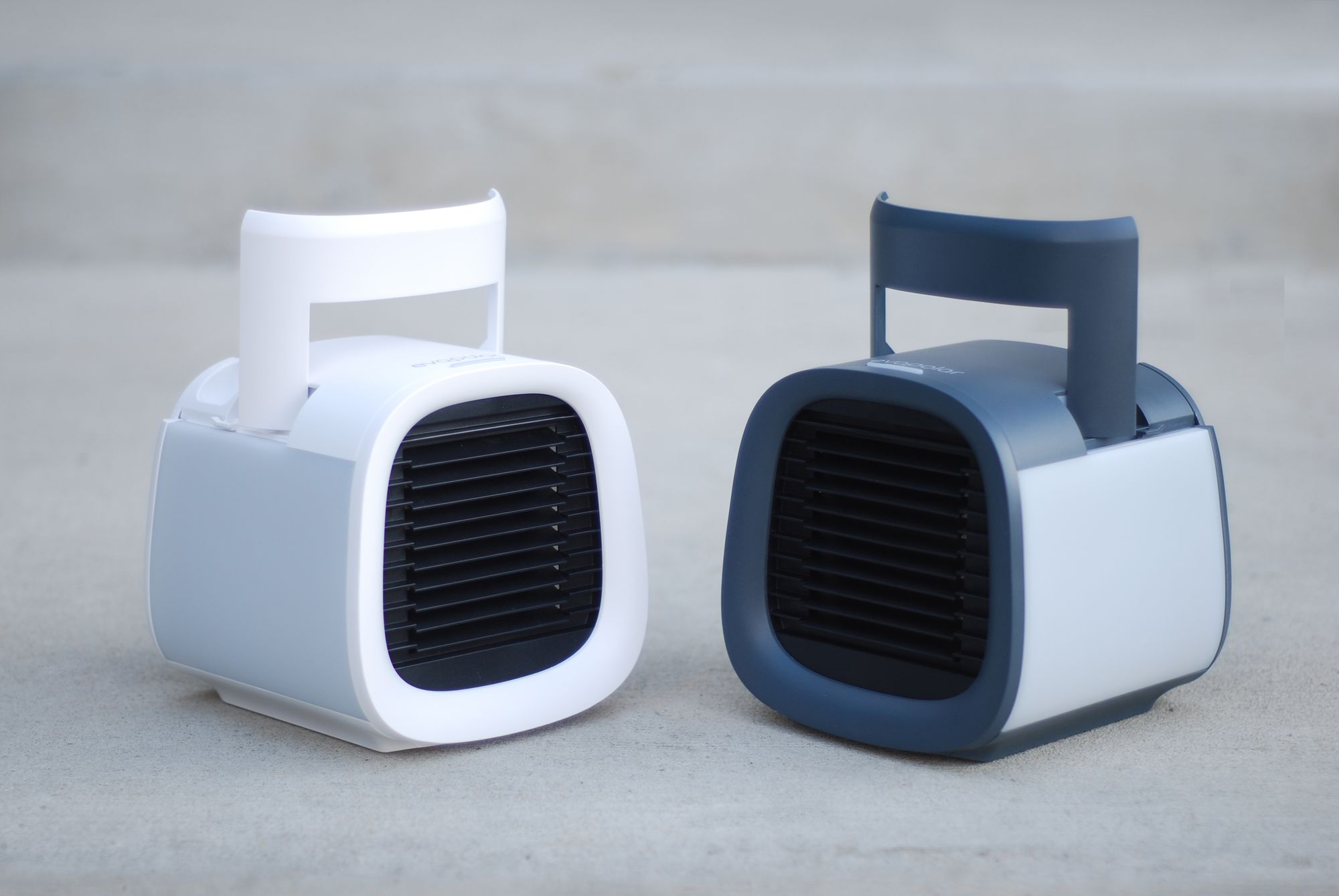 Ultraportable evaporative air cooler with a sleek design. The evaCHILL by Evapolar has received numerous positive reviews praising its cooling power and efficiency.
It can run up to 9 hours uninterrupted on a full tank of water. evaCHILL is USB-powered, so you only need a laptop, a socket or a powerbank to turn it on.
On top of its cooling capacities, it also purifies and humidifies the air.
Bonus: it is healthy for kids and pets!
Promising review:
"Best thing i have ever bought. I love it. I sweat sometimes when I sleep, I got this bad boy and haven't since. Works for this summer heat".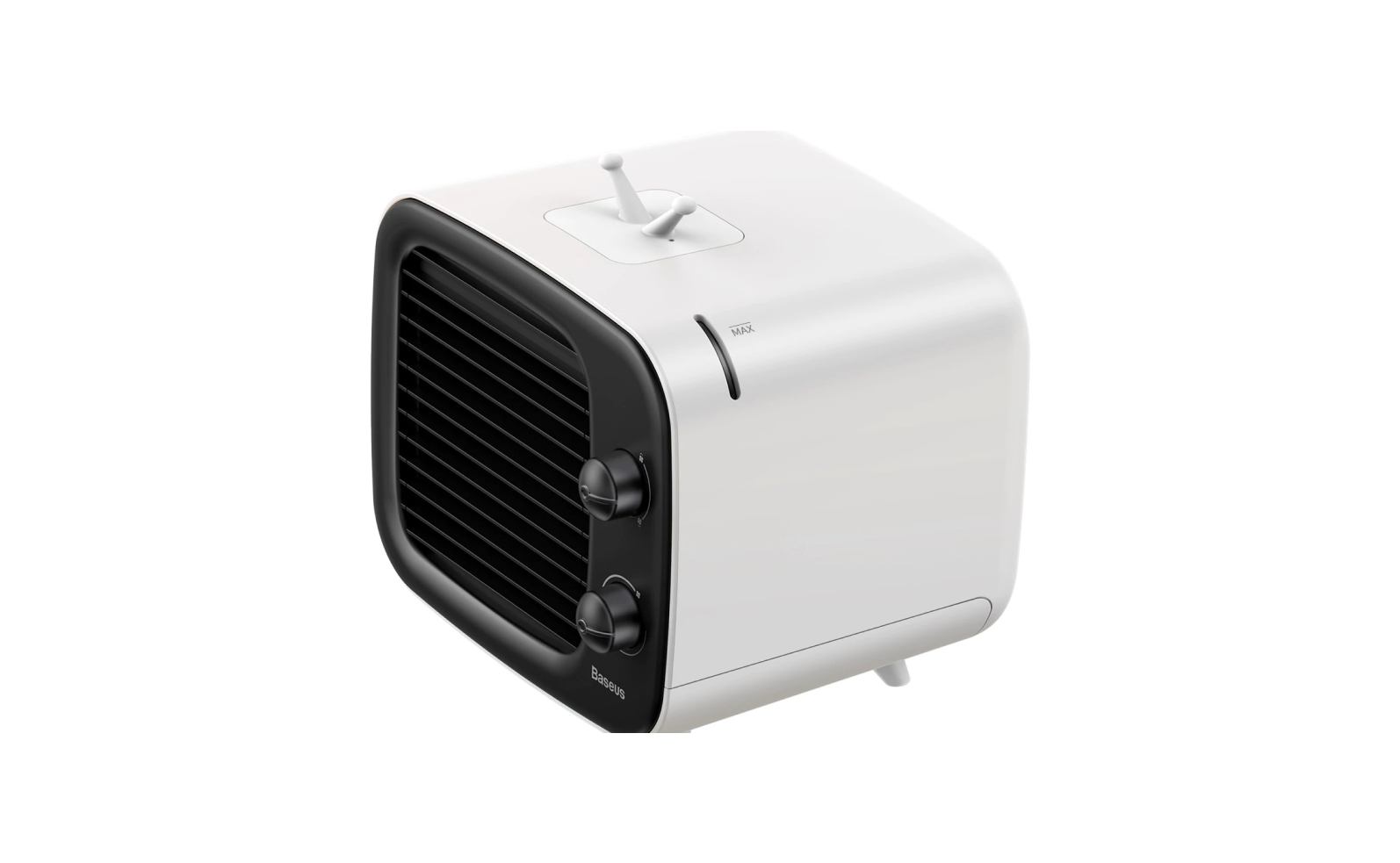 This evaporative air cooler is designed for desktops, to keep you cool when working. It is available in stylish blue and black color as well as in white.
Basic solution for those who need some cool air when working.
The water tank is 320ml, which is smaller than the tanks of most evaporative air coolers, so it can only work for a maximum of 4 hours uninterrupted.
It can be charged with a power bank, a computer USB port, a car charger or a standard wall charger.
Bonus: you can add oils and aromas to the water tank to add a nice scent to your room!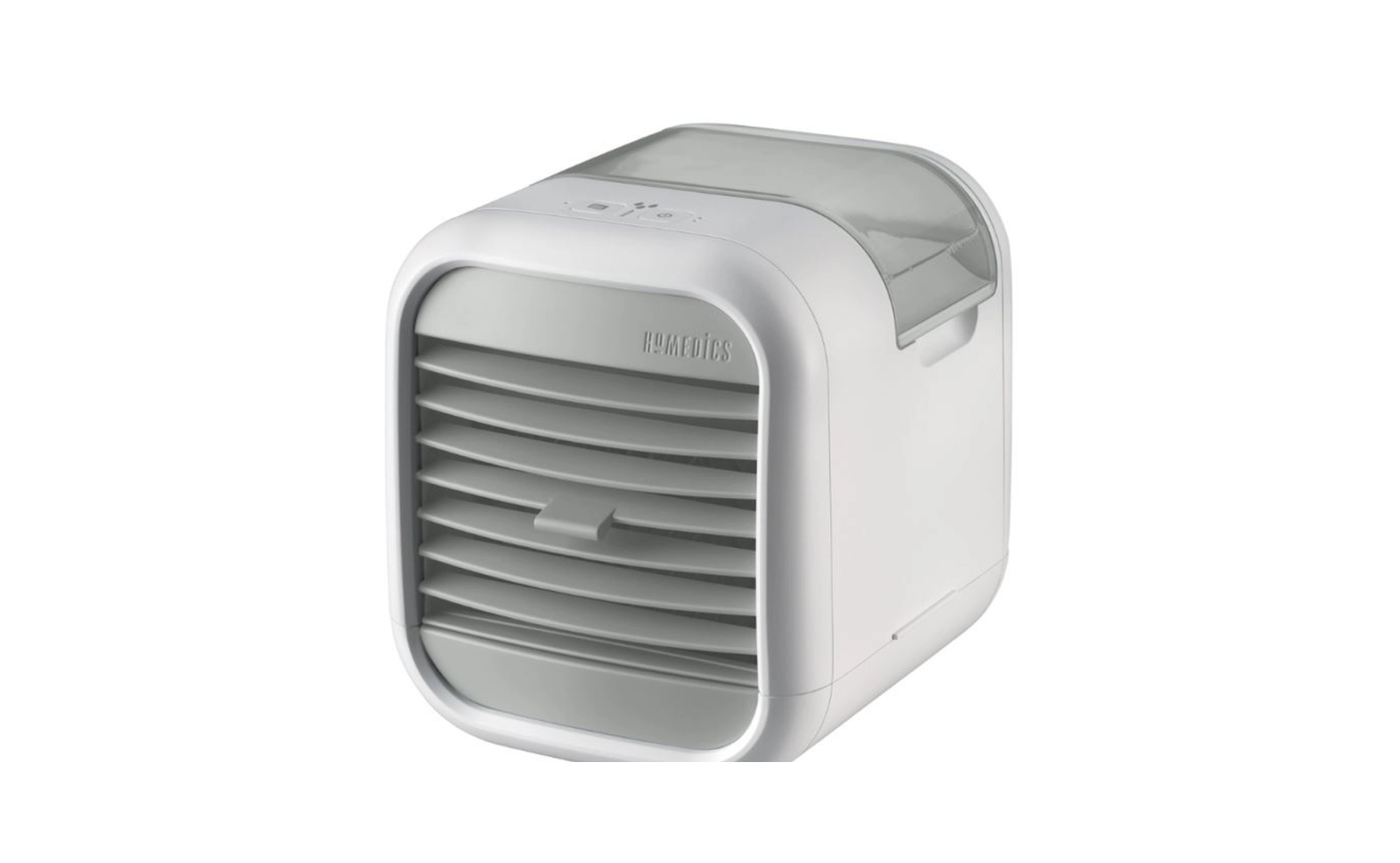 This air cooler is also made for cooling down your personal space. It has a clean tank technology, to protect the tank and system from mold and mildew. The HoMedics air cooler delivers a concentrated stream of cool air where you need it.
It features 2 speeds, and an adjustable vent. This air cooler is also power-operated so it needs to be plugged into a power source when working.
Review confirming that evaporative air coolers can be a good, portable alternative to air conditioners:
We've had air conditioning units in the past and I can honestly say, for close home use, it's perfect! We bought two and will probably buy a couple more soon for other rooms in the house.
The reviews also state that the covered area is really small, so make sure you point the device at you for the best effect.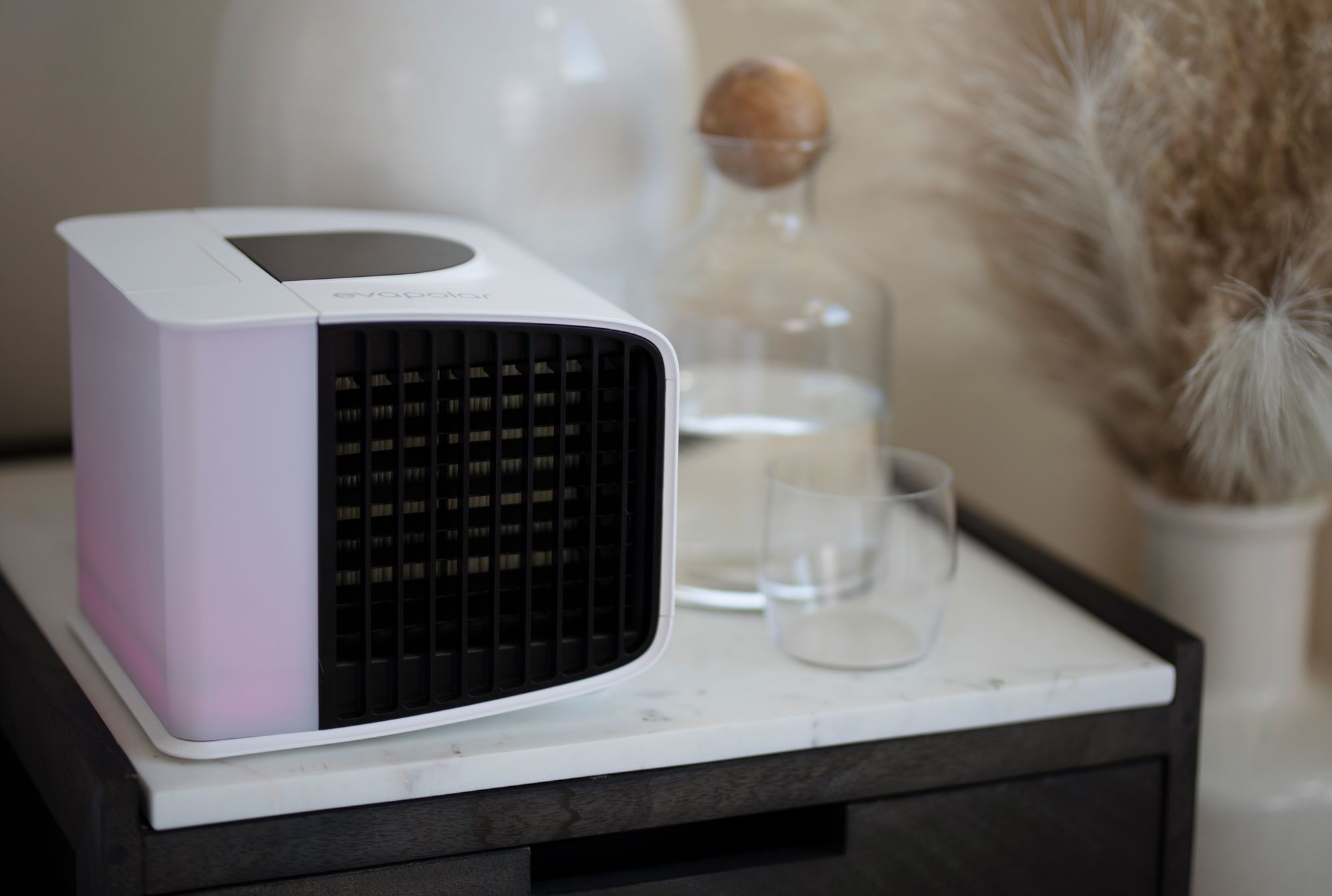 The "Smart" part speaks for itself! This innovative powerful breeze air cooler has smart home integration and works with an app or a voice assistant so you can control the airflow wherever you are. You can also adjust the cooling settings on a touchscreen display.
The evaSMART comes in three colors: opaque white, stormy gray and coal black. Thanks to its minimalist design, it is perfect for any interior and it will fit wherever you want it cooler.
You only need to set the airflow in your direction for the best cooling effect. If you happen to have a very hot day, the Evapolar team went one step further to show you how to make your breeze mini air cooler more efficient — check out this article.
Bonus: evaSMART has a color playlist to suit your mood and the time of the day!
Very promising review from a returning customer:
I purchased one of the first Evapolar's 2 years ago - loved it and wanted another for my home office. The upgraded version is amazing, I can control it with my iPhone app. It holds more water - translation it stays cooler longer. I highly recommend for sleeping and office if you don't have air conditioning.
Evapolar is the leader in personal cooling today — their devices are made with a unique patented evaBREEZE™ technology, which makes them stand out among the competition. Don't hesitate to contact Evapolar through their website or on social media, their customer service is top-notch and they will make sure you get the best portable air cooler out there!
Portable evaporative air coolers have come to the market as an AC alternative and they are here to stay. Smart, portable and energy-efficient, they have become a perfect replacement for ACs, especially if you need a cheaper device, if you live in a smaller space or if you want an eco-friendly way of cooling.
We highly recommend that you choose your breeze portable AC according to the brand's notoriety, data transparency and verified reviews.