How great is it to keep your place cool when the temperature goes crazy outside? On the other hand, how not great is it to get the electricity bill at the end of the month and realize how much this comfort costs you and the planet?
Air conditioners are a wonderful modern invention. However, they come with a price per kWh. So let us see how you can choose the best energy-efficient air conditioner. By the end of this article, you will no longer have that lingering thought: "Yeah, but how much is it going to cost me?" any time you turn the AC on.
If it's time to trade your energy-guzzling air conditioner for a more efficient model, these units slice electric bills and reduce carbon emissions.

Best portable cooling devices
Examples of most energy-efficient ACs*
*It has been proven that evaporative air coolers are the most energy-efficient when comparing cooling power vs. energy consumption. They do not use air conditioning as a cooling method. Further on, we will precise which cooling method is used by the devices mentioned in our article.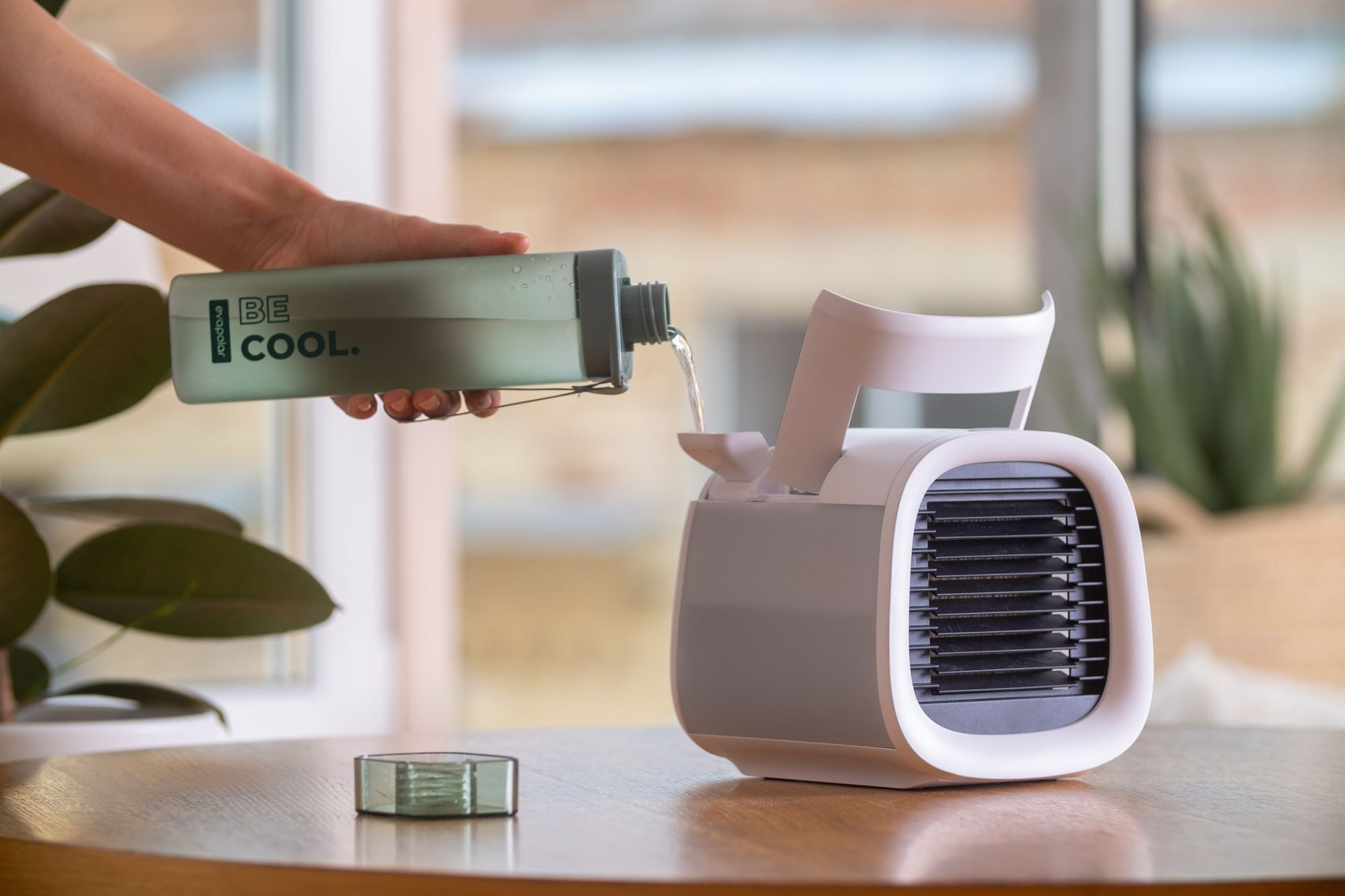 Portable evaporative air coolers are the most energy-efficient devices for personal cooling. The combo of cooling power, efficiency, and electricity consumption of Evapolar devices is unbeatable.
The evaCHILL consumes only 7W, which is 100 times less than an AC. If you need to cool your personal space only, why spend more? The planet and your wallet will thank you!
Pros:
Price
Portability
Energy consumption (7W only)
Sleek minimalist design
Water tank can supply water for up to 8 hours of cooling
Cons:
Less efficient in very humid conditions
Evaporative air coolers are engineered to cool down your personal space, not the whole room. Yet, their cooling power is more than enough to create a perfect fresh bubble around you.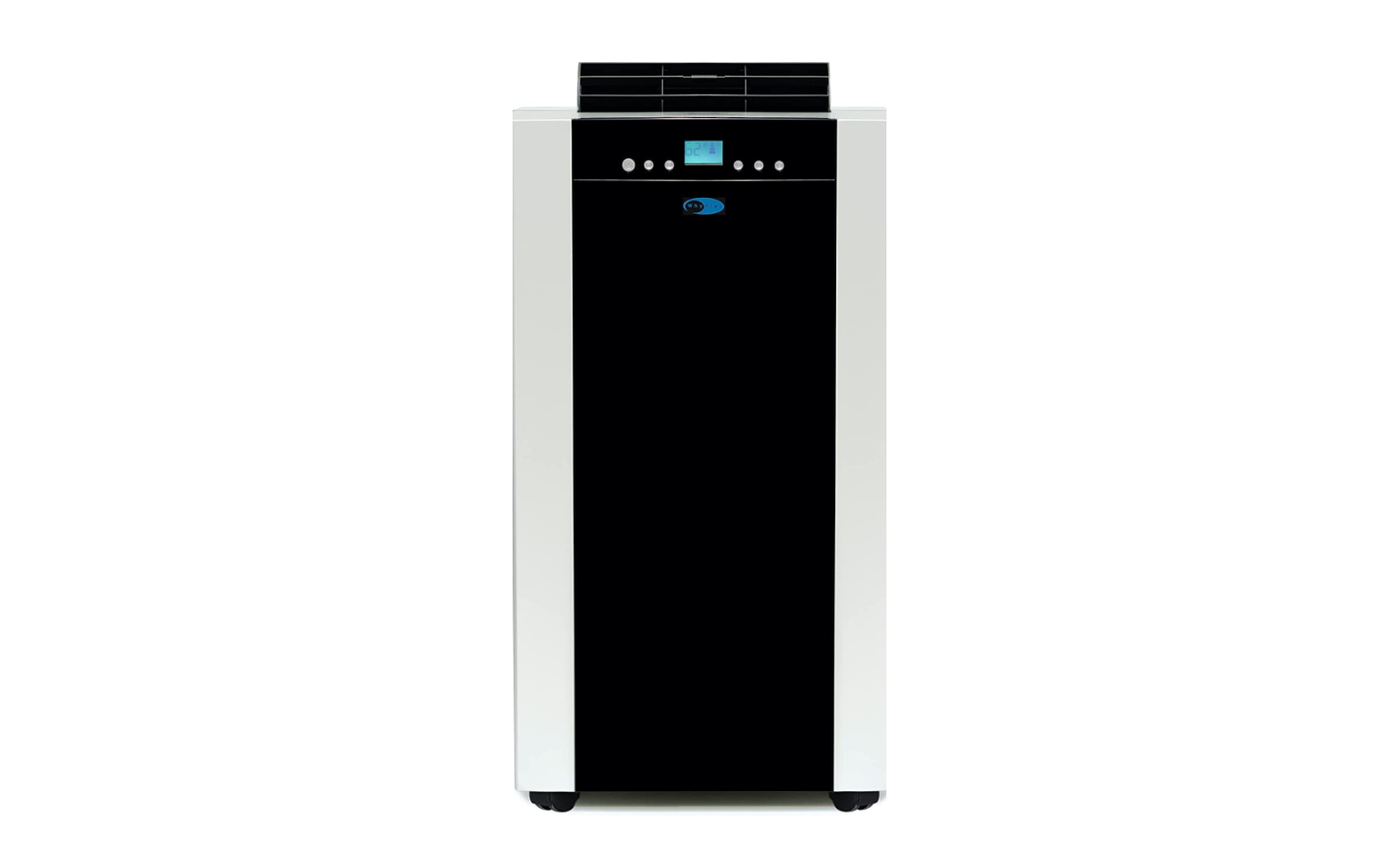 This portable model is often listed among the most energy-efficient air conditioners. You can stay cool while keeping with better environmental standards and reducing energy consumption with a Whynter Arc 14S. Its maximum power consumption is 1300W, much higher than an air cooler, but it is a relatively correct number for its BTU rating — it can cool up to 500sq ft space.
Pros:
Portability
Three operational modes: air conditioner, dehumidifier, fan
Sharp modern design
Seasonal Energy Efficiency Ratio (SEER) is 7.69
Affordable for a 9500 BTU model
Cons:
The two-hose model can be bulky
The product description mentions 14000 BTU. However, the real cooling power is lower. Furthermore, the 14000 BTU refers to the ASHRAE rating, which considers only one condition. The 9500 BTU, on the other hand, refers to the SACC rating, which considers two conditions.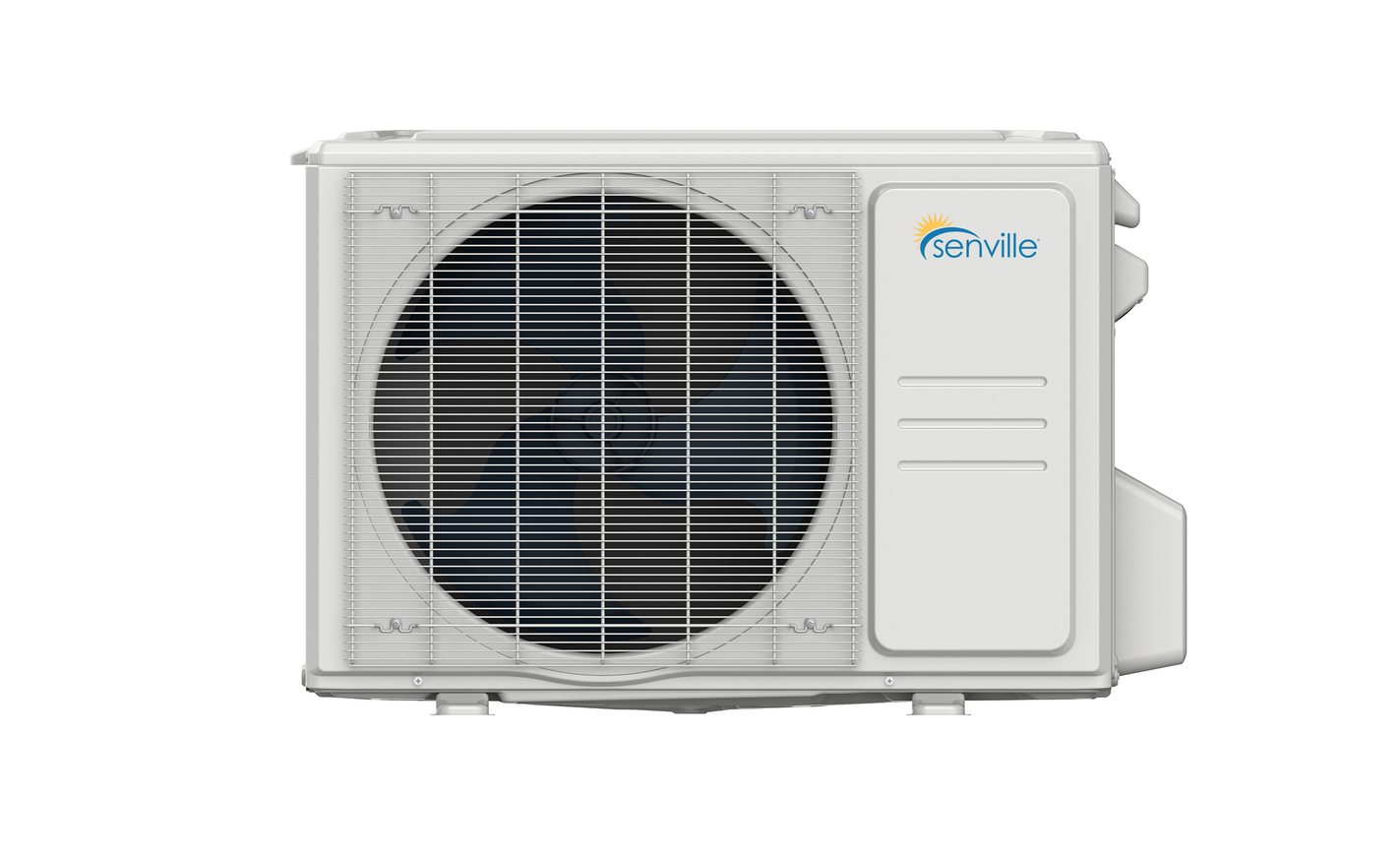 The Senville AURA Series is Energy Star Certified. While the manufacturer doesn't precise the actual energy consumption, you can expect to save upwards of 50% on your energy costs annually thanks to the Ultra-Inverter technology (more on this later). As a result, this model makes a great companion for anyone looking to cool and/or heat their home or business while minimizing running costs in the long term.
Pros:
SEER is 25.5
Remote control via app or Google home
10-year warranty
Provides cooling and heating at up to -22F/-30C, with up to 75% efficiency
Cons:
Expensive
Not suitable for rentals, this is a built-in mini split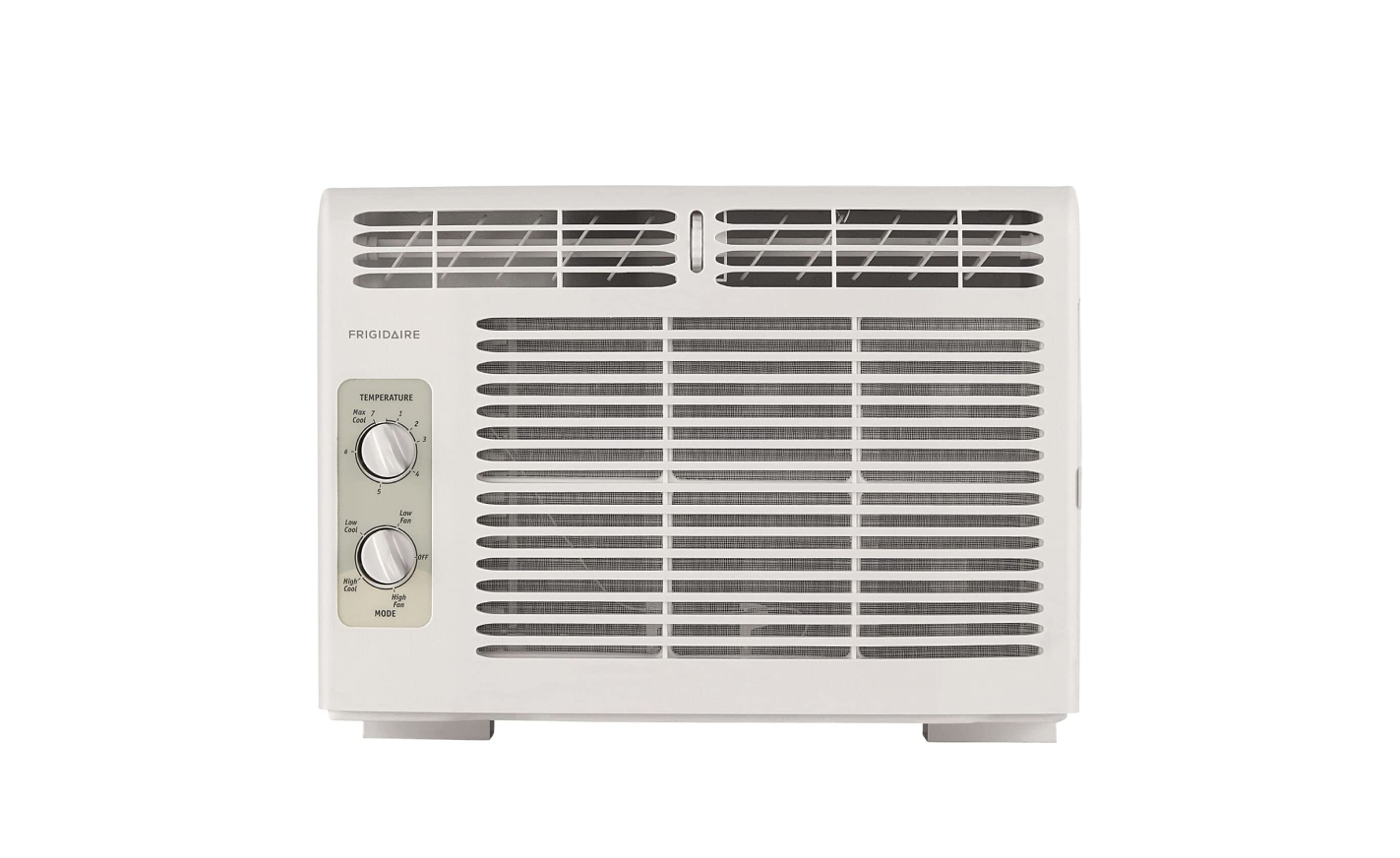 This model is also Energy Star certified, which means it uses less energy than standard air conditioners and reduces your energy usage. The 5000 BTU makes it perfect for a small bedroom. It also has an Effortless™ Temperature Control function to maintain the preset room temperature.
Pros:
You can adjust the model to fit your window thanks to the adjustable panels
Affordable for a window-mounted AC
Washable filters
Remote control
Cons:
Window-mounted models aren't ideal for rentals
5000 BTU is a relatively low cooling power and is only enough for rooms around 100 – 150 sq. ft.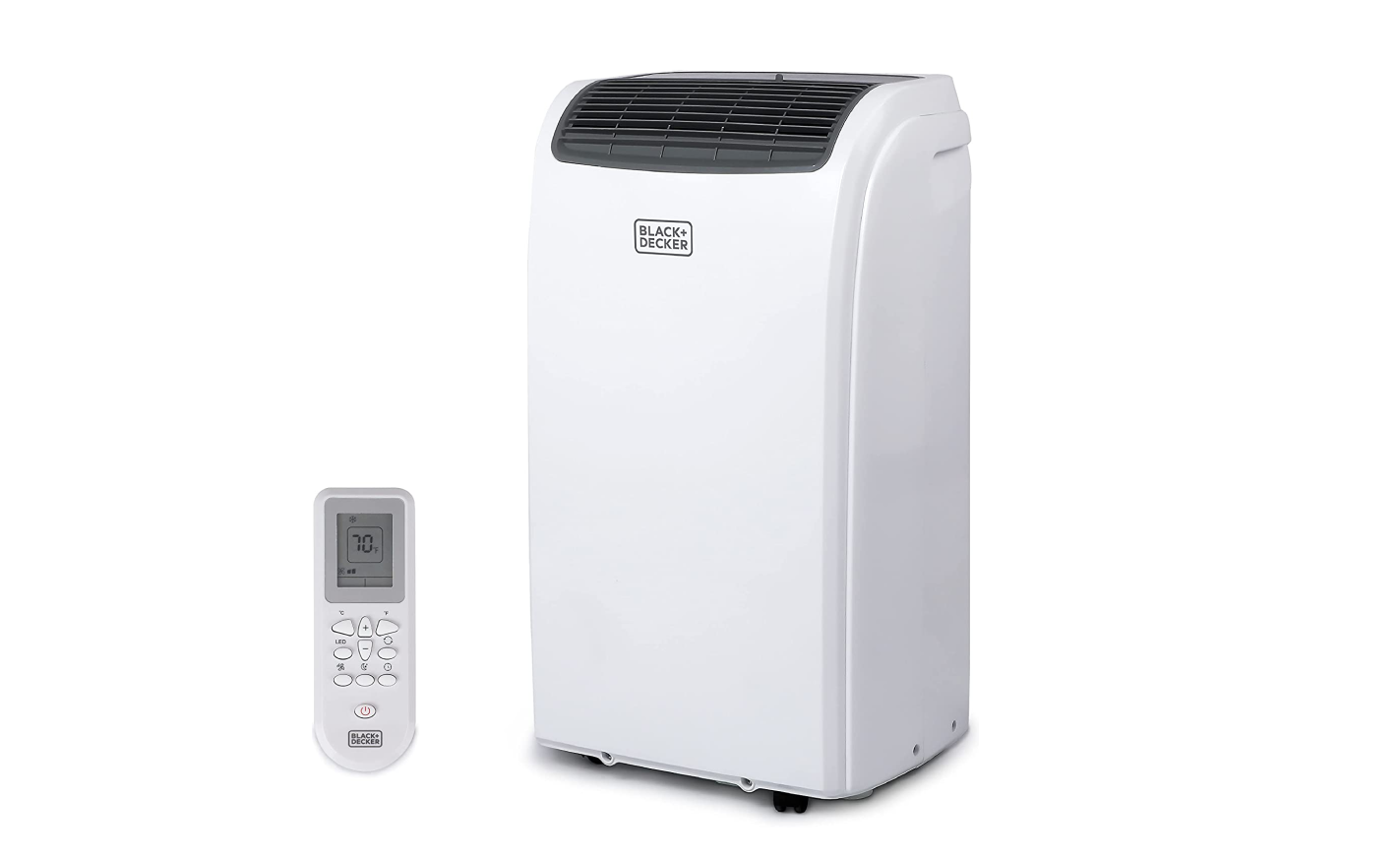 This model is great for cooling places up to 300sq ft with relatively low energy consumption. In addition, the simple remote control and a top-mounted LED display with a 24-hour timer allow you to precisely control the air temperature, which also contributes to saving on electricity bills.
It is easy to set up, and it is relatively quiet compared to most ACs.
Pros:
Portable
Easy to set up
Remote control
Quiet — the AC produces 75dB on the highest setting
Good cooling capacity for medium-sized space
Cons:
The exhaust hose is bulky
Weight and dimensions
Six main factors to consider when choosing the most energy-efficient ac unit
1. Temperature settings
Most air conditioners come with the possibility to set your temperature preferences today. Energy Star* recommends setting your AC to 78F (26C) — the ideal temperature to cool down without raising your energy bill. You can lower the temperature when you are not home.
*Energy Star is a program run by the U.S. Environmental Protection Agency and the U.S. Department of Energy that promotes energy efficiency. We will also be referring to this program further in the article.
2. AC Model Recency
Just 40 years ago, even the best energy-efficient ac units of the time were producing 30% to 50% more energy than the air conditioners made today. Purchasing a very recent model can help you save up to 40% of energy compared to the AC products made in the 2000s.
Here comes the question: Do I have to change my air conditioner all the time to make sure I have the most energy-efficient air conditioner unit? Of course, you don't!
If you want to make sure your electricity consumption is always low, we recommend choosing a portable evaporative air cooler. These devices are the best price-quality combo, and they are perfect for cooling down your personal space. In addition, you only need to change the cartridge every few months, and they are as good as new!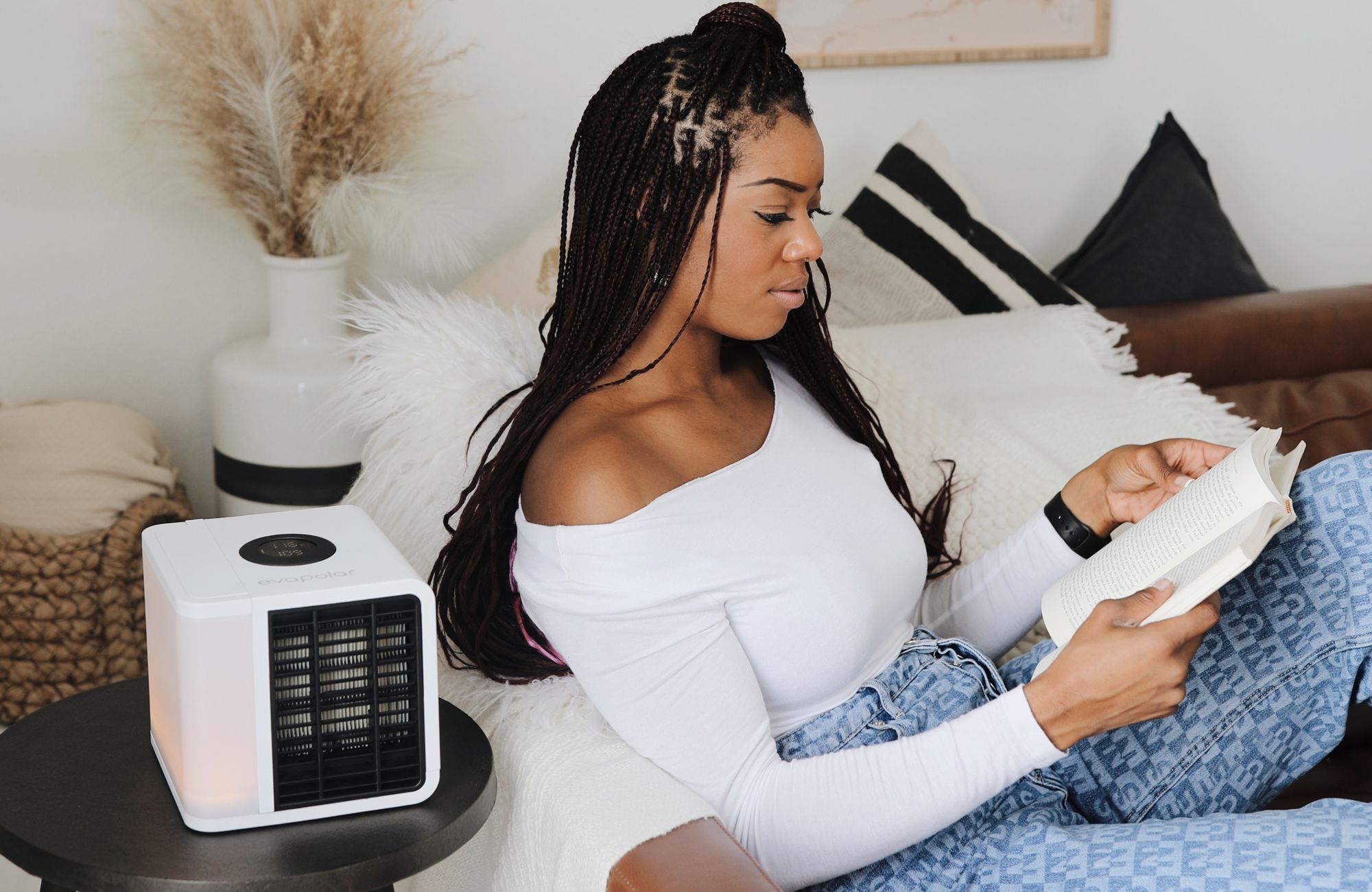 3. High EER and SEER ratings
EER stands for 'energy efficiency rating,' and SEER stands for 'seasonal energy efficiency rating'. EER defines the energy efficiency at 100% cooling load, 50% humidity, and 95F to 80F temperature difference all year long. The SEER measures energy efficiency during the most demanding months: June, July, and August.
For the most energy-efficient air conditioning unit, you need to select the device with the highest rating. For example, the 12 EER rating is an excellent energy-efficiency rating for an air conditioner.
4. Calculate the cooling capacity you need
Even the most energy-saving air conditioner can start wasting energy when used in the wrong room. The cooling capacity is indicated in BTUs (British Thermal Units). If you have a potent device for a small space, it will end up overworking and burning energy. A less effective device for a large area will take too long to get to the desired temperature and use way too many kWh to keep it up.
Rule of thumb: multiply the square feet of the room by 25, and you will get the required BTUs.
You can also use this online BTU calculator.
If you only need to cool down a small, personal space — forget about the calculations and go for a personal air cooler. Evapolar's models go up to 1360 BTUs per hour and will get you into a cool bubble within minutes.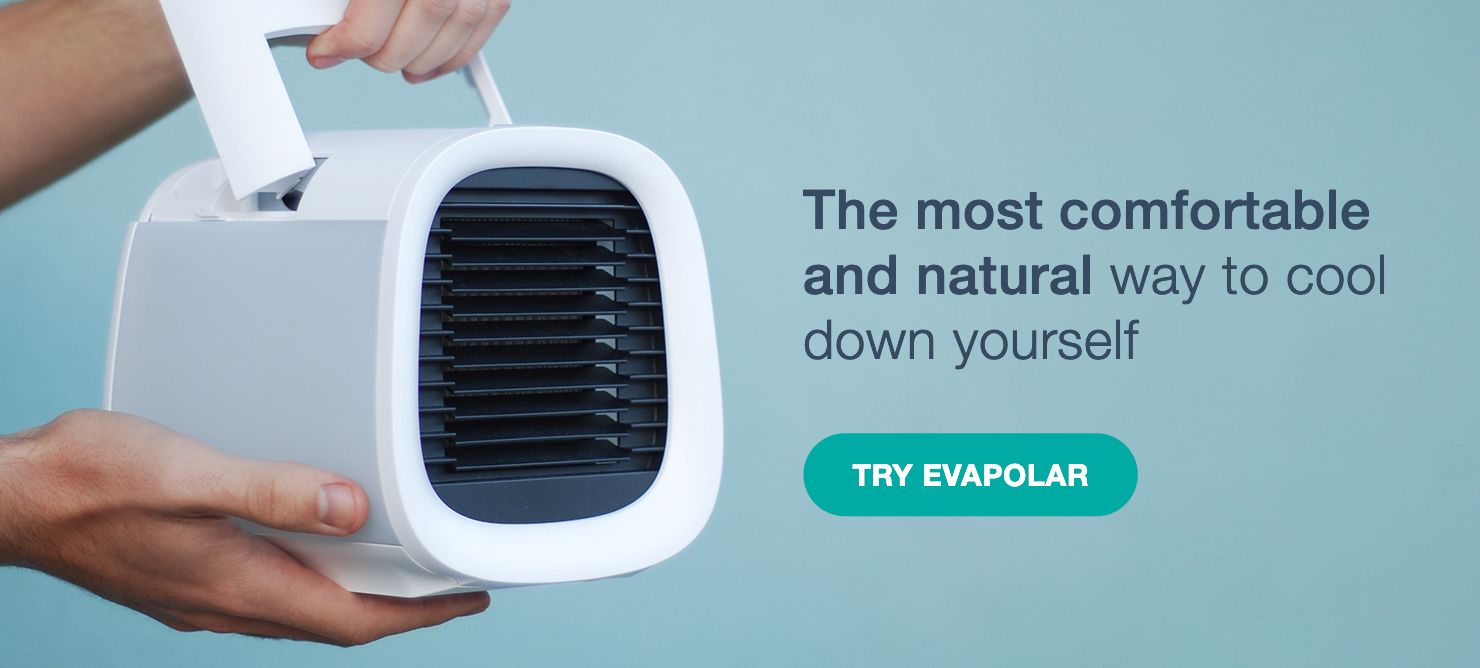 While best evaporative air coolers are not air conditioners, their technology makes them the most energy-efficient models on the market. As a result, they are perfect for cooling personal spaces, which puts an end to fighting over the thermostat.
In terms of energy consumption, air coolers beat all the competitors — they consume 100 times less energy than an air conditioner. They are not a replacement for air cons or split systems — the functioning and the components are entirely different. However, they are an excellent energy-saving option to keep you cool.
We have talked quite a bit about sizing and its importance for energy-efficient air conditioning units. How exactly do you calculate the proper size of a cooling device?
First, you can use an online calculator. However, to be completely objective, a calculator is sometimes not enough.
You also need to take into account the following factors:
Orientation. Are the windows facing the sunlight? How many hours of direct sunlight does a room get?
Climate. Humidity is a huge factor, for example.
Insulation. For instance, ceiling insulation is crucial to making your home thermally efficient. The better the insulation, the smaller AC you can get.
If you are confident about the space that needs cooling and there are no specific requirements, you can use the following formula:
Square feet x 20-25BTU = cooling capacity.
Tip: Place your cooling unit as high as you can. The cold air flows downward, while the hot air rises due to the density. If the cooled air comes from above, it will ensure proper filtration of the air in the room and a more efficient cooling process.
What are the main features of the best energy-saving air conditioner?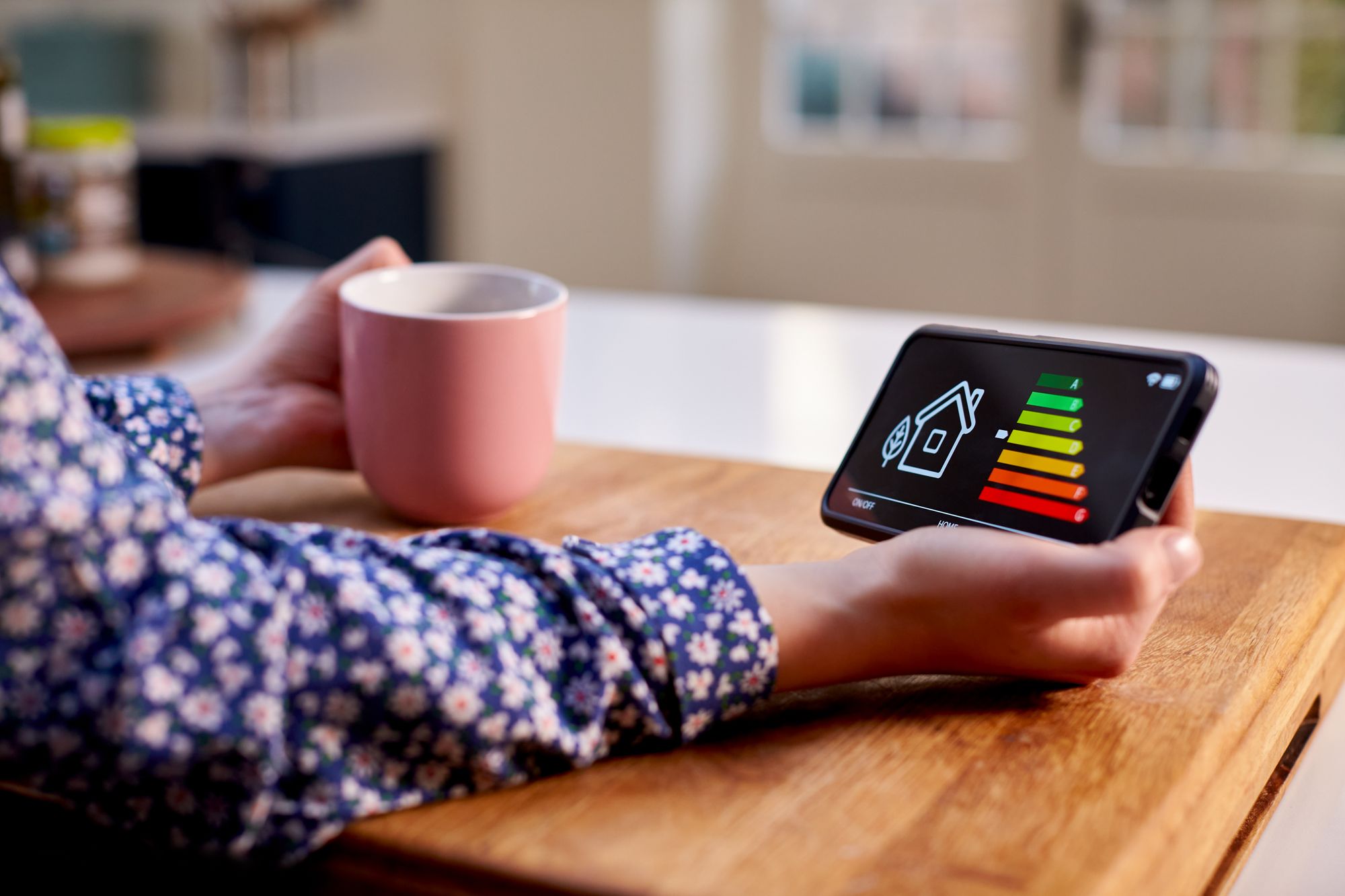 Inverter technology. Inverter systems allow to stabilize the temperature without stopping and starting the compressor. So how exactly does it work? Think about driving a car.
You need to get from point A to point B (desired temperature). The distance is 200kms. How will you use less fuel and still get there faster?
a) By driving on autopilot for around 2.5 hours at 80km/hr.
b) By speeding up and slowing down several times in a row.
The inverter system allows using less mechanical energy.
Programmable thermostat
Remote control
Sleep mode
Timer
High EER and SEER rating
Proper sizing
Recency
Have you decided on what criteria you will use when going through energy-saving air conditioner units? Then, let us see what you can do after the purchase! No matter how energy-efficient your new device is, you can do a few things to maximize its capacity and efficiency.
To make the best of your air conditioner, we recommend preventing the cool air from escaping the house and the warm air from getting in. This will reduce the energy consumption on top of adjusting the temperature on the thermostat. In addition, keep the windows closed, use fewer heat-generating appliances and invest in sunlight-blocking curtains.
Be mindful about when and how you use the energy-saving air conditioner. Even the most energy-efficient air conditioning systems can end up wasting energy. Energy Star recommends setting your thermostat to 78 degrees for a temperature that is energy efficient and comfortable!
Maintenance is crucial. From cleaning to regular check-ups, take care of your device, and it will serve you for a long time. There have been cases when the most expensive among the most energy-efficient air conditioners failed with improper maintenance.

Stay cool without heating your energy bill with Evapolar.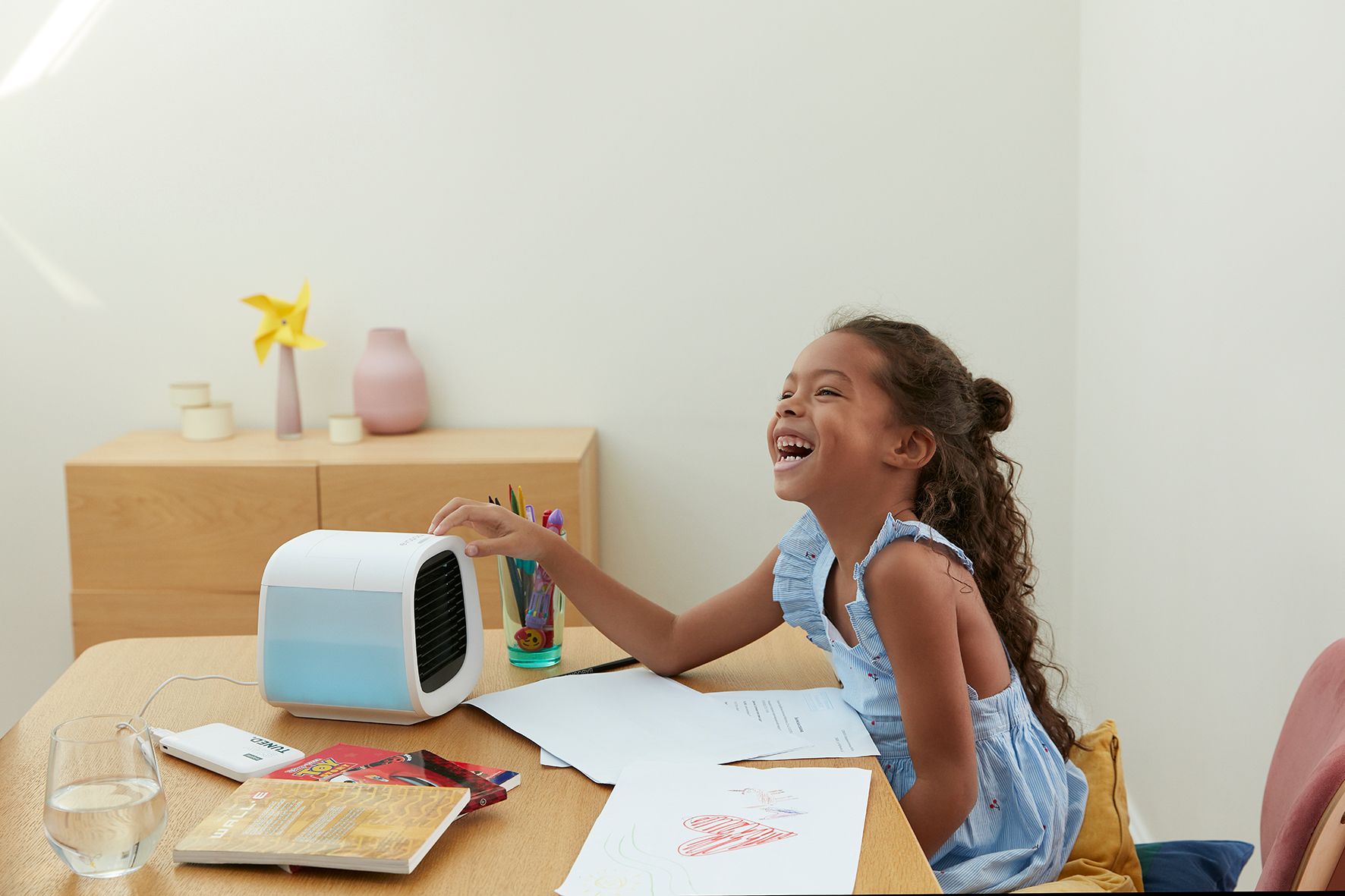 Evapolar devices are your best choice for personal and energy-efficient cooling. Portable and powerful, Evapolar air coolers use very little power (7W – 12W), and you can plug them into your laptop or a power bank.
Let us show you some numbers.
With a 10,000mAh power bank (actual capacity: 6,660mAh), you can fully charge most new smartphones about 1.5 times.
An evaporative air cooler like evaCHILL uses 7W.
P/V = I
(Current = Power / Voltage)
7W/5V = 1,4A (amps)
10000mAh = 10Ah (10A/hour or 1A/10hours). In this case, the power bank puts 1A at 5V for 10 hours. To run a 5W device, it would take 10 hours to drain fully.
To run a 7W device like evaCHILL, the 10000 mAh power bank would take around 7 hours to drain.
How many batteries do you think an AC would use for 7 hours of work?
Of course, we are not saying that an air cooler can replace an AC. However, if you are looking for the most eco-friendly and energy-saving option for powerful personal cooling, you might want to look into air coolers.
Numbers aside, here is how the Evapolar coolers make the cooling more efficient
The airflow is directed at you. So, you can feel the effect immediately without waiting for the whole room to cool down. It can't get more efficient than that!
You can take it anywhere! For a small one-time investment, you get a permanent cooling companion. Whether you need to take it around the house or to a different country in a van, it will guarantee your energy-efficient comfort wherever you may be.
Read also: Are Portable Air Conditioners Good for You?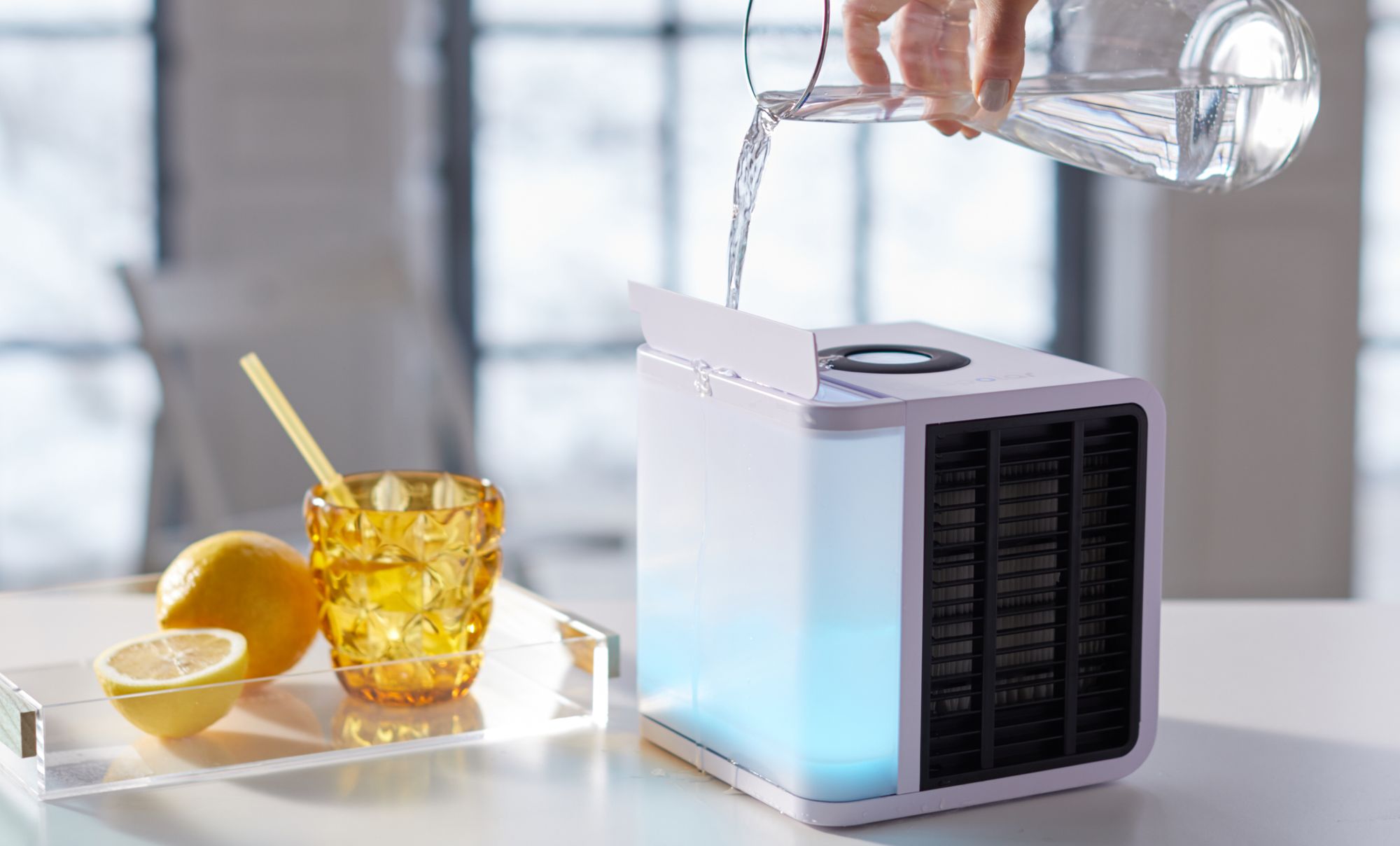 Cooling devices and air conditioning systems are one of the best inventions. Some of them require a lot of thinking, measurement, and commitment. Others solve a problem in a few clicks.
You can always go for the most energy-saving option right away and pick an Evapolar device. Permanent options will always be there, but while you may still choose the one that fits you best, you can always do so under the fresh breeze of your personal air cooler.
People also ask (FAQ):

1. I rent. What is the best energy-efficient air cooler for those who don't own the place? I don't want to install something expensive I won't use in a few years!
Anything portable is always an option if you can't install a permanent cooling solution. For example, a personal air cooler or a portable air con will happily travel with you to your next home. An energy-efficient air cooler can even go to a different continent — the Evapolar models weigh just a few pounds!
2. This is a lot of information! In my city, it only gets hot a few weeks per year. How do I choose a simple short-term solution with the best energy-saving options?

A short-term solution is usually the one you can store away when you don't need it. For large spaces, we recommend an appropriately sized portable air conditioner. For your comfort, we stand by the air coolers — you can store them anywhere!
3. I just want the cheapest version in terms of installation, first investment, and energy. Which one should I pick?

We recommend a portable air conditioner with a high cooling capacity if you need to cool down the whole room. But, again, make sure you do the numbers in advance. Otherwise, you can end up cooling just one part of your room.
An evaporative air cooler is the most hassle-free option if you need to cool down your personal area (workout spot, work desk, etc.).
4. Is it better to oversize or undersize an air conditioner?

It is better to undersize if you are hesitant about the size and cannot double-check it. While a small system will have more work to do in a large room, it will still cost less. Big systems will end up wasting energy on small spaces, and they also cost more to operate.
5. What is a good EER rating?

From 8.5 and above! While 12 EER is considered excellent, some of the most efficient air conditioner units can reach more than 12 EER.