Getting out of the city to spend some time tete-a-tete with nature is a dream, especially during the hot months. Today you have all the possibilities to ensure that almost nothing interferes with your comfort, even if you are in a tent.  A good tent air conditioner can provide extra relief during the warm days and nights and let you enjoy the outdoors to their fullest.
evaCHILL
The most effective cooling device
If you are looking for the best tent air conditioner, we are here to help you make the right choice based on your needs.
There are three things a tent air conditioner must be to fit a tent properly:
1. Portable
2. Battery-powered or working with a power bank
3. Compact
To work inside a tent, an air conditioner has to be powerful for the tent size, autonomous, and keep up with the cooling demand. First, you need to know that there is no such thing as an air conditioner specifically designed for a tent. However, some models get a great job done for this occasion.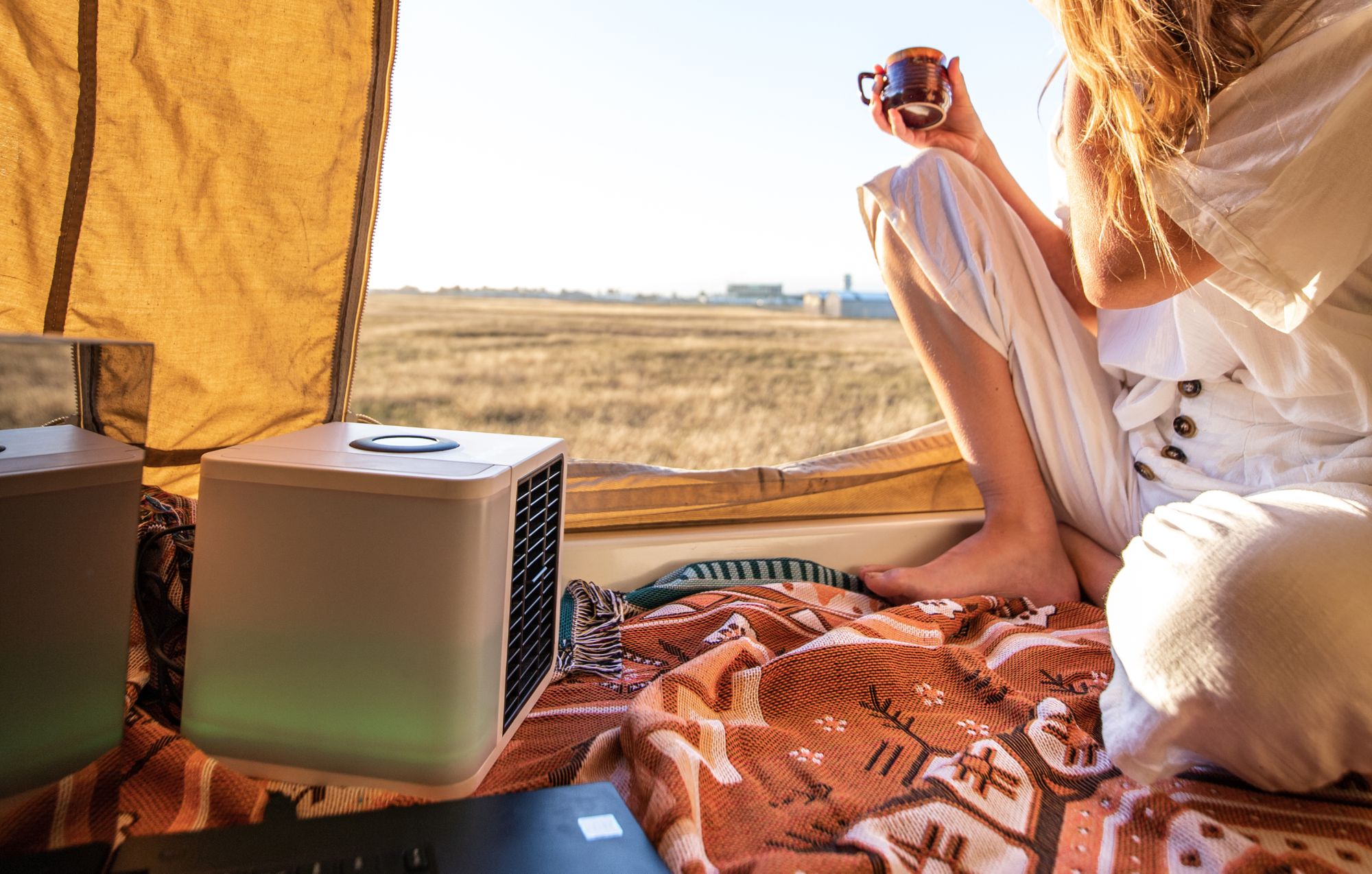 1. Evaporative air cooler
Evaporative air coolers require the least energy to run autonomously. Models like Evapolar can run on a full water tank for up to 9 hours, simply plugged into a power bank.
2. Portable AC for tent
Portable air conditioners can also be used while camping, especially the lightweight models. You can go for the models that run on batteries or use the corded ones if you have access to power. To use a portable air-con to cool your tent, you will need a window large enough to put an exhaust hose.
3. Window-mounted air conditioners
Light and small window AC models can perfectly work in a tent. However, there are no battery-operated window ACs, so this option will work only if you have access to electricity.
5 Best Tent AC to Consider
We have selected five top tent AC units which are independent, autonomous, and ideal for tents. We will also elaborate on other criteria which have helped us make our choice.
Works with a power bank/battery
6.69 x 6.69 x 6.77 inches
9.33 x 6.93 x 6.81 inches
7.00 x 6.00 x 6.00 inches
17.1 x 13.8 x 28.1 inches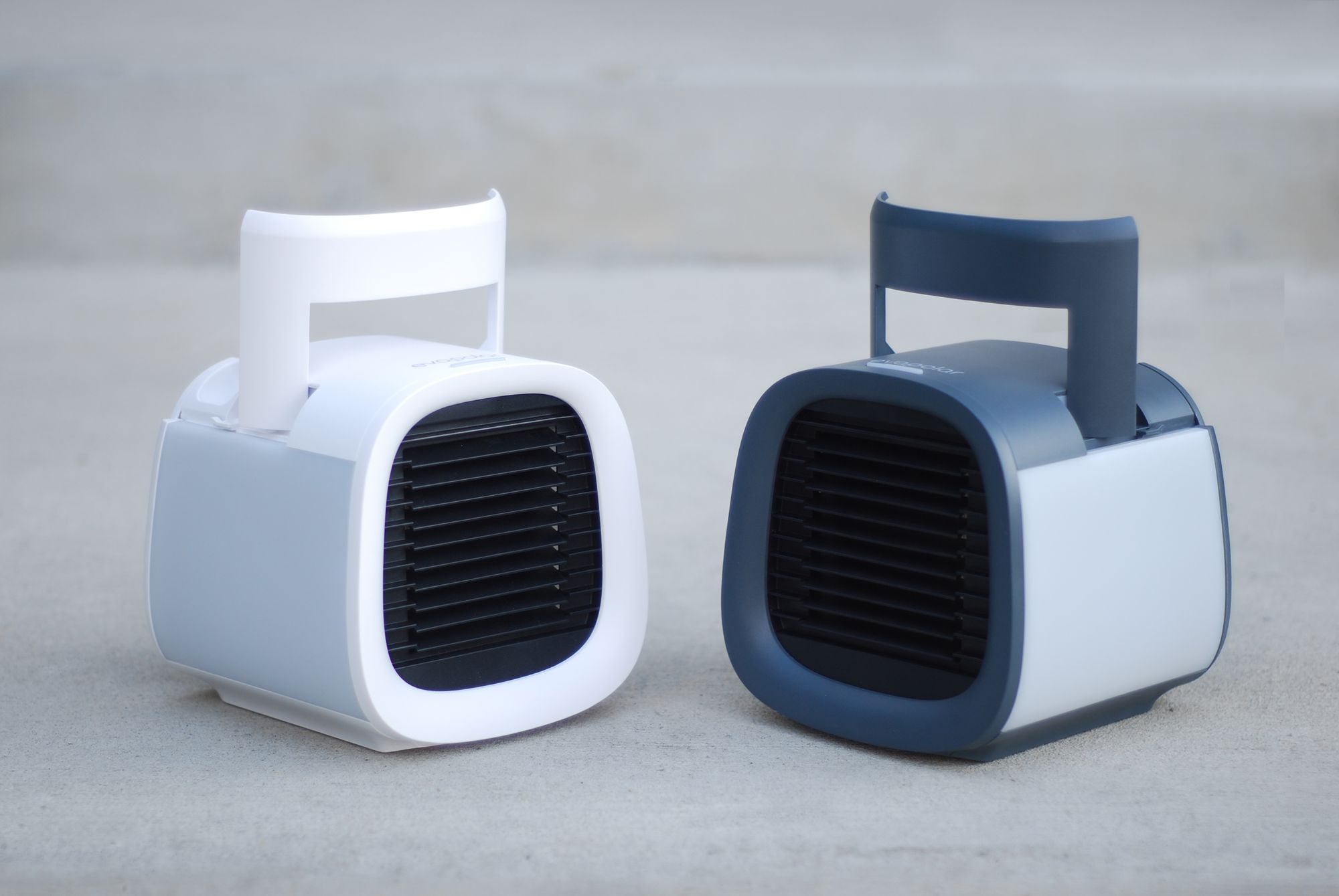 Cooling Power – 100%. This small and powerful tent swamp cooler guarantees efficient personal cooling. Warning! It is not for cooling entire large tents, but if you place it in front of yourself and direct the airflow at you, you will get 100% cooling benefits.
Portability – 90%. The Evapolar devices are among the smallest ones. The evaCHILL model is one pound lighter than the Vivibyan model above. Also, you can use it with the USB cord (provided with the purchase) and a power bank.
Ease of setup – 100%. Plug it into the socket or a power bank, and you are good to go.
Noise – 90%. The maximum noise produced by an Evapolar device at its highest speed is less than 60Db, which makes it as loud as a regular conversation.
Price – 80%. The devices start at 99$, and they come with a cartridge right away.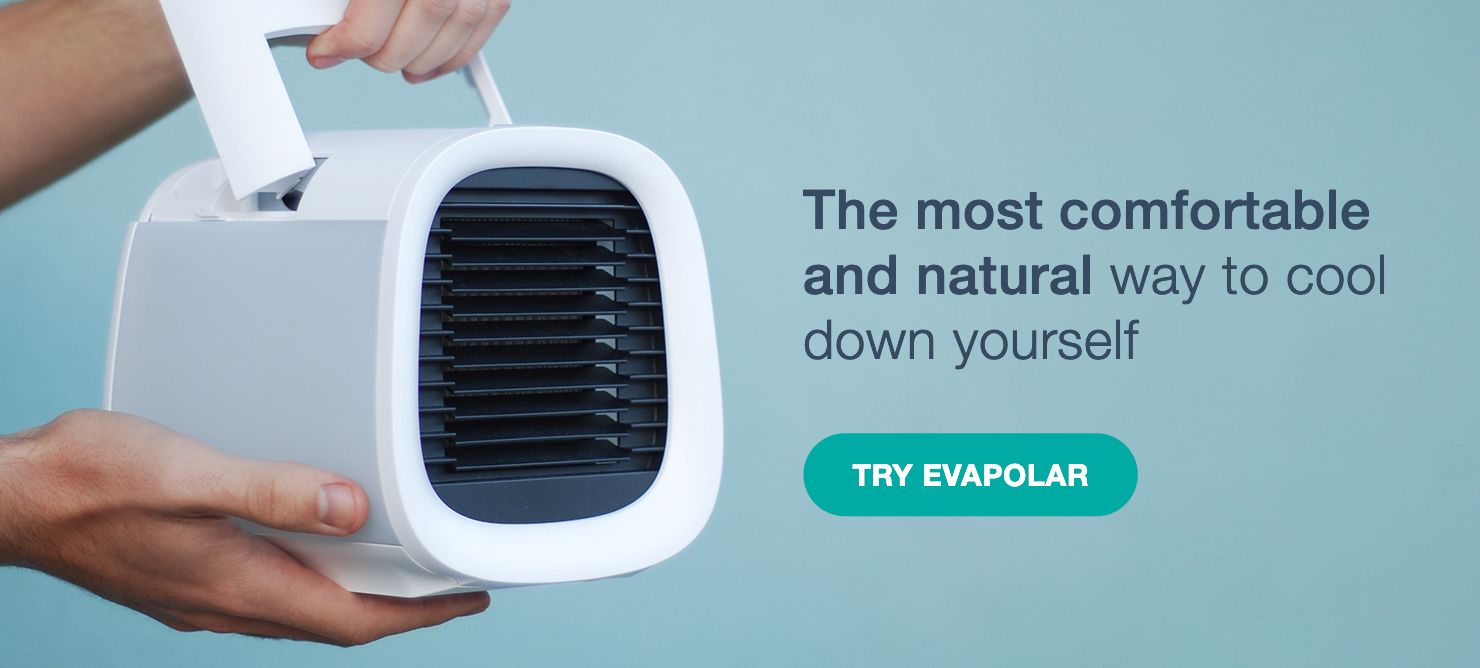 Why you may want to buy an Evapolar device:
Portable
Quiet
Very efficient personal cooling
Low energy consumption
Why you may want to hold off the purchase:
If you need to cool the whole large tent at the same time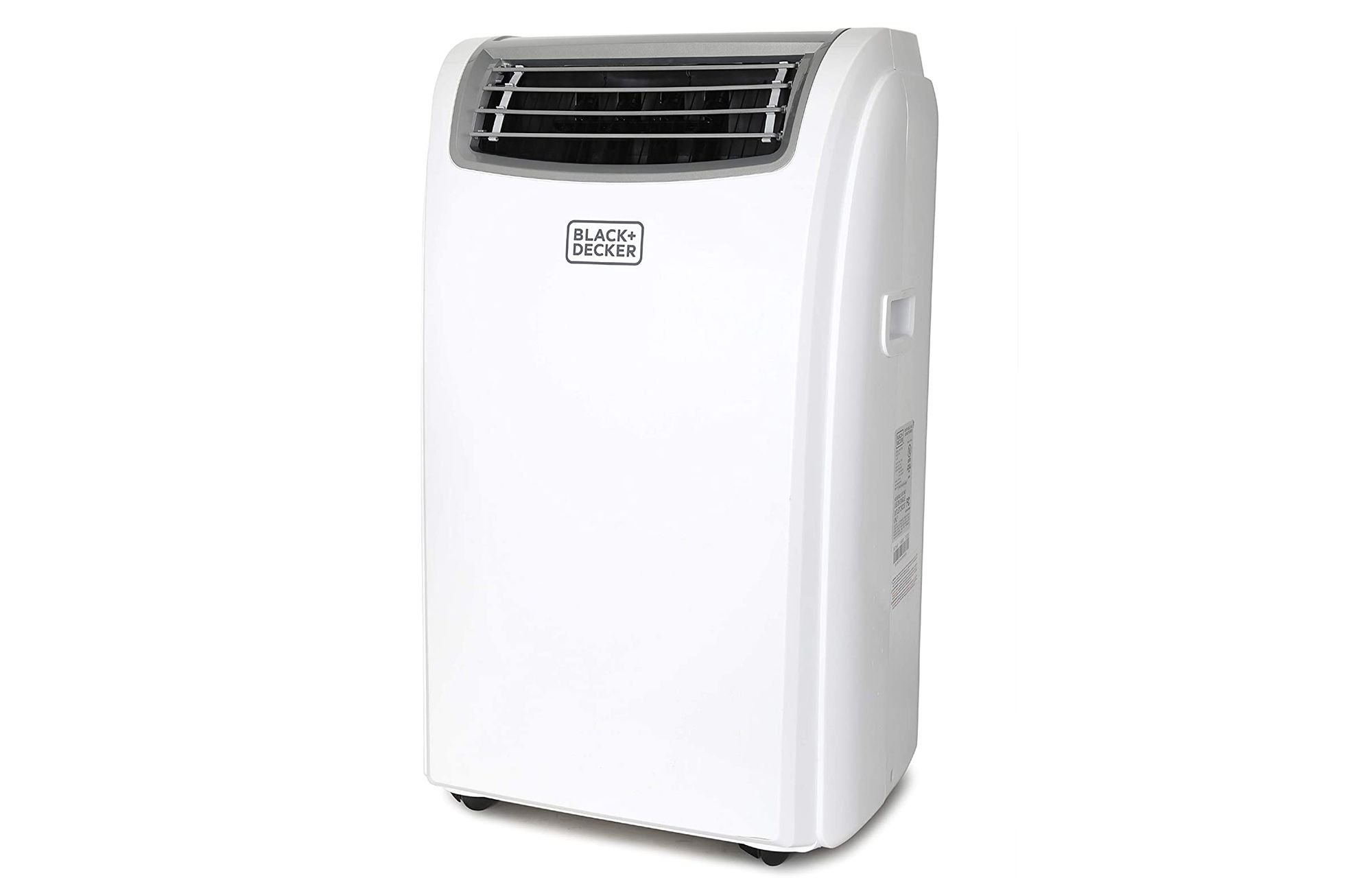 Cooling Power – 70%. This model is suitable for cooling places up to 300sq ft.
Portability – 60%. You want to make sure you have enough space in your transport for 68 pounds and are almost 30 inches tall.
Ease of Setup – 70%. Even though it is simple enough to plug the Black Decker, you need access to electricity in your tent.
Noise – 60%. According to Black Decker, the AC tent produces 75dB on a high setting, equivalent to a street with traffic. However, given the proximity of the AC inside the tent, it can be an issue.
Price – 70%. 450$ is in the middle range of prices for portable air conditioners.
Why you may want to buy this tent air conditioner:
Good cooling capacity for medium-sized tents
Why you may want to hold off the purchase:
It can be bulky for smaller tents
It needs electricity to run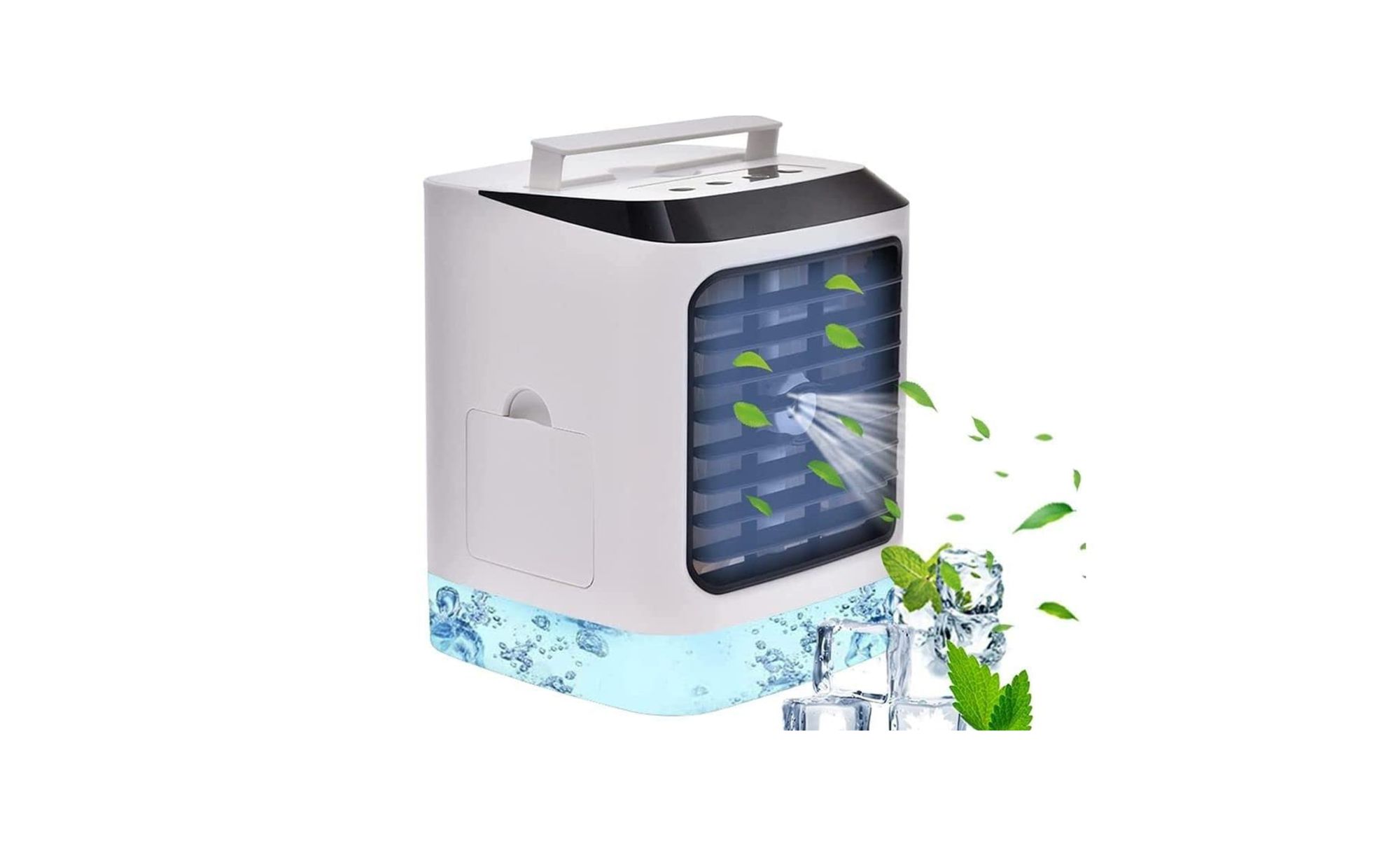 Cooling Power – N/A. Vivibyan doesn't provide information in BTUs or CFM. However, it is indicated that it has three speeds.
Portability – 70%. It is a portable air tent cooler model with 2.46 pounds weight that you can take anywhere.
Ease of Setup – 70%. Pay attention that even though the model is portable, it only requires a 2A power adapter. Otherwise, you can experience issues.
Noise – 80%. The reviews regarding the noise are mostly positive.
Price – 80%. 39.99$ is around the average price for the air coolers. However, some reviews indicate that the product is cheaply made.
Why you may want to buy this tent cooler:
Why you may want to hold off the purchase:
Some reviews indicate that the cooling power is not enough
Requires a specific power adapter to work
Read also: Polar Breeze Portable Air Cs & ooler ReviewAlternatives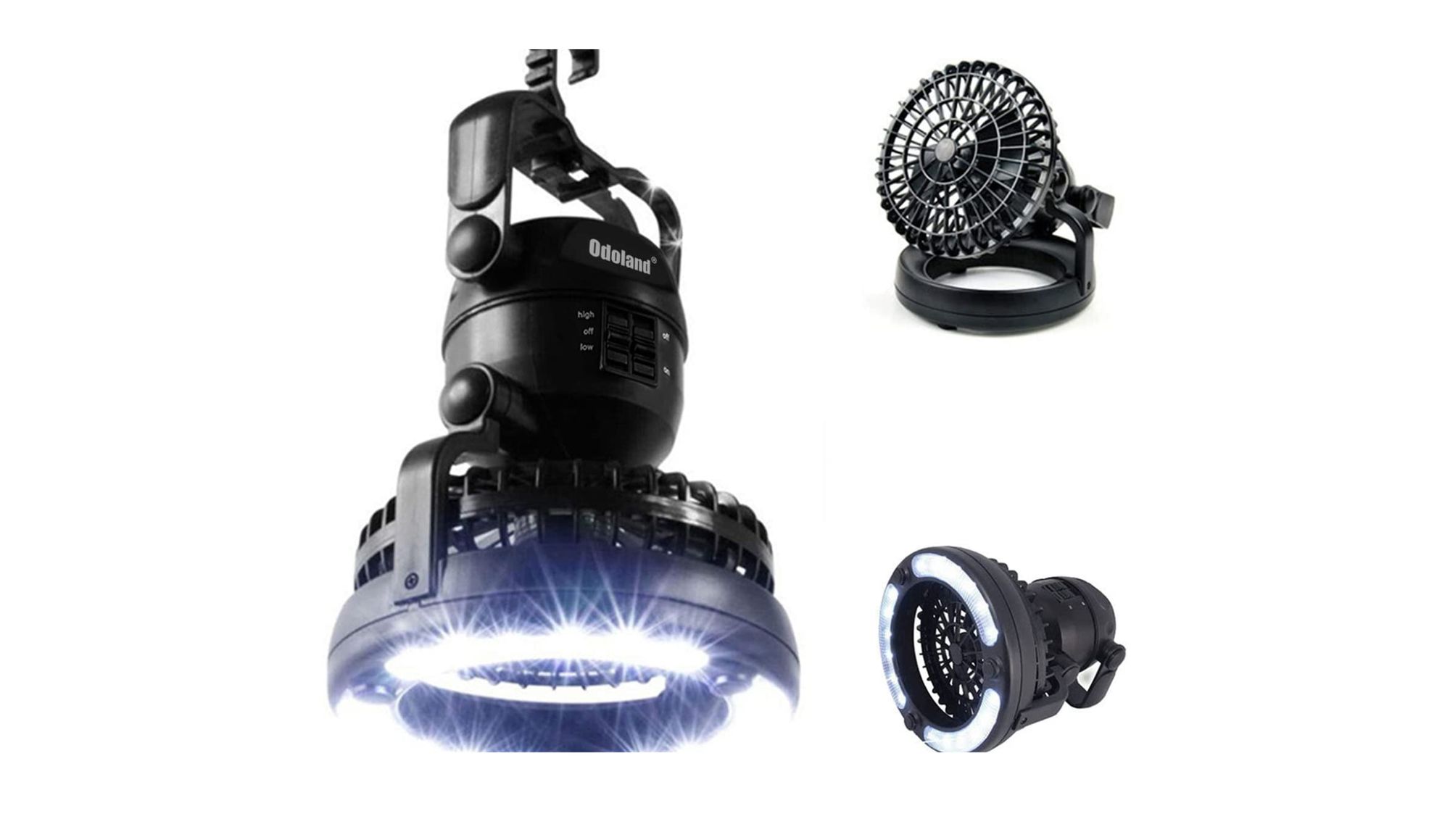 Cooling Power – 30%. The fan efficiently moves air around, but the device provides no cooling effect.
Portability – 90%. The Odoland lantern with a fan has been created specifically for tents and camping, and it works on batteries, so you can take it anywhere without thinking about electricity access. However, you need to ensure you have suitable batteries on hand since it is not USB-powered.
Ease of Setup – 80%. You may need to hang the fan/lamp inside the tent so that you will need some kind of a hook inside a tent, or you can place it on the ground. However, the airflow won't still be directed at you like a personal swamp cooler for camping.
Noise – 90%. The fan produces a light white noise that is not much of a distraction, according to the reviews.
Price – 95%. 28.99$ is a reasonable price for a fan that comes with a lantern.
Why you may want to buy this fan for tents:
Very good price
100% portable
Why you may want to hold off the purchase:
It doesn't provide any cooling effect other than ventilation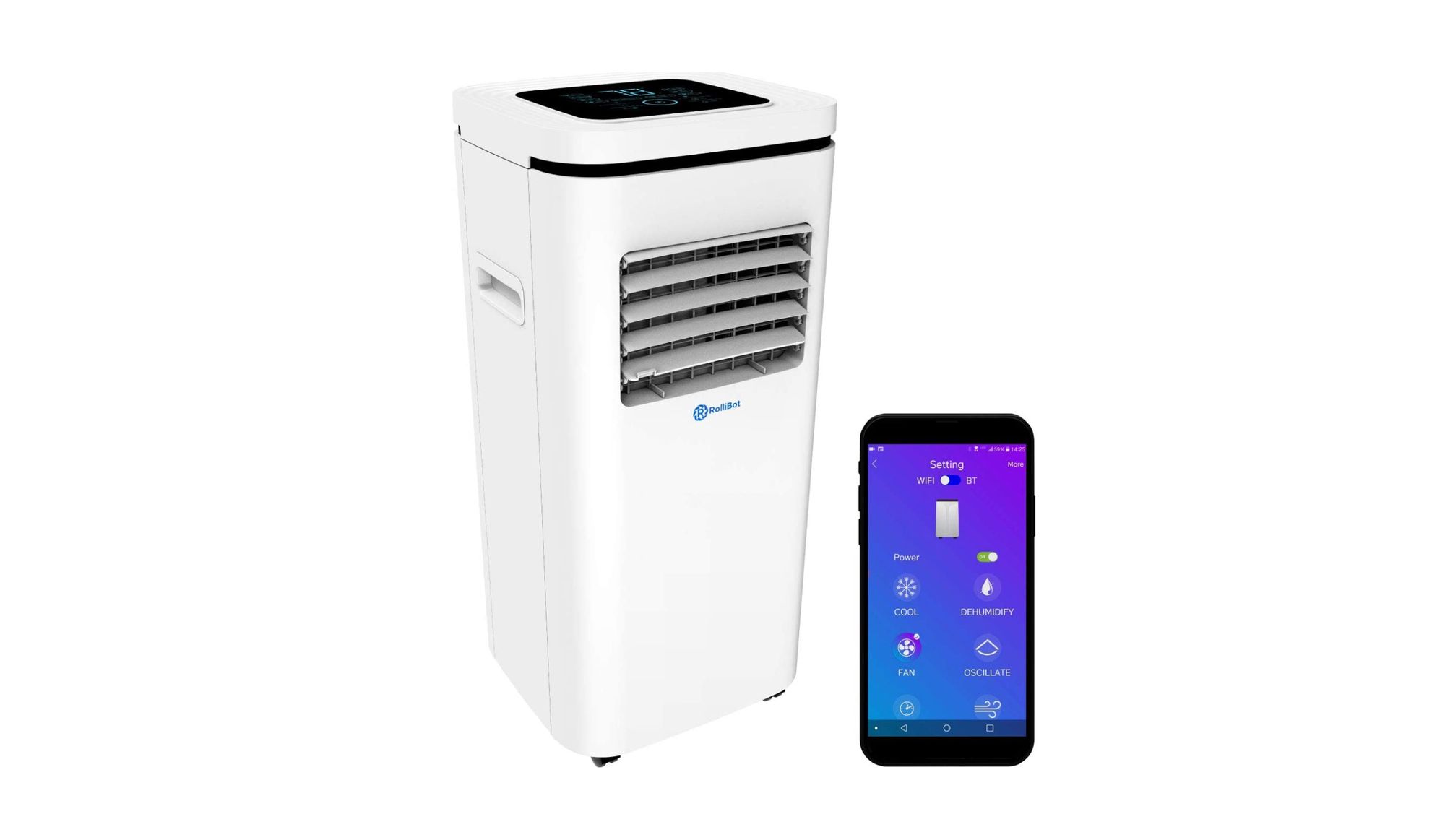 Cooling power – 90%. 10000 BTU is efficient for cooling a 275sq.ft tent
Portability – 60%. To work, the Rollicool requires a window in your tent to exhaust hot air and a power outlet.
Ease of setup – 60%. You need electricity, a window, and internet to launch the Rollicool.
Noise – 90%. 52 Db is the equivalent of a quiet conversation, making it almost silent.
Price – 70%. 343$ is on the more expensive side of air conditioners, but it is a good investment if you plan to use it at home.
Why you may want to buy this air conditioner for your tent:
Good cooling power
It can be a powerful cooling device for both a small studio, small room, and tent
Why you may want to hold off the purchase:
There are less expensive models with the same cooling power
The device is not 100% autonomous
You rely on the internet and Alexa for proper functioning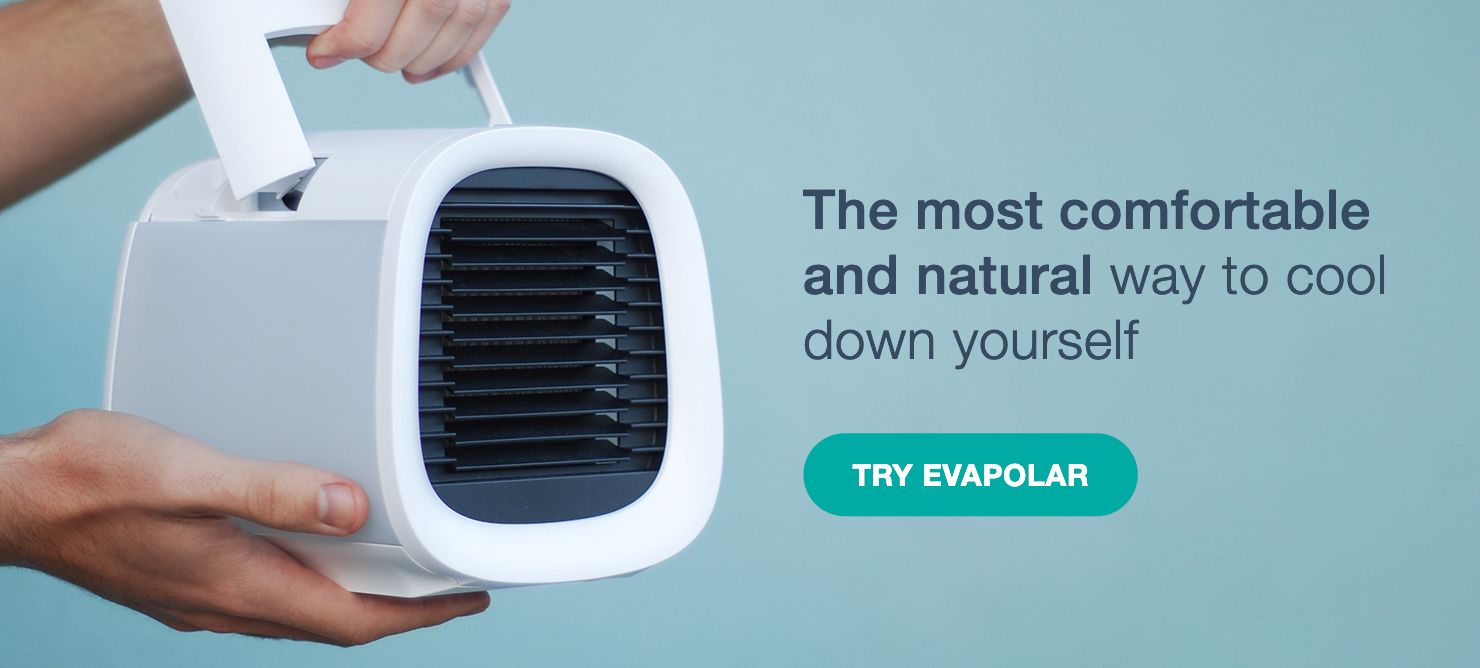 Cooling capacity of tent air conditioners
Of course, there are other models, and many of them can be suitable for different tents. We have made a quick rundown with the most common numbers in BTU to help you choose your portable air conditioner for a tent.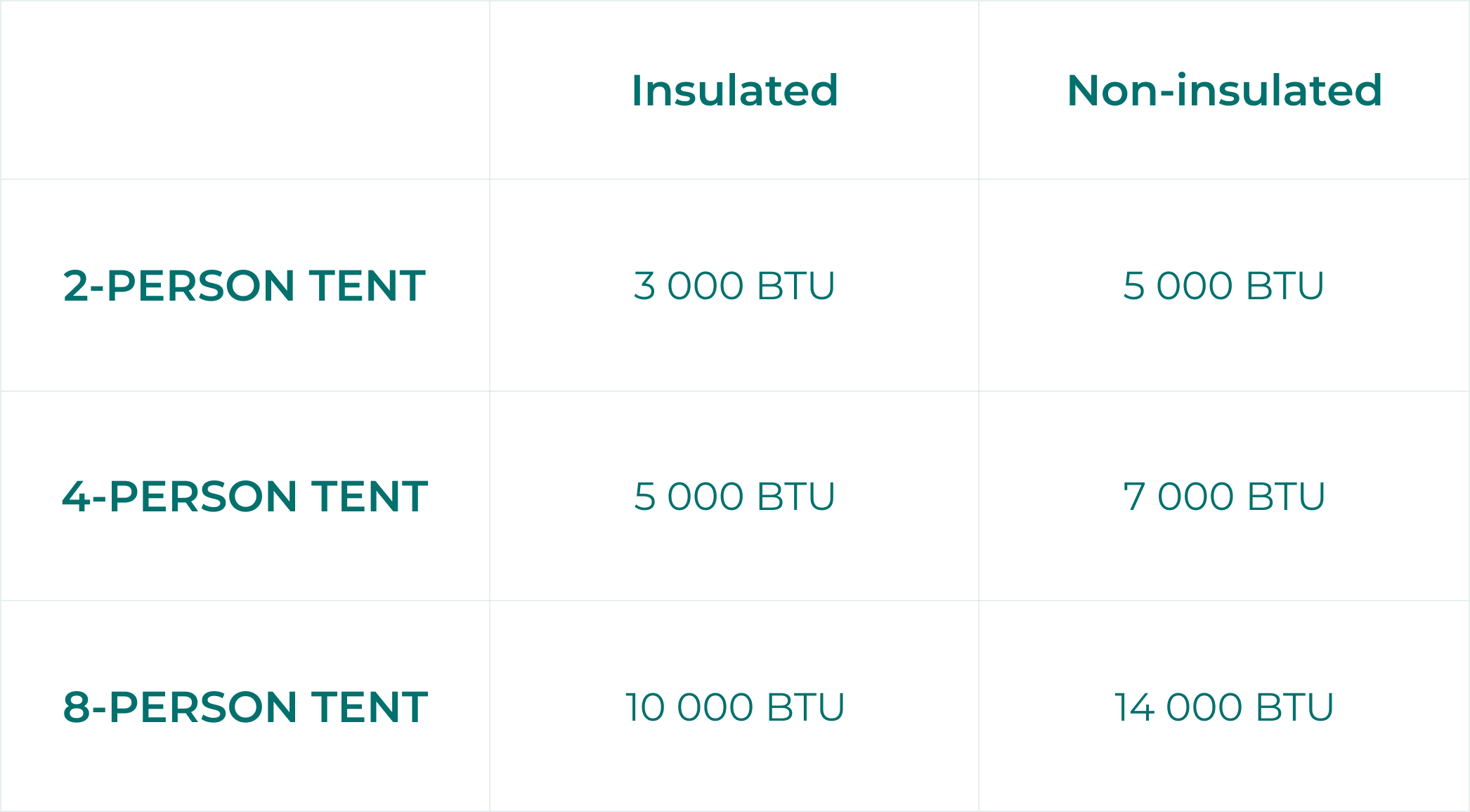 The cooling capacity of evaporative air coolers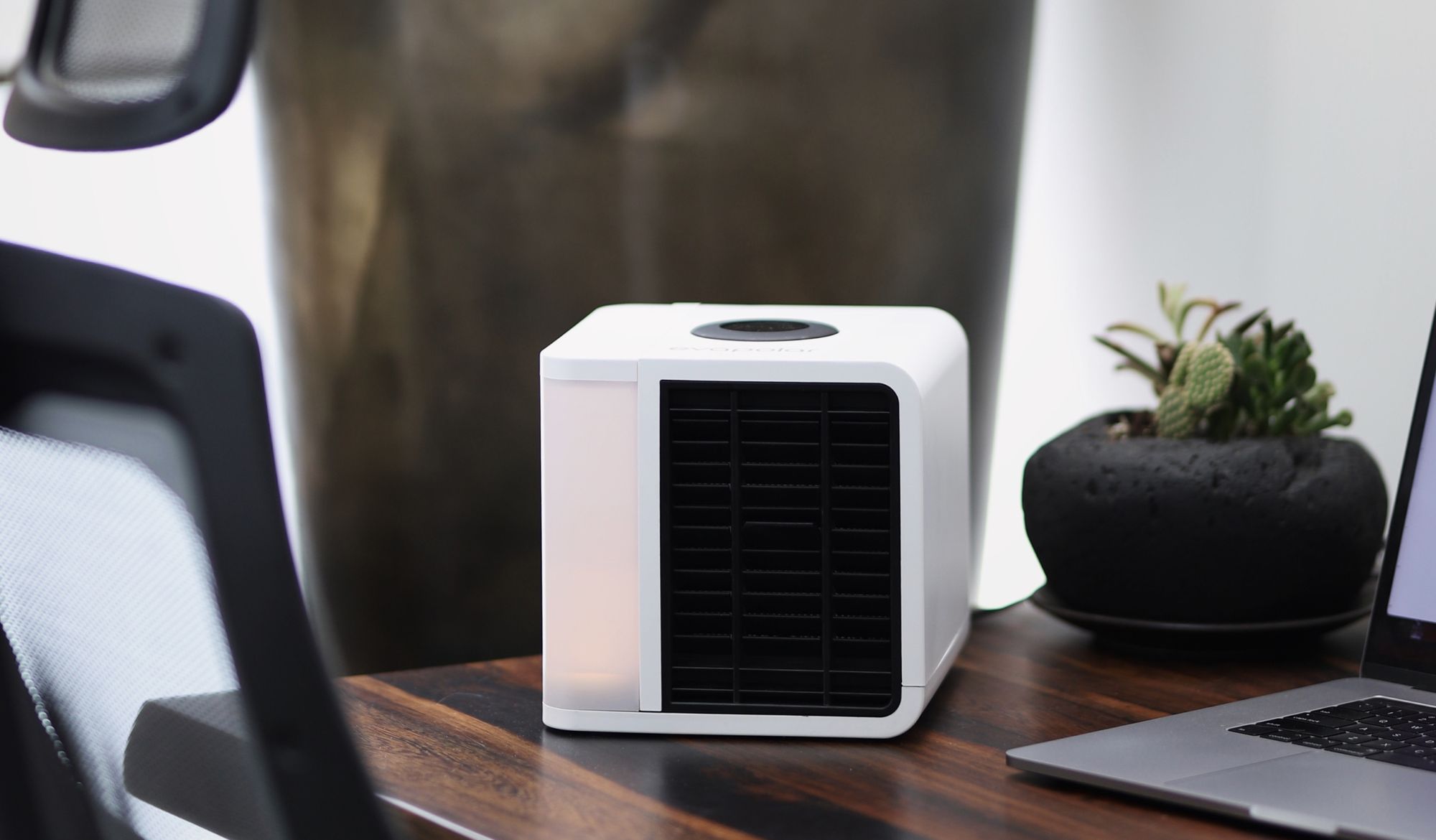 We measure the cooling capacity of air coolers by airflow volume, which is how much air can flow in a given space at a particular time.
How do you know what size evaporative cooler you need?
Calculate the size of cubic meters in your tent by multiplying length, width, and height. How many changes of air would you like per minute in your tent? If it's once per minute, for example, then multiply the meters by 60 minutes, and you'll get the hourly rate.
We recommend that you focus on personal cooling when you choose evaporative air coolers because this is how you'll get a beautiful, gentle breeze inside your tent. Don't try to cool down the whole tent at once with an evaporative cooler. Just focus on your space, and you'll see the effect.
How to choose the right portable AC for tent-cooling
1. Noise
We are pretty limited in terms of space when camping in a tent, so it's not like you can put away the AC tent into another corner to not hear it. Make sure the noise levels are below 60Db if you are a light sleeper or don't want anything to interfere with the nature sounds.
2. Tent size
If you want to cool the whole tent simultaneously, this will be your number one criterion. For example, a 5000-BTU window air conditioner is the most popular size for a small tent with a 100sq ft area max. As for other measures, you can refer to our above calculations for sizing your tent cooling system.
3. Ventilation
Whether you will be using an air conditioner, a fan, or an evaporative air cooler, you will need some kind of outlet to exhaust warm air. In addition, the tent has to be ventilated from time to time, at least to remove humidity.
4. Tent insulation
As you can see in the table above, the stronger the insulation, the less cooling power you need.
5. Electricity access
When we selected the best tent air conditioners, fans, and coolers, we picked both options that need electricity access and those that don't. When you are camping outdoors, it is very likely you won't have a socket next to you. You will also be in energy-saving mode, which is why we recommend going with fully autonomous options like air coolers, which only need a power bank to function.
6. Weight and dimensions
Camping with a backpack only can be a unique experience that changes you forever. However, it also limits you on what you can take with you because every pound in that backpack counts. In this case, large air conditioners are not an option, but air coolers and portable fans will do wonders for the cooling.
7. Sun exposure and weather conditions
The amount of cooling you need will also depend on sun exposure, temperature, and humidity.
How to fit an air conditioner unit into a camping tent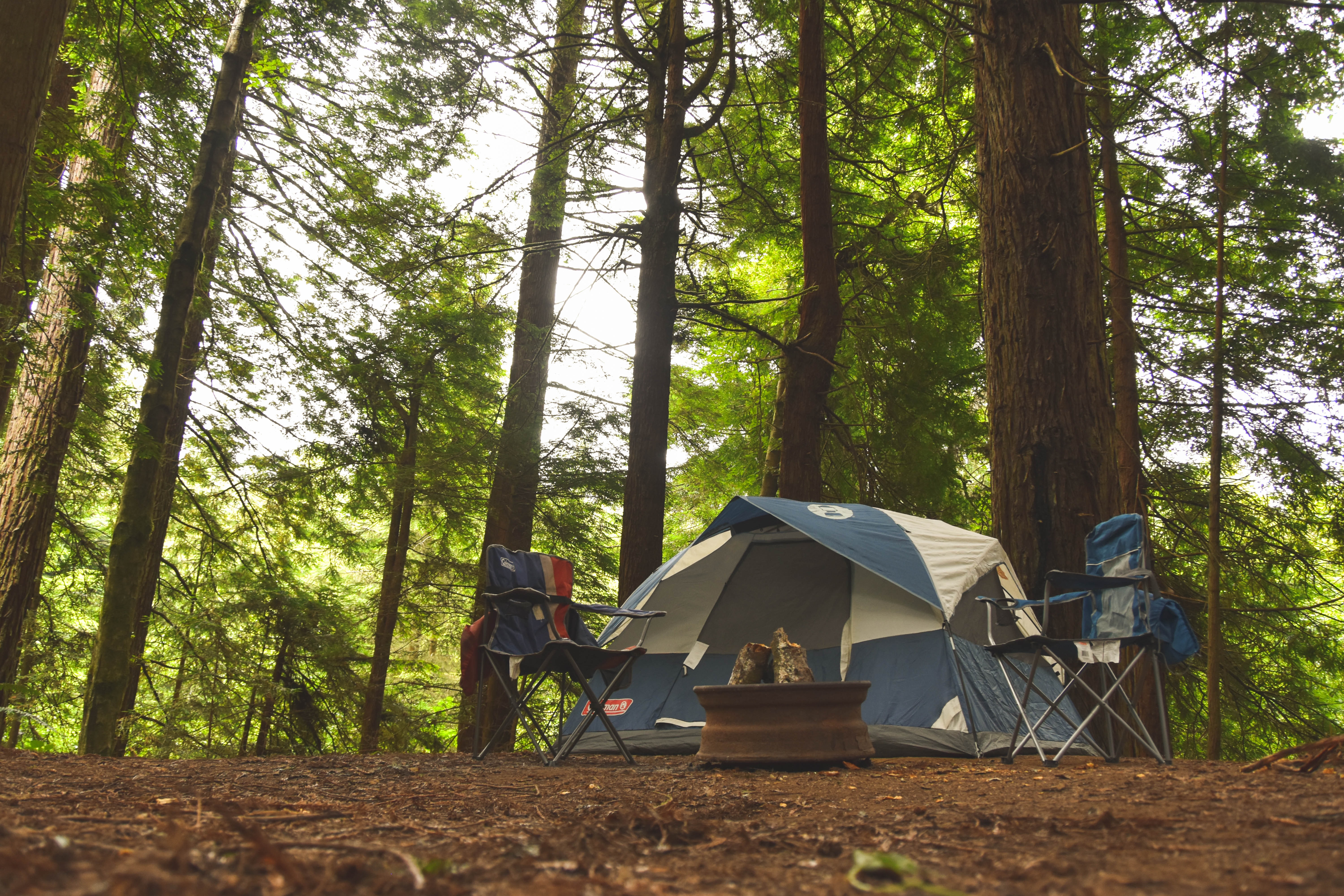 First, you need to correctly size the air conditioner according to your tent. There will be a difference between cooling devices for tents for two people and tents for eight people.
Second, depending on the size of the tent and the AC model, you will need either a door, a window, or a hole for ventilation. This will also define the positioning of the device inside the tent.
Finally, even if the tent is spacious enough, its design will also define how you fit the AC unit inside. Read also: 7 Best Portable Boat Air Conditioners
Accessories and consumables for a tent AC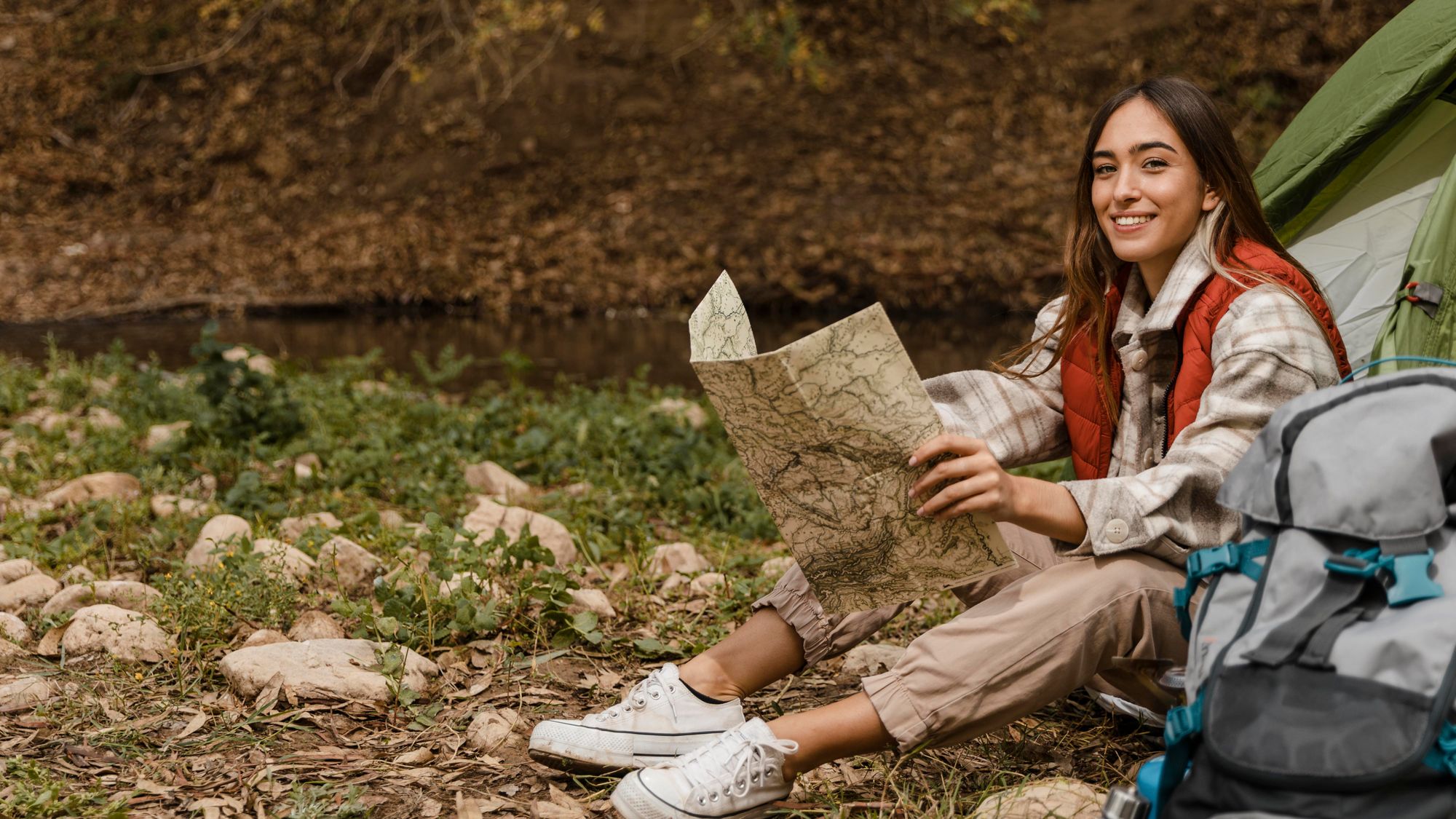 Depending on the tent AC model, here are the accessories and consumables you may need:
1. Power source. You will need a strong power outlet for a proper full-on portable air conditioner, batteries for some portable models, or a USB cord with a power bank for devices like evaporative air coolers.
Warning: certain tent air conditioners remove both humidity and heat from the tent, so they use quite a bit of electricity and may require a 120-volt power source at the campsite.
2. Water. Evaporative air coolers use water for the cooling effect, and it is always better to use clean water to avoid ruining the device.
3. Safe transportation method. Just like any electronic device, your AC or air cooler will serve you best when it's properly stored and transported.
Safety recommendations:
1. Clean your device regularly. When used outdoors, air coolers and air conditioners absorb more dust. Therefore, clean the filters and air grids regularly for longer life and better cooling functioning.
2. Shelter the device from rain. For example, do not run a device where the ground has been wet by rain.
3. Campers should use an outdoor extension cord of 15 amps or higher for air conditioners. The extension cord should be in good condition, with no gaps in the insulation.
4. When not camping, store your device in a dry space.
Improve your tent AC performance:
1. Pitch your tent in the shade to avoid extra sun exposure
2. If there are no trees to provide shade, you can lay a reflector blanket on top of the tent to reflect the sun away from the tent
3. Ventilate the tent to improve air circulation
You can see more on how to improve your portable air cooler and boost its performance in one of our recent articles.
What to look forward to when camping with a portable AC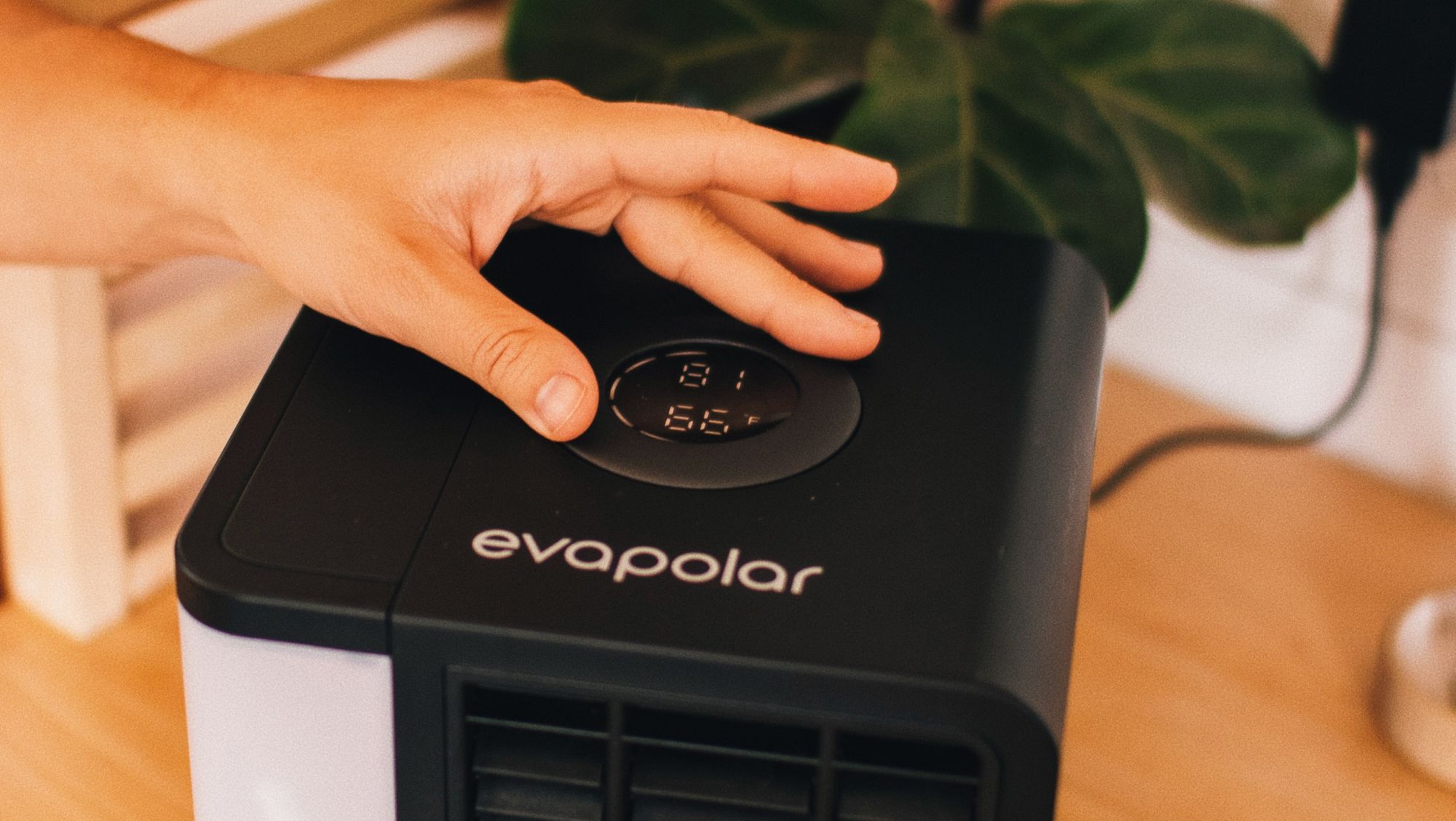 You will meet many restrictions and requirements when traveling and camp with a portable AC. The final choice will largely depend on how you travel because that will define the size of your cooling item. If traveling by car, you can allow yourself more space for an AC rather than traveling on foot. On the other hand, there are always the best options that make tent cooling the most efficient in terms of electricity, weight, size, and cooling power.
The best option for camping and tent cooling — Evaporative air cooler by Evapolar
The advantages of having an evaporative air cooler as a tent cooling option are numerous. First, you can easily fit it into a backpack, car, or travel bag. On top of that, it is super light — pretty much the weight of a water bottle!
A powerful portable battery will be more than enough to make the Evapolar cool your tent for 3 to 9 hours. Power outlets in no way restrict you.
You can direct the airflow at you for a nice chill breeze inside the tent. The Evapolar models are perfect for smaller tents and your personal cooling inside. Bonus: you end up saving electricity and not wasting energy on cooling the whole tent.
Evapolar air coolers for tents can make camping an ultra-pleasant experience!
Read also: 5 Best Portable Air Conditioners for Trucks
People also ask (FAQ)
1.   Is it safe to put air conditioning for tents?
Yes, as long as it is a model suitable for outdoor use and as long as you follow the safety instructions. For example, don't expose the device to water. Make sure the cables are intact and use them on dry surfaces. Also, check the individual safety requirements for your device in particular.
2. Can I use any portable air conditioner for camping, or are there restrictions?
You will need to check with the particular model whether it is suitable for outdoor use and inside the tent. Some models are designed for indoors only.
3. Is it better to use an air-con or an evaporative air cooler for tents?
An evaporative air cooler is a healthier and more energy-efficient option for tent cooling. We recommend evaporative air coolers if you want to optimize the cooling and chill your personal area.
4. What if there is no electricity where I am? How do I cool myself?
You might want to go for 100% portable devices which don't require power outlets. For example, there are fans and evaporative air coolers which run either on independent batteries or with power banks.
5. What is the right noise level for a portable ac inside a tent?
Rule of thumb: go for devices under 60 Db. Anything that is around 50-55 Db is the equivalent of a quiet conversation. Remember that you will be closer to the cooling device inside the tent than you could have been inside a room. At the same time, the outdoors creates white noise, so there is a solid chance the cooling device won't be the only sound distraction.