Although summer brings a promise of ice cream, beach days, and fun, carrying on with the daily activities of life in the heat can make the days seem long — especially when you're stuck indoors with a computer for any reason. Luckily, with the right desk AC (or portable desktop air purifier), keeping and organizing your workspace chilled will be a breeze.

This guide will provide an overview of the best portable desk air conditioner systems in 2022. Comparing coolers, conditioners, and traditional fans, we will break down the factors you need to consider when making your decision before providing a review of the best on the market.
evaLIGHTplus
The most powerful air cooler
Powerful yet compact
Excellent portability
3-in-1 feature
Energy-efficient
Not suitable for areas with high humidity
High-tech bladeless design
Low noise
Energy-efficient
Multiple features
Budget-friendly
Varying speeds
Oscillation feature
Not as powerful as a cooler or conditioner
Excellent choice
Range of features
Suitable for many windows types
High initial cost
Expensive to run
Extensive features Functional design Wi-Fi capabilities
Permanent installation Expensive to run
What to Examine Before Buying a Desk Air Conditioner
Not all types of desktop coolers will be effective in every space, and finding the right desktop portable air conditioner will depend on your personal environment. As a result, there are multiple factors you may need to consider when choosing between a fan, a cooler, and a conditioner, including;
Budget: Obviously, when we are buying anything, one of the first factors we have to consider is our budgets. With most things, the more you pay, the better-quality product you will receive — with more high-tech cooling devices often being at the more expensive end of the market. However, there are plenty of budget-friendly options available, such as the Lasko 4916 mini tower fan.
Size and weight: It is important to consider your space when you are making any such purchase. If you are looking to place your desktop cooler in a permanent spot, you may even need to take measurements. The size and weight also impact a unit's portability. If you wish to move your cooling device frequently, choose a smaller or lighter option.
Noise: Ultimately, no cooling appliance can be silent, but some manufacturers offer quieter models. If you are sensitive to noise, check out a cooler or conditioner that offers low decibel levels. Examples of these include the Dyson bladeless fan, Evapolar's EvaLIGHT, and the Midea air conditioning unit. These models will still emit low white noise, but research has suggested that this can be beneficial to our sleep patterns and even has the potential to boost productivity.
Energy efficiency: Air cooling and conditioning units can be relatively energy-intensive. As a result, it is important to choose one that suits your needs best. Depending on where you live, appliances may be granted an energy rating, with A++ being the best-performing units and G the worst. Comparing energy efficiency is also a great way to predict operating costs. For example, whilst an air conditioner may offer the best level of cooling, they can be expensive to run.
Room size: The dimensions of the room where you would like to place the air conditioner play a significant role in determining the size of the air cooler you need. For instance, if you have a small room that does not require extensive cooling, you should choose a mini air conditioner. It will fit the compact requirement and cool the room efficiently and cost-effectively. On the other hand, if you have a substantial room, a big fan is the smart choice that can serve your purpose with a sufficient cooling capacity.
Safety: When checking out potential desk air conditioners for your residential space, safety remains the first and foremost factor to be considered. Since water is a good conductor of electricity, make sure it doesn't come in contact with the latter. So, it is recommended to check the air cooler for leakage that may lead to a mishap. A good conditioner should also be safe for children so they can operate it safely to enjoy a cool breeze.
Placement: Efficient cooling also depends on the placement of the device. Firstly, do not place heavy air conditioners in higher places, since there are chances for it to fall and get damaged. Also, you should make sure that there are no water leakages, as they prevent the cooler from functioning properly and make a mess.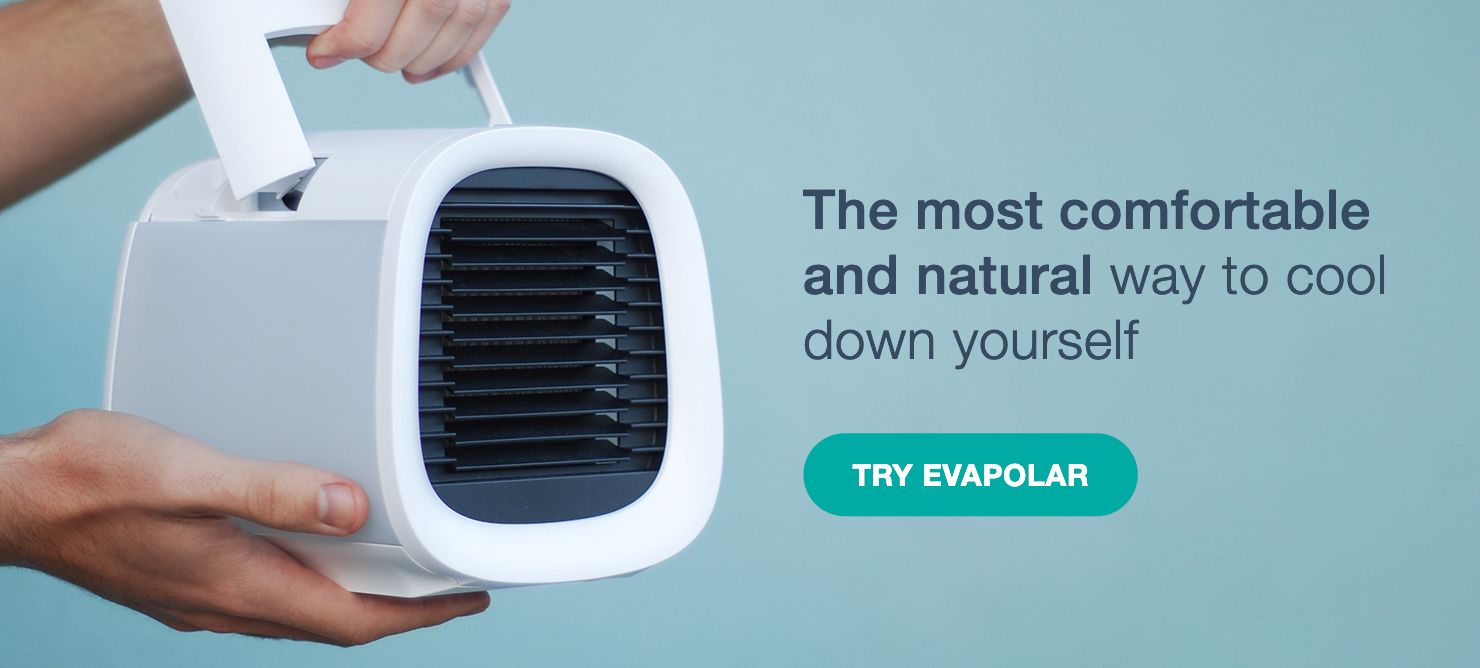 Mechanism: To put it plainly, you can segregate desk air conditioners in terms of their mechanisms – blade air conditioners and bladeless air conditioners. As the names themselves suggest, the former has blades, while the latter does not have blades (they have an electric motor that allows them to create and expel air).
Features: Various models from different manufacturers offer a range of features. For example, the Evapolar is a 3-in-1 device with cooling, humidifying, and purifying capabilities, whereas something like the Frigidaire window air conditioner may provide heating for when it gets cold. Others feature ionization, which is reported to be effective at trapping allergens. You could also consider whether you are likely to need a remote control and a timer, with the latter being useful if you prioritize energy conservation.
Of course, there is nothing critical if you miss one or two factors when choosing the best mini portable air conditioner. You can order the model you like and test it for two-three days. Most of the sellers allow the return if the device stays undamaged. However, the procedure can take some time, so invest some time and effort in choosing your best air conditioner.
What Types of Desktop Air Coolers Are Available?
How to choose the best desktop air cooler?
Basically, there are three main types of portable devices to cool air near your desk:
Fans: From the smallest handheld options to the best desk fan imbued with the latest technology, this category includes a wide range of units with varying cooling capabilities and prices. Fans are possibly the most basic and the oldest of cooling options. They cannot reduce the temperature; instead, they must move the air around the room. In doing so, they produce an airflow, which then helps to evaporate sweat from the skin quicker to keep you cool.

Evaporative Air Coolers: Compared to a fan, an evaporative air cooler also known as swamp coolers is often quieter. They are also relatively energy-efficient, particularly when you compare them to an air conditioner, with operating costs at around a tenth in comparison. Unlike ACs, there is no installation, and they are often portable, with some models being able to reduce the surrounding temperature up to 7-10 degrees C. Evaporative cooling is effective in dry climates, but they may not always be suitable for areas with high humidity.

Air Conditioners: A portable air conditioner works by extracting hot air from the space in a form of heat exchange. They use a cooling chemical liquid that allows for compression, condensation, and then a release of the heat energy. The best portable air conditioners often feature a control so you can set up the perfect temperature. However, they can be expensive and often require permanent installation, which may not be possible for some.
What Are the Differences Between the Three?
Mechanisms: The key difference between air coolers, conditioners, and fans is the basic mechanism for each unit, as they all work in different ways. Fans are powered by a motor that spins the blades around to produce airflow. An evaporative air cooler works by sucking air through the filter pads located inside the machine. A small portable air conditioner uses a chemical agent that cools and conditions the air.

Cooling power: The power of a desktop AC unit is important, as this indicates the volume of air the device can cool. Refrigeration capacities for coolers and conditioners are often outlined by their BTUs, or British Thermal Units. This figure indicates a unit's capabilities in that the higher the BTU, the larger the volume of air the device can cool. This can also reveal the price of running the unit.

Fans usually offer a lower cooling power, as they cannot change the temperature. On the other hand, air conditioners are the most powerful, but they can be expensive to operate. Probably you do not need a great cooling because the air move is enough for your room.

Climate considerations: You can also take the average climate of your geographical location into consideration. For example, an air cooler adds water to the air, so it is not well-suited to humid conditions. Someone who lives in an area subject to frequent or seasonal weather changes may not wish to invest in a window air conditioner, with a fan suiting them just fine.
5 Examples of Desktop Air Conditioners
Best Portable Desktop Air Cooler for Office: Evapolar EvaLIGHTplus
Personal small desktop swamp cooler for office and home: Evapolar EvaLIGHT
Pros
Powerful yet compact
Excellent portability
3-in-1 feature
Energy efficient
Cons
Not suitable for areas with high humidity
It is not quite clear how something so small can be so effective, but the best personal air cooler has to be the Evapolar EvaLIGHT. This cooler features a stylish design, it has a USB power supply, and each refill of water will last around eight hours.

The 3-in-1 design means this is also a humidifier and purifier, as well as a cooler. This is because of the use of the patented EvaBreeze material in the filters, which provides an ample surface area for effective evaporation whilst not permitting the build-up of any bacteria or mold. Plus, it is energy-efficient yet powerful, with the ability to cool personal space by up to 7-10 degrees C.
Read also about best portable cooler for 2021.
Bladeless fan: Dyson AM06
Dyson AM06 - the best table fan
Pros
High-tech bladeless design
Low noise
Energy efficient
Multiple features
Cons
Dyson is world-renowned for their innovative approach to modern household appliances, with the introduction of the first-ever bagless vacuum cleaner springing to mind. However, in recent years, they have also been creating cooling devices, and their fans are seriously high-spec, with the AM06 easily being the best desk fan. Their latest design is reported to be 75% quieter than previous models and 40% more energy efficient.
Plus, the futuristic design on this bladeless fan means it can be placed almost anywhere and still look great. It is the best choice for the smart home and other high-tech solutions in the interior design.
Mini tower fan: Lasko 4916
Lasko 4916 - the best office desk fan
Pros
Budget-friendly
Varying speeds
Oscillation feature
Cons
Not as powerful as a cooler or conditioner
For a small tower fan that features an excellent design, the Lasko 4916 is an excellent choice. The pivoting function and oscillation ensure that this fan can keep a sizable room chilled. The design maximizes airflow, and it is the perfect size for a desk or end table. At just 4.45 pounds and around six inches, this unit also offers excellent portability, and it is a great option if you want to move your fan as you go about your day.
Window AC: Frigidaire
Frigidaire desk air conditioner

Pros
Excellent choice
Range of features
Suitable for many types of windows
Cons
High initial cost
Expensive to run
If you are looking for a window-mounted air conditioner, there are a variety of different options available from Frigidaire. Whether you are looking for something compact or heavy-duty, Frigidaire has options for single and double-hung windows, as well as casement window and sliding window units.

You will need to decide between mechanical and digital, and they also have five models that provide heating in the winter. However, although Frigidaire's desk air conditioners can be powerful, they require permanent installation and are not portable.
Small portable AC: Midea Smart
Midea Smart Portable desktop ac unit
Pros
Extensive features
Functional design
Wi-Fi capabilities
Cons
Permanent installation
Expensive to run

Midea is a well-known brand when it comes to AC, and they have a wide range of models to choose from, with temperatures ranging from 62 to 90 degrees Fahrenheit. The Midea MAP08S1BWT0 is a favorite with its unique features and Wi-Fi capabilities. This allows for full control of the precise temperature of the room and the ability to make changes via the app.
This small desktop air conditioner personal cooling system also has Bluetooth, which means you can pair it with the Amazon Alexa for increased ease of use. However, some of these models will require permanent installation and can be costly to run.
Why Your Desktop Air Conditioner Does Not Help
On a hot summer day, no one would want an air conditioner that doesn't provide adequate cooling. All you need is a reliable gadget that cools the room space pretty quickly with less consumption of electricity. However, if your portable desktop air conditioner is not able to operate fitly, then there might be some technical and non-technical faults you need to look into.
Gadget Malfunction: Malfunctioning of an internal component is one of the most common internal issues that lead to a fall in the performance of a mini air conditioner. External damage or internal short-circuits lead to the malfunctioning of the air compressor, which is the primary component of an air cooler. The air compressor is responsible for the circulation of air. Basically, if the compressor stops working, you should get the air conditioner checked and fixed immediately to avoid further complications.
The gadget is dirty: The majority of desk air conditioners contain air filters, which entrap the tiny dirt particles present in the air so that the air that comes out is pure and healthy. One of the main reasons for the malfunctioning of a device is the deposition of dirt in the air filter, which prohibits the circulation of air. Also, if the tabletop air conditioner is not brand new, it may be possible that dirt has made a place for itself over time inside the interiors of the machine, which causes internal blockage. Thus, air circulation is minimized, or worst-case scenario, the device stops working completely. To avoid this, it's recommended to clean the filters regularly.
Open windows: Desktop air conditioners work extremely well when the windows are completely closed or even if they are slightly open. If your air cooling appliance shows signs of premature faults in its operation, you should check whether the device is under extra stress. For instance, if you leave your windows open, the hot and humid air filled with dust particles can put too much pressure on the compressor and air filters. So it is pointless to use evaporative coolers for cooling if the windows are wide open.
Water is off: Air coolers use evaporation in order to convert water into cold air and circulate it throughout the room via bladed or bladeless fans. Many times, when the water in the air cooler's tank gets empty, the cooling stops because there is no water left that can be converted to cool air. Therefore, before starting an air cooler, make sure the tank is filled with fresh water so your residential space gets cooled swiftly without any wastage of electricity. Do not use the hot water for air coolers: it will not work as it should work.
Wrong type of gadget: While choosing a desktop air conditioner, you should make sure you opt for the right one by considering the factors mentioned at the beginning of the article. For example, if you have a small room, you should not waste your money on a large-sized fan, as it will not provide the best value for your money. Similarly, a small air-cooling appliance will not do any good in a large room. The features of the desktop air coolers also play a vital role in determining whether the gadget is suitable for you and your needs, such as the mechanism, fan speed options, design, etc.
As you see, most of these issues can be easily fixed. Just check your gadget from time to time to make sure it works properly, clean it regularly, and it will serve you for many years.
Conclusion
As warmer months come around once again, finding the right mini office air conditioner or small home air conditioner to keep you perfectly comfortable whilst you work can be a challenge. However, our guide has hopefully assisted you in your purchase decision. Whether you opt for the classic fan, full-on air conditioning, or a personal air cooler is a matter of personal choice.
The Evapolar EvaLIGHTplus offers compact yet powerful cooling with its high-tech design. Check it out today for impressive cooling or get in touch for more information.
FAQ
What is the best option for a tabletop air conditioner?
Depending on your budget, room space parameters, size preferences, and sensitivity to noise, you can pick any tabletop air conditioner among the five examples we've mentioned in this article.
How portable air conditioner works?
What are the main types of portable air conditions, and how do they differ from each other?
Three main types are fans, evaporative air coolers, and air conditioners. You can differentiate them based on mechanisms, cooling power, and climate considerations.
Which air cooler is the most efficient for a desk?
We recommend Evapolar EvaLIGHTplus as one of the best evaporative air coolers for office spaces. It's capable of cooling, humidifying, and purifying the air at once — and all this comes with the great look and ability to work without water refill for 8 hours in a row.
What are the main factors that determine desktop air conditioner quality?
We recommend considering the price, size, weight, noise level, mechanism, and energy efficiency, among other factors, while picking the best option. Also, pay attention to safety, placement, room size, and add-ons while making the final choice.
What can be a reason for poor AC work?
Mostly, a desktop air conditioner cannot cool air properly if it's dirty, has internal malfunctioning problems, works when your windows are open, has no water, or is not well-manufactured for your room space.