An individual air conditioner is literally like a breath of fresh air on a hot summer day. As summer rolls in, keeping cool is on everyone's mind. Investing in personal air conditioning or an air cooler is a smart way to beat the heat and leave you feeling fresh and comfortable 24/7.
However, picking the best personal air  cooler can be a challenge. As long as you consider the main criteria and characteristics of cooling devices, you can make the best choice based on your needs. We have pointed out the main points in common with all the cooling devices.

Check out our extensive guide of the best personal air coolers, including everything you need to know before making your purchase.
Read also: The Best Portable Air Cooler in 2022
evaCHILL
The most effective cooling device
What Is a Personal Air Conditioner?
Quite simply, they are a condensed version of the big, heavy-duty machines. To avoid any further confusion, when we talk about personal cooling devices, we always mean personal evaporative air coolers. Small, personal devices with targeted cooling are evaporative coolers, simply because air conditioners are too large to cool the personal space.

So if you encounter the term "personal air conditioner"  in this text or anywhere else, nine out of ten times it is about a device based on evaporation, not refrigeration.
Best Personal Air Cooler Comparison Table
*  The time will vary depending on speed settings, room temperature & room humidity levels
** According to reviews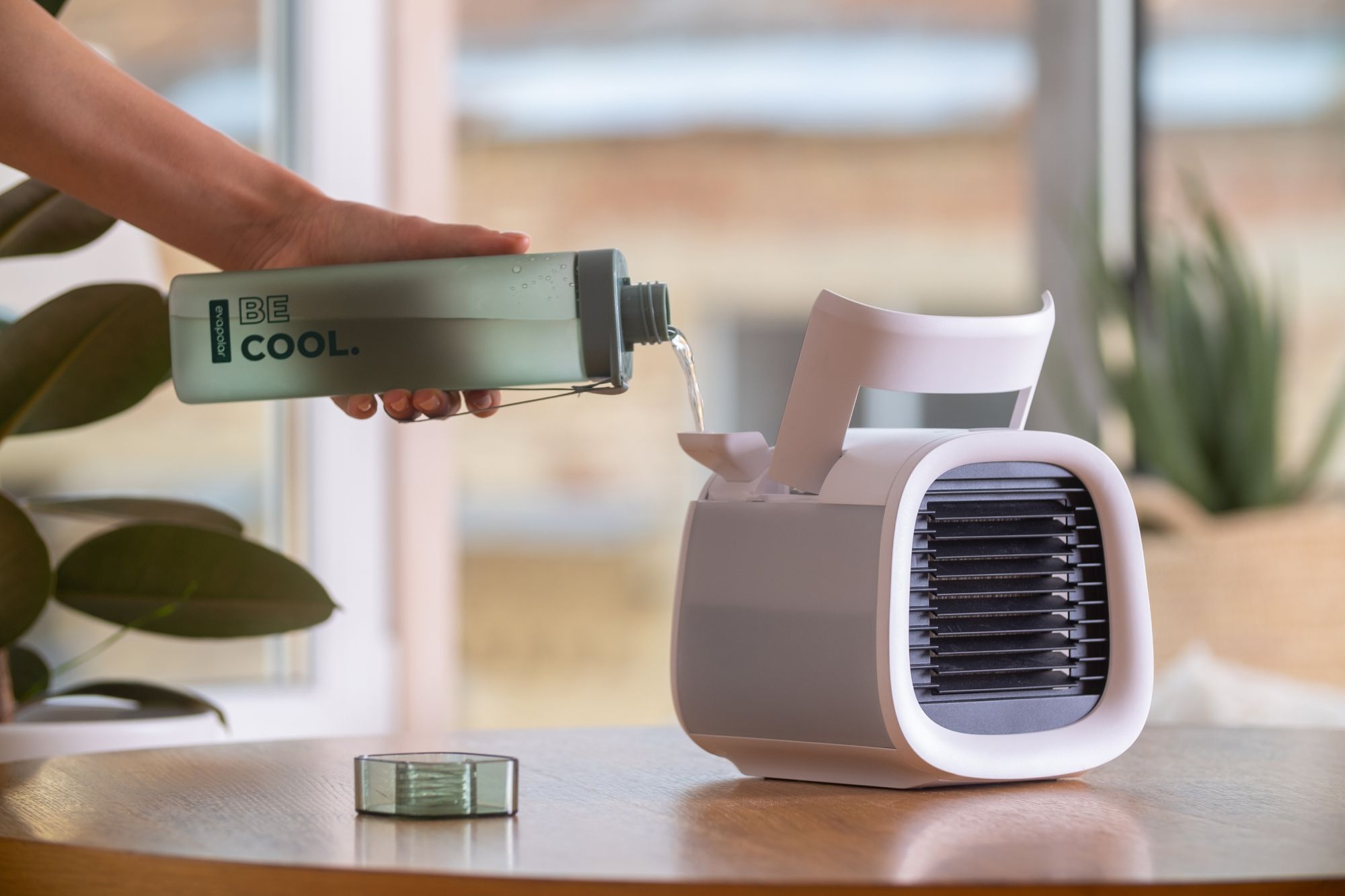 Ultraportable and light personal air cooler. Place it anywhere, and enjoy the cold air whether you are working, chilling or trying not to sweat during a Zoom call. Thanks to its compact size and lightweight, you can also still take it on vacation with you to always stay cool, wherever you are.

One water tank refill allows a continuous cool airflow for up to 8 hours — you can leave it on for the night, or use it for uninterrupted work time. One of the best parts of the evaCHILL is that you can even plug it to your laptop or a portable battery, which makes it very easy to use!

It consumes so little electricity that a regular portable battery will keep it running and running.
We did the math! One full 10000 mAh power bank will keep your evaCHILL going for up to 8 hours.
Pros:
Affordable
Ultraportable
Very low energy consumption (100 time less than an air con)
Quiet
Minimalist design
One water tank keeps you cool all night long.
Produces very quiet, white noise
Cons:
Like any evaporative air cooler, evaCHILL is less efficient in very humid conditions. You can pair it up with a dehumidifier to make the best of it.
Cool down the personal space around you. Again, this is not a disadvantage — this is more of a way personal air coolers work.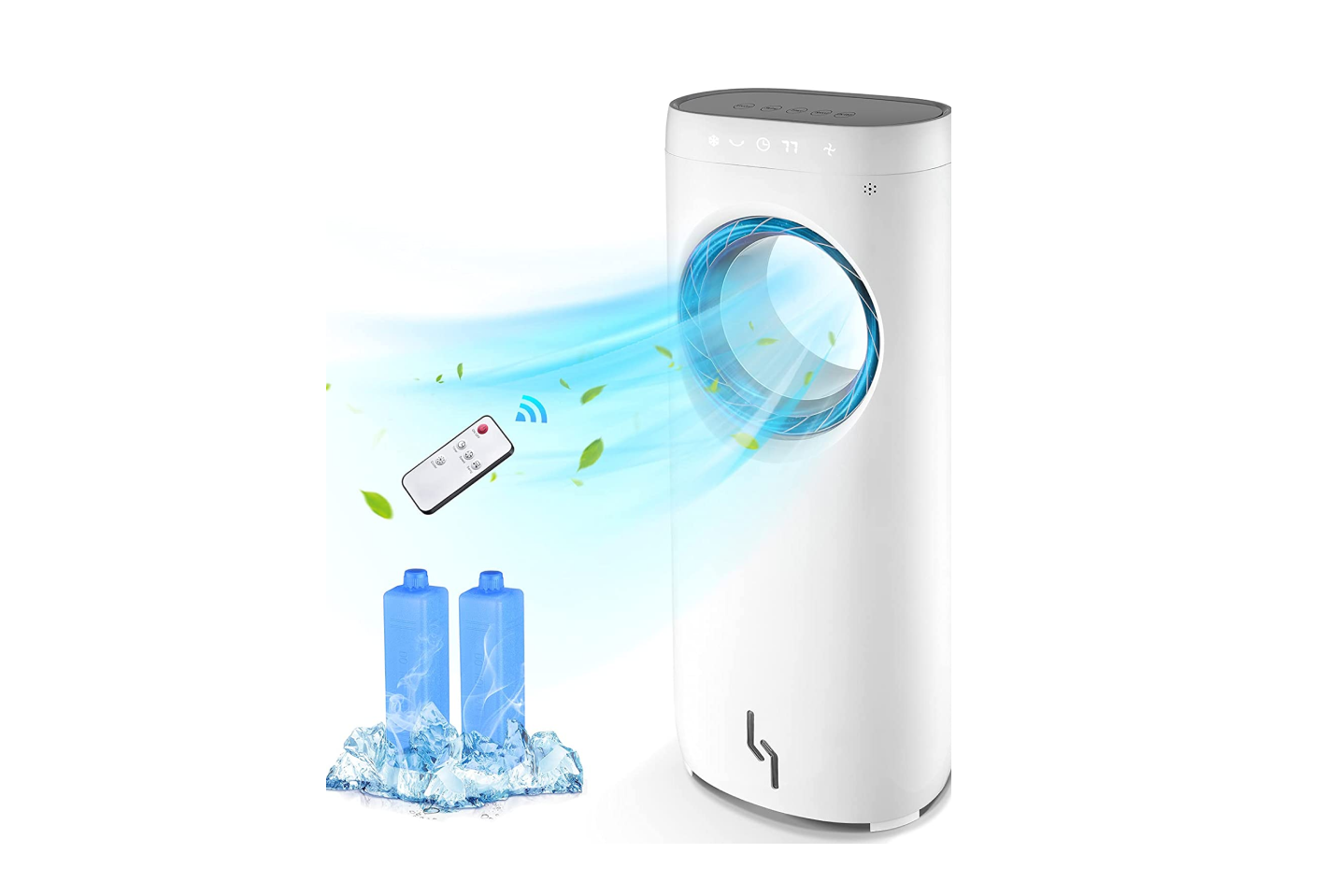 The Trustech Air Cooler also comes with an ice tray where you can add ice cubes for colder air. This evaporative air cooler is equipped with 3 adjustable speed modes, and the airflow is gentle, with very little noise. Read also: Swamp Cooler Is Not Blowing Cold Air – Help!

You can easily control the evaporative air cooler via remote controller up to 26-ft range, or via the control panel. The bladeless design makes it safe for kids and pets!
Pros:
Remote control
Ice cube compartment
360*C oscillation mode
Cons:
MANY reviews complain about the leaking water tank. Please make sure this has been solved with the manufacturer before purchasing the Trustech.
Quite heavy for a personal air cooler.
The ice tray addition is interesting, yet it can be a hassle, especially if you have a small freezer and you need to permanently refill the tray. There are other ways to make air coolers more efficient — check out this article.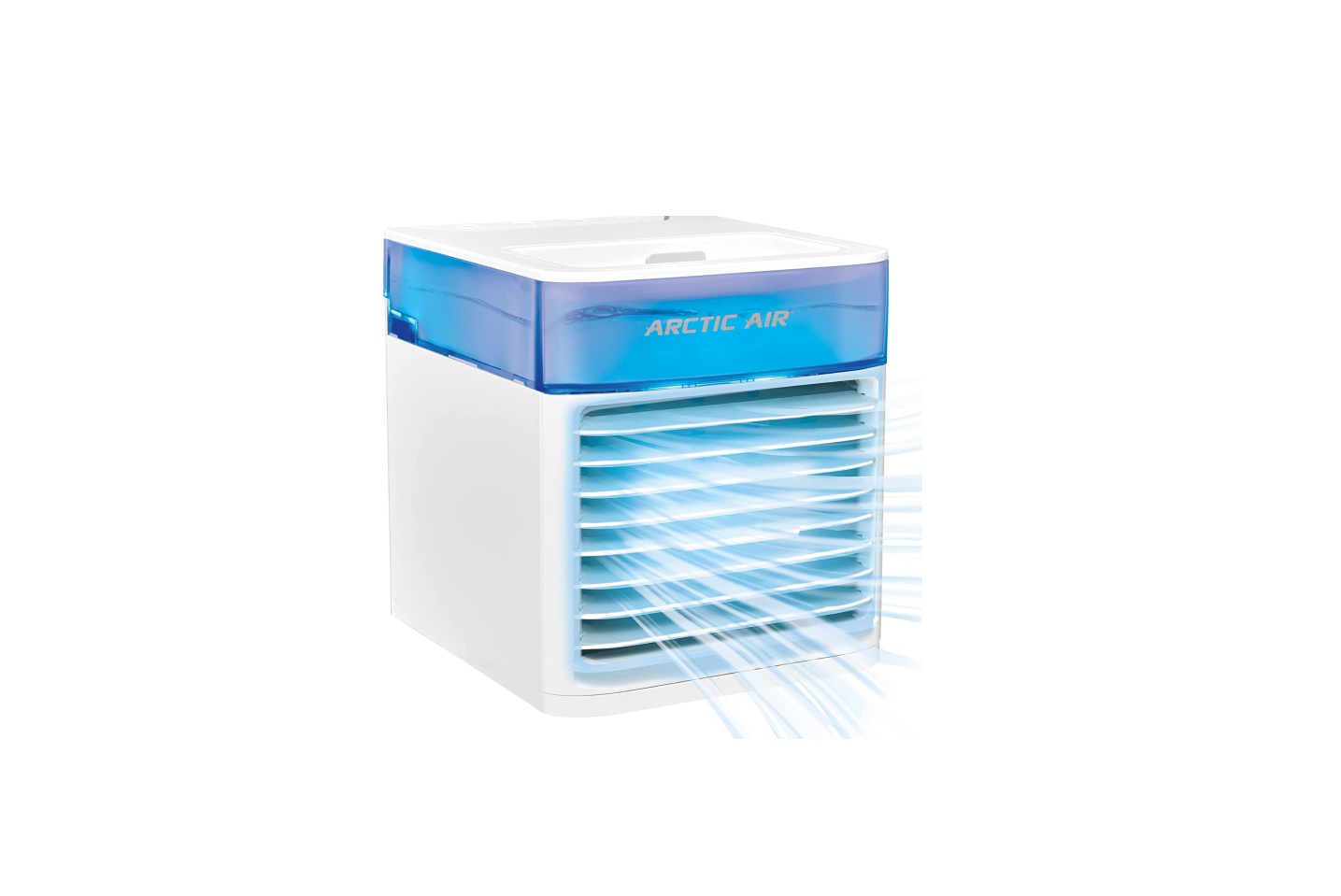 Personal air cooler for indoor and outdoor spaces. It is lightweight, so you can easily carry it around the house or take it on the road. The air vents allow you to adjust the direction of airflow towards you, in the direction of the wind. Read also: Is Using an Air Conditioner or an Air Cooler Safe with a Newborn?
You can switch between the 4 speed settings (low, medium, high, and turbo), and the built-in LED nightlight with 7 color options. It also works as an air humidifier.
Pros:
Portability
Price
4 speeds
Low noise
Alternating LED lights
Cons:
Many reviews complain about the low cooling capacity. "Not even close to arctic"(c)
Certain reviews also mention leakages
While some users point out that it only cools the area around you — it's how the air cooler work.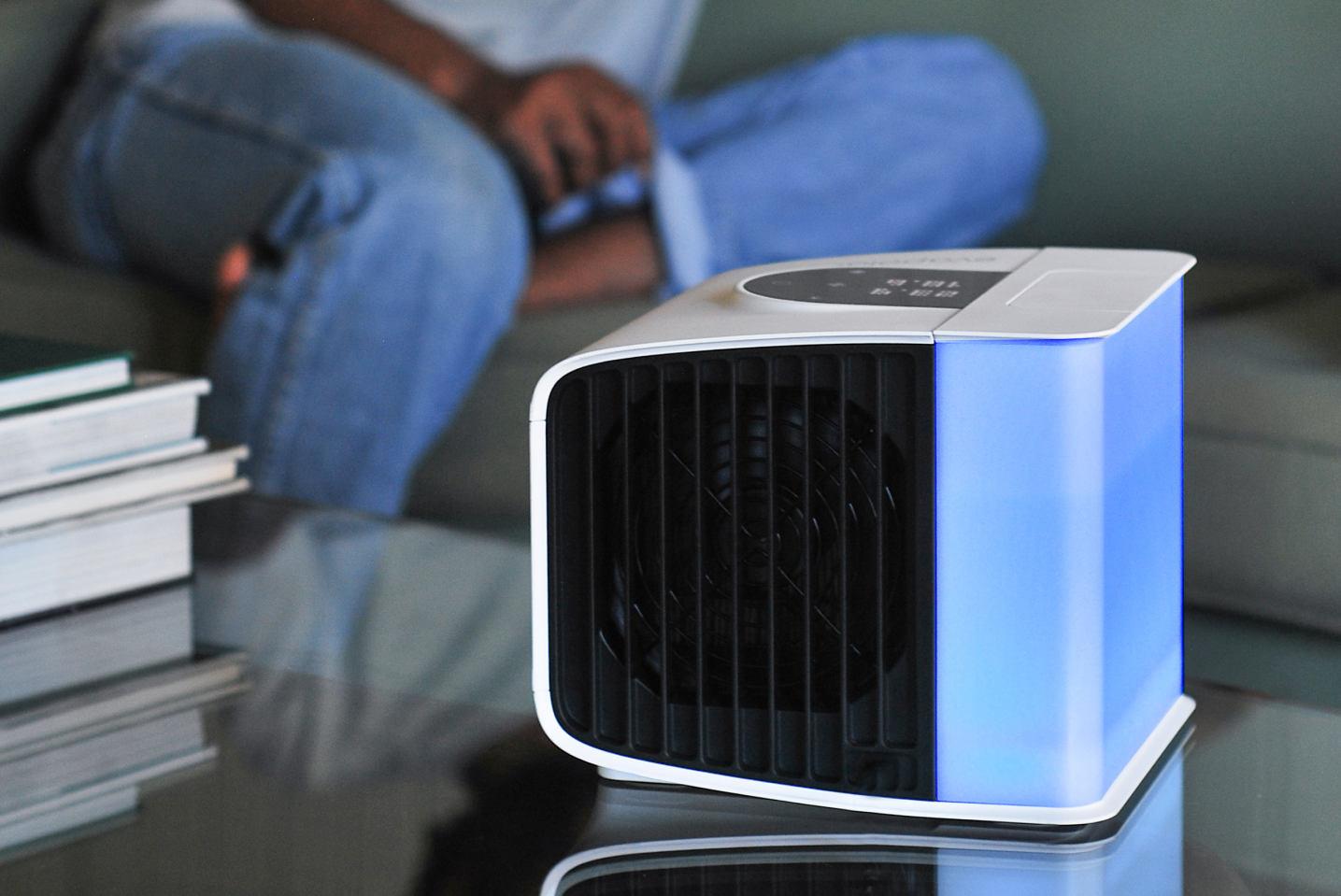 This powerful and smart air cooler has smart home integration, allowing you to adjust the airflow with an app or a voice assistant. It also offers full-spectrum lighting, sleep timer and night mode, making it perfect for nurseries when you need not to wake up your baby.
The evaSMART comes in three colors: opaque white, stormy gray and coal black. Place it in any room or take it wherever you need to — the lightweight and the portability make it possible.
Pros:
Portability
Low energy consumption (12.W)
Minimalist, convenient design, available in three fun colors.
Smart home integration
Up to 8 hours of cooling on one cooling tank
Color playlist
Cons:
It is more expensive than certain air cooler models. However, the price difference is fully justified by the 100% smart home integration.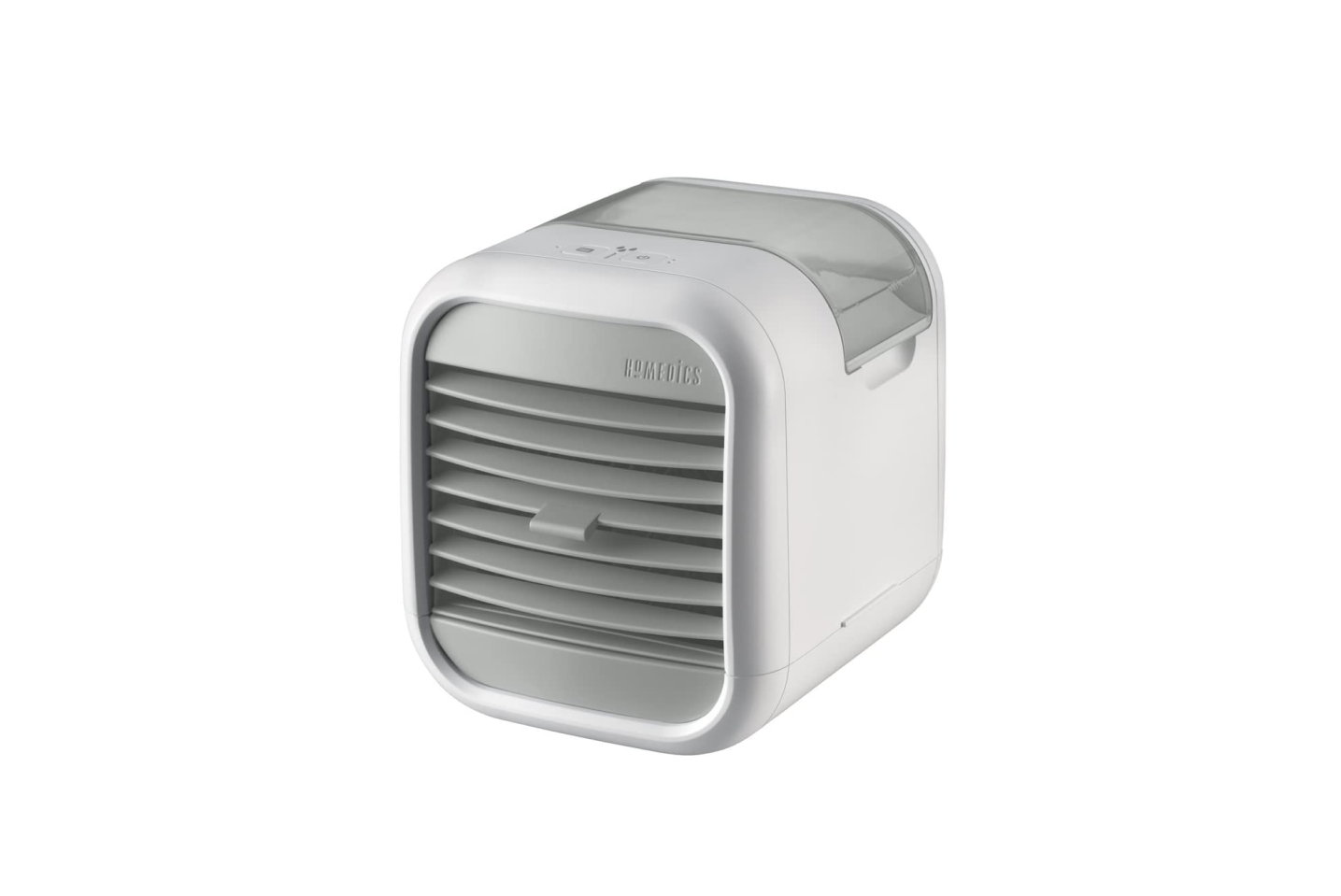 Individual space cooler from HoMedics that can cool a person within a span of 4 feet, or 1.2 meters. It can lower the temperature by 7°C (12 F).
This unit has two speeds only, which is a downside compared to other models on the market. The pointer highlight tells you when the tank is empty. The model boasts a future-proof design with a refillable tank.
The HoMedics personal cooler comes in different sizes, which slightly vary in the dimensions, cooling power and price.
Pros:
Portable
Low energy consumption (6W)
Minimalist, futuristic design
Cons:
Only two cooling speeds
Noisy, according to some reviews
Water runs out faster than in most air cooling models
Personal Air Conditioners vs. Air Coolers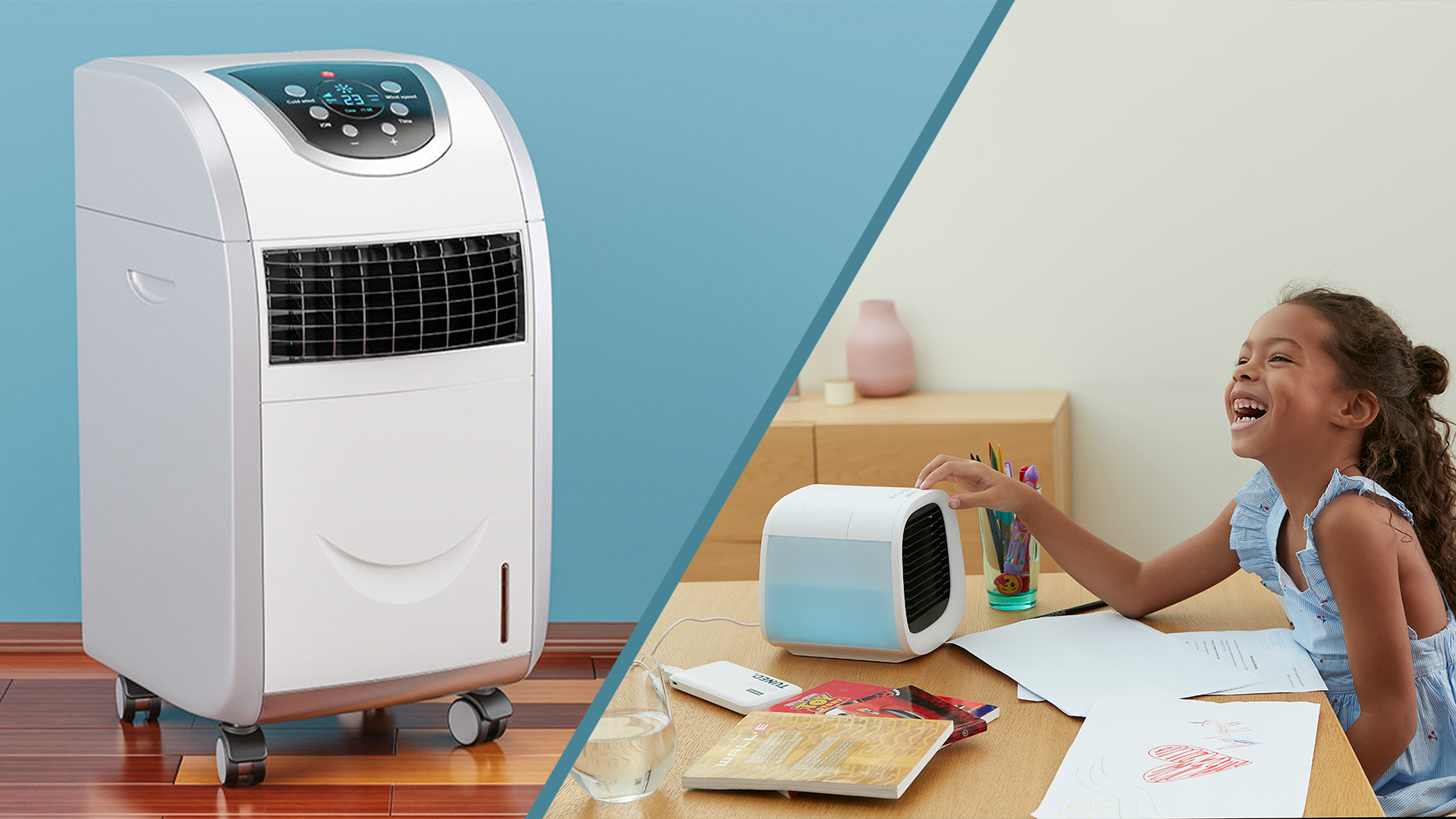 Both appliances are devices that keep us cool by removing the warm air and lowering the temperature of the air around us. However, they are not the same, since they  use different methods to decrease the room temperature. For example,
An air cooler does not use a chemical coolant; instead, it removes heat by passing the  air through  water-absorbent pads or cartridges. They usually come with  a removable water tank, and you will need to refill this with water at regular intervals. It depends on the model — some devices can only run for a couple of hours on one refill, while devices like Evapolar can last up to 9 hours of uninterrupted cooling.
An air conditioner uses chemical refrigerants for cooling. They can be more effective and may be better suited to cooling large spaces; however, they are not as budget-friendly, portable, and versatile as air coolers, and they have higher energy consumption. An air conditioner consumes 100 times more than a portable air cooler by Evapolar.
Read also: Swamp Cooler vs. Air Conditioner: What Is the Most Cost-Effective Option?
Why Choose a Personal Evaporative Air Cooler?
Familiar devices like air conditioners can be  more efficient, especially for larger spaces. However, they are not always practical and can have high energy consumption. The portability of the evaporative air cooler is what makes it versatile, and efficient for wherever you are.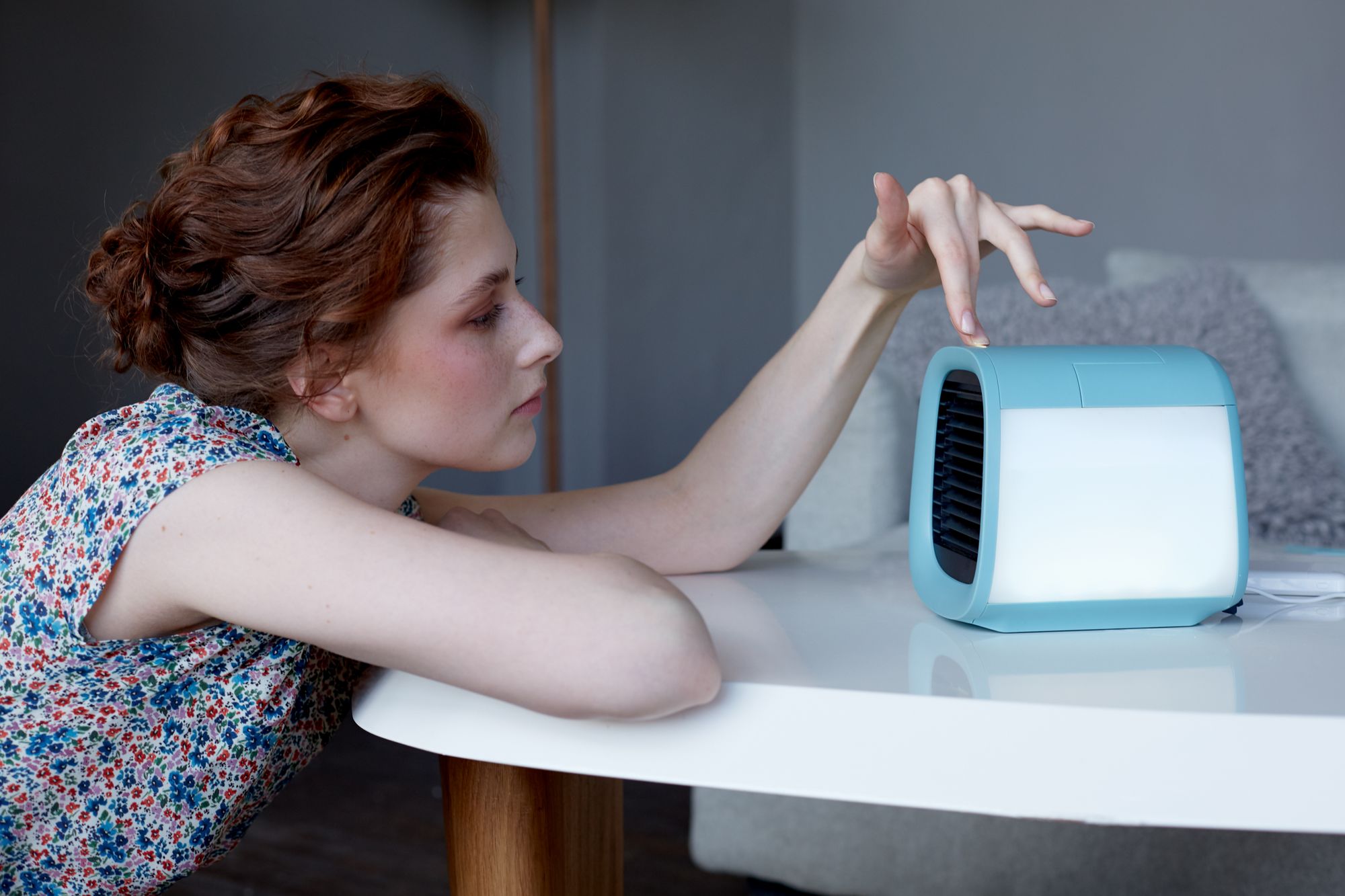 Air coolers  are also an excellent option for anyone who cannot make any permanent changes to their property, such as renters, since  personal cooling units require little to no installation. Plus, technology makes it possible for them to be just as efficient for cooling your immediate personal space.
How Do Personal Air Coolers Work?
A mini evaporative cooler has all the parts an ordinary portable swamp cooler would have, only these parts are compact and light. It has a small water container, a fan, and a filter that will absorb water and aid the evaporation process with its surface. As the fan works to blow air through these pads, the surrounding area is cooled.
How does an evaporative cooler work?
Air coolers connect to a power supply via a power adapter and / or a USB cord. Usually you can use it with any device that is USB-friendly: computer, power bank, AC plug, etc.
Cool Your Personal Space in the Most Efficient Way
Compact air coolers have some nifty features that set them apart from their big, bulky older brothers . Here's why you should choose an individual air cooler.
Cooling Area
Rule of thumb: Evaporative air coolers are the best to cool your personal space. It's not that they can't cool down the whole room — it is just that their method of work is different.
An air cooler  will cool down your personal space regardless of how big or small the rest of the room is, so you don't need to calculate how long it'll take to cool down the room.
Read also: Choosing the Best Mini Air Conditioner
Portability
One of the best benefits of portable air coolers is their portability.  The best personal air coolers  weigh about two to three pounds — light enough to carry, but also heavy enough that you won't be able to just knock it off.
3-in-1 Functionality
Most swamp coolers work as coolers, humidifiers and purifiers. This means that they also make the hot, dry air around you much fresher. They remove dust particles and make the air easier to breathe.
Low Energy Consumption
Evaporative air coolers have one huge advantage — they use very little electricity compared to air conditioners. Similar to other electrical appliances, air coolers are given an energy rating, with A being the most efficient and G the least. Air coolers are measured by British Thermal Units (BTU), which refers to the amount of heat the appliance is able to extract from the room. For compact air coolers, it's up to 1500 BTUs per hour and it is more than enough to cool down your personal space.
Be Cool Anywhere with Evapolar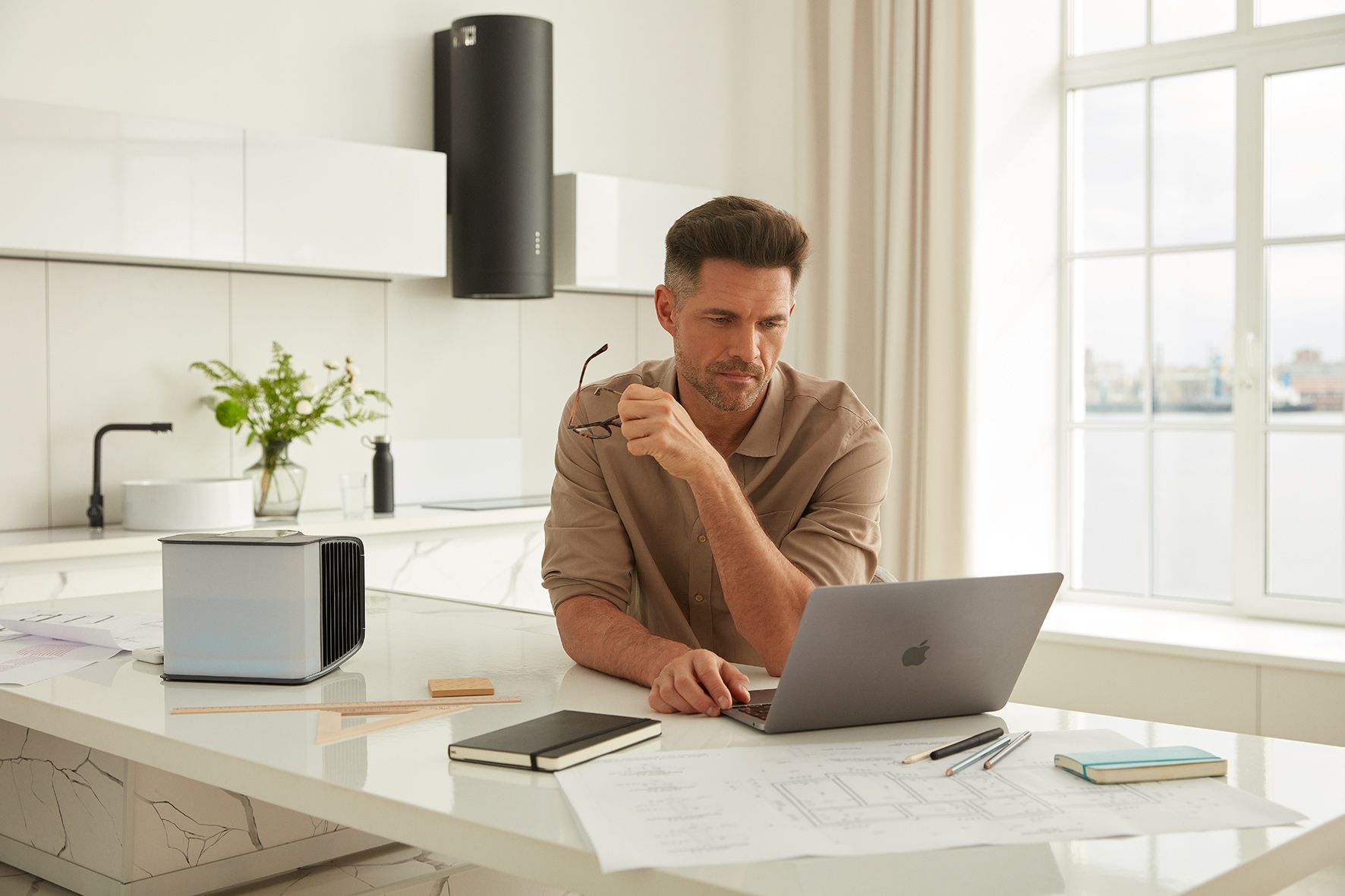 Best individual air cooler. Evapolar is made from high-quality materials and comes in three versions to suit different needs. It's an effective and long-lasting device that can offer you a fresh personal space and fit into any interior.
What Sets Evapolar Apart from Other Compact Coolers?
These patented nano-material comprises non-organic fibers ensure the maximum surface area for effective evaporation and cooling. Moreover, this material does not permit the growth of any form of bacteria or mold, which can be a common issue with other portable units.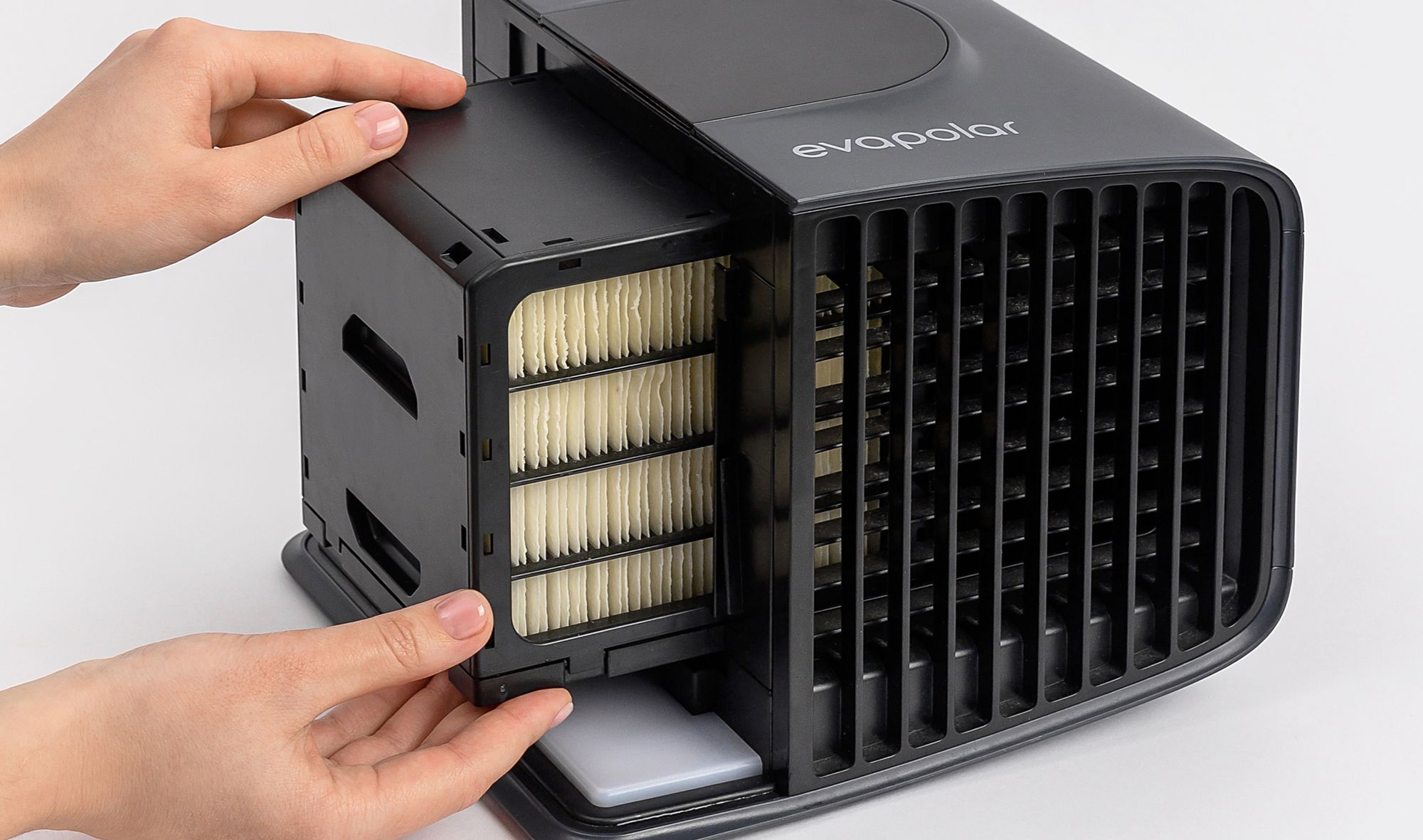 As a unit that is neat and petite, the Evapolar can be moved easily, and it also looks great if you would prefer to leave it in a particular spot long term. It melts into your interior and has LED lighting to set the mood.
Evapolar features intuitive controls, and it is no trouble to set it up and get going. It is literally just a case of filling up the water tank and switching it on. You will need to refill the water and change the cartridge occasionally, but the frequency of this will depend on your environment.
Evapolar devices are excellent in cooling down your personal space efficiently.
As well as ensuring excellent durability on all the materials used to create the Evapolar, there is also a one-year warranty on each unit for that extra peace of mind.
Evapolar devices produce a small amount of white noise. This type of noise has been proven very effective at improving our sleep patterns by helping us drift off faster.
If you are looking for an ideal cooling solution as part of your smart home setup, check out evaSMART with touch screen, night mode, and an accompanying mobile app. This can be connected to your Google Home or Amazon Alexa for voice-controlled cooling.
Care and Maintenance
The amount of maintenance your mini air cooler will require will depend on which model and brand you have chosen. With Evapolar, maintenance is kept to a minimum.
Refill: The number of times you will need to refill your water will depend on how the air is in your room, with each refill lasting anywhere between 3 and 8 hours.
Clean: Clean air filters as needed with a damp cloth.
Drain: We would advise you to drain your cooler before you store it.
Change: Each cartridge can last anywhere from 2 to 6 months, depending on how often you use your Evapolar cooler and the humidity in your environment.
Making Sure Your Evapolar Is Genuine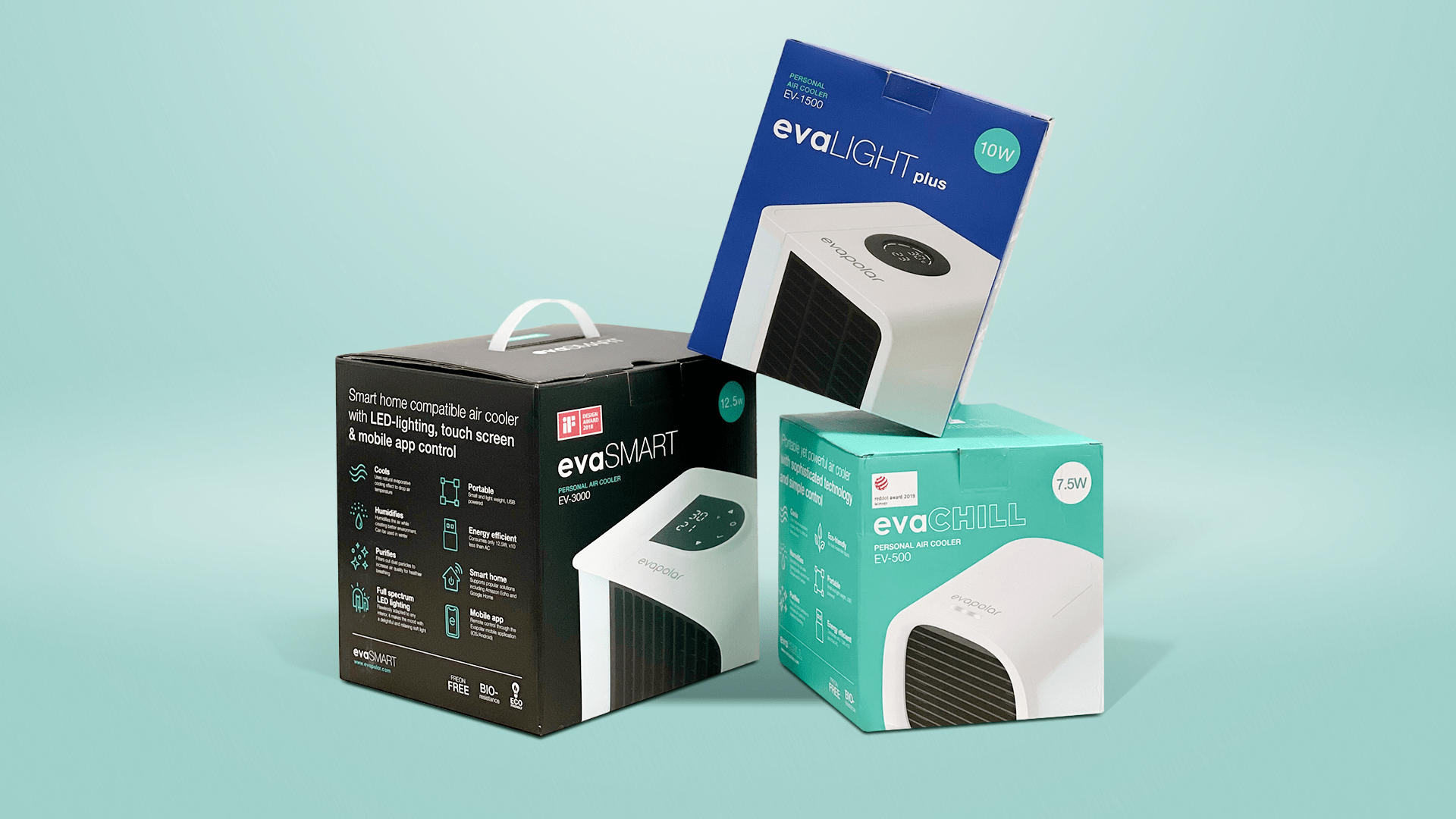 With Evapolar being a popular choice around the world, it can be difficult to know that your new cooler is the genuine article, but with our top tips you can ensure you've picked up the real deal:
When you are making a purchase, the product title, packaging, and the device should feature the Evapolar brand name.
The cartridges on our coolers are made from only our evaBREEZE material, and we never use cellulose or fiberglass.
Each air cooler comes equipped with a one-year warranty. Scan the QR code on the box to register.
Wrap Up
There's no need to haul bulky devices or make a permanent fixture on your walls if you can chill your personal space with a mini air conditioner. Compact personal evaporative coolers can refresh your space, purify, and humidity the air you breathe, and they fit with any interior.