Looking for a small but powerful cooling device for the warm days? Look no more! We have selected 7 best small air coolers to keep you cool without taking too much space.
The best part about compact air conditioners and small evaporative coolers is that they take care of the temperature in your personal space, without wasting energy on the whole room. While many of us are still working from home part-time, the desire to make the living space agreeable for everyone is still there.
Why Should You Choose a Small Air Cooler?
evaCHILL
The most effective cooling device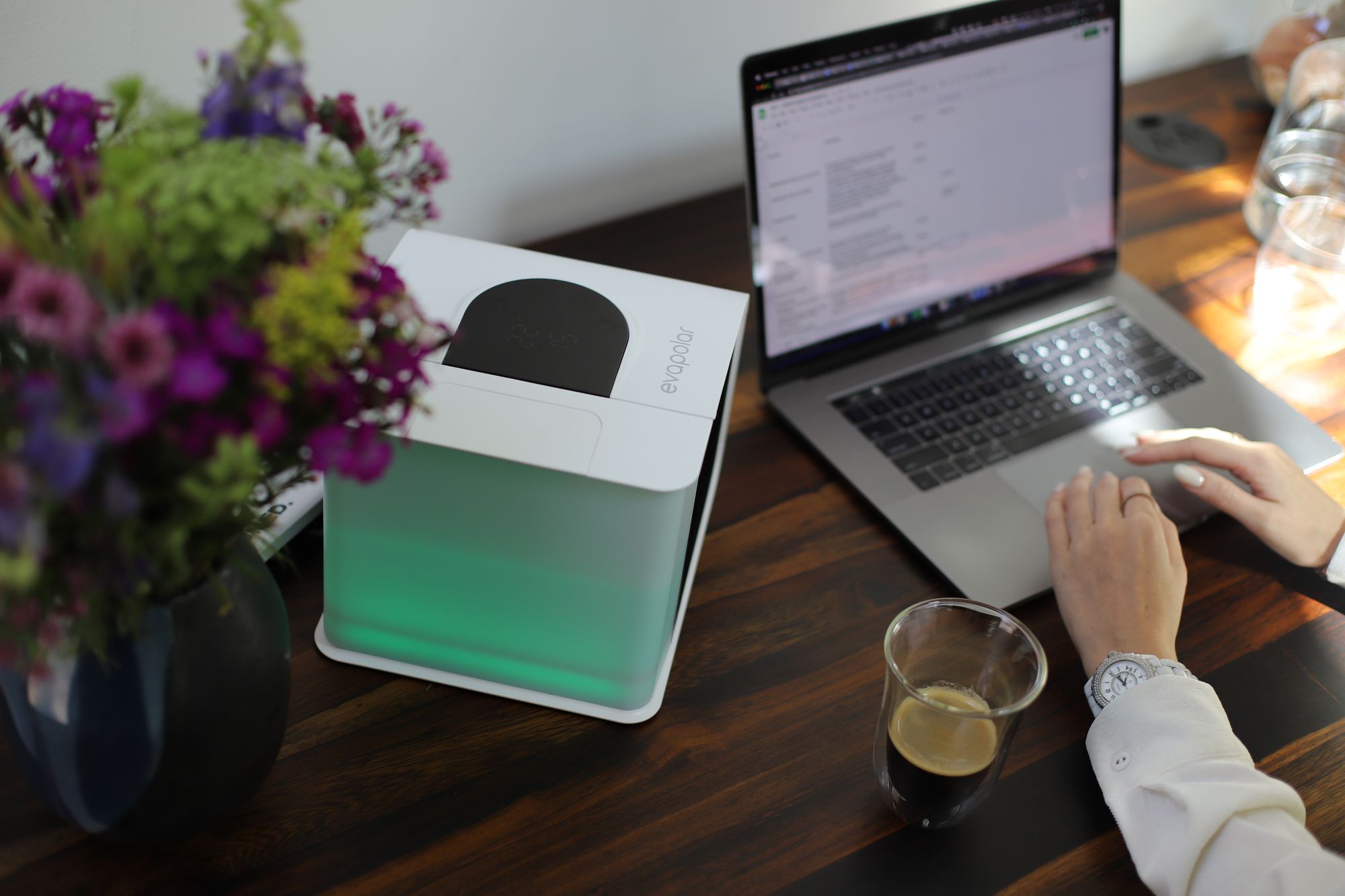 Why Should You Choose a Small Air Cooler?
Reason 1: Low Energy Consumption
A little compact air cooler is a great option for those who are tired of overspending money on electricity when they don't need to cool down the whole room. A regular air conditioner consumes 100 times more than an eco-friendly air cooler like evaCHILL. Why spend more when a perfectly suitable device already covers all your needs?
Reason 2: More Affordable Option
Not only do the traditional cooling methods consume more electricity, they are also more expensive on a general basis.Small air cooler models can cost as little as 99$, and they are perfect for targeted cooling during a hot season.
Reason 3: Flexibility
Often, a standard climate control system comes with restrictions. You may need the authorization from the mortgage holder's affiliation, building proprietor, or other administrative associations or individuals. You may also simply not want to invest too much into installation if you are renting. In older buildings setting up a built-in window AC can be difficult as well.
A small evaporative cooler requires no installation. You simply need an electricity source! Also, you can move it from one place to another if you want to use it for different occasions.
Reason 4: Size
You can place your air cooler anywhere: on your yoga mat during a workout, next to your bed when you are sleeping or on your desk when you are working. If you live in a rental, and your space is limited, an evaporative air cooler might be just the solution to your problem. They are very easy to store and they take very little space.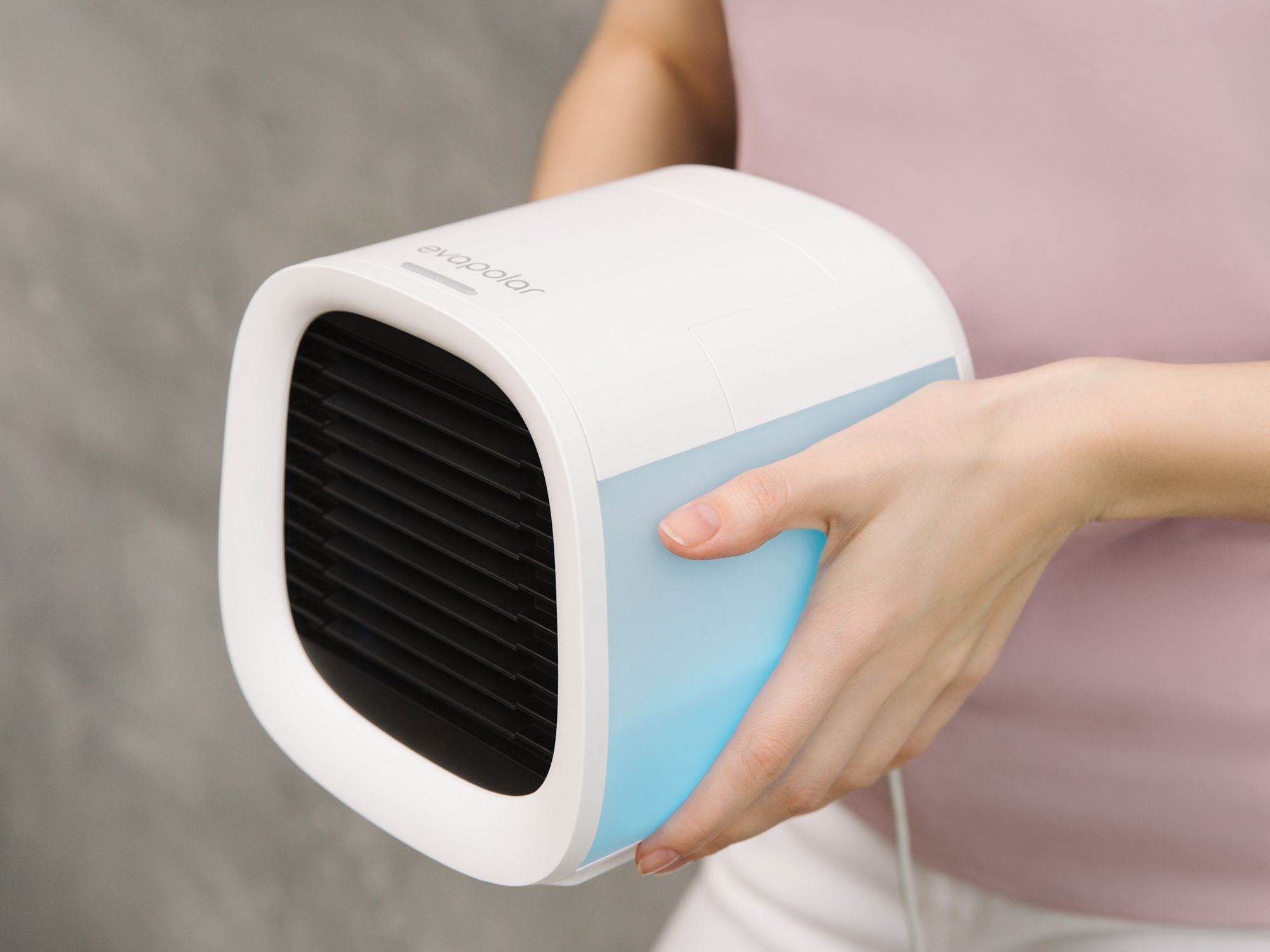 Possible disadvantages of small air coolers:
1. Limited cooling capacity
We would like to point out that it isn't technically a disadvantage, it is simply the way they work. A small evaporative cooler is designed to cool down your personal area, the immediate space next to you. By directing the airflow towards you, you make the best of the air cooler. If for some reason your device isn't enough for you, we have a great article on how to make the best out of your air cooler and increase the cooling effect.
2. Need to regularly refill the water
Some small cooler models have a limited capacity tank which needs to be regularly refilled.
In light of how your convenient air cooler functions and the size of the tank, you may have to top off the water routinely. Without the water, these models will work like a fan. On the off chance that you utilize your unit frequently, you may have to top off it all the more consistently.
However, models like Evapolar with efficient water use and a larger tank can give you uninterrupted cooling for up to 9 hours. Make sure you pick the right model and enjoy non-stop fresh air.
How do small air coolers work?
Evaporative coolers use the evaporation of water for cooling air. They use the outdoor air and pass it through a medium such as pads or more modern cartridges like Evapolar. When the air goes through this medium, the water evaporates and the exhausted air is cooler as a result of evaporation.
A basic model of an evaporative cooler consists of the following parts:
1. A water tank. The size of this water tank will define how long the air cooler can produce cool air without being refilled. For example, the capacity of Evapolar's water tanks allows them to work for up to 9 hours.
2. A fan. It draws the hot air inside the device.
3. Water pads (or cartridges). They are the medium for cooling water, and their quality will result in the cooling capacity of your cooling device.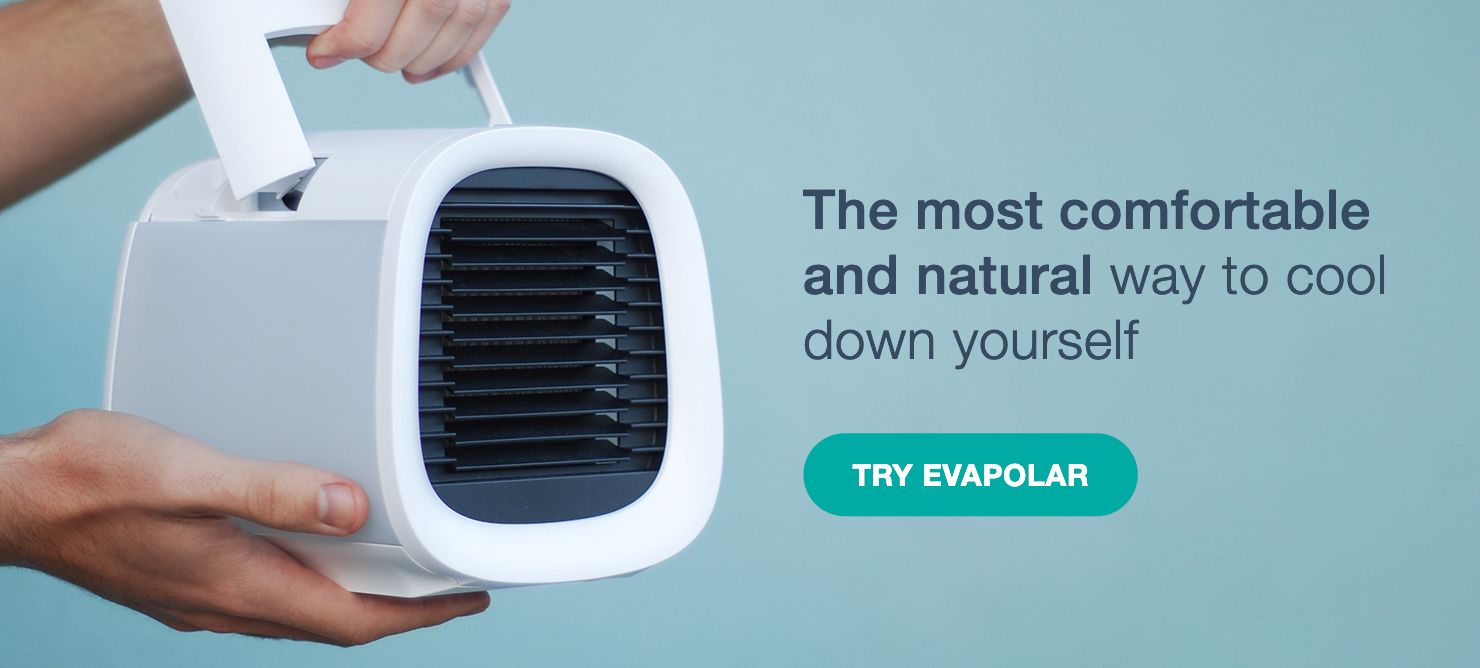 What to Consider When Buying A Small Air Cooler
The unit's price will depend on the cooling capacity, other included functions, design, portability and smart features like working with apps or smart homes.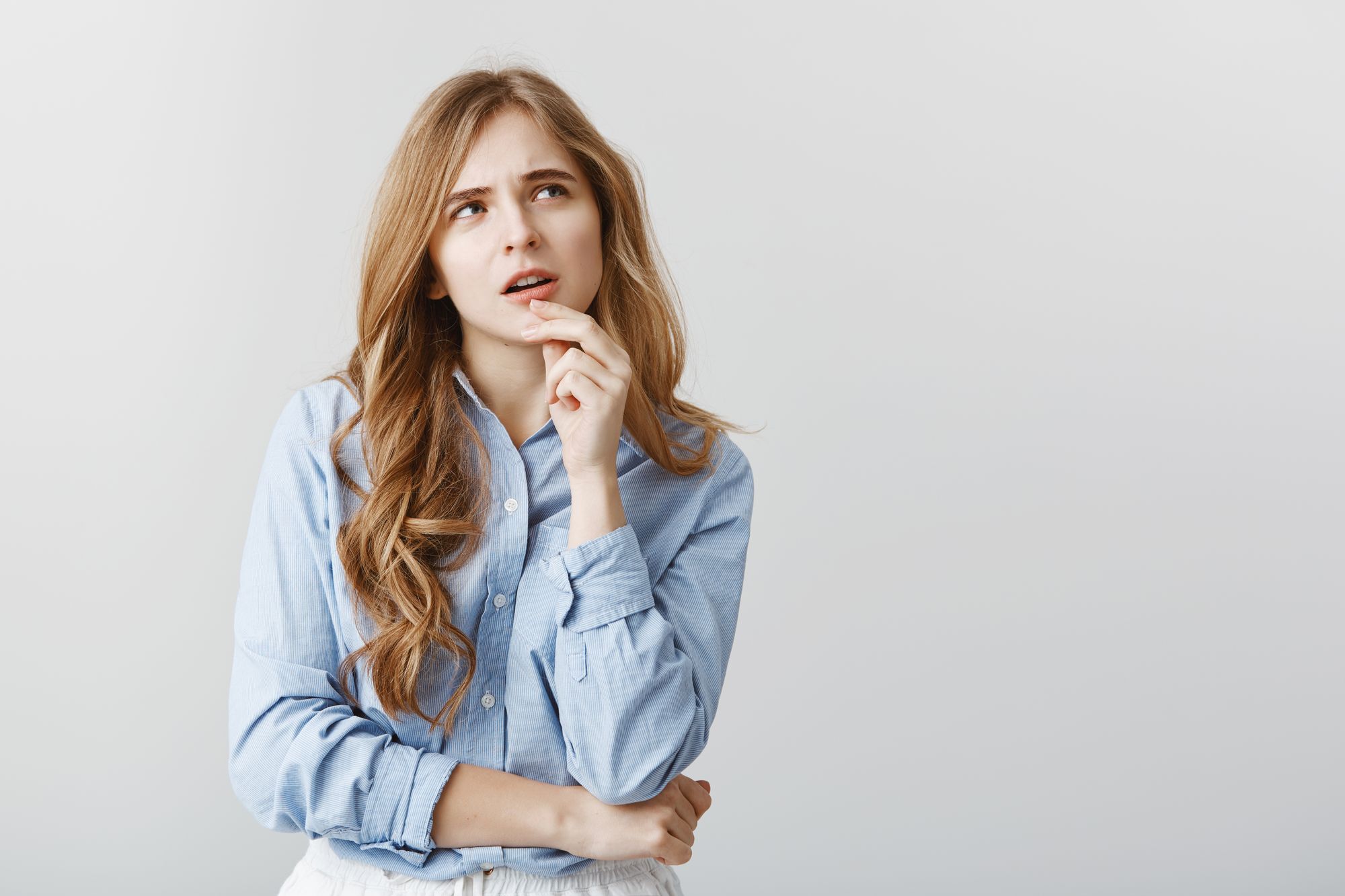 Features
If you are searching for a compact unit that also serves as a purifier, or humidifier, at that point you don't have to pay a lot more — for example, the evaSMART by Evapolar is in the reasonable price range, with all the features
Different highlights like a controller or a programmable clock, better guarantees, and so forth will likewise add to the expenses.
Maintenance and energy consumption
Make sure to consider client assistance and guarantee length when you make your buy. Don't forget about the energy use as well. This is vital as what you don't pay for forthright, you may pay for quite a long time or years as it were.
Likewise, consider the expenses of support and new parts and what this will mean for your pocket over the long haul. Evapolar offers great deals on their cartridges and you only need to replace them every 3 to 6 months.
Cooling Power
Don't confuse the cooling power with the cooling area!
If you select a model that is too weak, it won't provide you with a powerful cooling effect. A stronger model will be way too intense for a personal area and if you want to chill your space only, you will end up freezing, losing electricity and money.
To size an air conditioner, you can use the following guidelines from this article. Sometimes, the air coolers also use the BTU (British Thermal Units) for measuring the cooling power which is when you can apply the above advice.
Otherwise, you can check out how to size a small cooler in this article.
Tank Size vs Cooling Power
A large tank doesn't necessarily mean that the small evaporative cooler will work longer. The golden middle in between the cooling and the water consumption is the efficiency and the cooling method. The more you use the cooler, the more water you will use.
Check the unit's tank size and its predetermined activity time to assess how regularly you should top off the tank and afterward choose if you are up for the assignment. A decent unit should run persistently several hours on a solitary tank.
In our opinion, the best smallest air cooler with the ideal water / energy combo is the Evapolar model, which can run up to 9 hours with a full tank.
Air Filters / Cartridges
Compact air coolers have filtration frameworks that keep residue, spores, and other airborne particles out of the unit. A few models like Evapolar also purify and humidify the air.
Units with these channels will expect them to be cleaned or changed occasionally. You may need to do this at regular intervals or so to guarantee that your unit is functioning as proficiently as could really be expected. An impeded channel will keep the unit from effectively cooling the air. This will interfere with the function of the air cooler, its efficiency and with the bring higher energy bills after some time, as the unit works more to attempt cool the air.
Noise Level
Various units will have distinctive noise levels; even the best littlest compact climate control system units can be particularly loud when you are using them at their highest speed setting.
The Evapolar models go maximum to 60Db, which is the equivalent of a regular conversation. Some reviews say they are like a white noise for sleeping and actually the low buzz helps!
Extra Features
Some models have a few extra highlights outside of the primary ones. Here are some examples:
Wi-Fi – This element gives you the choice of controlling your compact air cooler unit distantly. By and large, it offers you an approach to control the unit through a portable application on your cell phone.
Good example: the evaSMART which you can control with an app or voice control.
LED lighting – Some units highlight LED shading lighting that assists with showing clients that a unit is running. Some additionally offer encompassing lighting so you can utilize them as a light.
Good example: Evapolar air coolers which also work as a night light
Water level marker – This causes you to check the water in the tank so you realize when to top off it before it runs out totally. There are even coolers that inform you through pop-ups on your cell phone or with a sound from the cooler.
Top 7 Best Smallest Air Coolers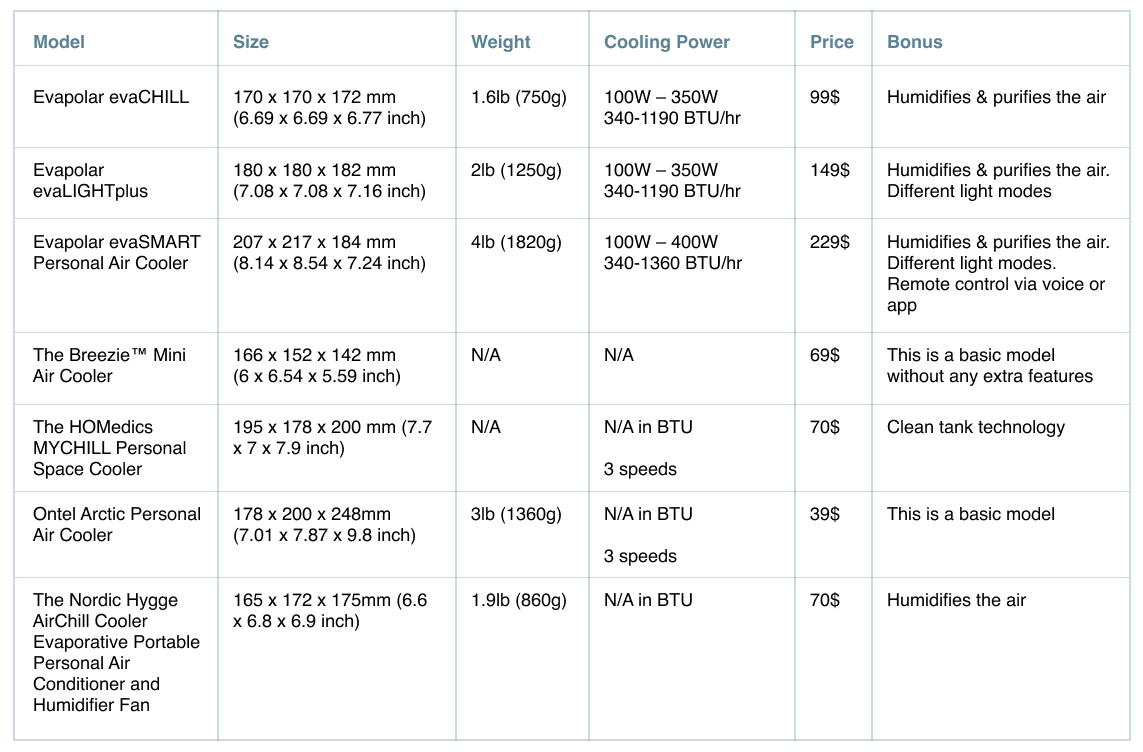 Top 7 Best Smallest Air Coolers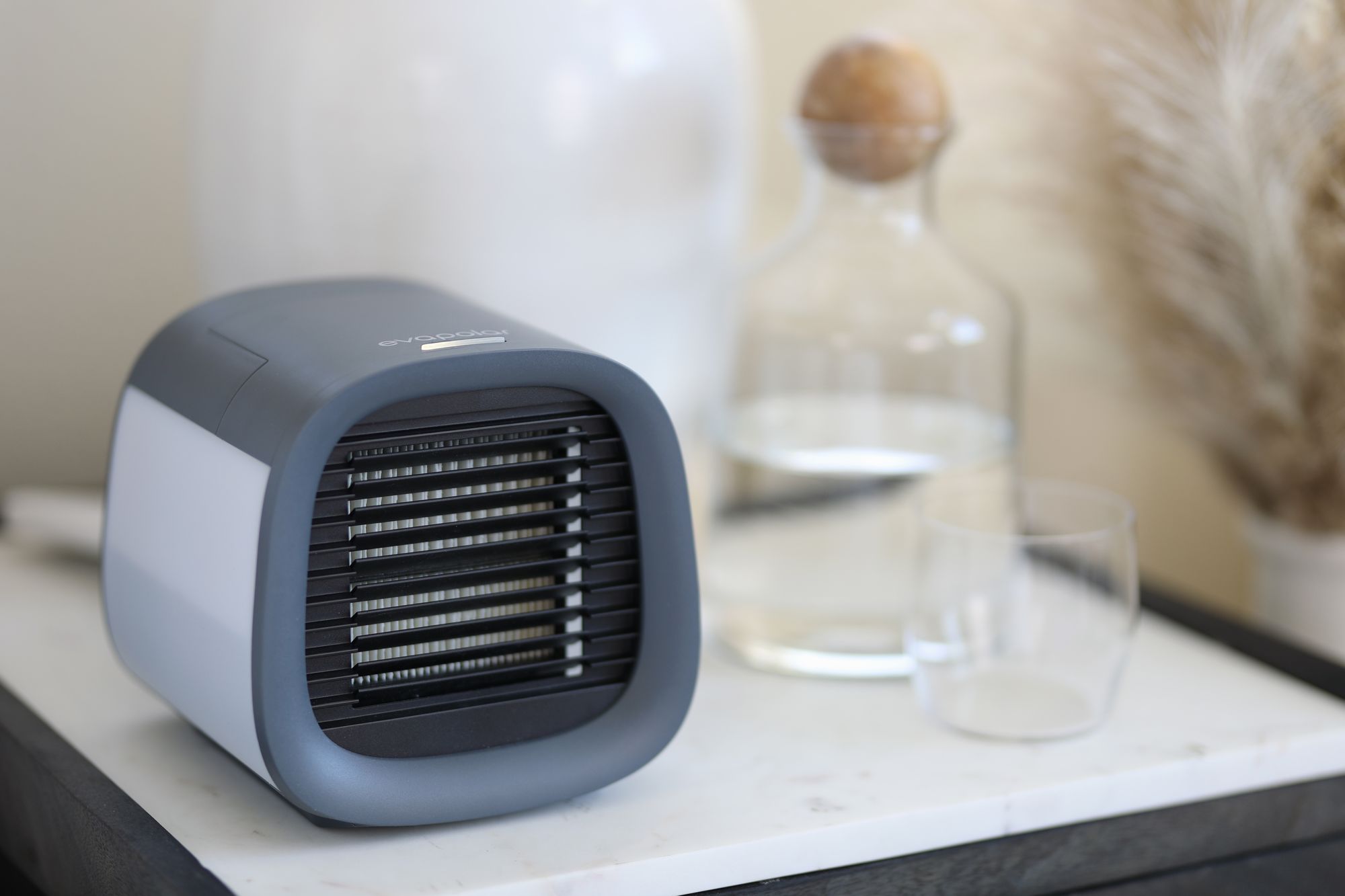 The evaCHILL from Evapolar is a convenient evaporative cooler. It is super simple to carry around thanks to its light weight and a convenient handle.
Its tank is lightweight and with the all-encompassing limit, it can keep you cool for as long as nine hours of persistent use on a solitary tank. It not only cools, but also purifies and humidifies the air. This is an extraordinary solution on for when you need to cool yourself any place you go. The device is ultra-portable and is great for travelers and trips. Effectively power this unit from a socket, your PC, or a power bank.
Specs – 170 x 170 x 172 mm (6.69 x 6.69 x 6.77 inch)
Cost – $99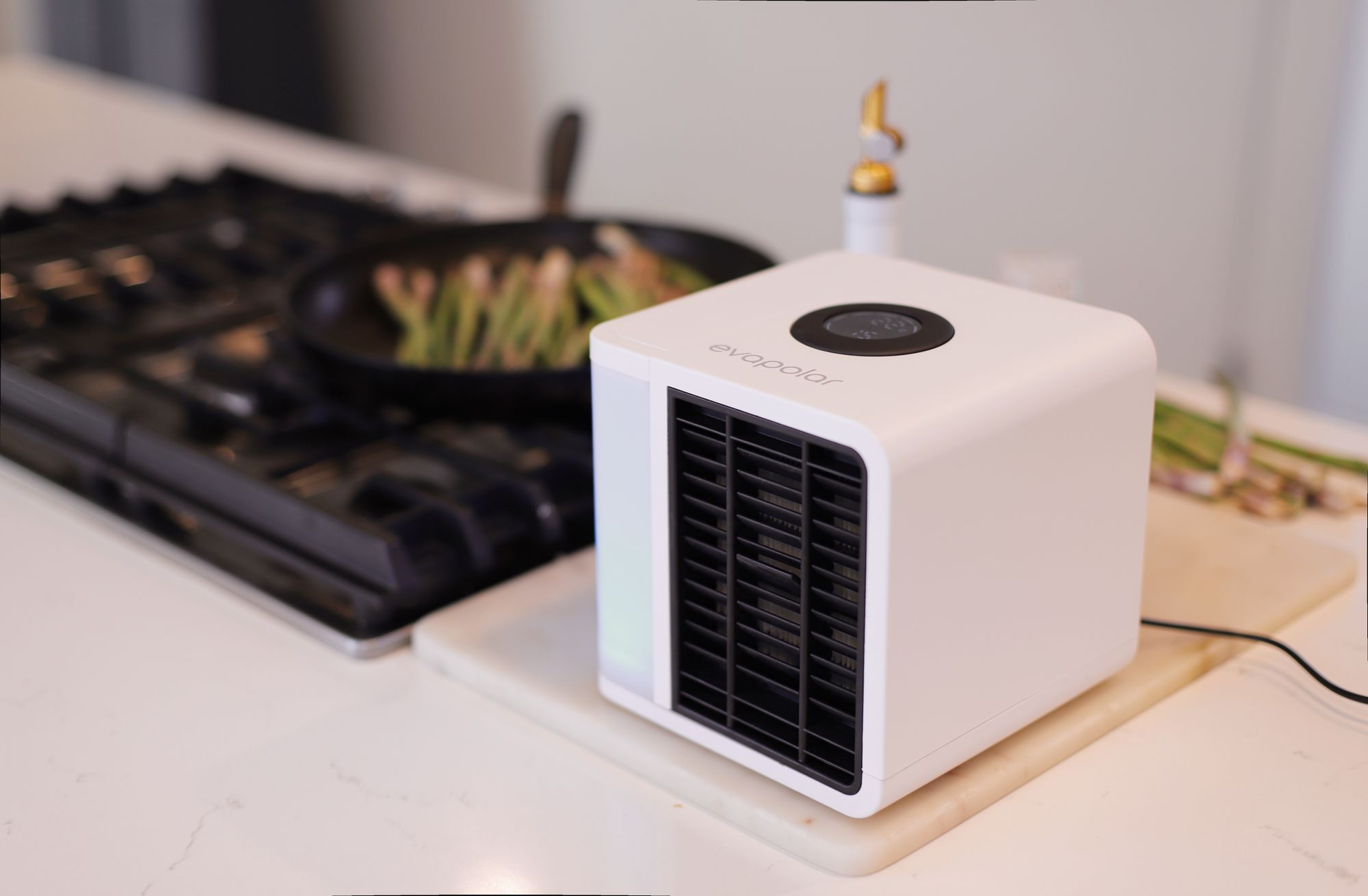 The evaLIGHTplus is another success model by Evapolar. This is a small evaporative cooler that includes a removable water tank, which evaporates, humidifies, and cools down the temperature by to 7-10 degrees С. It also has an upgraded sealed framework. The control wheel considers exact changes and you can change the lighting of the gadget to suit your mood. The unit is handily fueled by a power bank or through a PC or socket.
Specs – 180 x 180 x 182 mm (7.08 x 7.08 x 7.16 inch)
Cost – $149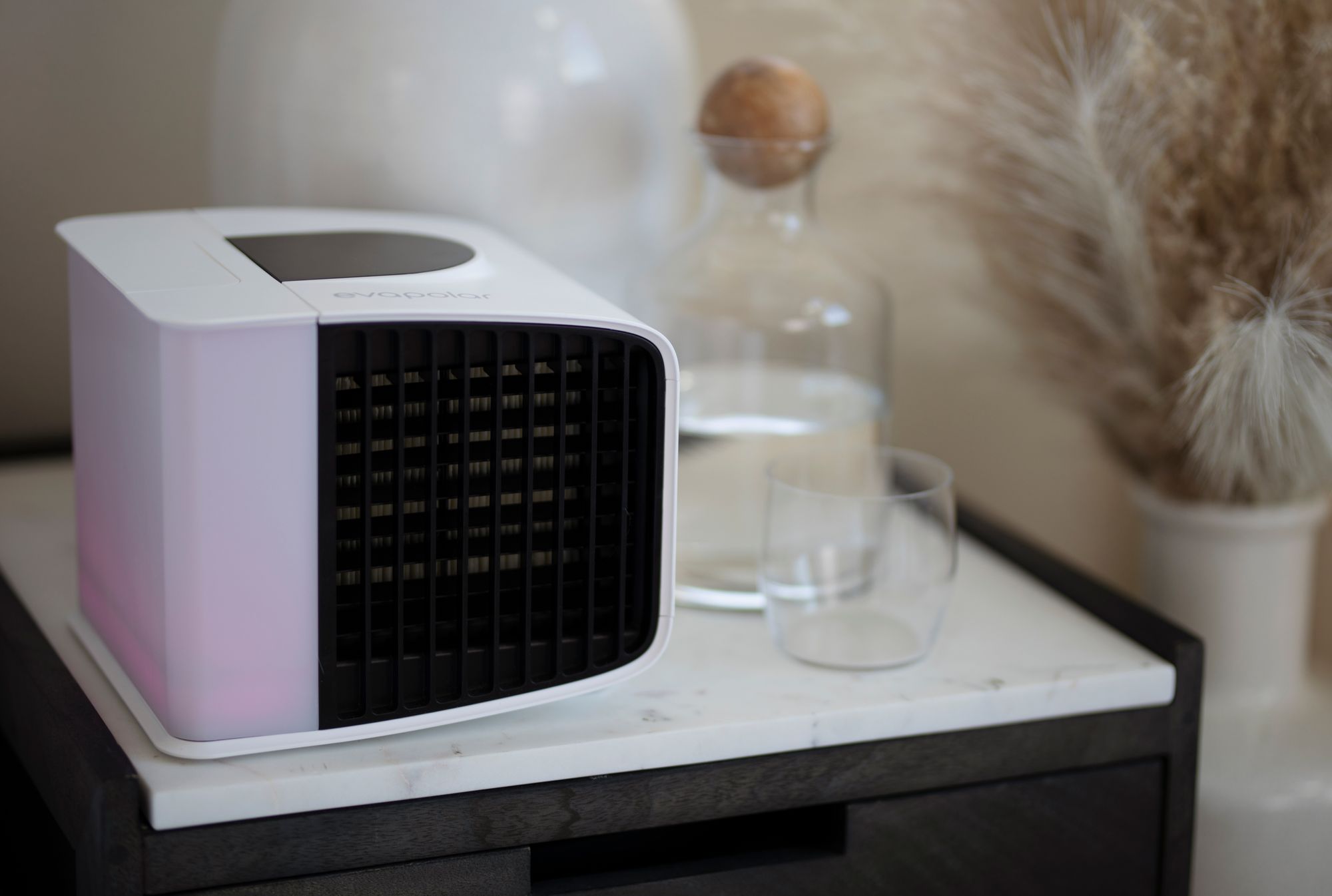 The evaSMART is viable with your shrewd home. This evaporative air cooler permits you to control its cooling and lighting from a versatile application or your voice right hand. The device is super powerful and also cools down by 7-10 degrees.
The app control allows you to control the unit so you can turn it two or three minutes prior to returning home so it can begin to chill off personal space before you get in. You can power the unit from a socket, a PC, or a power bank.
Like all other Evapolar models, this device has a unique evaBREEZE material that provides outstanding cooling performance and makes the air cooler 100% safe for breathing.
Specs – 207 x 217 x 184 mm (8.14 x 8.54 x 7.24 inch)
Cost – $229
Read also: Top 4 Best Dog House Air Conditioners.
The Breezie™ Mini Air Cooler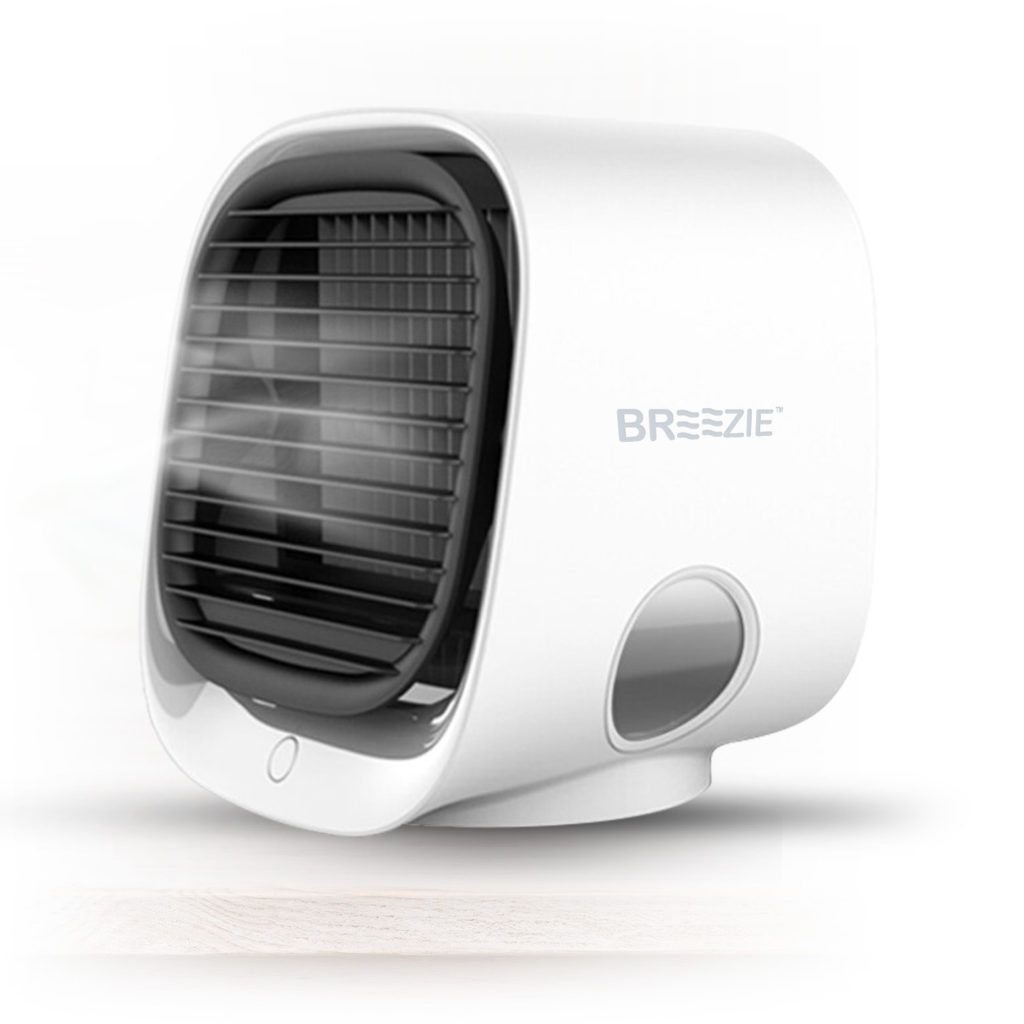 The Breezie smaller than expected climate control system is a compelling machine with a cutting-edge tasteful plan. The maker asserts the mini cooler can chill off the personal space by 10°C. The unit utilizes less energy than conventional forced air systems and is also quieter.
Specs – 166 x 152 x 142 mm
Cost – $69
The HoMedics MyCHill Personal Space Cooler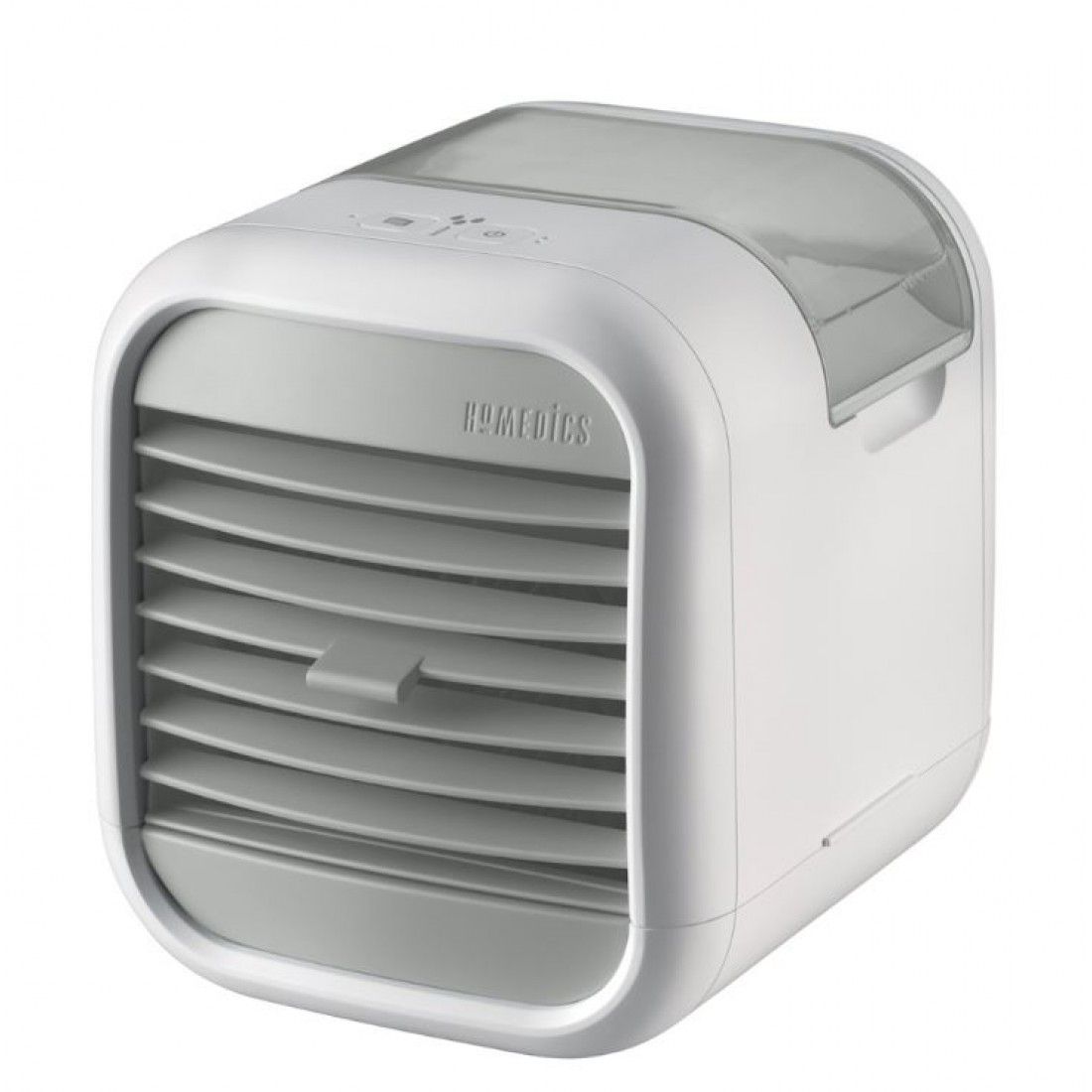 This individual space cooler from HoMedics can cool a person within a span of 4 feet, or 1.2 meters. It can lower the temperature by 7°C. This unit just has two speeds; however it is sufficiently successful to give you the cooling you need. The pointer highlight tells you when the tank is empty.
Specs – 195 x 178 x 200 mm (7.7 x 7 x 7.9 inch)
Cost – $70
The Ontel Arctic Personal Air Cooler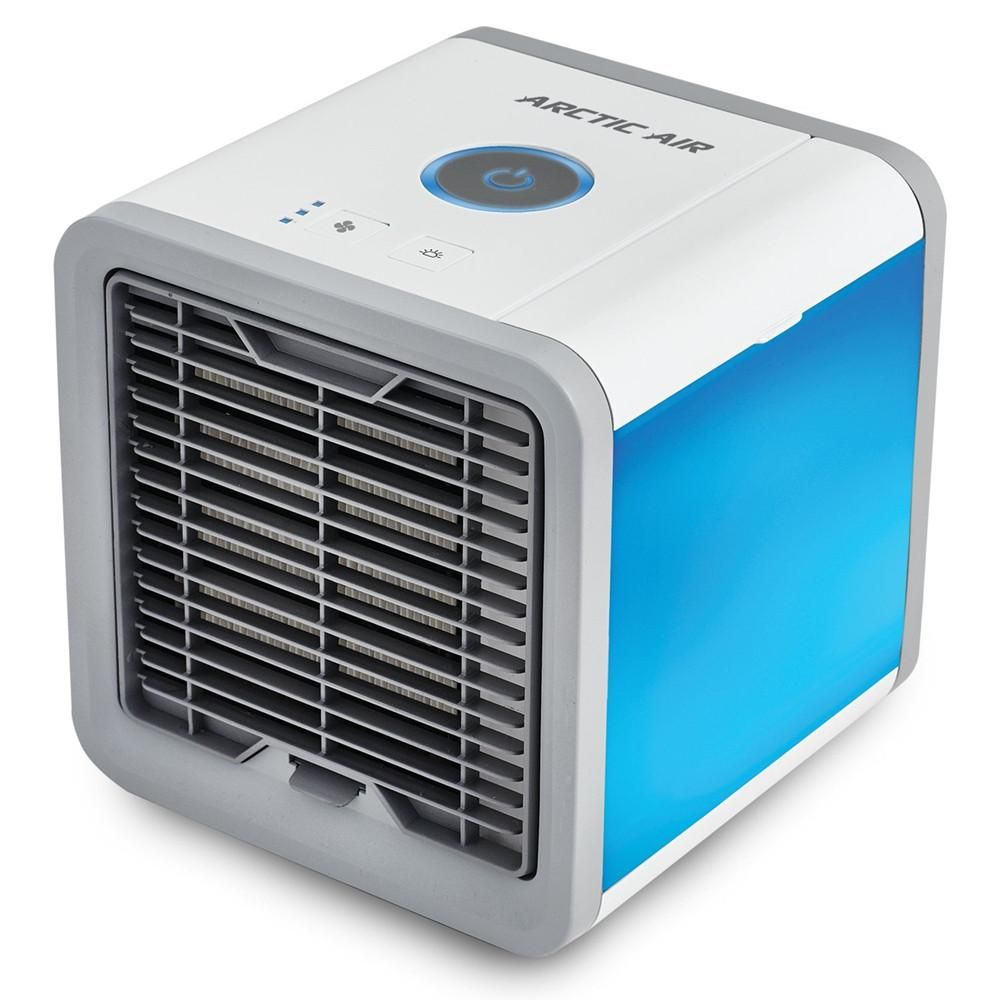 The Ontel Arctic Personal air cooler is a good choice when you are looking for something reasonable. It is a smaller than a usual climate control system that does the work and it is also less powerful than the other models from this list.
It is a lightweight unit, tipping the scales at only two pounds, so you can move it around without any problem.
Cost – $40
Specs – 7.95 x 7.95 x 10 inch
The Nordic Hygge AirChill Cooler Evaporative Portable Personal Air Conditioner and Humidifier Fan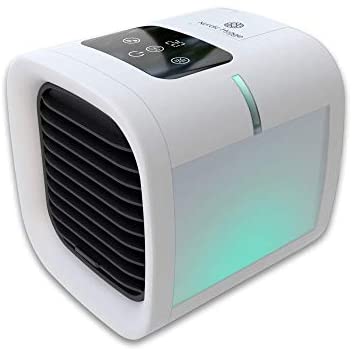 This evaporative air cooler from Nordic is a 4-in-1 gadget. This unit is special since it also and humidifies while cooling. It includes seven shaded LED lights permitting you to set it according to your preferences. It is compact and good for home or office use.
It includes a moderate and basic design with clean lines that finds a way into practically any inside.
Specs – 6.5 x 6.8 x 6.9 inch
Cost – $99
Compact cooling units like Evapolar are the absolute best little cooling systems you will discover available. These are incredible for all your versatile cooling requirements from home to office. They are particularly good for workplaces, home offices and chilling as they have great cooling capacity yet humble force necessities. Evapolar units outperform the competition thanks to their patented evaBREEZE technology, which provides exceptional cooling performance.