You want to be comfortable when you are in your home on wheels. One sure-fire factor that affects your level of comfort is the temperature in your motorhome. Almost all RVs have AC pre-installed, but not all do.
evaCHILL
The most effective cooling device
If you don't have an ultra-modern motorhome you will have to opt for a portable AC for a car that suits your vehicle. You also have to consider purchasing one if you are buying a secondhand RV that doesn't have an AC unit or that has an irreparably broken one.
Here we will give you a list of the best options to choose from when you're looking to purchase a portable AC unit for a car. Let's kick things off by showing you the different types of portable coolers out there.
Read Also: The Best Portable Air Cooler in 2021
Suitable Portable Air Conditioner for Camper Van or RV
There are a number of different types of portable coolers, but not all of them are practical for use in your RV or camper van. You will find that handheld options, for example, will only be good for cooling one person and may only work for cooling a person's face. To help you sort through the many options on the market, here are the most suitable for cooling down your camper van or RV.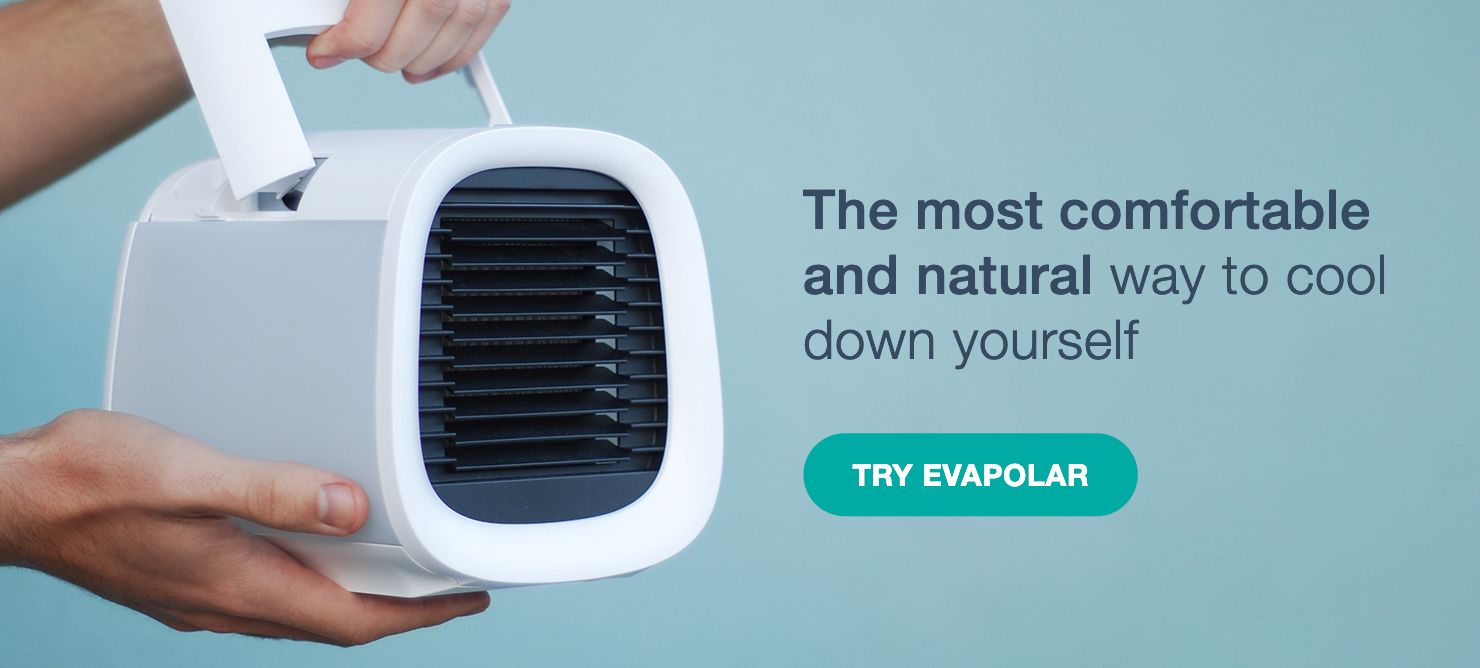 Portable Air Conditioning for Cars and Trucks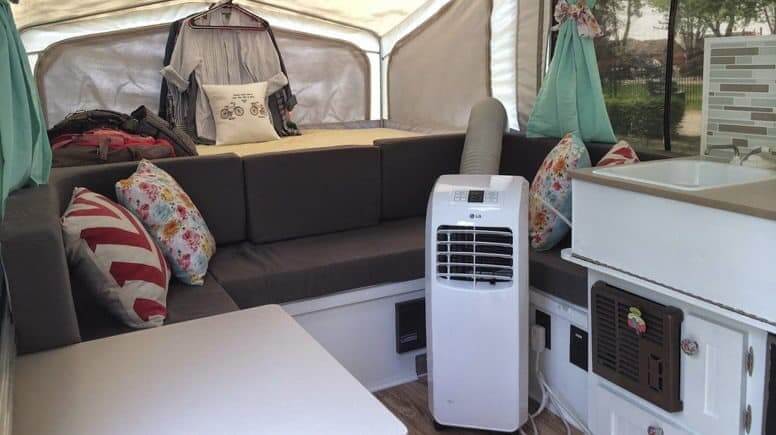 A portable AC for a van is self-contained and is an ideal choice for use in RVs or caravans in climates with higher humidity levels. They are good for cooling small spaces and typically have wheels so they can be moved around easily if necessary. They are designed to sit on the floor and come with a setup kit so they can be easily and quickly put together.
Pros
Effective: These types of coolers are some of the most effective on the market thanks to how well they cool a space.
Different size options: They can be found in different sizes to accommodate different size rooms as well.
Dries out the air: If you are in weather that has more humidity you might want a cooler that will dry out the air. This will help you stay cool as well as comfortable on the road.
Cons
Uses a chemical refrigerant: You will have to spend more time and finances on maintenance.
Doesn't work well for a dry climate: AC contributes to dehydration and aggravation of respiratory problems.
Most models are bulky and heavy: This makes it hard to move them around, from vehicle to vehicle or room to room.
High energy consumption: This makes these units more expensive to run for longer periods of time.
Portable Electric Fan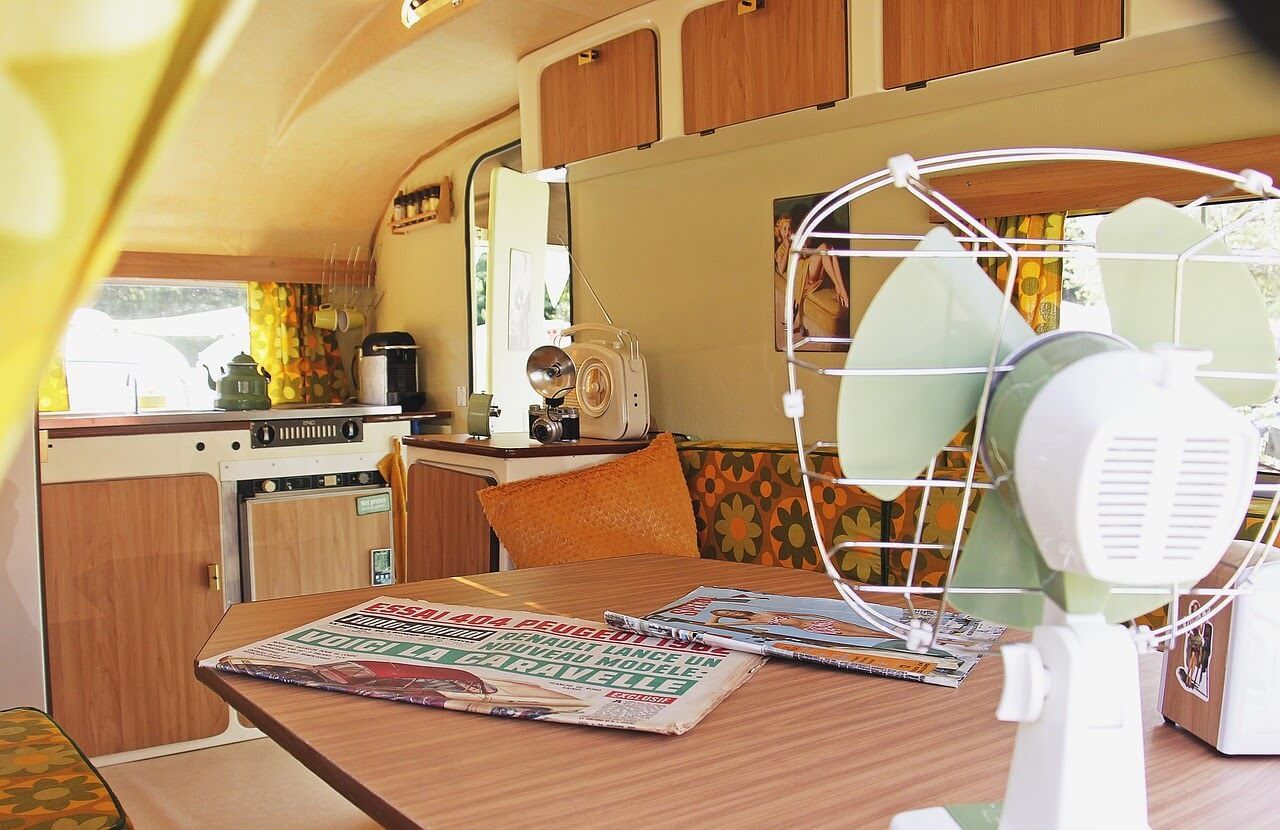 Portable electric fans are a good option for RVs since they can be easily moved from one place to another. There are different types and sizes available. You can find window box fans, regular box fans, clip-on fans, desk or table fans, dual window fans, pedestal or floor fans, and hassock fans.
Pros
Lightweight: Designed to be very lightweight, these types of cooling units are easy to lift and move around from place to place and vehicle to vehicle.
There are cheaper models: You will find that these come at very affordable prices when compared to other types of coolers.
Low energy consumption: These are great for on the road, as they don't use a lot of energy. So you can be cool while conserving energy, and your trips can be longer and more exciting.
Cons
Ineffective: don't actually cool the air, just move it
Doesn't work well for a dry climate: dry out your skin since they blow air on your body
Read also: What's the Best Fan for Sleeping?
Evaporative Coolers for Cars and RVs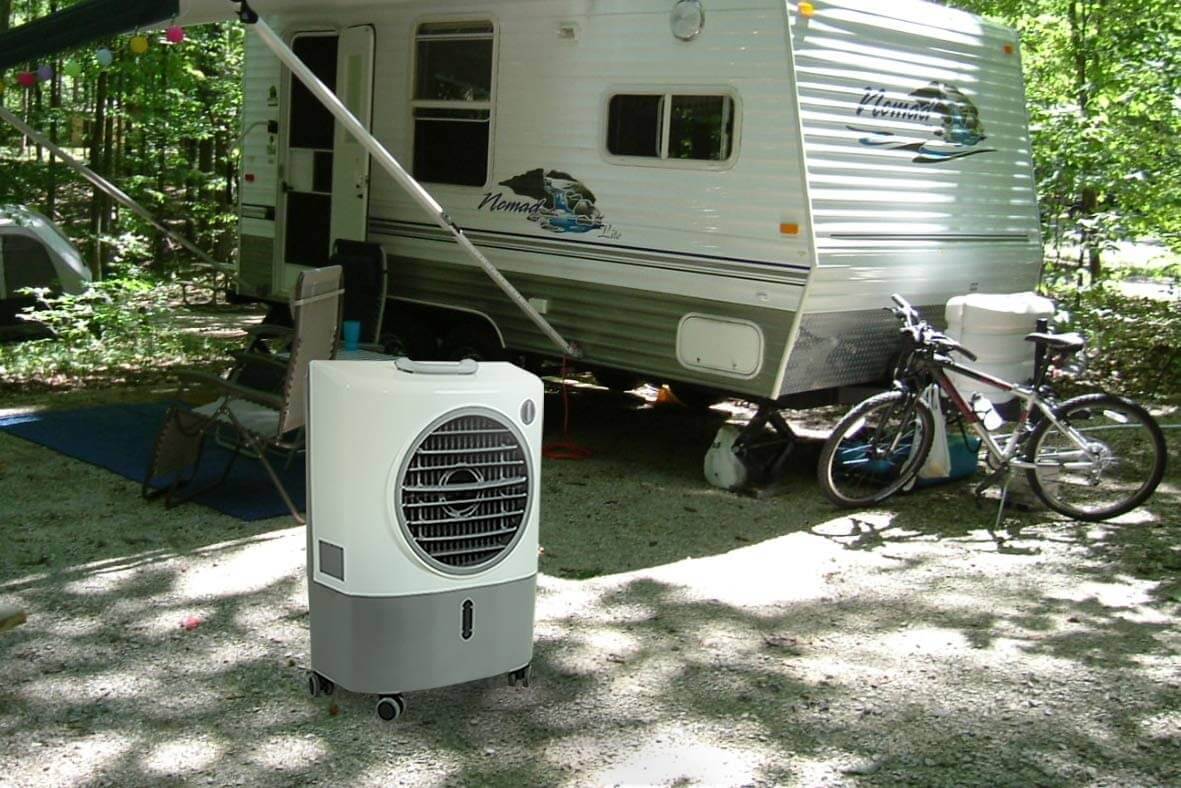 This is a type that cools the air by evaporating water. It provides a solution for the downsides of AC units and portable fans. The machines work by pulling in stale air and moving it over a cooling pad or rigid cooling media. Cool water evaporates and as a result, decreases the temperature of the air.
There are multiple factors that affect just how much this type of cooler will be able to cool the air. The cooling power of evaporative coolers is higher when you have higher temperatures and lower humidity.
Pros
Energy-efficient: Unlike your vehicle's AC unit, they can be very efficient, as they use only a fraction of the energy required to power your vehicle's AC.
Effectively cools down the air: Unlike fans that just move the air around, an evaporative cooler for a car effectively cools down the air.
Humidifies the air: Since it uses water to cool down the air, it also adds moisture, which is great for arid conditions.
Doesn't use chemical refrigerants: This makes it safer and also lowers your maintenance costs.
Doesn't require installation: You simply need a socket, a USB port, or a battery to work an evaporative cooler.
No need to run the car engine to use: Since they can run from a battery or power bank via a USB cable, there is no need to have your vehicle engine running to get this cooler to work.
No need to install and fit the side of a car: These are small, desktop portable air conditioner that can be taken inside and placed on a desk or other surface.
Eco-friendly: By using these types of coolers you greatly reduce your carbon emissions, and also
There's no heat exhausted as a result of the evaporation process.
It doesn't use any Freon-like liquids.
It allows you to decrease the energy spent.
Cons
Doesn't work for a very humid climate: Since these types of coolers use water, they will create more humidity.
Comparison Table of Different Portable AC Units
Cooler Type

Pros

Cons

Portable AC


- Effective
- Dries out the air (pro if the weather is usually humid)

- Uses a chemical refrigerant




- Contributes to dehydration and aggravation of respiratory problems




- Most models are bulky and heavy




- High energy consumption




Portable Electric Fan

- Lightweight




- Most Affordable




- Low energy consumption

- Simply moves air around, DOES NOT cool it




- Dries out skin due to how it works to simply blow the current air onto your body




Evaporative Cooler

- Energy-efficient, unlike an AC unit




- Effectively cools down the air, unlike a fan




- Humidifies the air




- Doesn't use chemical refrigerants




- Doesn't require installation, as it can be powered by a plug socket, USB, or even a battery




- No need to run the car engine to use




- No need to install and fit the side of a car




- Eco-friendly




- Doesn't work for a very humid climate



Take These Factors into Consideration When Choosing a Portable RV Cooler
The type of portable AC for RVs you need depends on a number of factors. You have to take into consideration your climate conditions, including dryness and humidity. You need to consider just how much cooling you need. This also depends on the size of your van, as well as extreme weather averages. Will you be spending time in a cooler area, a parked spot with shade? Or will you be on the road, in the sun for hours? When you are out in the sun, you will, of course, need more cooling power.
Powering your portable ac unit for RV will not be very feasible when you are on the open road for multiple days. This is where a generator comes in. Your AC unit will work on power that is supplied through a 12V socket. There is also the option to run AC units on a gas generator, but this is a very costly option, and there will be a lot of refilling stops. You can even find solar items that can help you harness the power of the sun and reuse it to power your cooling unit.
If you are using a handheld cooler you will have options for battery-powered units, as well as will be able to power them with a USB cable.
The size of the cooler you choose should be dependent on the size of the space it needs to cool. If you don't choose a cooler with an adequate capacity you will be wasting energy, and the temperature will still be uncomfortable for everyone.

So we would recommend that you make a final purchasing decision after considering some important factors. Let's take a closer look at them:
Size of the Cooler
Portable air conditioners for cars come in various shapes and sizes. If the size of the vehicle's interior is small, you should opt for a small-sized RV cooler that can efficiently cool the space by being electricity-efficient. It is advised that a vehicle up to 32 feet can be cooled by using a single cooler. The bigger ones require at least two coolers to efficiently chill the vehicle.
Also, the cooler's dimensions should not be too big or too small for the vehicle. The cooler should fit inside the car without taking up much space. Therefore, you should check the dimensions of the cooler before locking on to the final option.
The Сapacity of the Cooler
Again, this aspect is subjective to the vehicle you are planning to install the cooler in. Bigger vehicles require air conditioners for cars that pack in sufficient power to cool the interiors properly. The greater the capacity of the RV cooler, the more area it will cool efficiently and quickly. A 12V RV cooler is standardly preferred, as its capacity is enough to lower the surrounding temperature inside a vehicle. Portable RV coolers with larger capacities are also available for people who own a massive RV. However, they consume more power.
Energy Consumption of the Cooler
Yet another deciding factor is the energy consumption of the portable RV cooler because it majorly adds to automobile costs. Naturally, a cooler that consumes less fuel or electricity is preferred. Energy-efficient coolers are most common on the market nowadays. However, it is crucial to check the power ratings before purchasing any RV cooler.
Most of the efficient models have a power consumption of around 1600 watts, while other models might even go up to 3000 watts. So basically, energy-efficient coolers are on the market for people who do not want their car air conditioners to consume excessive energy.
Safety for Children
Children are usually very curious to touch and check out the components present inside a car, and therefore, making sure that the car air conditioner you are purchasing is safe for them is an absolute priority. The right RV cooler should come with safety precautions that mask small components of the appliance so children do not accidentally snatch them off and swallow them.
Safety for Furniture
Portable evaporative air coolers should have a strong and sturdy framework. But their build quality should be such that they do not have any sharp edges or extended pointy parts. If it does, the cooler might prove fatal for the people sitting inside the vehicle and especially for the interior of the vehicle. Therefore, it is essential to make sure that the RV cooler you are choosing to purchase has a safe structure equipped with all necessary safety precautions.
Maintenance
An RV cooler is not something that will last you a lifetime after its purchase. However, you can increase the lifespan portable air conditioner for vehicles by ensuring it gets proper maintenance sessions. Like all other appliances, it also needs to be maintained and serviced periodically. If it does not get serviced on time, its lifespan might get affected, and the cooler may show signs of malfunctioning early on.
When it comes to maintenance, the manufacturing company is responsible for offering frequent service offers. A good RV cooler-producing company offers multiple free servicing sessions. Therefore, after-sales service is a key factor in deciding which company's portable RV cooler is the best choice for you.
Price of the RV Cooler
Undoubtedly, the most important factor when it comes to any purchase decision is the price of the product. Nobody wants to overpay for a not-worth-it product, and therefore, it is very important to check, as well as compare, the price of the portable RV cooler with other miniature air conditioners before paying the amount. There are tons of value-for-money portable RV coolers available on the market.
If you are on the lookout for premium RV coolers because you want that royal touch, lots of options are available. One fine example is the Dyson SC. It is packed with top-tier features, and the elegant look adds to its premium feel. Needless to say, it will cost you more compared to the regular ones, but the price tag is worth it.
It is advised to go for the balanced portable RV cooler, i.e., the ones that have all the functionalities, as well as an affordable price tag.
Best Portable Air Coolers for Vehicles
Here are a few top gadgets you might want to consider for your car or motorhome.
Evapolar Swamp Cooler for a Car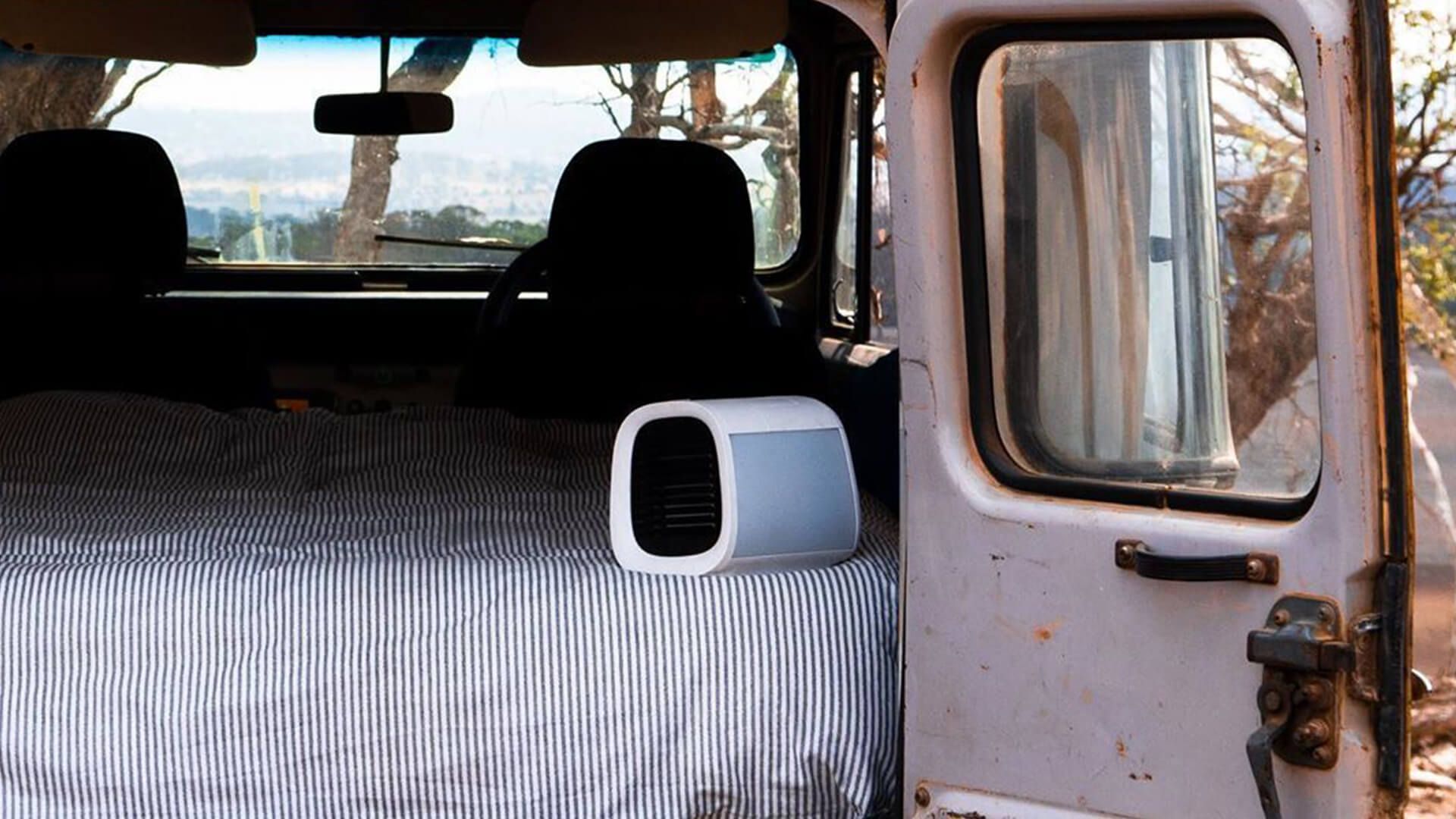 This option is quite a compact one. It is a cooler, humidifier and purifier that will work to keep small spaces cool. It is more of a personal unit and has a modern aesthetic with a 3-in-1 design. It is easy to set up and is powered by a USB plug. The unit has a compartment that houses the evaporative pad and a compartment where water is added. The pad can be easily replaced, and the unit only takes 800 ml of water.  

The unit is easy to operate — you only need to add water, plug it in, and you are ready to go.
Pros
Cooling Capacity: Perfect for cooling personal space inside a car, caravan, or tent up to 33 ft² or 4 m²
Effective Cooling: Decreases temperature by 7-10 С degrees (50 F)
Purifies and humidifies: Makes the environment cleaner and even more comfortable
Patented technology: Patented evaBreeze® material in filters doesn't allow bacteria or mold buildup, so you get cleaner air
High-quality materials: Made with the highest-quality plastic, so you don't get that "plastic smell" you would get from other types of coolers
Aesthetic design: Very pleasing to look at
Portable: Small and lightweight for easy portability
Excellent value: Reasonably priced, starting from $99
Cons
Personal Cooler: Best suited for cooling smaller areas
Read also: Choosing the Best Mini Air Conditioner
Honeywell Contempo Portable AC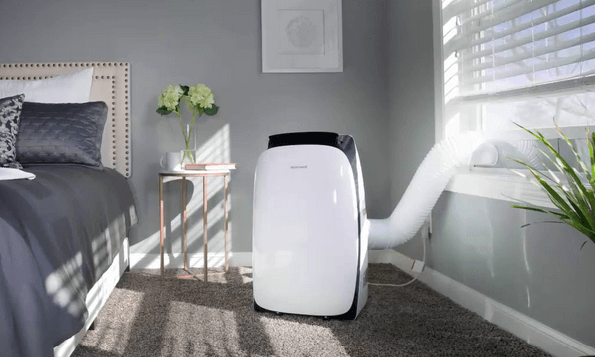 This portable unit from Honeywell is a fan and dehumidifier with a dual filtration system. It is suited for rooms no larger than 400 feet2 that have poor circulation, which is more than enough for a caravan or car. It is also portable enough so you can move it from home to car.
Pros
Dual hose design: Allows for effective air cooling for areas up to a size of 400 feet²
Low energy consumption: Can run on 2 AAA batteries
Remote Control: Allows more convenience for users
Multiple Modes: Three fan speeds and a sleep mode meet your different needs at different times.
Cons
Dehumidifies air: As such, it is not a good choice for dryer climates.Expensive: With an approximate cost of $399.99
O2 Cool Electric Fan
If you just need a fan, this model is battery-operated but also comes with an AC adapter so you can plug it into an outlet. It is good for personal use in your RV or another vehicle and can be used both indoors and outdoors.
Pros
Energy-efficient: Works from rechargeable batteries
Multipurpose: Includes a USB port for charging other devices through the unit
Lightweight: Weighing in at 3.52 pounds
Slim design: Helps you keep more of your floor real estate
Cons
Does not cool air: It merely moves the present air around and does not actually cool the air.
Lacks versatility: Only speed settings
Choosing the Best Portable Air Conditioner for a Car or RV: Wrap Up
When you are on the road in your RV, camper van, or car, you want to ensure you keep yourself and all your passengers or guests comfortable. You can't always rely on the cooling units the vehicle comes with. In these times you may benefit from having the best portable AC for a car. There are a couple of unit types to choose from, all with their own sets of advantages and disadvantages.
A portable RV cooler is useful in various ways. It provides efficient cooling on the go, and therefore it can be a very useful travel companion, especially if you are taking a road trip during scorching summers. However, it takes up extra space inside the vehicle, which can be a deal breaker for some people. A purchase decision regarding a particular RV should be made after considering the factors mentioned above in the article.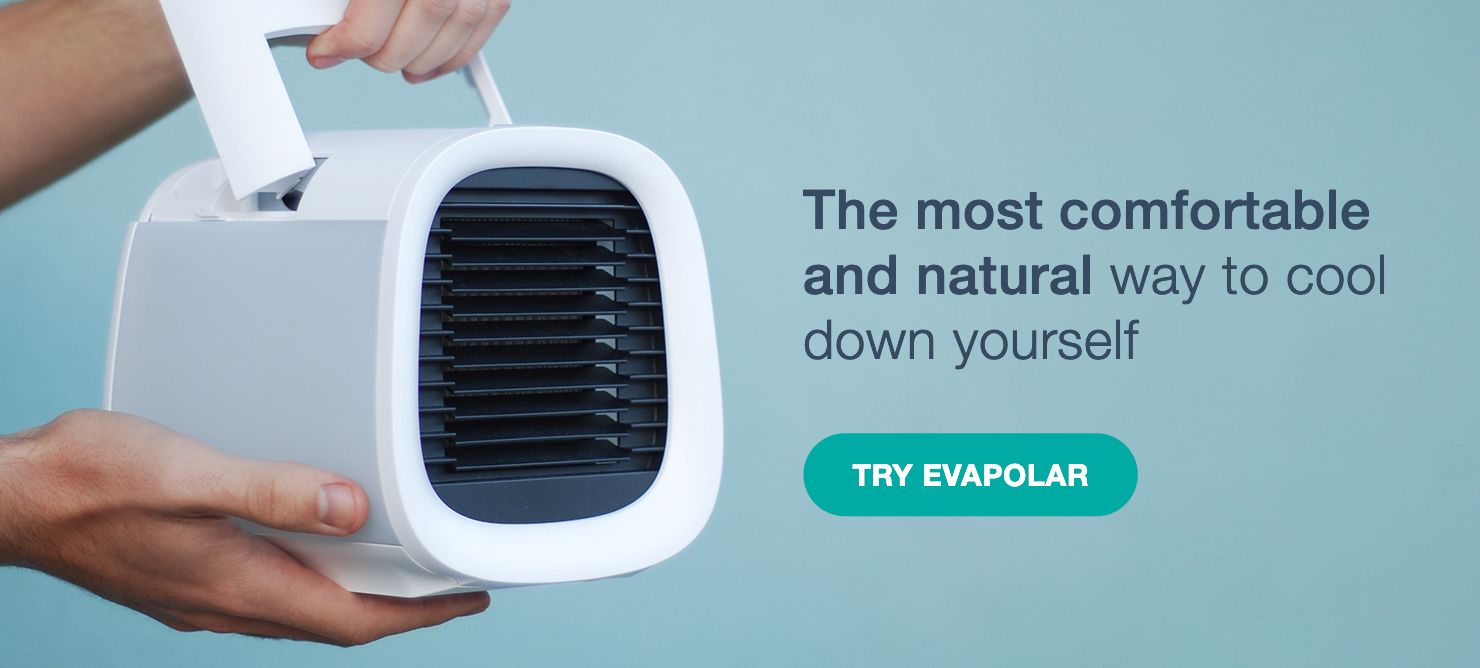 However, if you do not find RV coolers to be an effective solution, there are various portable air conditioner alternatives available on the market for you to choose from. An optimal solution is an evaporative cooler, as it provides a solution for the cons of the other types of coolers. Where AC units or fans are not energy-efficient or do not actually cool down the air respectively, an evaporative cooler does. And if you need a truly portative option that is quite affordable, very user-friendly, and highly effective, try Evapolar.