Don't you just love the feeling of a good environment where you're in a comfortable spot that doesn't make you either sweaty or too cold? There's happiness with several important factors like fresh, pure air, sufficient humiditу, and optimal temperature in the house. The last part you can easily create yourself using a micro air conditioner. But what really makes a micro air conditioner better than the typical air conditioners? In addition, how do you even choose one?
evaCHILL
The most effective cooling device
By the end of this review, you'll have all the information you need regarding a micro DC air conditioner. You'll learn about the differences and advantages it holds. So, let's get the ball rolling!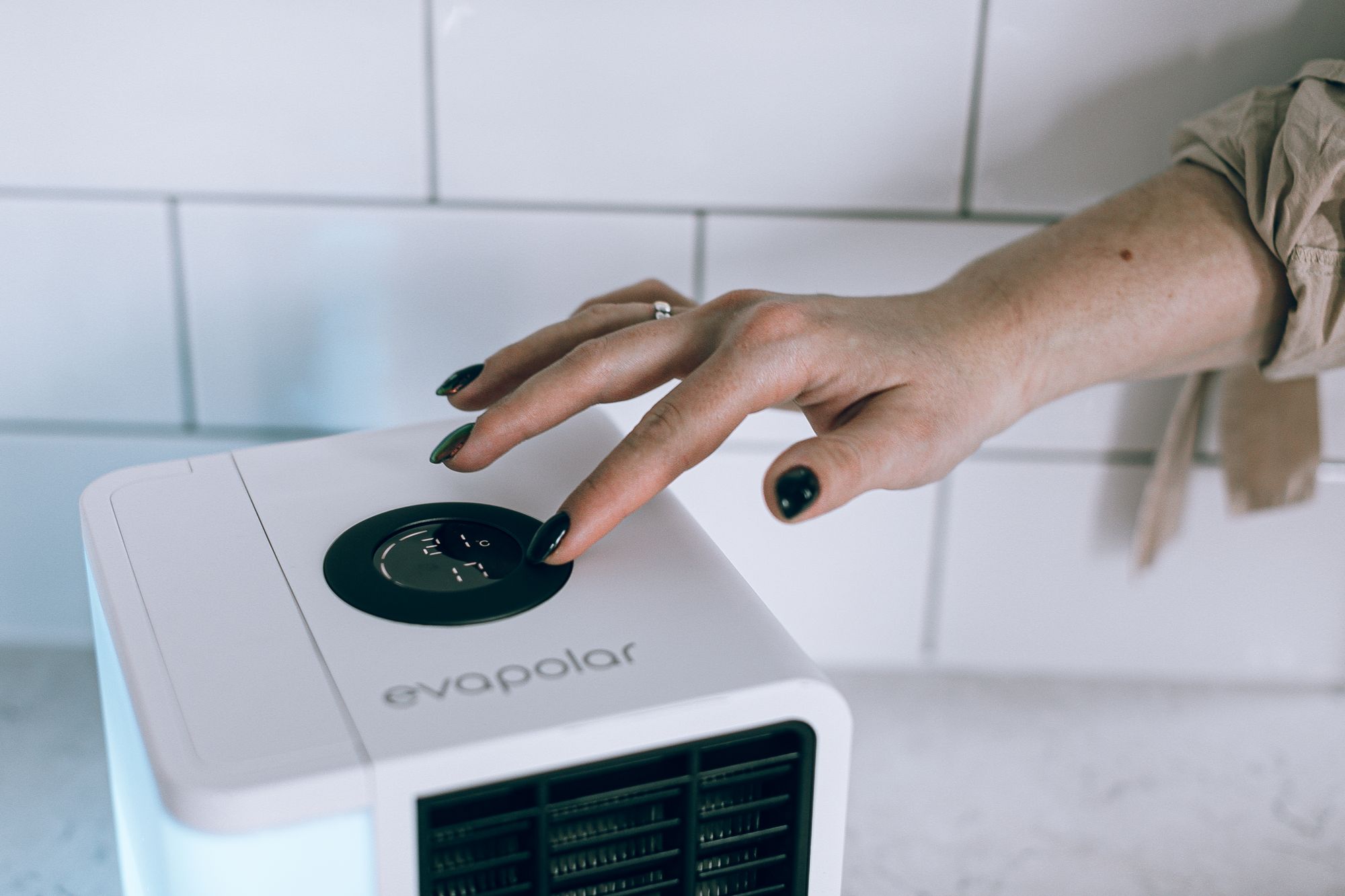 Is There a Difference Between an Air Cooler and a Conditioner?
Summer heat simply drives us beyond our peak comfort level. And in these situations, the ability to chill quickly is critical. However, there's a big drawback to the use of air conditioners: the electricity cost. How then do you bridge the gap between a comfortable ambient temperature and the cost of energy?
This issue necessitates thorough investigation. Something we have undertaken and finalized. We will address two commercially available conditioning approaches in our study. They are air coolers and air conditioners, respectively. They are not quite the same, despite their similarity in appearance. Each has relative advantages above the other.
We consider every one of these solutions available to us. However, many, if not all, of us face a specific challenge in selecting the best cooling solution. Recognizing the nuances here between two "adversaries" will assist you in making a more intelligent choice. Below are the results:
Cooling Procedure
Air coolers, also classified as swamp or evaporative chillers, operate on the same principle. To unlock a cooling effect, the air passes through a watery solution. It is very important to be informed regarding the material inside the cartridge of the unit. Some innovative cartridges are made from inorganic material, which absorbs water well and effectively cools. Air conditioners, on the other hand, depend on compressors to produce a cooling effect.
Energy Effectiveness
The only discrepancy around air conditioners and coolers is that air conditioners work with compressors. The operation of compressors necessitates a significant amount of extra electricity. As a result, air coolers are more cost-effective than their equivalents. As compared to air conditioners, an air cooler uses around 75% lower energy. It's certainly something to think about.
Maintenance
Another point to remember just before buying an air cooler is that you'll need to focus on the liquid level and refill it on a regular basis. Also, don't forget to check if the cartridge of an item is changeable. In this case, it can be washed. If the cartridge is disposable, the owner has to change the new one every three or six months.
The air conditioners, on the other hand, necessitate extensive technical servicing. It must, for example, be washed on a routine basis and the air purifiers have to be replaced.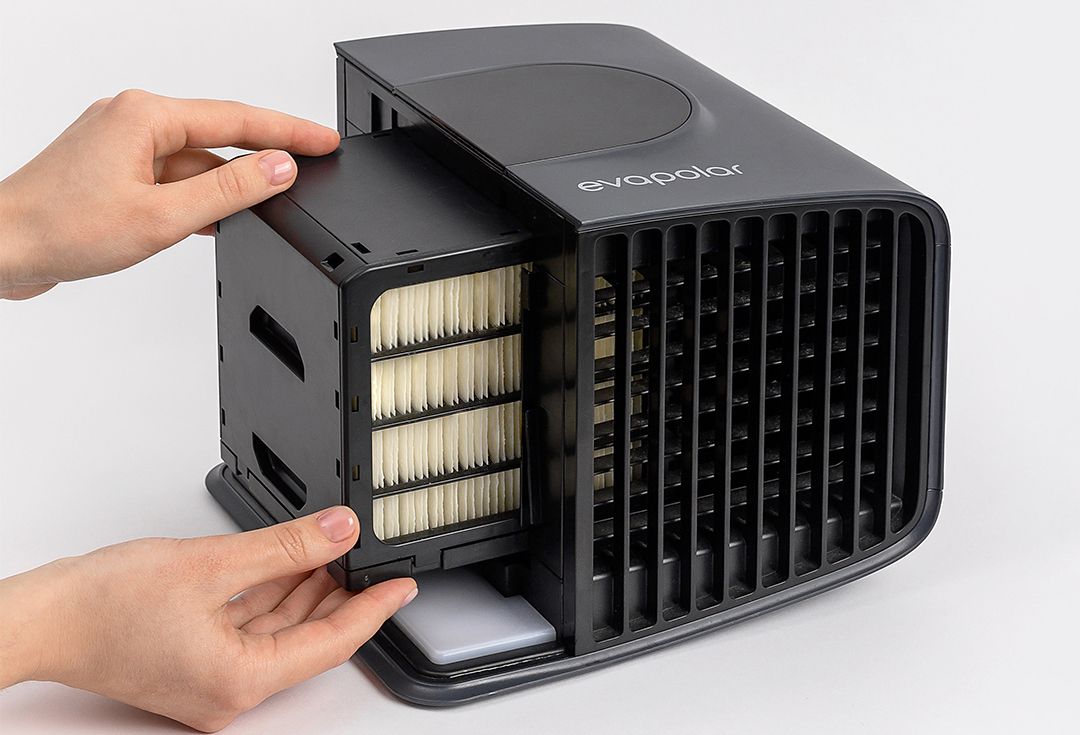 Why Are Standard Air Conditioners Not So Handy Nowadays?
There might be a myriad of explanations why the typical air conditioners don't match the levels of the modern air coolers. And some of the reasons include the following:
They Aren't Eco-Friendly
If you haven't noticed yet, the world is headed in an eco-friendly direction. And products, whether electrical or not, which don't adhere to this rule aren't considered much. The air  conditioners contain Freon. It is damaging for nature and human health. This is why standard air conditioning units are gradually losing interest.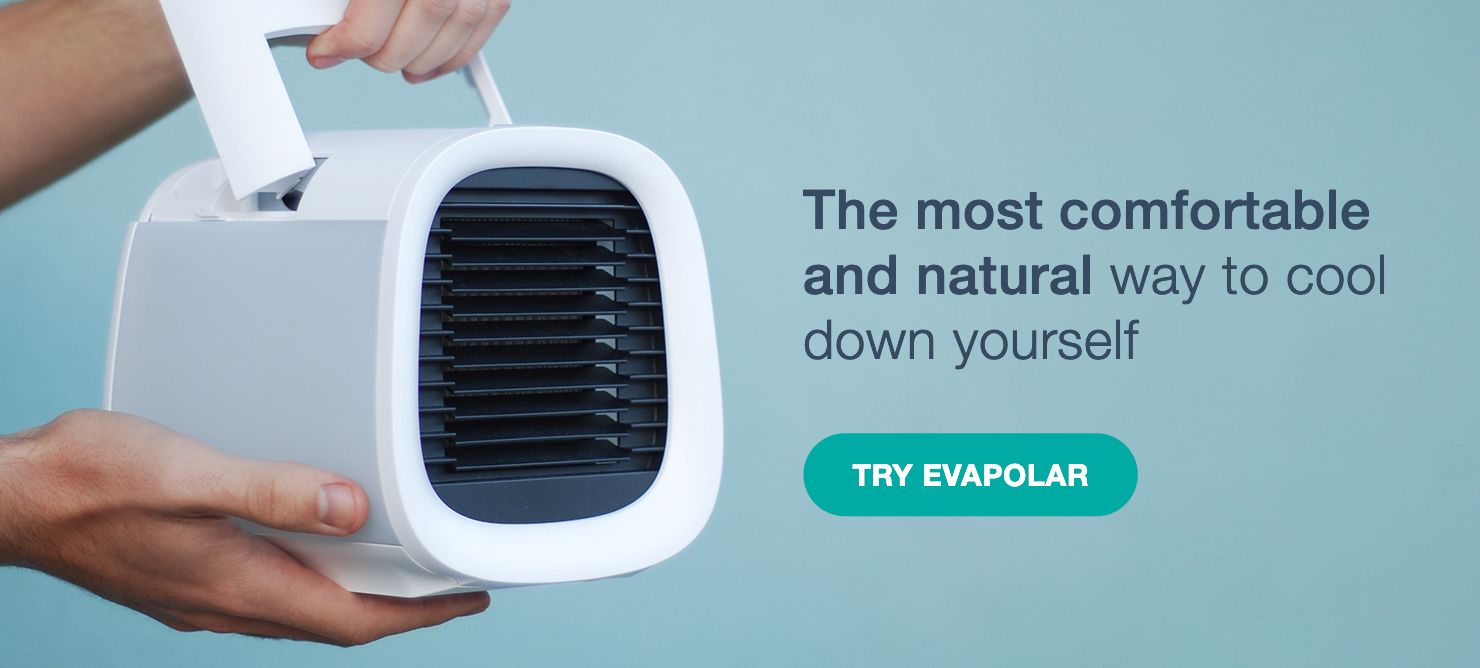 Some People Might Have a Cold or Be Allergic
Another factor to consider about the typical air conditioners is your family and friends—or even yourself. Anyone who's allergic or has a cold may not be comfortable near an air conditioner.
They Cool Off the Whole Room While Not Everyone Might Want the Same Temperature
A standard air conditioner cools the whole room in which it is in. And this is probably not what everyone wants at that particular time. So, it may make a few people in the room uncomfortable.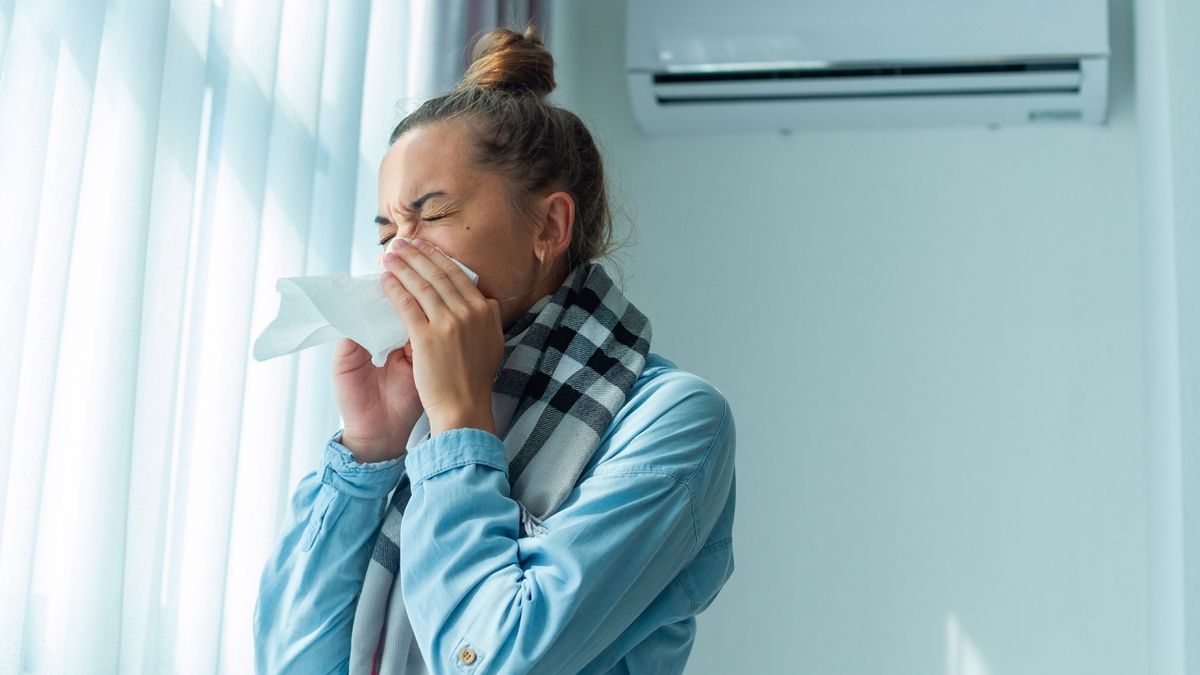 What to Consider When Shopping for a Micro Air Conditioner
There are certain factors which are important to remember when you are choosing the perfect item to cool off your personal space during the hot season. Such factors will definitely help you to make up your mind and come up with the right decision. So here are some points you have to consider:
The costs
Be sure to compare the prices of the micro air cooler and make sure that it is within your budget. Find a variation that isn't far-fetched in terms of pricing but reasonable and with good customer reviews.
Cooling Personal Area
How does the micro air conditioner cool your specified area? Is it effective enough? This is one thing that you have to consider when you're choosing an air conditioner.
Operating Time on One Tank
The capacity of the water tank will determine how long the air conditioner will operate. The bigger the tank capacity, the more the operating time and cooler size.
Air Filters
Now, the air filters should be one of your concerns when choosing a micro mini air conditioner. And the simple reason is because of the maintenance cycles.
Noisiness
How noisy is the air conditioner when you're using it? Most homeowners want a quiet and serene environment when they're home. And a noisy air conditioner is a total turn off for them.
Extra Features
Check out the additional features that the micro air conditioner you're targeting has. This is mostly the reason you'll pick two almost similar conditioners. Ensure you assess things like the water level indicator, LED color lighting, and wi-fi connectivity.
Top 6 Portable Micro Air Conditioners
We've narrowed down the search for a reliable mini air conditioner for you. This will make it easier for you to choose the right micro air conditioner. Here are the best and smallest portable air coolers currently on the market: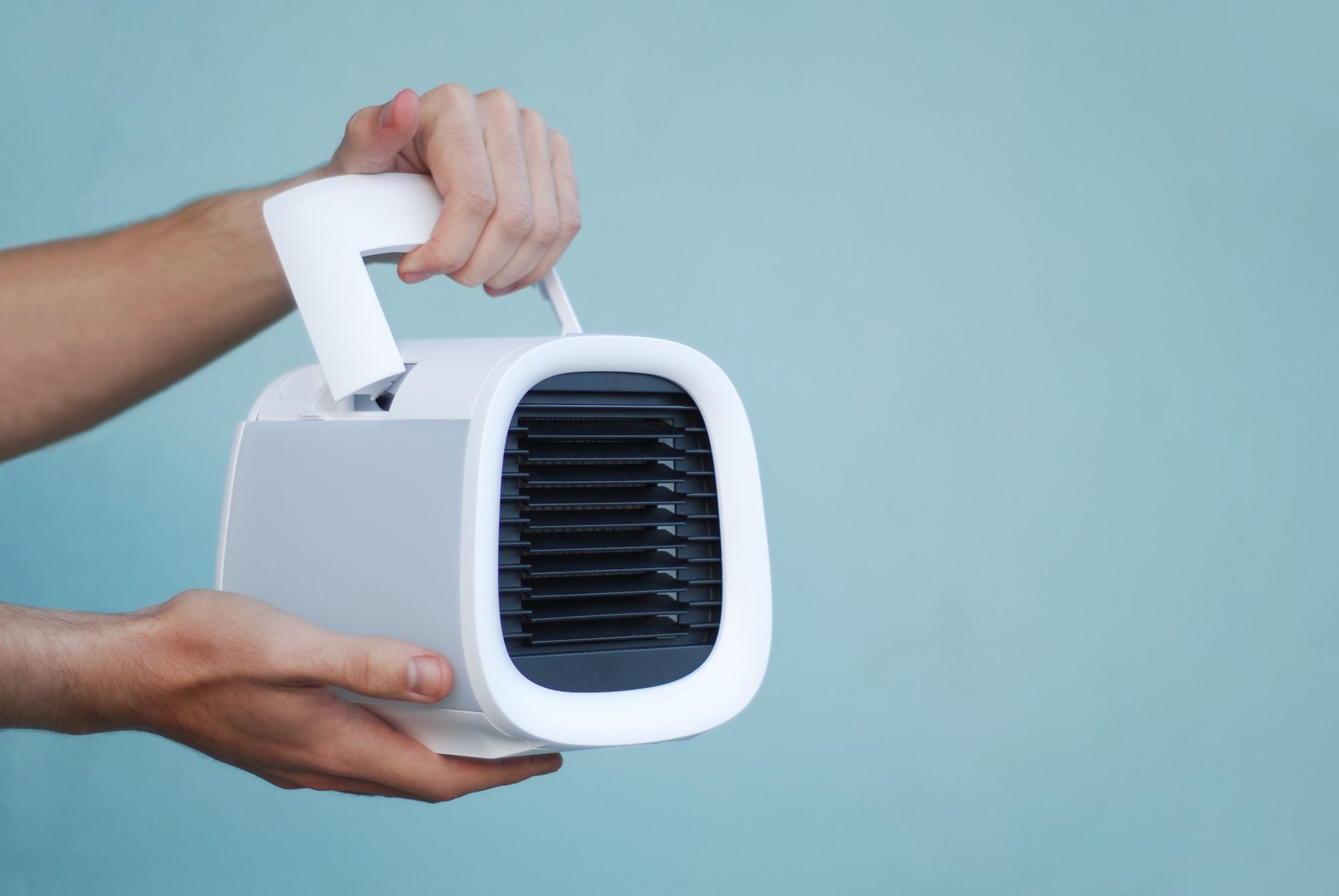 Description
This mini air cooler creates a natural breeze that will deliver an immediate cooling effect to your personal space with fresh and humid air. It is an efficient and highly reliable cooling option that you can use at home, or at the office, or on the road. When you need some personal cooling, rather than the entire room, this is your go-to option.
Some of its most attractive and competitive features include the fact that it is eco-friendly, quiet, has an enhanced leak-proof system and is ultra portable. It also consumes only 7.5w of power, which is fairly low power consumption. The cartridge from the unit of this brand is made from inorganic material, which prevents spreading bacteria and mold.
Dimensions
With dimensions of 6.69 x 6.69 x 6.77 inches, we consider it to be one of the smallest air conditioner units.
Price
The price of this wonderful air cooler is quite budget friendly at $99.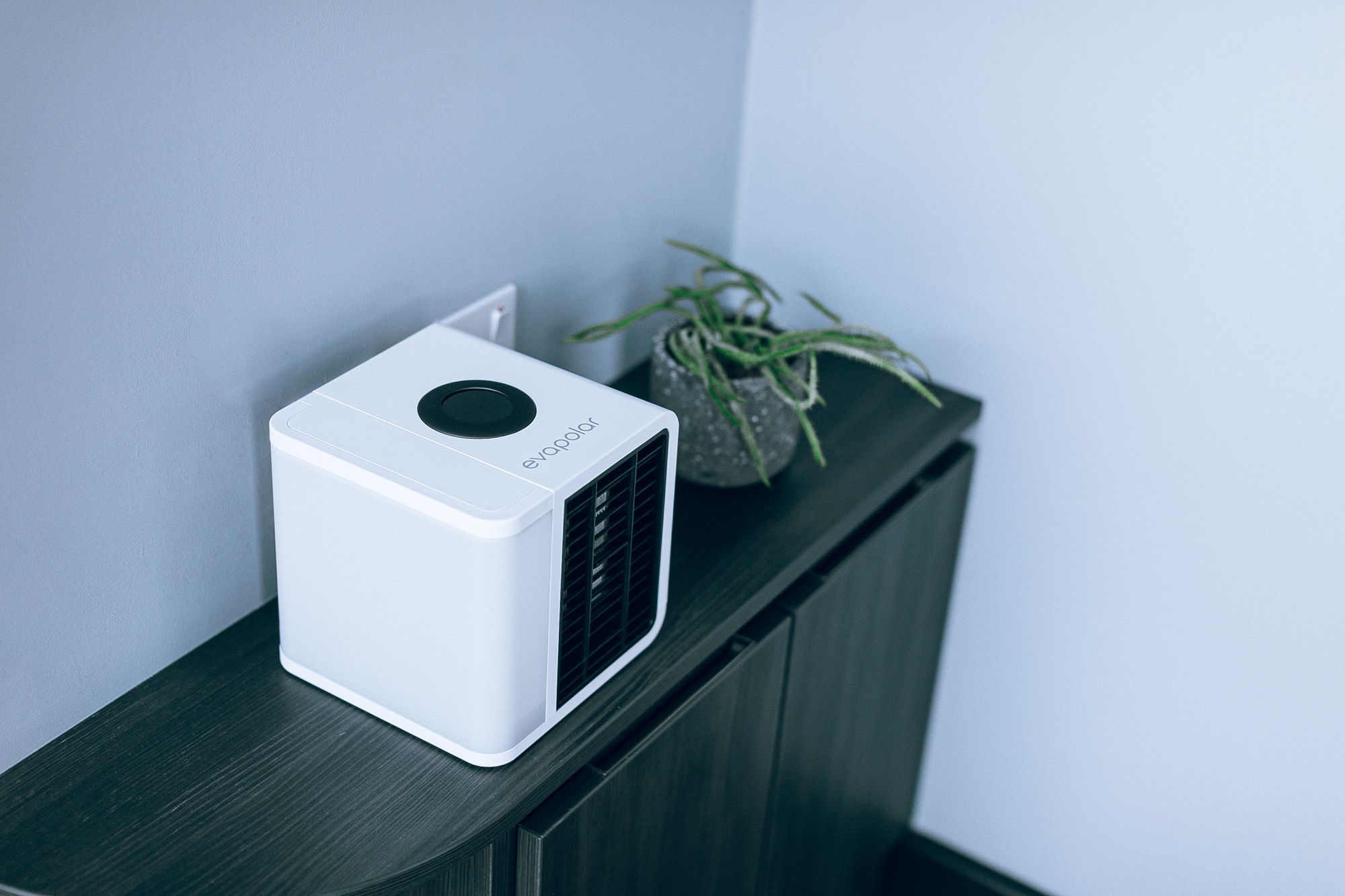 Description
This is one of the best-selling evaporative air coolers. It has an enhanced leak-proof system and a removable water tank. Depending on the type of mood you're in at the time, you can also adjust the lighting of the device to match your preferences. The item is USB-powered and can be operated from a socket, laptop, or power bank.
Some of its best features include the consumption, which sits at 10w, low noise levels, control wheel, eco-friendly nature, and full spectrum LED lighting system.
Dimensions
The dimensions of this air cooler are 7.08 x 7.08 x 7.16 inches.
Price
This portable micro air conditioner retails for $149.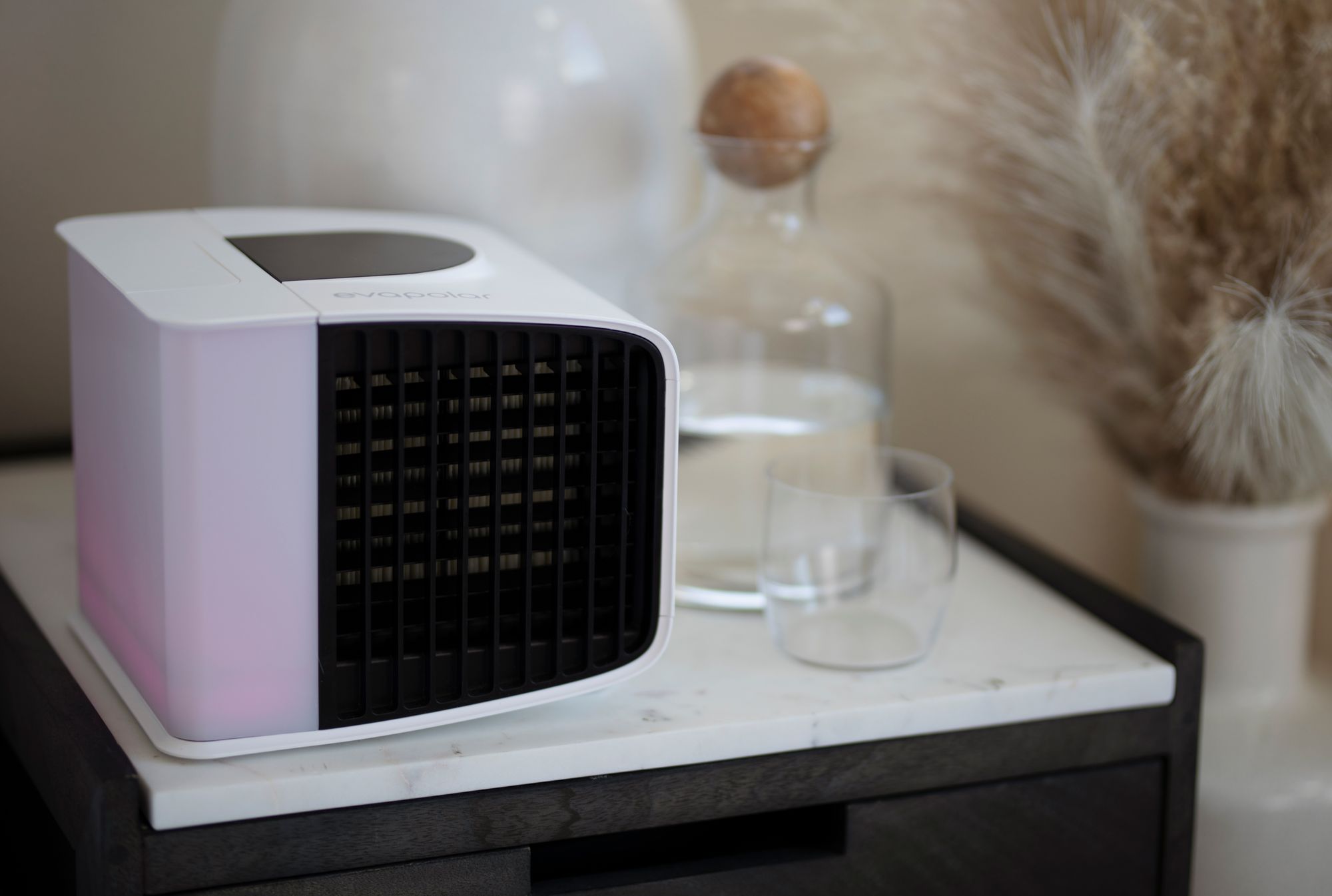 Description
Even from the name, you can already guess that this is a smart micro air conditioner. The smart part is that you can use a mobile app to control the lighting and even the cooling on this device. You can even use a voice assistant if you're the relaxed type that doesn't like typing. How cooler could it get? Use a power bank or ordinary socket to power up this device. It has an enhanced leak-proof system, so you don't have to worry about a thing.
The main selling points of this air conditioner include the color playlists, eco-friendly nature, low noise levels, removable water tank, handy timer, and smart home integration. It also has a touchscreen display and consumes 12.5w of power.
Dimensions
This air conditioner has these dimensions: 8.14 x 8.54 x 7.24 inches.
Price
The pricing is a bit higher than the preceding air conditioners at $229.
Black and Decker BEAC75 Evaporative Air Cooler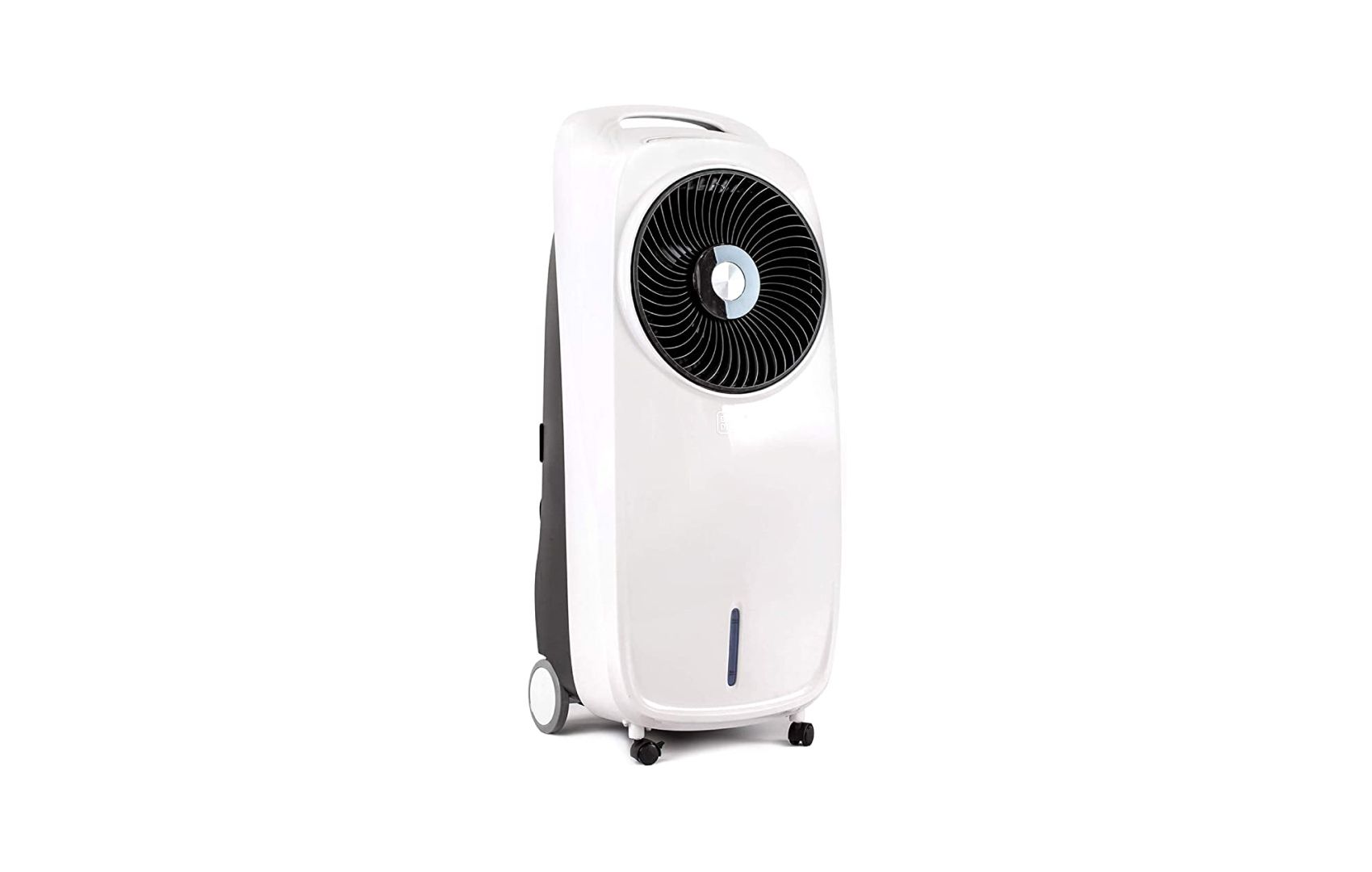 Description
Black and Decker has always produced quality electronic devices. And a mini air conditioner is not a problem for them. This particular variation keeps you cool and maintains a good environment for you to work and relax in. This mini conditioner circulates healthy air for you to breathe and use.
Some of its best features include a 4-mode settings, energy saving timer, portability, and the ease of use and maintenance. It is a cost-effective solution to reducing dry air symptoms.
Dimensions
Its dimensions are 13.6 x 15.8 x 36.6 inches.
Price
It retails at $171.61.
Nordic Hygge AirChill Cooler Evaporative Portable Personal Air Conditioner and Humidifier Fan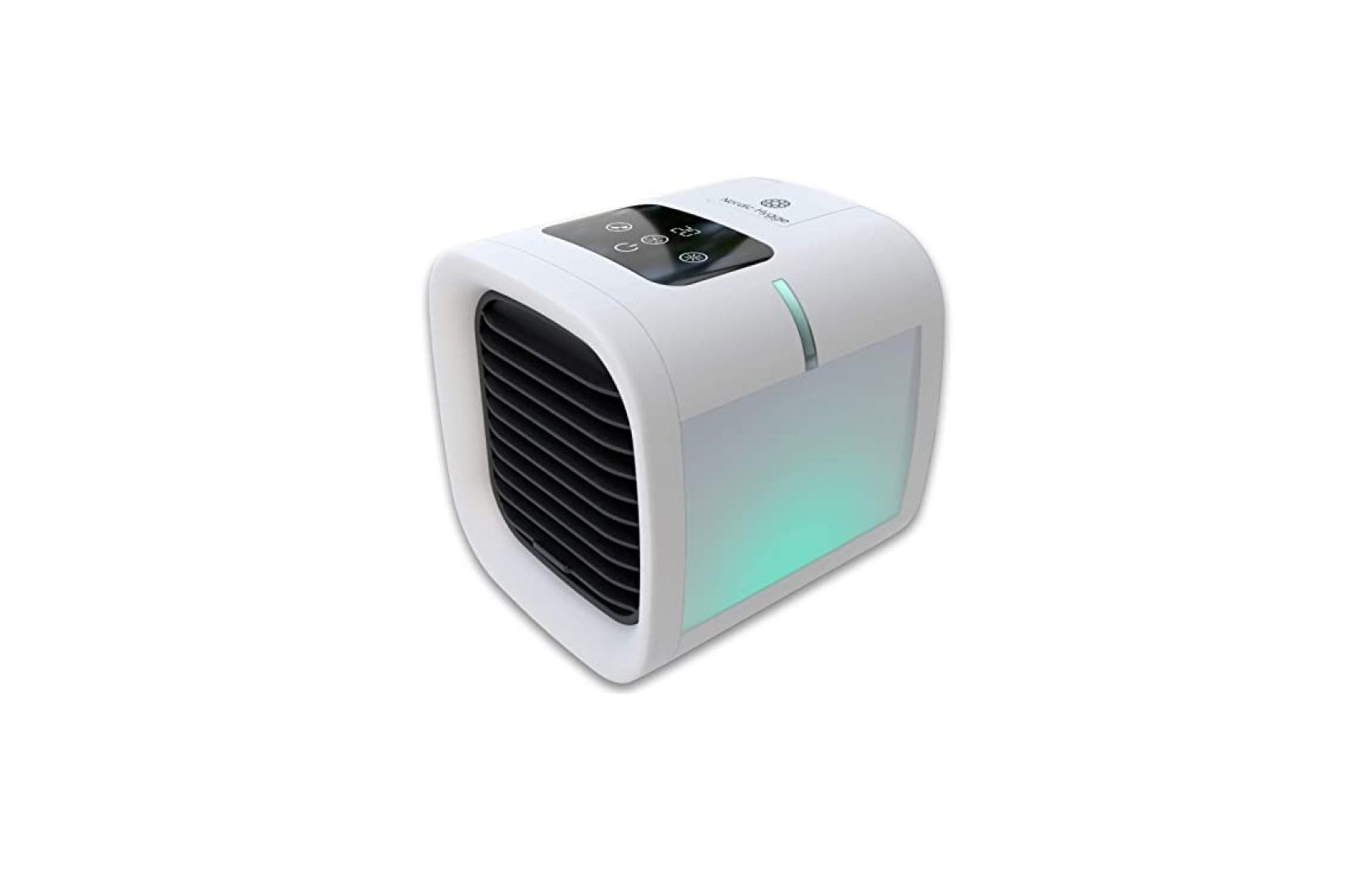 Description
This unit provides a perfect environment for a pleasurable experience and concentration. It doesn't consume much energy and, thus, benefits your monthly spending.
Some of the attractive features that make this conditioner an appealing option include its quiet nature, portability, speed of operation, easy to use touch control, and a clean breeze. The water tank is also leak-proof, and the filter is easy to replace and maintain. The presence of seven ambient colors you can choose from make it a relaxing device to have beside you.
Dimensions
Its dimensions are 6.5 x 6.8 x 6.9 inches.
Price
It has a price of $85.39.
DeLonghi America Portable Evaporative Cooler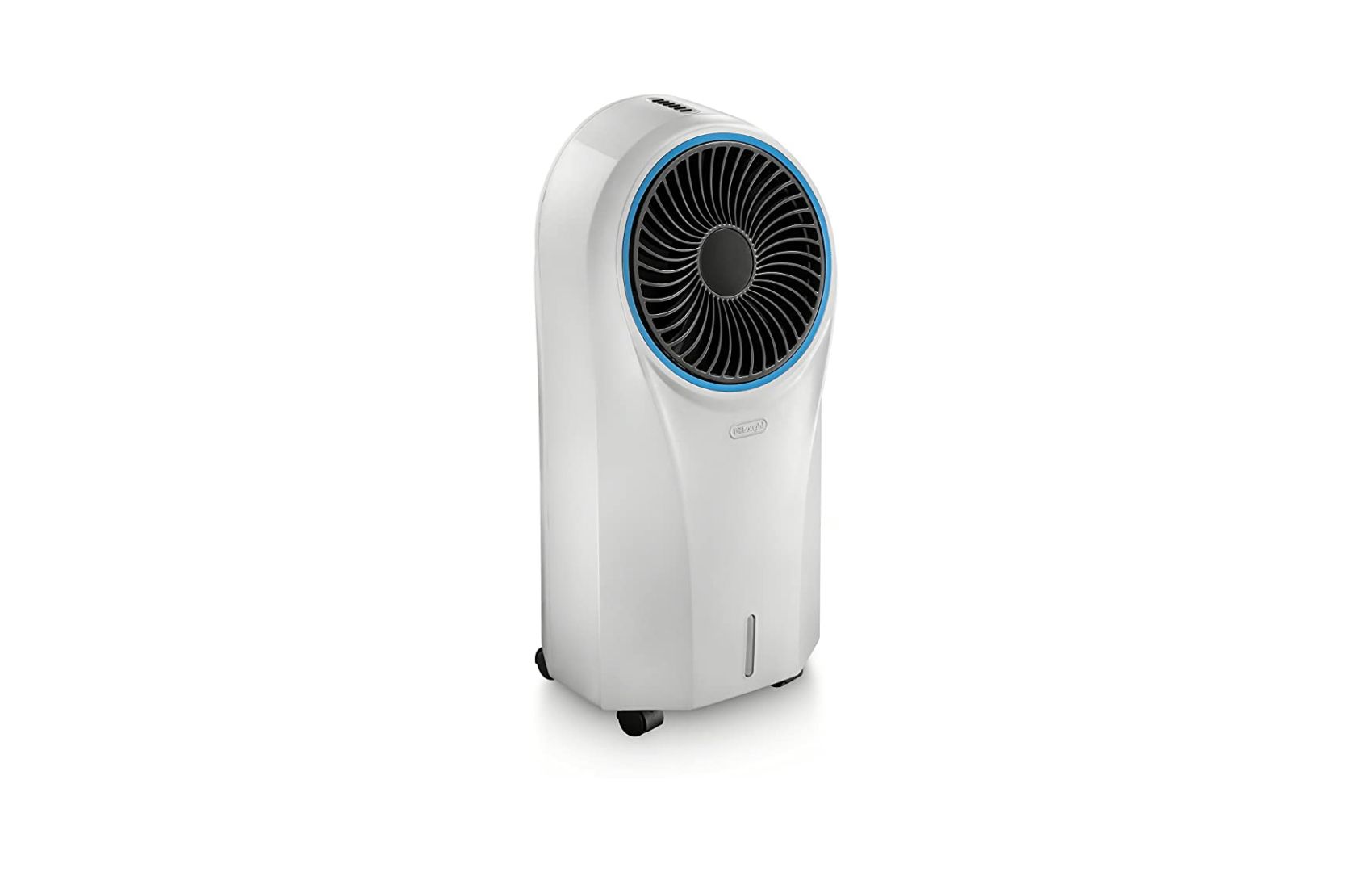 Description
Last on our list of desktop micro air conditioner units is this wonderful piece. It has an energy efficient and simple way to produce cool and fresh air to the user.
Some of its competitive features are the energy efficient nature, easy controls at your fingertips, effective air circulation, and easy filling, cleaning, and draining. It is also faster and very portable.
Dimensions
Its dimensions are 13.6 x 12.2 x 29.5 inches.
Price
The price to own this wonderful air conditioner is $249.95.
Wrap Up
We hope that you've received useful information about buying portable micro air conditioner units. The tiny variations of air coolers such as the Evapolar are some of the smallest air conditioner units that perform outstandingly for personal areas. They utilize enhanced evaBREEZE technology, which is unique due to its cartridges that are made from inorganic material that's beneficial to the environment and stops mold and bacteria from spreading. They also have modest power needs and great cooling abilities. This helps you to be more comfortable without costing you a lot. This is much better than the large standard air coolers.