Whether you own a car or a recreational vehicle (RV), there is no limit to improving your travel experience. New products are entering the market every day, and some of them are worth having because they make your life so much easier.

Here, we take a look at a few of the best gadgets for RV camping that will take your driving around to a new level.
evaCHILL
The most effective cooling device
Top 7 Must-Have RV Gadgets for Comfortable Travel
We have compiled this list of the seven best products you would love to have by the end of this article. Each of these products has received excellent  reviews from verified customers who have used them. Let's jump right in! Read also: 5 Best Portable Air Conditioners for Trucks to Buy
evaCHILL Personal Air Cooler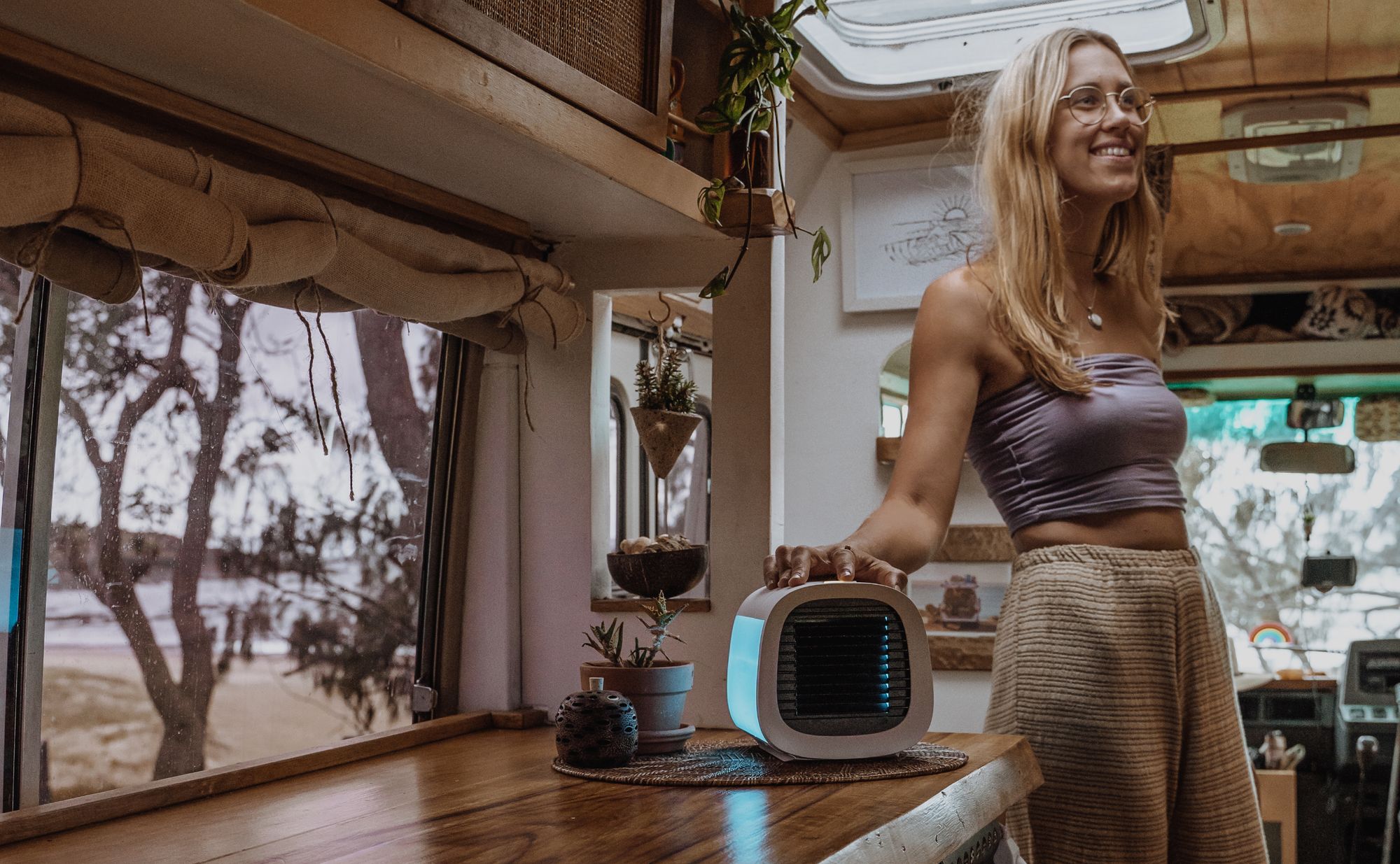 Check price on Website. (99 USD in Winter 2022)
Manufactured by Evapolar, this evaporative air cooler is a must-have addition to your car or RV. Plug it into any USB port and enjoy the coolness for up to 9 hours, thanks to the ample water tank. The evaCHILL cooler runs on a laptop, power bank, or power socket.
The device works based on the cooling effect of naturally evaporating water. When you switch on the unit, the cooling pads receive water. As the air passes through the wet pads, it becomes cool, thus cooling the surrounding areas. Unlike air conditioners, the evaCHILL cooler also purifies and humidifies the air and doesn't use harmful refrigerant substances.
Evapolar uses its patented evaBreeze® material for the cooling pads. This is a non-organic nanomaterial made from mineral fibers. Thanks to its inorganic nature, the pad material will guarantee healthy cooling and humidifying.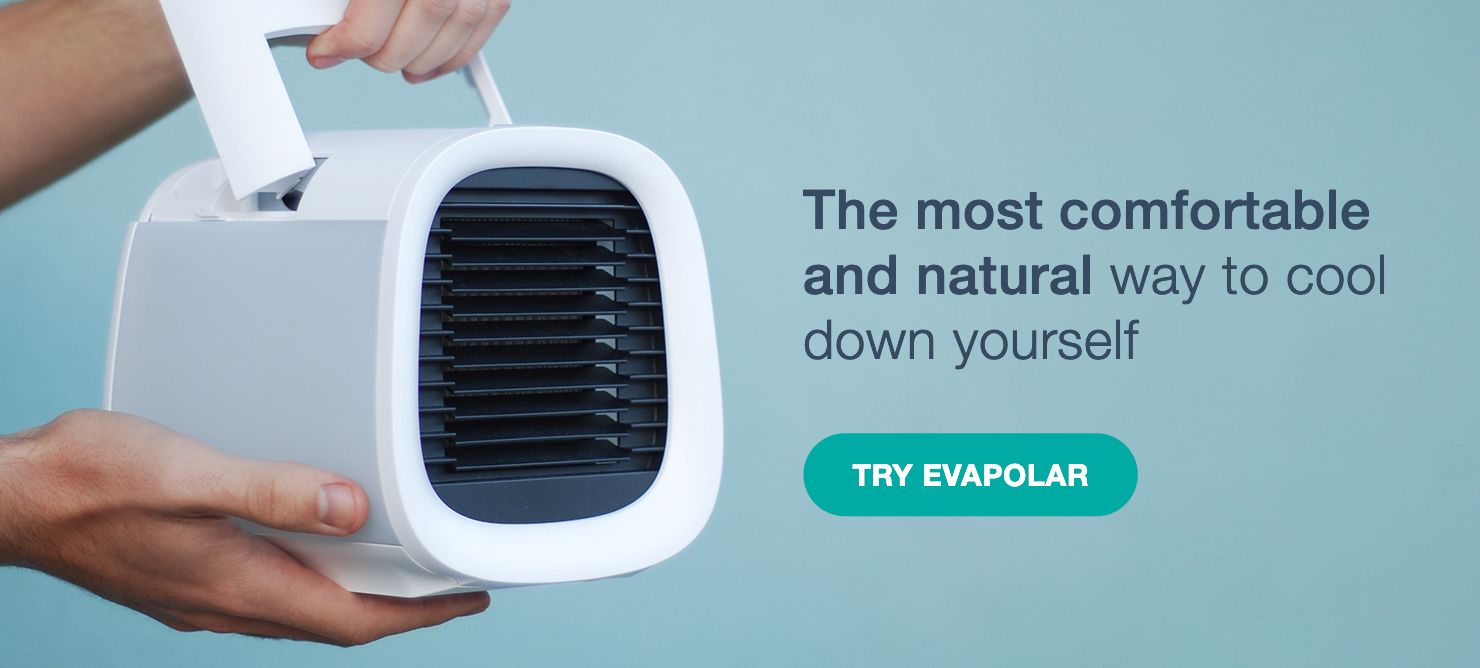 Pros
Ultraportable device;
Convenient handle;
Whisper-quiet noise level;
Eco-friendly appliance;
Water surround system;
Effective personal cooling
Cons
Is not built to cool a whole space and is designed for personal cooling only. However it isn't an issue if you use it inside your car or RV.
Read also: Best mini AC
Features
Built-in handle;
Low power consumption of only 7.5W;
Cooling effect for a personal space;
Inorganic material inside the cartridge;
Non toxic Freon-like liquids.
Spigen Kuel QS11 Magnetic Air Vent Phone Mount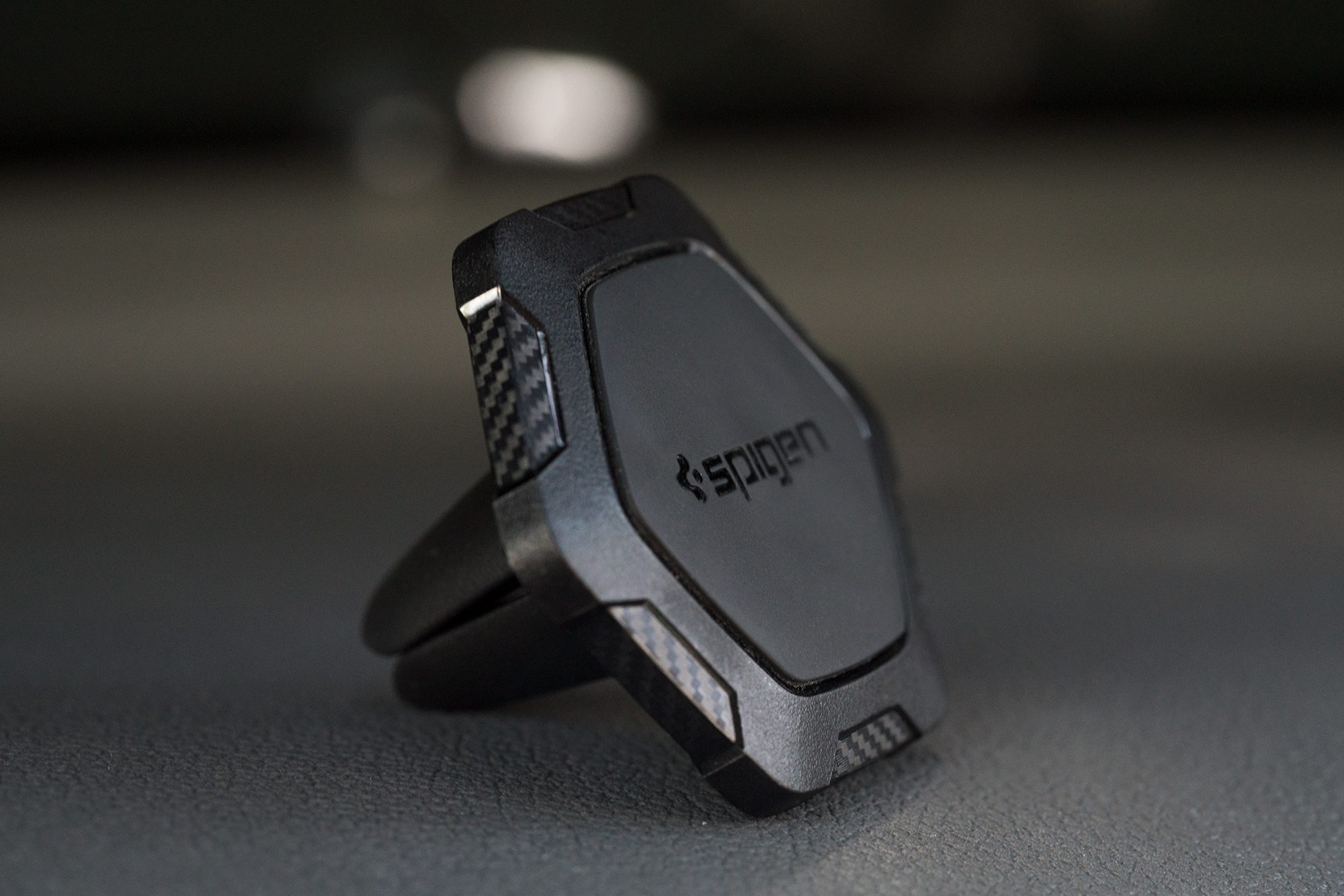 Price - $13.99 in Winter 2022
Use your mobile phone in the car safely thanks to this magnetic mount fixed to the air vent. It works best with a Spigen phone case but is effective with other models as well. You stick a metal strip inside the case, and the magnets inside the mount firmly secure your phone. You can rotate your phone to any position when it's attached to the mount.
Pros
Four strong magnets hold the phone securely;
No adhesive residue;
Easy rotation;
Simple to install and use;
Slim design.
Cons
May not work well with thick phone cases;
Metal plates can hamper wireless charging;
The mount tends to become loose on the vent over time.
Features
Rugged hexagonal shape;
Sleek carbon fiber accents;
Two rectangular metal plates that can be easily fixed to the phone case;
360° rotation.
Rooftop Tent by Front Runner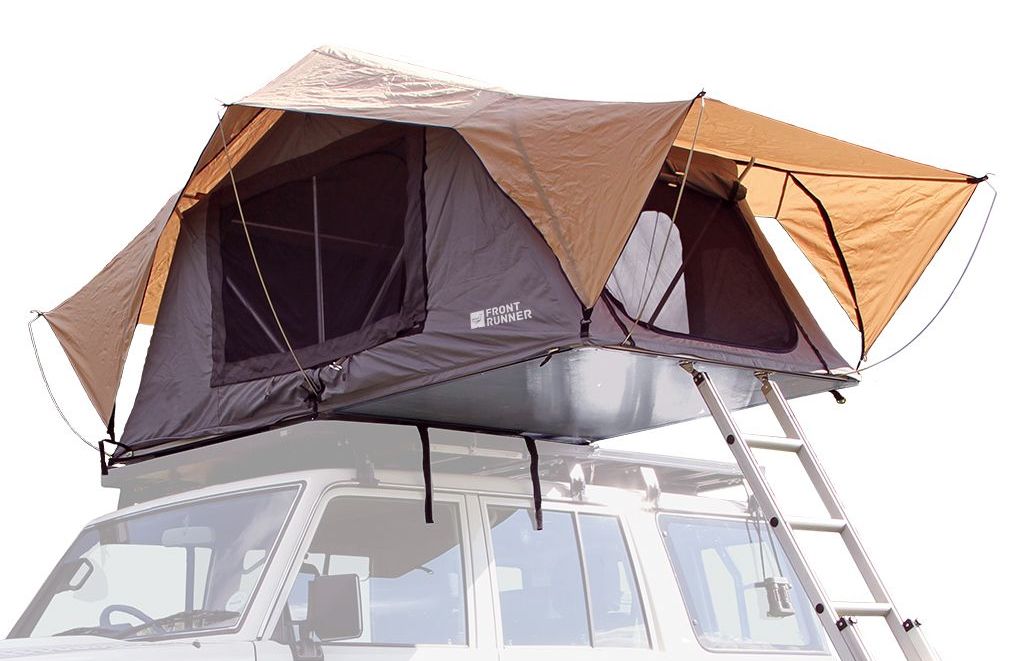 Check price on frontrunneroufitters.com ($1169 in Winter 2022)
Have you ever wondered what it is like to sleep out in the wild, yet you are too scared when camping on the ground? Well, you can pitch this tent on the roof of your RV and spend the night inside! Feel safe while enjoying a night in the open.
Two people can sleep comfortably in the tent. It is constructed with waterproof, UV-resistant rainfly material with an aluminum frame. The tent has windows on the side and a roof that can be zipped up for privacy. The tent comes complete with a sliding aluminum ladder, and it is easy to install.
Pros
Opens in a smooth, swift motion;
Comfortable high-density foam mattress;
Washable mildew-proof, waterproof material;
Easy to install;
Convenient storage pockets.
Cons
Extension ladder required for heights of over two meters;
Relatively heavy at 95 lbs;
Can be challenging to unpack the first time.
Features
Lighter than many other sleeping solutions;
Waterproof, anti-mildew, UV-resistant material;
Sturdy aluminum frame;
Durable PVC cover provided;
Convenient hanging storage pockets.

Read also: 5 Best Tent Air Conditioners — to make sure you enjoy your camping time in any kind of weather!
HIRALIY Inflatable Air Mattress for Car Back Seats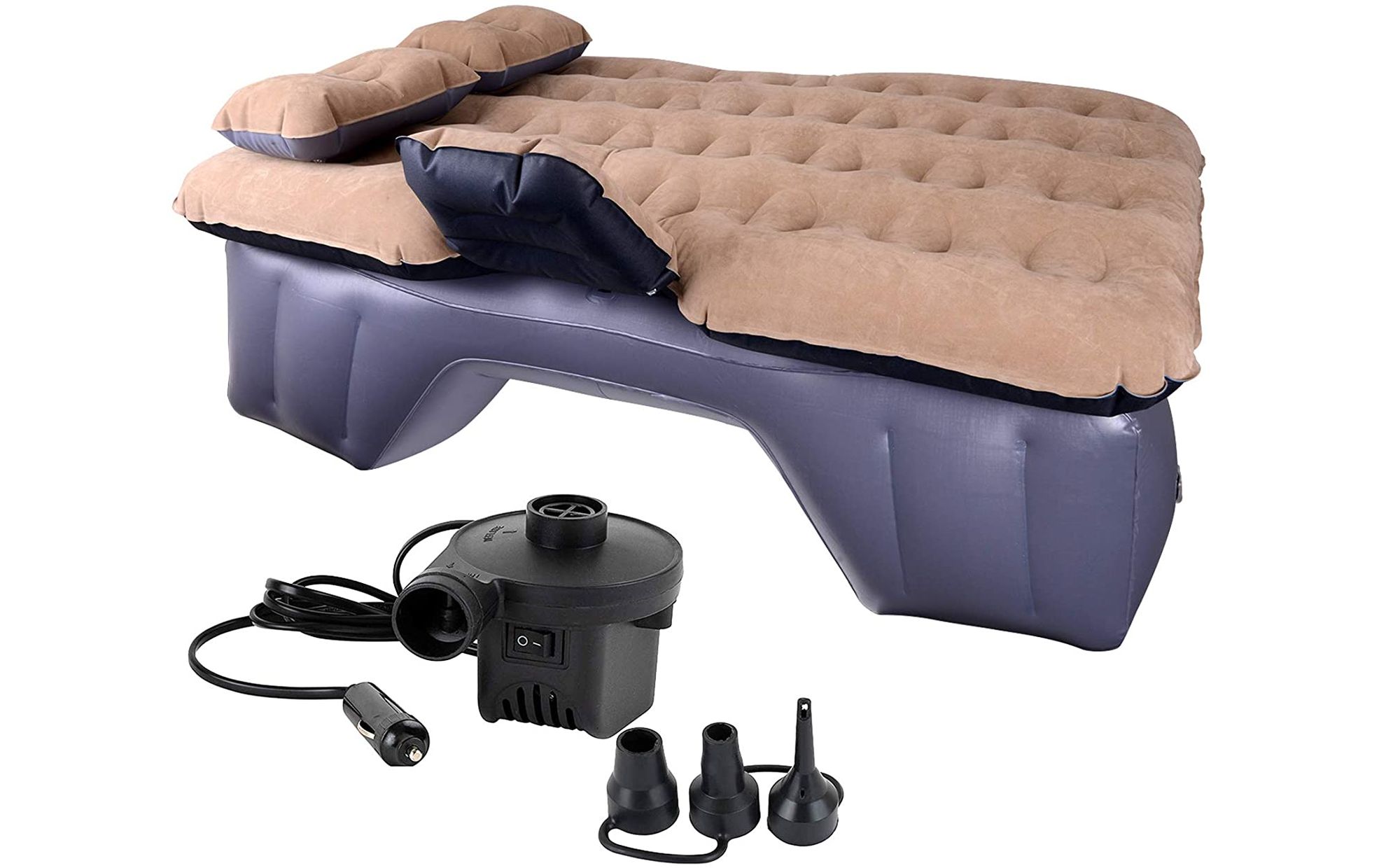 Price - ($59.99 in Winter 2022)
Although this mattress's product description is for car back seats, we can assure you can use it almost anywhere. This inflatable mattress by HIRALIY is a versatile sleeping solution for your hiking and camping trips.
The mattress is easy to inflate using the electric pump provided. It is made of a durable, airtight material and is easy to clean by wiping with a damp cloth.
Pros
Durable, airtight material;
Easy to clean;
Convenient electric pump provided;
Unique honeycomb holes and PVC material make it more durable;
Useful for transporting patients.
Cons
May not fit all car back seats;
Limited durability;
Cannot use a seat belt with the mattress.
Features
Compatible with most car back seats;
Made of three layers of sturdy wear-resistant material;
Two inflatable pillows provided;
Easy to inflate and deflate;
Convenient to take on camping and hiking trips.
Car Seat Organizer by Lusso Gear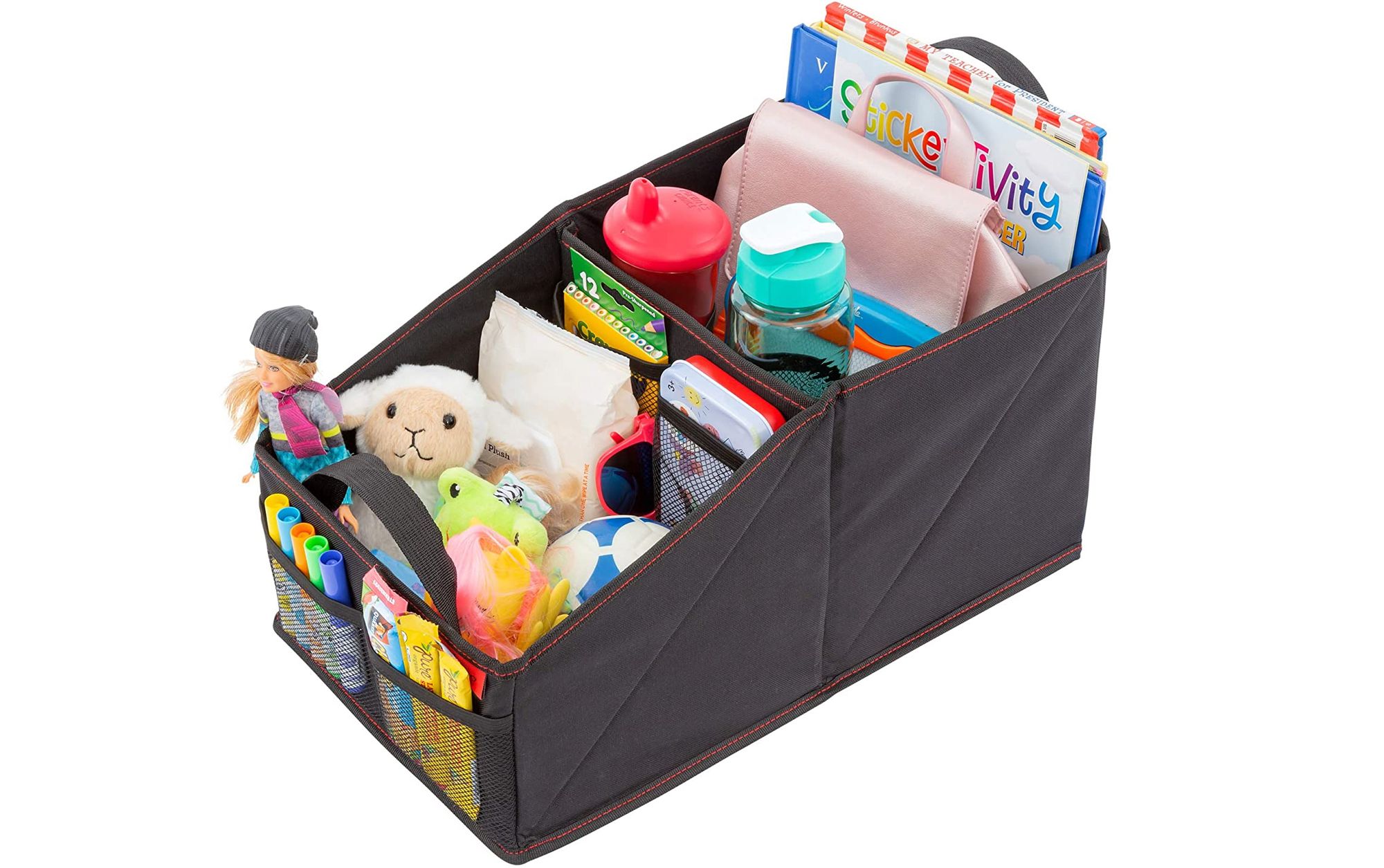 Price - ($22.97 in in Winter 2022)
Traveling by car can get messy, especially when you are with children. This organizer by Lusso Gear helps you get all your gear in one place. Toys, feeding bottles, diapers, books, magazines, or mobile phones – you'll have an organized space for anything. The organizer has ergonomic handles to carry around easily. Slip the seat belt around it to keep it secure, and you are good to go!
Pros
A reliable system to organize loose items in your car;
Multiple pockets for multiple things;
Protect your seats from loose items;
One zippered pocket;
Four built-in cup holders for cups and bottles.
Cons
Not as sturdy as the manufacturer claims;
Inner support is made from cardboard, so the product should not get wet;
Comes with a strong car freshener that can affect allergy sufferers.
Features
Unique design;
Extra reinforcement at its top corners;
Durable material;
Nine storage compartments;
Convenient handles make it easy to carry;
Lifetime warranty.
Reddy Grey Pet Car Hammock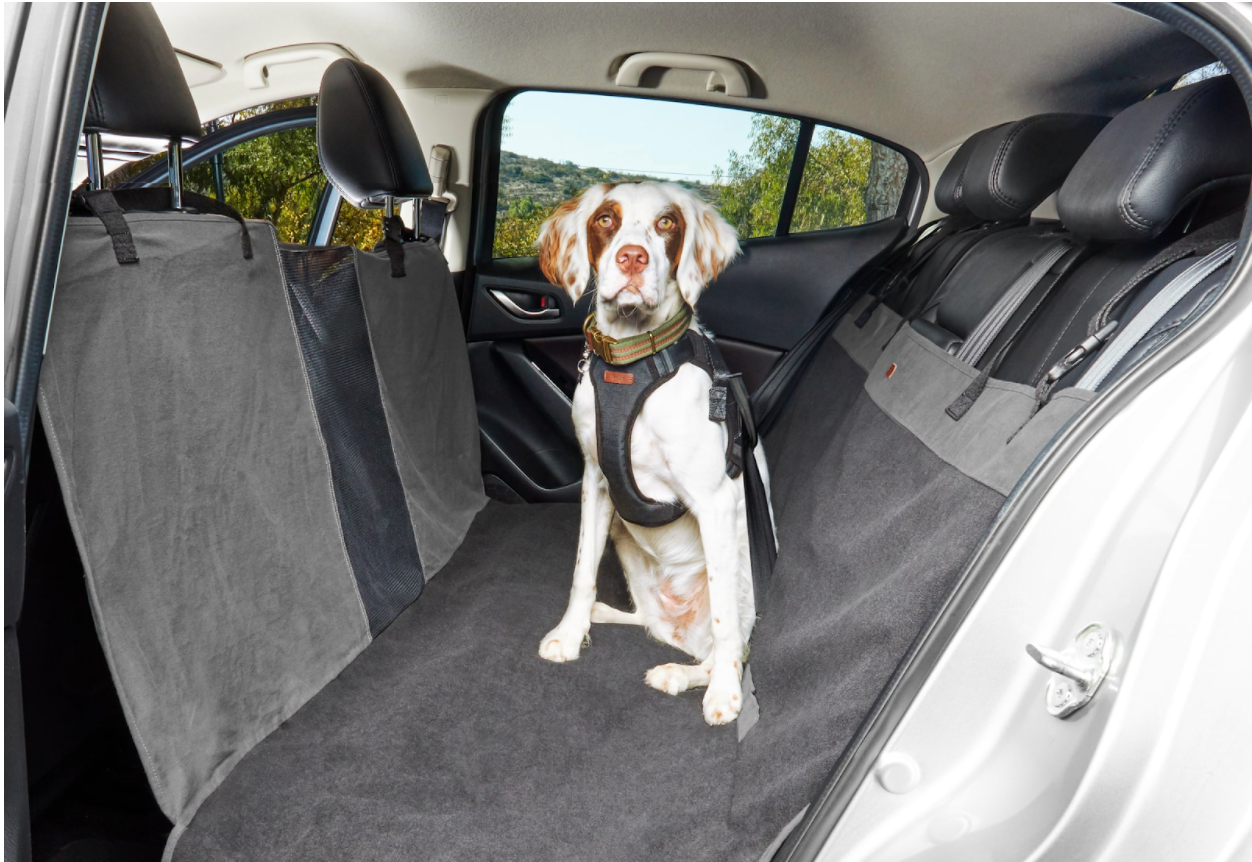 Check price on Petco.com ($79.99 in Winter 2022)
You can make car travel with your dog a more comfortable experience with this pet hammock from Petco. The product comes in a neutral gray color, and the six-point system for securing the dog is failsafe.
The hammock is made from highly absorbent microfiber fabric, to protect your car or RV from  any pet accidents that occur en route. You can keep an eye on your pet through the convenient mesh window provided.
Pros
Safe and comfortable for your pet;
Extra secure with seat belt openings and tuck-in cushions;
Highly absorbent microfiber fabric;
Sober color to match most car decors;
Mesh window enables you to watch your pet from the front seat.
Cons
Design flaws in the color;
Not that durable.
Features
Six-point system for extra-firm fixing;
Microfiber fabric absorbs pet fluids;
Comfortable for the pet to sit or lie down;
Tuck-in cushions;
Comes in two sizes – medium and large;
Designed to transport multiple pets if required.
Coleman 100-Quart Xtreme® Five-Wheeled Cooler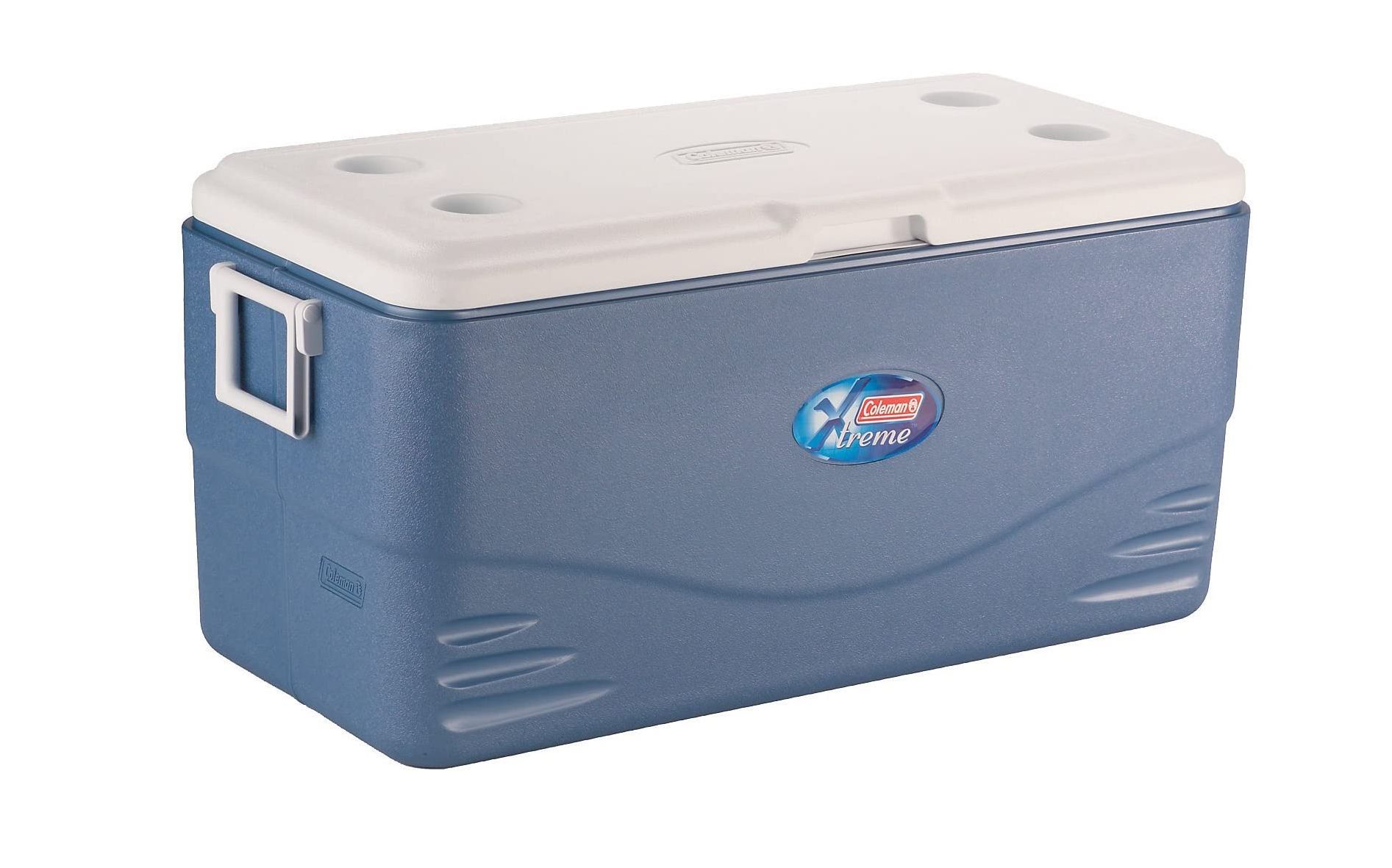 Check price on Walmart ($99 in Winter 2022)
If you are going on a camping or hiking trip, you will find this cooler by Coleman very handy. According to the manufacturer, you can keep your drinks cold for up to five days with outside temperatures of up to 90°F. The liner consists of antimicrobial material that resists odor, fungus, and mold.
The 100-Quart Xtreme has a capacity of 160 cans. Heavy-duty wheels enable you to move it around in a comfortable manner.
Pros
Antimicrobial liner;
Keeps ice up to five days;
160-can capacity;
Comfort-grip swing handles;
Heavy-duty wheels.
Cons
Does not keep ice frozen for as long as advertised;
Issues with lid closing;
The drain plug is placed inconveniently on the side of the handle;
Weak handles.
Features
Extra insulation in the walls for longer ice retention;
Heavy-duty wheels;
Leak-resistant channel drain;
Comfort-grip swing handles;
Cup holders molded into the lid.
Instant Pot NOVA 6 Pressure Cooker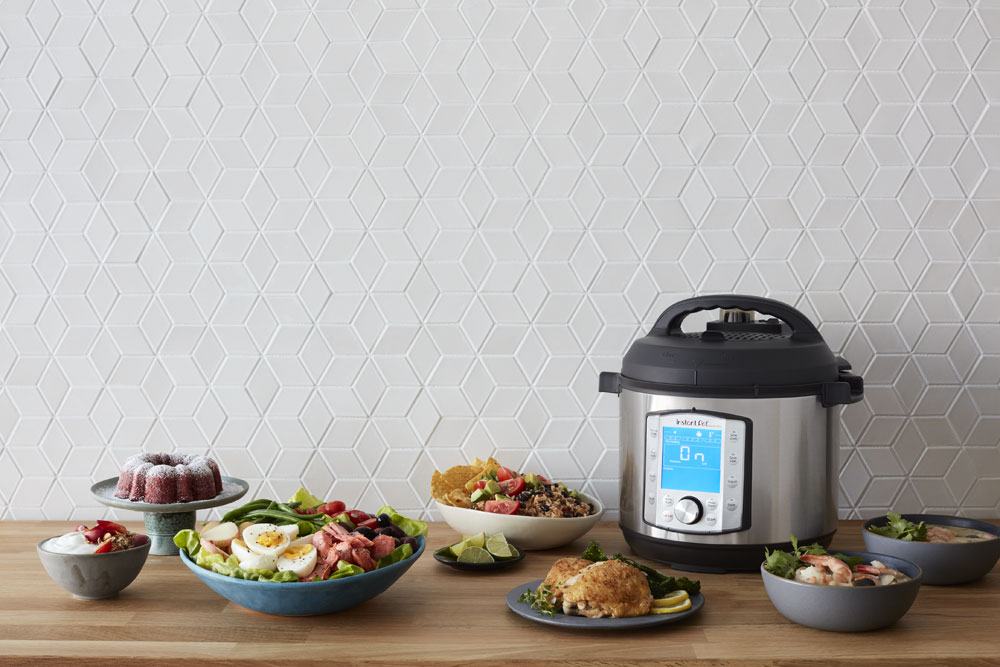 Being on the road is not a reason to deny yourself a cozy home-cooked meal oreven for fine dining. Instant Pot is an irreplaceable RV camping gadget for any camping endeavor. Depending on your appetite, you can choose one of four capacities of Instant Pot NOVA 6: 3, 6, 8, and 10 quarts.
Pros:
Versatile cooking: you will never get bored with seven appliances (slow cooker, steamer, saute pan, yogurt maker, etc.) Instant Pot has to offer;
User-friendly and uncomplicated control method;
Comes with a free app, which contains more than 1000 recipes;
10 + safety features which allow to leave Instant Pot unsupervised and ensure worry-free cooking.
Cons:
Options with bigger capacity take a lot of space;
Washing up in the camping conditions may be quite laborious;
Customers report that not all the features work perfectly.
Features:
One-Touch cooking programs;
Reliable safety attributes;
This cool RV kitchen gadget has customizable thirteen programs that record your preferences;
Microprocessor that scans temperature, pressure, and duration.
GOSUN Sport Solar Oven Portable Stove - Fastest Sun Cooker Camp Stove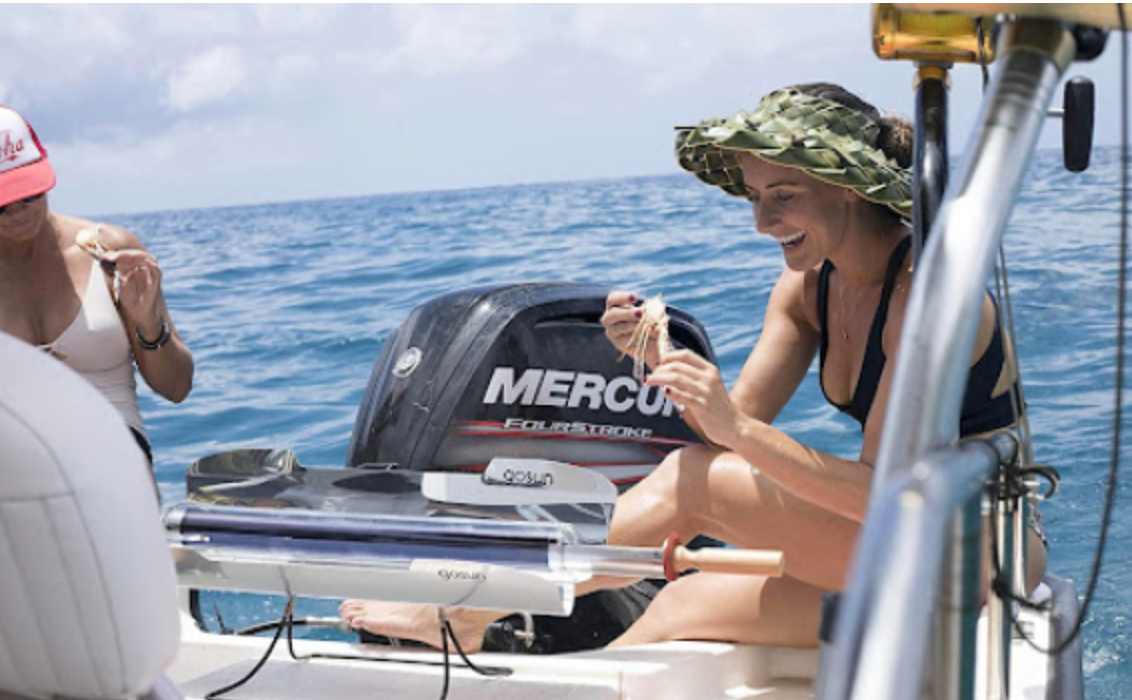 Price - ($299 in Winter 2022)
This futuristic-looking cooking device will support your most sophisticated wishes even in the remotest places. GOSUN Solar Oven is an outdoor grill that requires no electricity as it uses solar energy to power itself. Save the electricity and treat yourself! Read also: Best Portable Boat Air Conditioners
Pros:
Works faster than a slow cooker;
Under good weather conditions heats up to up to 550°F (290°C);
Does not require any electricity or fuel;
Lightweight;
Eco-friendly and impressive design.
Cons:
Quite pricey: almost 300 US dollars;
Not practical in terms of cleaning;
The diameter of a cooking tray may be too small for some dishes.
Features:
Fire-proof: insulation always keeps the surface cool;
Stainless steel;
Minimalistic, foldable, and compact construction.
KODAK Luma 150 Ultra Mini Pocket Pico Projector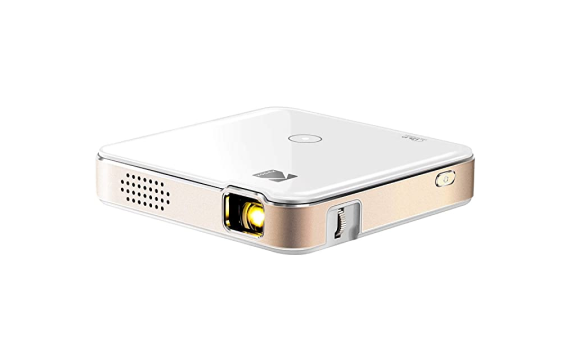 Price - ($219.99 in Winter 2022)
Last but not least: do not forget a portable projector for your RV trip. This entertainment gadget for motorhome is exactly what you need after an exhausting day of driving or hiking. Grab a white sheet, your KODAK Luma projector, and enjoy your favorite movies under the starry sky.
Pros:
One of the most compact sizes on the market;
Supports a huge variety of connections: USB Cables, PC, HDMI, etc.;
Perfect for a small room.
Cons:
Slightly expensive: more than 200 US dollars;
Due to the copyright laws, you cannot mirror or Airplay Netflix, Hulu, HBO Max, or other streaming services;
Some movie enthusiasts wish for a better quality of the picture.
Features:
Long-lasting 150 minutes battery, which allows watching multiple movies in one charge;
Auto-focus and keystone distortion features;
Supports 4K Resolution and HD;
Built-in speaker.
FAQ
Feeling overwhelmed and thinking about what to choose among all these cool RV gadgets?

Let us answer some most common questions on travel trailer gadgets, to see which one will suit your situation best.
Is it cheaper to travel in an RV?
According to a comparison experiment of the experienced travelers, сamping with RV, especially your own, is definitely more cost-effective. The beauty of RV travel lies in the fact that you do not have to compromise comfort for price with modern camper gadgets.
Why do I need a cooler for an RV?
We curated an exhaustive list of rv camping gadgets that will help bring up your camping game. One of the necessities is a Personal Air Cooler. Why do I need one? Maintaining clean and fresh air in the small room is necessary but challenging. Air Cooler can save you in dry climates without taking much space.
Where do you put everything?
According to this experienced camper couple, overpacking is unavoidable. You have to take a few trips to truly get the gist of what you might need on the road. Only in practice can you test what is lacking and what is not used at all from our best rv gadgets list. Regarding things that do not seem to be the first necessity, always go for compact ones: e-books, compact air cooler, small projector.
Conclusion
Whether you are out camping or going on a cross-country road trip, you need some basic comforts to help you along. After thorough research, we carefully curated a list of 10 must-have RV gadgets. Each of these seven motorhome gadgets can bring your RV experience to the next level. Traveling on the road is the most accessible yet special way to connect with nature, loved ones, and yourself.

We hope these rv gadgets and gizmos can help you feel as comfortable as possible during your adventurous journey. Gadgets like evaCHILL Personal Air Cooler will help you enjoy the serenity of nature without sacrificing home comfort.